Buffalo Chicken Quinoa Bites with Greek Yogurt Blue Cheese Dip
These protein-packed quinoa bites are perfect for snacking or as a party appetizer!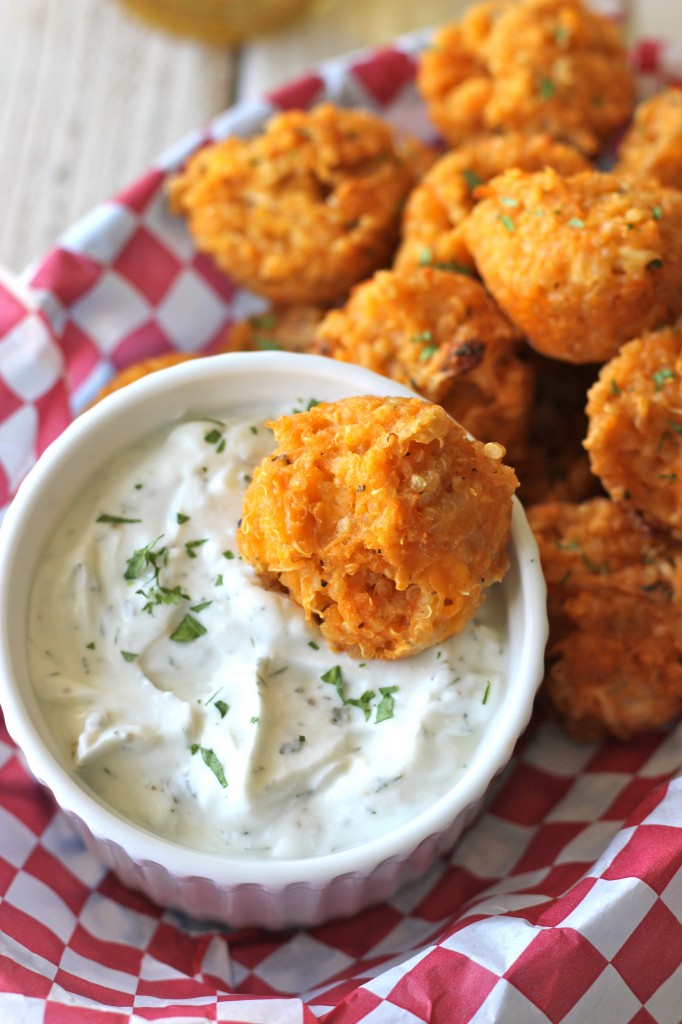 I hope you all had a wonderful, fun-filled weekend. The weather was gorgeous out here in LA in the high 70s so I decided to take a day off from blog work and enjoy the outdoors with my 5-year old niece, Sherman.
Now you should know that when I spend time with Sherman, it's usually at her own house where her parents and grandparents are there for "back-up", so taking her out alone was a big deal for me.
I first took her to her morning ballet class across town. She's seriously just the cutest thing in her purple tutu, and as I peaked through the window to see her in the class, she was honestly the best one. (I may be a tiny bit biased about this, though.)
Then we headed off to breakfast at Marie Callendar's. She said she already had breakfast in the morning so a short stack of pancakes was a "snack." And to my surprise, kid's eat free on Saturdays! I was so excited about that because you always see those deals around town but we never actually get to use it. Plus, these kids portions are huge! Why can't we ever get deals like that?
Oh and that stuffed animal dog you see there? Sherman found it in my car and she fell in love with it so we had a mini photo shoot with the dog in our little booth. She was even feeding him pancakes and orange juice!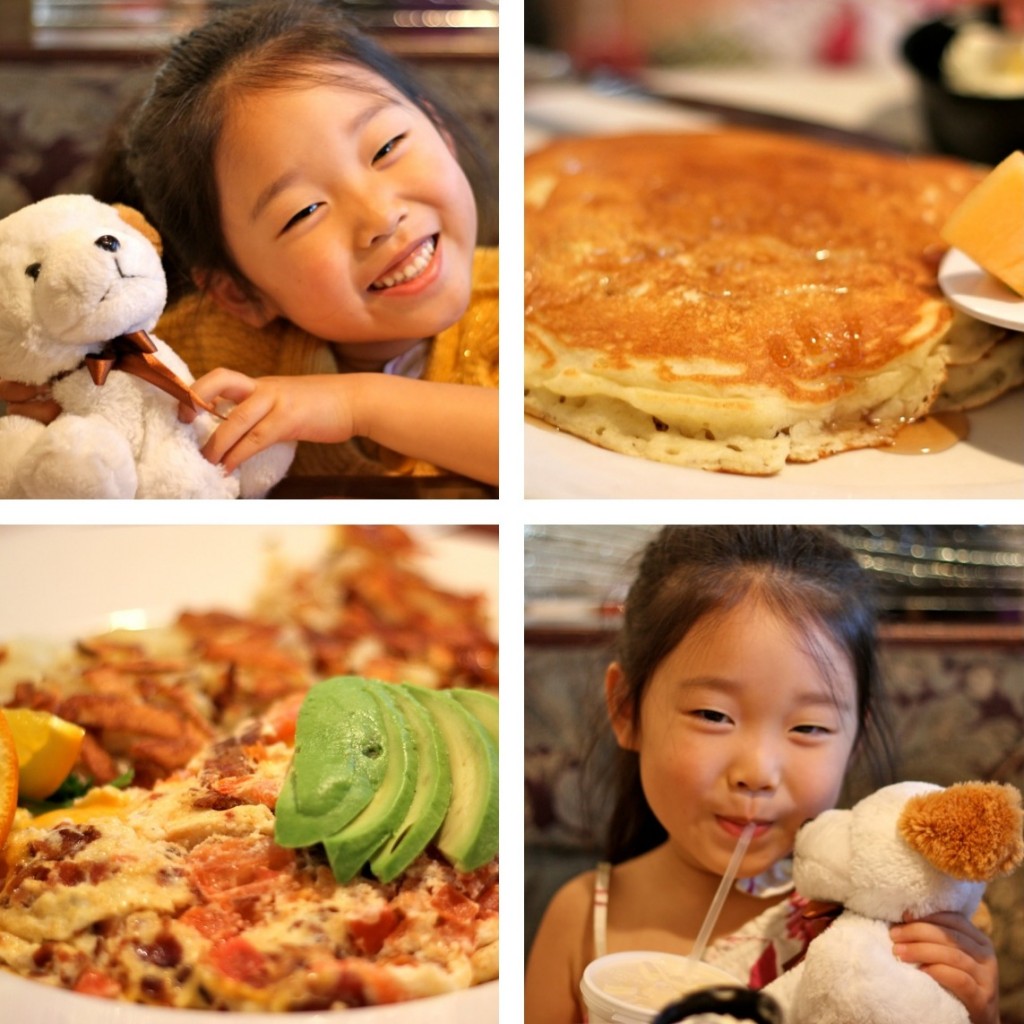 Then we headed off to the park where we chased squirrels, fed them grass (sorry, attempted to feed them grass) and played on the swings. Sherman made sure the dog was strapped onto the swing too.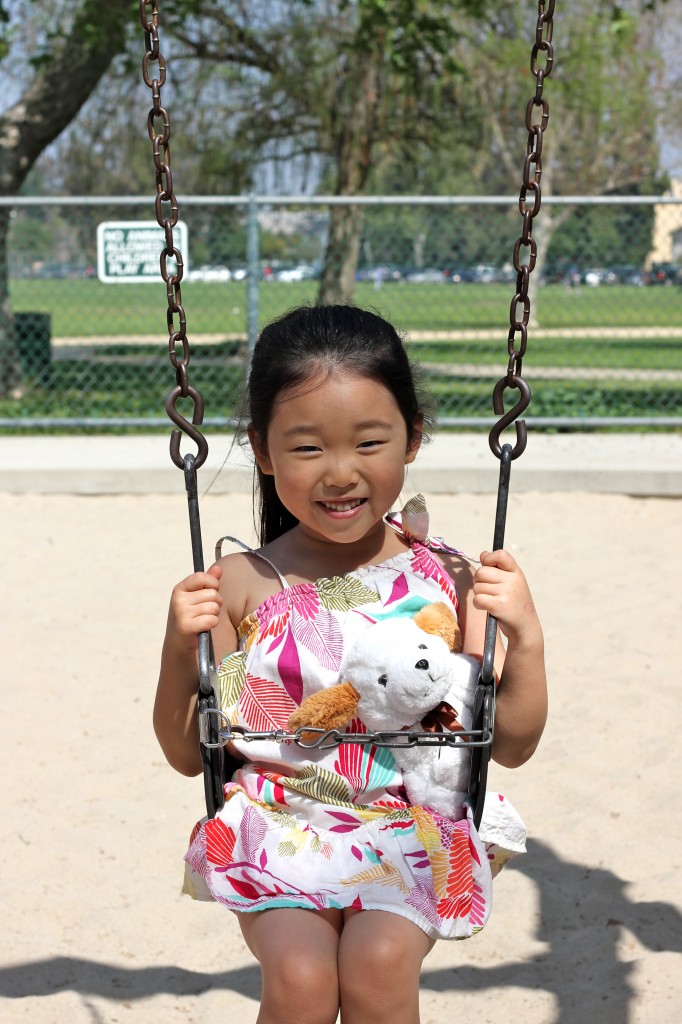 We had such a blast together, and I think I had even more fun than her just snapping away photos of her at the park. It was definitely a lot of work taking her around all day but I can't wait to do it again!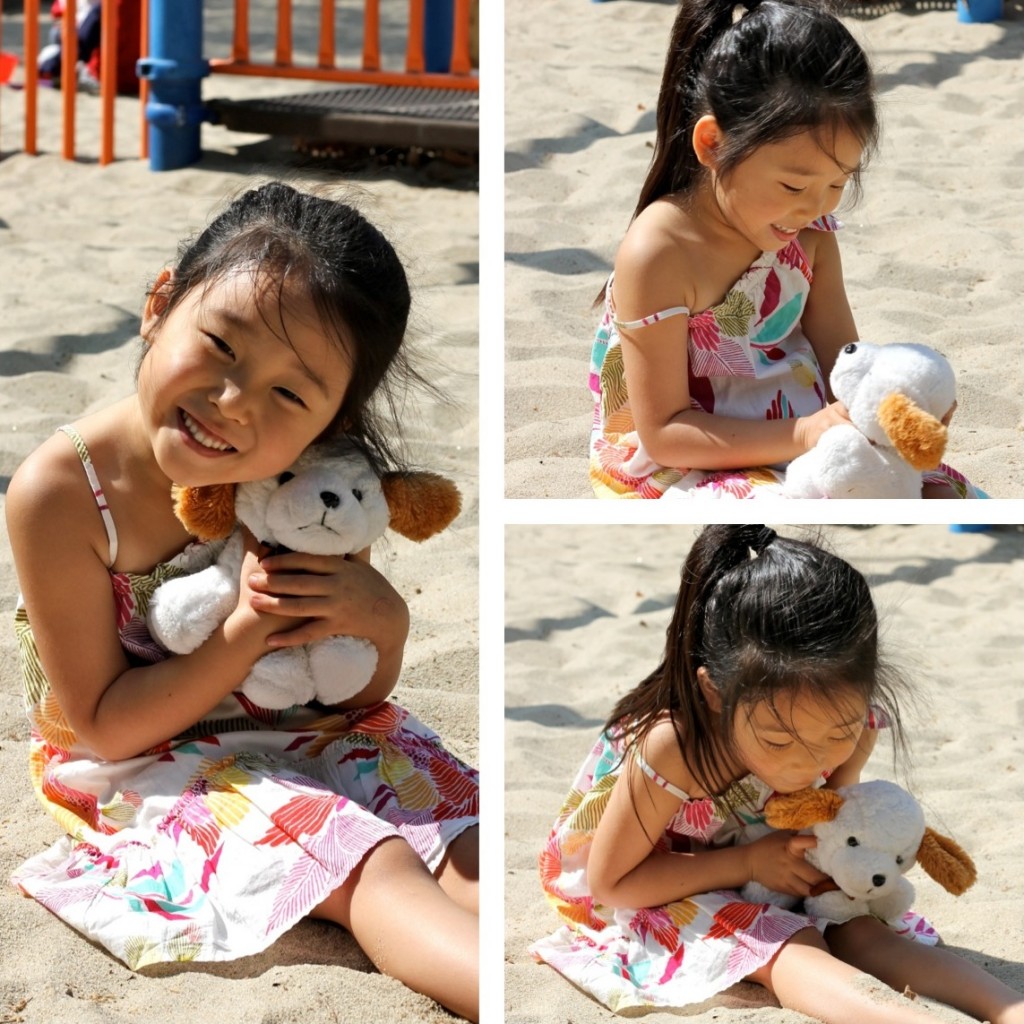 Now about these quinoa bites…
These buffalo chicken quinoa bites were made in an attempt to keep myself from snacking. I'm always skimping on "real food" so I can snack more but snacking never gets me full, leading me to eat more than I really should be. So to avoid that, I decided to make these quinoa bites with some leftover chicken breast that I had lingering around in the fridge.
It was incredibly easy to whip up, especially since you just mix everything up in a bowl and bake it in a mini muffin pan. And while these babies are being baked to quinoa perfection, you can make the dipping sauce with some Greek yogurt and crumbled blue cheese. When you're finally ready to eat, make sure you're completely generous with that dipping sauce – it's made with Greek yogurt so you can indulge guilt-free!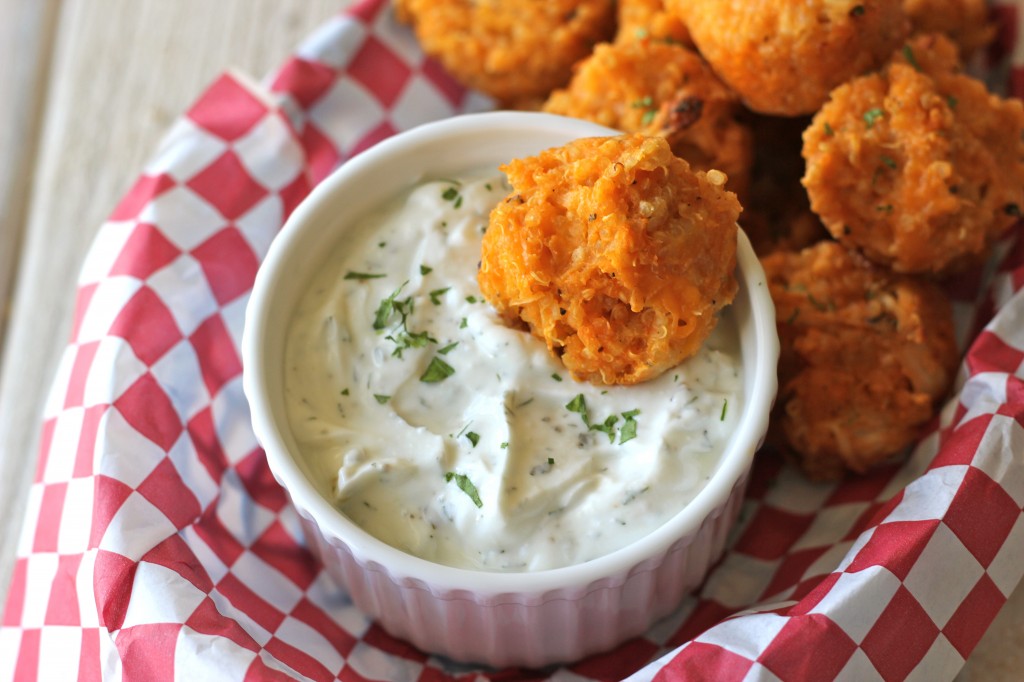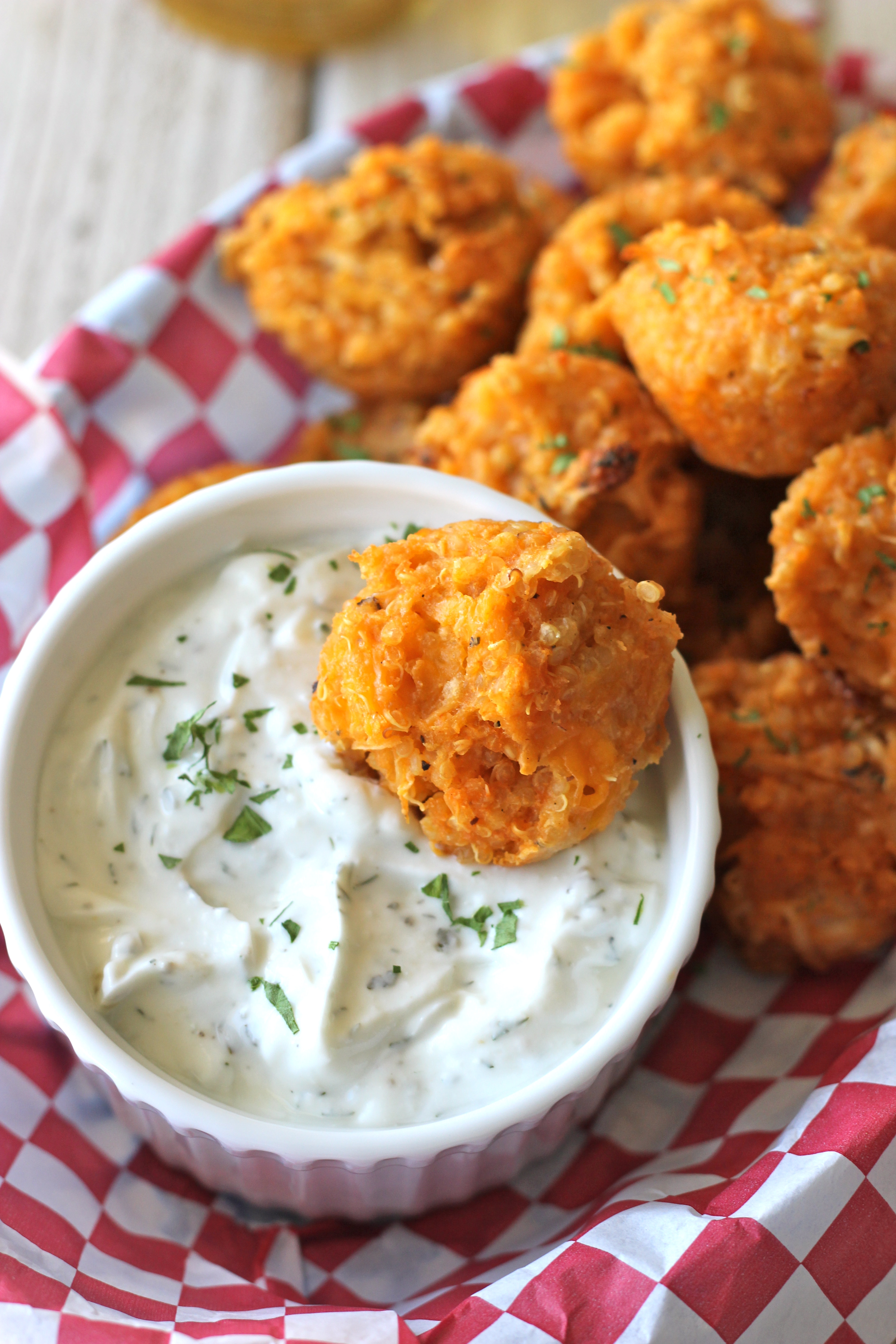 These protein-packed quinoa bites are perfect for snacking or as a party appetizer!
Ingredients
1 cup cooked quinoa
1 cup shredded chicken
1/4 cup goat cheese
1/4 cup sharp cheddar
1/4 cup buffalo sauce
1/4 cup Panko
1 large egg, beaten
2 tablespoons whole wheat flour
Kosher salt and freshly ground black pepper, to taste

For the dipping sauce

1 cup Greek yogurt
1/4 cup blue cheese
1/2 teaspoon garlic powder
1/2 teaspoon dried dill
1/2 teaspoon dried parsley
Kosher salt and freshly ground black pepper, to taste
Instructions
In a small bowl, combine Greek yogurt, blue cheese, garlic powder, dill, parsley, salt and pepper, to taste; set aside in the refrigerator.
Preheat oven to 350 degrees F. Lightly oil a mini muffin pan or coat with nonstick spray.
In a large bowl, combine quinoa, chicken, goat cheese, sharp cheddar, buffalo sauce, Panko, egg, flour, salt and pepper, to taste.
Using a small cookie scoop, scoop the mixture evenly into the muffin tray, about 1 1/2 tablespoons for each.
Place into oven and bake for 18-20 minutes, or until golden and set.
Serve immediately with dipping sauce.
http://damndelicious.net/2013/03/18/buffalo-chicken-quinoa-bites-with-greek-yogurt-blue/