One Pot Chili Mac and Cheese
Two favorite comfort foods come together in this super easy, 30 min one-pot meal that the whole family will go crazy for!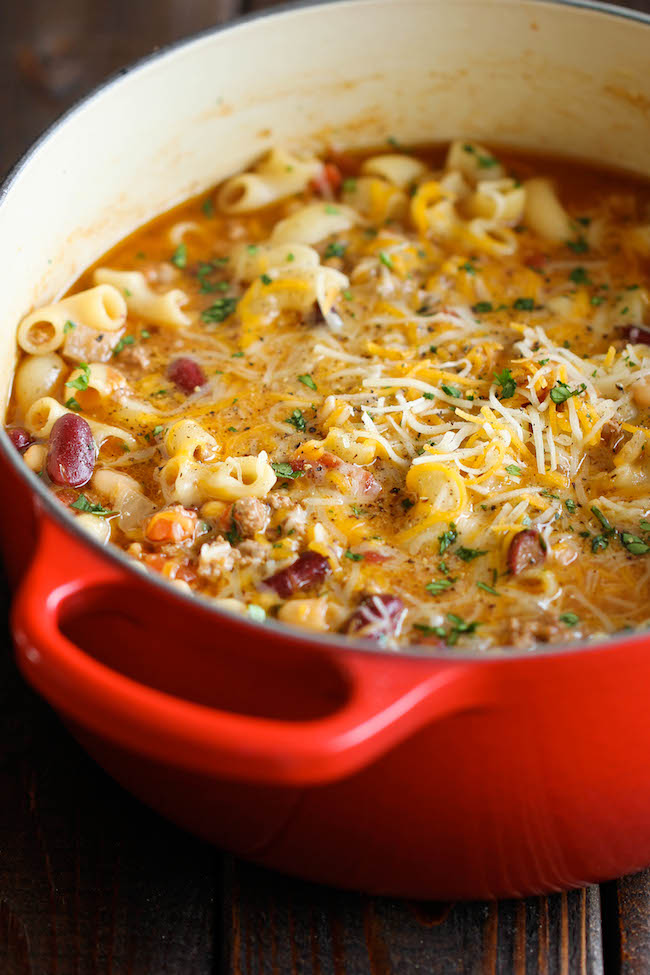 So after 2 long months of waiting and waiting, Jason and I finally brought our new puppy home today. Here is the newest member of the Damn Delicious family – Butters, our 10-week old Pembroke Welsh Corgi.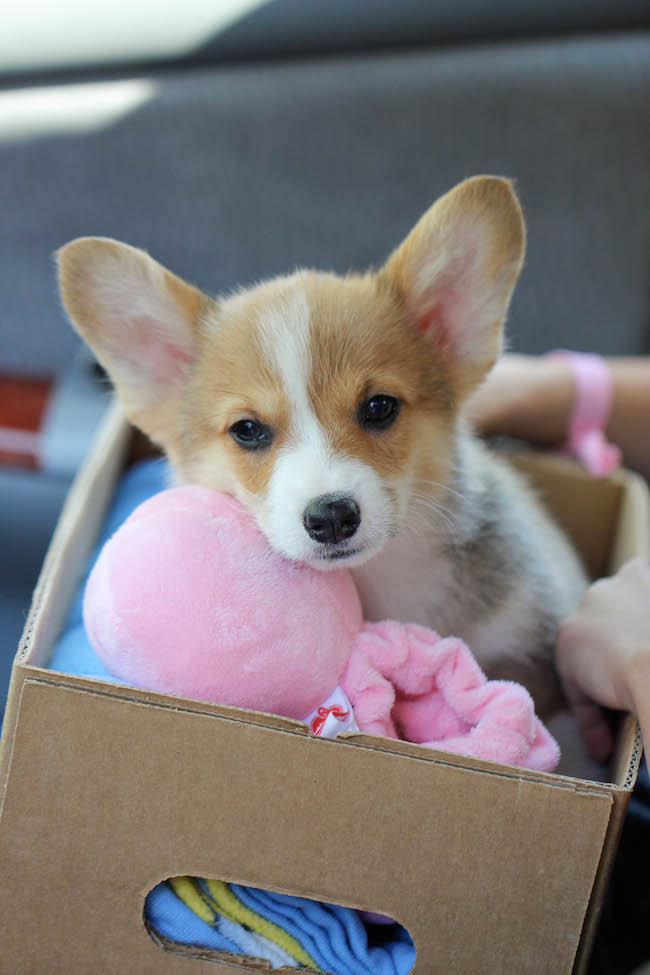 It's been a very long day as I sit by hyperventilating each time he whines, but apparently that's quite normal in the puppy world. So forgive me for today's short post – Jason is next to me playing with Butters, winning some major brownie points while I'm here working!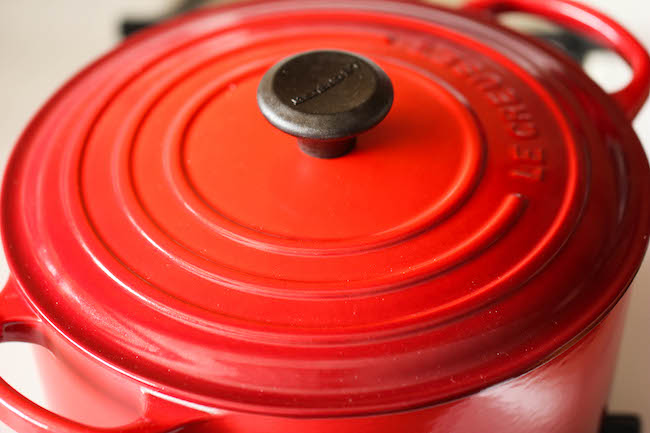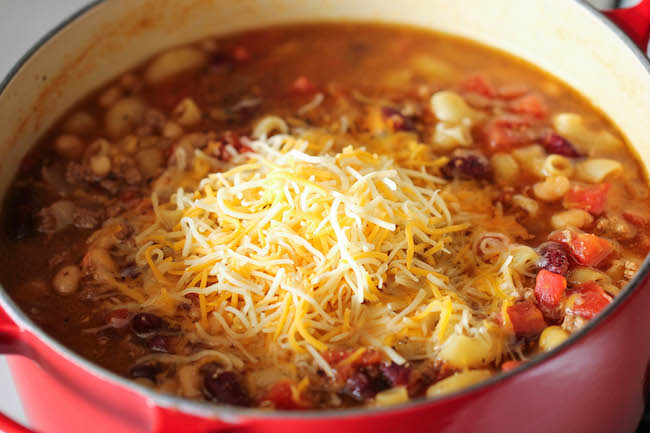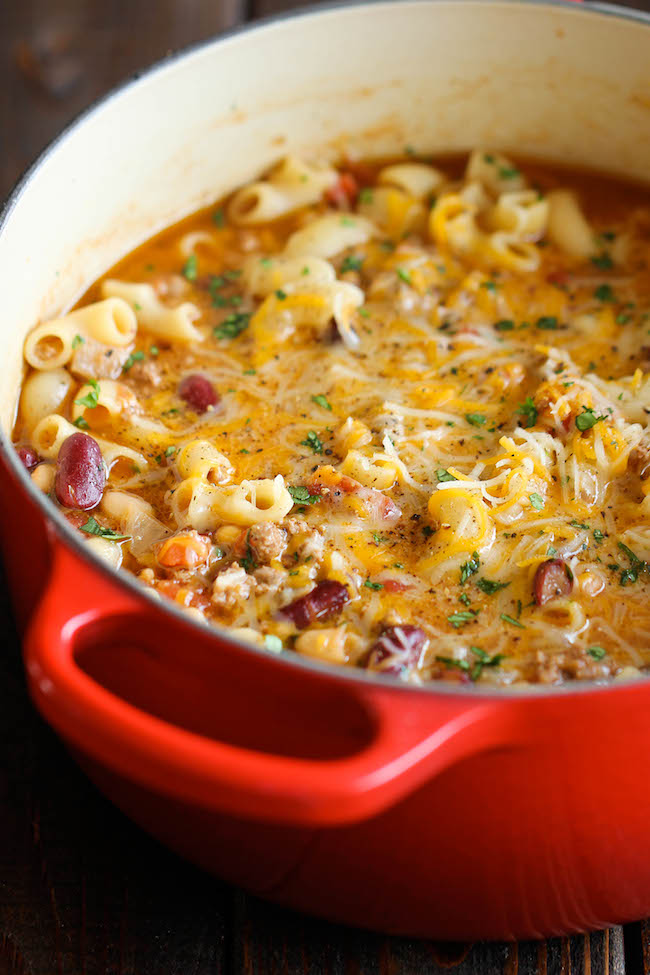 So about this mac and cheese. Now it's definitely not your ordinary mac and cheese. It's mac and cheese combined with a super easy homemade chili using pantry ingredients, combining two of your favorite kind of comfort foods in a single one pot meal. It's quick, easy and sure to be a hit with the entire family. You can't beat that!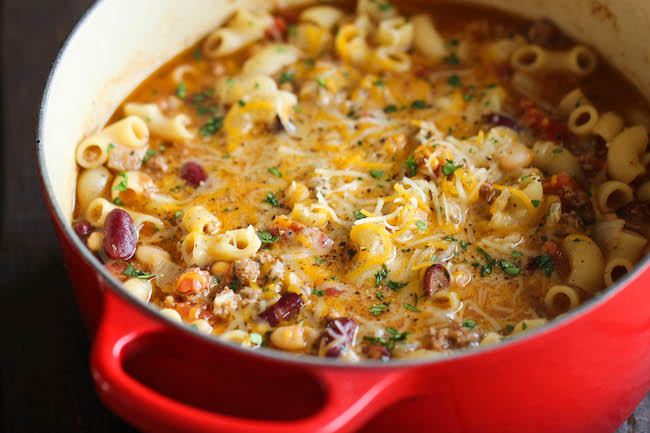 One Pot Chili Mac and Cheese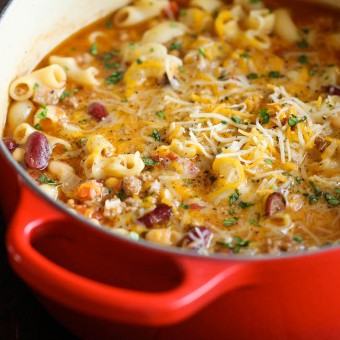 Two favorite comfort foods come together in this easy, 30 min one-pot meal that the whole family will love!
Ingredients:
1 tablespoon olive oil
2 cloves garlic, minced
1 onion, diced
8 ounces ground beef
4 cups chicken broth
1 (14.5-ounce) can diced tomatoes
3/4 cup canned white kidney beans, drained and rinsed
3/4 cup canned kidney beans, drained and rinsed
2 teaspoons chili powder
1 1/2 teaspoon cumin
Kosher salt and freshly ground black pepper, to taste
10 ounces elbows pasta
3/4 cup shredded cheddar cheese
2 tablespoons chopped fresh parsley leaves
Directions:
Heat olive oil in a large skillet or Dutch oven over medium high heat. Add garlic, onion and ground beef, and cook until browned, about 3-5 minutes, making sure to crumble the beef as it cooks; drain excess fat.
Stir in chicken broth, tomatoes, beans, chili powder and cumin; season with salt and pepper, to taste. Bring to a simmer and stir in pasta. Bring to a boil; cover, reduce heat and simmer until pasta is cooked through, about 13-15 minutes.
Remove from heat. Top with cheese and cover until melted, about 2 minutes.
Serve immediately, garnished with parsley, if desired.
Why It's A Smart Choice
Nutrition Facts
Serving Size
Servings Per Container 4
---
Amount Per Serving
Calories 647.2 Calories from Fat 169.2
% Daily Value*
Total Fat 18.8g 29%
Saturated Fat 7.8g 39%
Trans Fat 0.2g
Cholesterol 50.2mg 17%
Sodium 671.0mg 28%
Total Carbohydrate 83.8g 28%
Dietary Fiber 8.7g 35%
Sugars 6.7g
Protein 37.6g 75%
---
*Percent Daily Values are based on a 2,000 calorie diet. Your daily values may be higher or lower depending on your calorie needs.
Folate is a B vitamin that is needed for proper red blood cell development. Consuming adequate folate is associated with lower cardiovascular disease, lower risk of cancer, and a reduced risk of neural tube defects for pregnant women.
Legumes such as kidney beans are a great source of folate. A serving of this dish will give you nearly a full day's recommendation for folate (in adults)!
Nutritional information provided by Jessica Penner, RD at Smart Nutrition.