Easy Garlic Alfredo Tortellini
So simple, so easy, and just amazingly creamy. Best of all, it comes together in just 20 min from start to finish!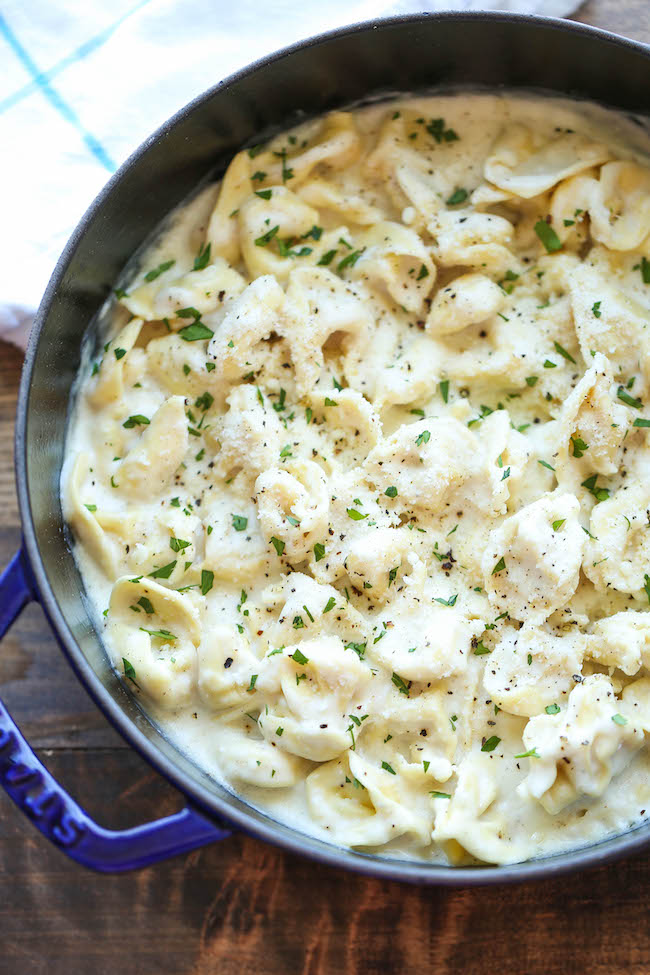 Three-cheese tortellini are smothered in a homemade alfredo sauce. And the best part about this? No, it's not the epic cheesy-garlic goodness. Or the creaminess that just melts away in your mouth. It's that it comes together in just 20 min from start to finish.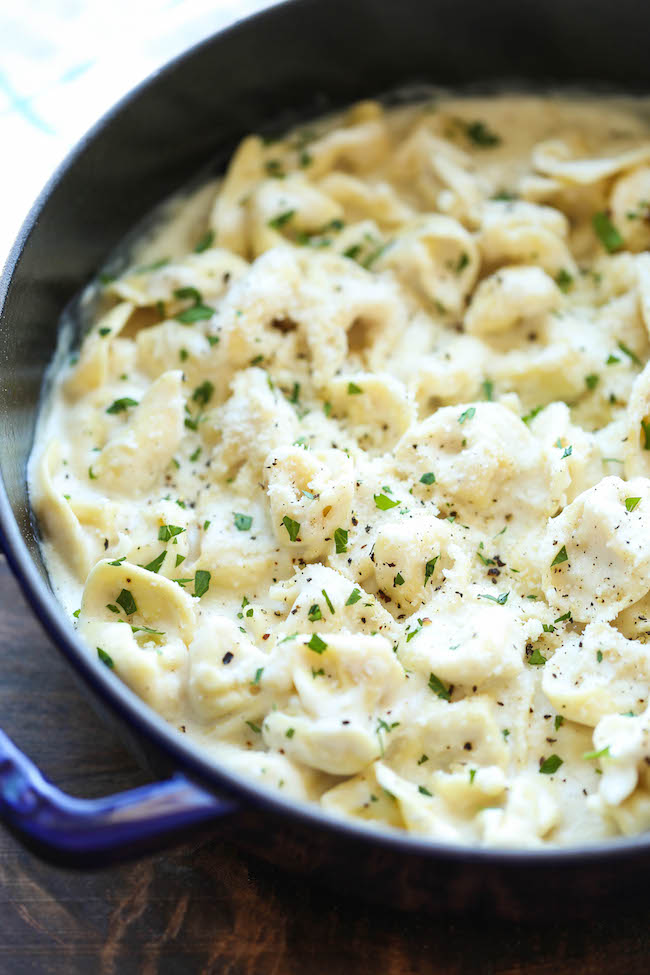 Seriously. It's just that quick and easy. No joke. But the secret ingredient here is the fresh tortellini. Dry tortellini can be used but the fresh ones just taste so much better, and cuts the cooking time right in half. Either way, I recommend doubling this recipe or else you'll be fighting for seconds!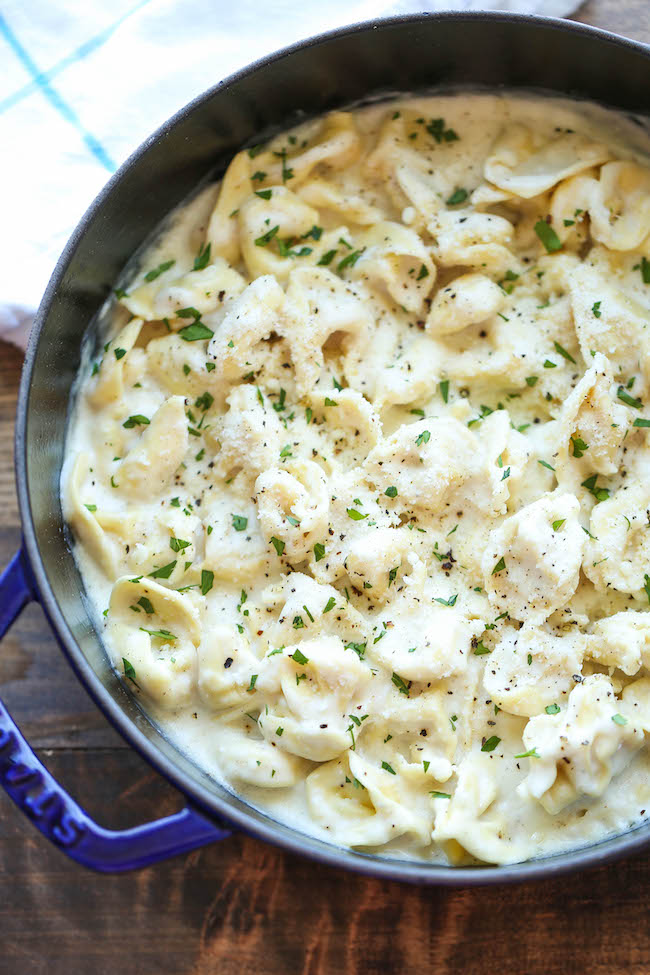 So simple, so easy, and just amazingly creamy. Best of all, it comes together in just 20 min from start to finish!
Ingredients
1 (9-ounce) package refrigerated three cheese tortellini
2 tablespoons unsalted butter
3 cloves garlic, minced
1/4 teaspoon crushed red pepper flakes
2 tablespoons all-purpose flour
1 cup milk, or more, as needed
1/2 cup half and half*
2 ounces cream cheese, cubed
1/4 cup freshly grated Parmesan cheese
Kosher salt and freshly ground black pepper, to taste
2 tablespoons chopped fresh parsley leaves
Instructions
In a large pot of boiling salted water, cook tortellini according to package instructions; drain well.
Melt butter in a saucepan over medium heat. Add garlic and red pepper flakes, and cook, stirring frequently, until fragrant, about 1 minute. Whisk in flour until lightly browned, about 1 minute.
Gradually whisk in milk and half and half, and cook, whisking constantly, until slightly thickened, about 2-3 minutes.
Stir in cheeses until melted, about 1-2 minutes. If the mixture is too thick, add more milk as needed; season with salt and pepper, to taste. Stir in tortellini and gently toss to combine.
Serve immediately, garnished with parsley, if desired.
Notes
*Half and half is equal parts of whole milk and cream. For 1 cup half and half, you can substitute 3/4 cup whole milk + 1/4 cup heavy cream or 2/3 cup skim or low-fat milk + 1/3 cup heavy cream.
http://damndelicious.net/2015/02/13/easy-garlic-alfredo-tortellini/
Why It's A Smart Choice
Nutrition Facts
Serving Size
Servings Per Container 4
---
Amount Per Serving
Calories 415 Calories from Fat 197.1
% Daily Value*
Total Fat 21.9g 34%
Saturated Fat 11.6g 58%
Trans Fat 0.3g
Cholesterol 73mg 24%
Sodium 483.5mg 20%
Total Carbohydrate 37.9g 13%
Dietary Fiber 0.2g 1%
Sugars 5.9g
Protein 17.1g 34%
---
*Percent Daily Values are based on a 2,000 calorie diet. Your daily values may be higher or lower depending on your calorie needs.
Most fettuccine alfredo recipes use heavy cream for the sauce. This recipe lightens it up by substituting half and half, milk, and cream cheese to get that creamy mouthfeel.
For a balanced meal be sure to add a meat or alternative such as chicken, shrimp, or tofu, and some veggies like this garlic parmesan roasted broccoli side dish.
Nutritional information provided by Jessica Penner, RD at Smart Nutrition.