Healthy Protein Waffles
Start your day right with these freezer-friendly waffles made right in a blender! So filling with 240.3 calories and 20g protein!!
Hey guys! Nick here.
I'm so excited to meet you and thrilled to work with Damn Delicious on this exciting expansion. I hope you enjoy making these recipes as much as I do creating them (and eating them, of course). So let's get right to it!
MY OTHER RECIPES
Now sometimes we all need a healthy breakfast option. Just once in a while. I am definitely not against a doughnut, or three.
But breakfast is the most important meal of the day, and having a well balanced breakfast has been proven to stabilize energy levels preventing that mid-morning crash, cut sugar cravings and help cut additional snacking that can lead to unwanted weight gain.
So for my very first recipe, I'm bringing you one of my absolute favorites. Protein waffles. I promise you – they don't taste any different to a regular waffle. Best of all, these are packed full of protein and good carbohydrates without the addition of protein powder. Instead, the eggs and cottage cheese give you all the protein you need.
You can easily double, triple or quadruple the recipe, and pretty much do anything with them. Freeze them for later, take them on the go, pack them in lunch boxes for the kids, or use them for a fun Sunday brunch with friends and family. These waffles are also practically effortless with the use of a blender. From there, simply pour the batter into the waffle maker. See, there's only one blender to clean now.
So what are you waiting for? Let's make some waffles! And don't forget to hit me up on social media – tag me and tweet me your waffles and creations. I would love to hear your stories!
Healthy Protein Waffles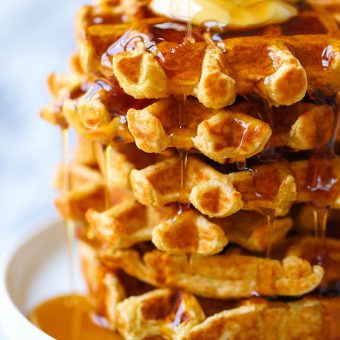 Start your day right with these freezer-friendly waffles made right in a blender! So filling with 276.1 calories and 20g protein!!
Ingredients:
6 large eggs
2 cups cottage cheese
2 cups old fashioned oats
1/2 teaspoon vanilla extract
Pinch of salt
Directions:
Preheat a waffle iron to medium-high heat. Lightly oil the top and bottom of the waffle iron or coat with nonstick spray.
Combine eggs, cottage cheese, oats, vanilla and salt in blender until smooth.
Pour a scant 1/2 cup of the egg mixture into the waffle iron, close gently and cook until golden brown and crisp, about 4-5 minutes.
Serve immediately.
Nutrition Facts
Serving Size 6
Servings Per Container
---
Amount Per Serving
Calories 240.3 Calories from Fat 74.7
% Daily Value*
Total Fat 8.3g 13%
Saturated Fat 2.8g 14%
Trans Fat 0g
Cholesterol 192.0mg 64%
Sodium 376.8mg 16%
Total Carbohydrate 21.0g 7%
Dietary Fiber 2.6g 10%
Sugars 1.0g
Protein 20.0g 40%
---
*Percent Daily Values are based on a 2,000 calorie diet. Your daily values may be higher or lower depending on your calorie needs.