Chocolate Sour Cream Bundt Cake
Incredibly moist, melt-in-your mouth chocolate cake with the most decadent chocolate glaze – a chocolate lover's dream!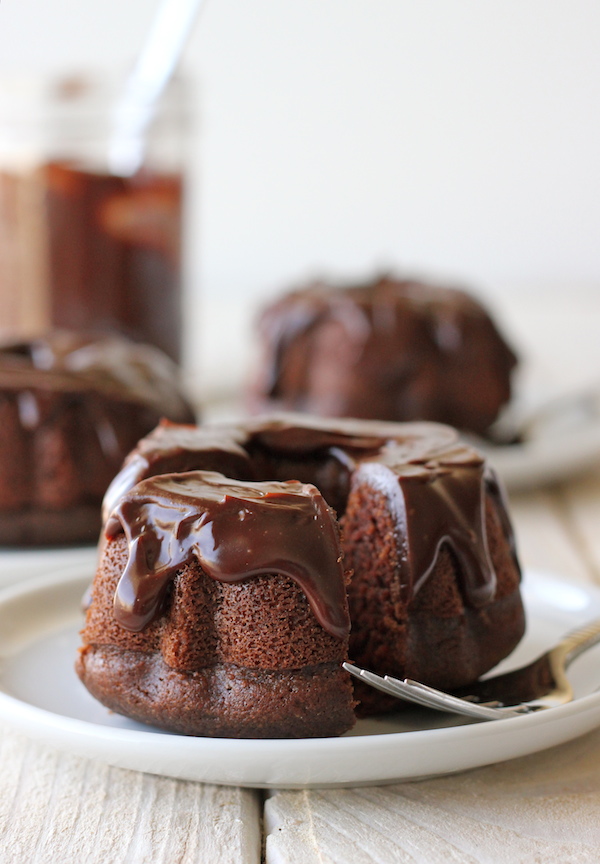 Despite the fact that I feel like I'm 18 and look way under the legal drinking age, I'm actually celebrating my 25th birthday today. I'm still in a bit of disbelief to think that I'm 25. Growing up, I thought that 25 was "old people age" but now that I'm there, I clearly had no idea what I was talking about.
I'm at a point in my life where I'm learning that life isn't all that perfect, and as hard as it was to accept that, I'm beginning to find content and count my blessings with what I have. I spent all of last year being unhappy and angry that I couldn't find my dream job right out of grad school after spending $150,000+ on tuition. But with the job market these days, I'm lucky enough to have a full-time job so I can pay my bills and do something that I truly love to do, which is blogging here.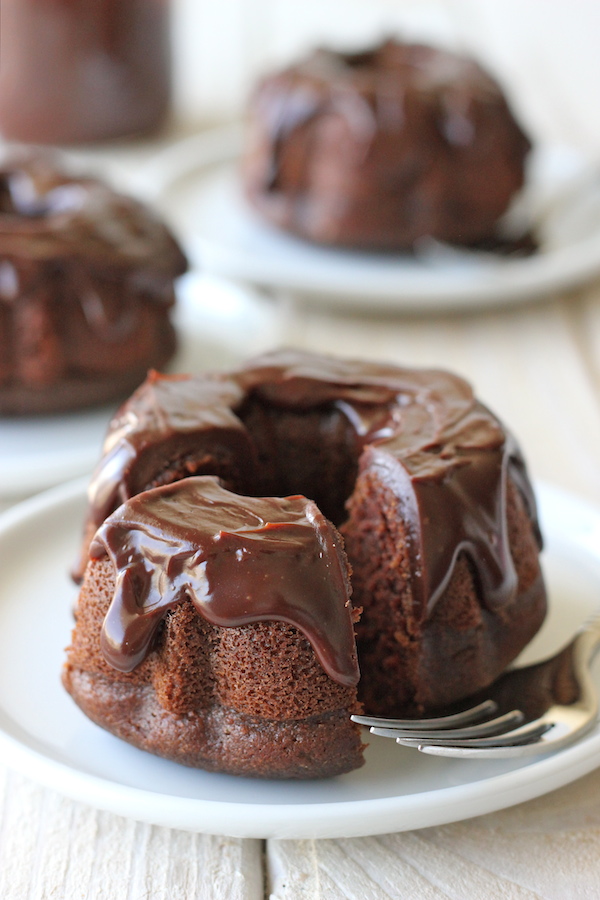 I'm also incredibly fortunate to have Jason in my life. He's so supportive with the blog, and even plans for the day to quit my day job so that I can take on the blog full-time (even though it totally feels like a full-time job now!).
Oh and there's something else that I'm also grateful for: this chocolate bundt cake here. I'll be celebrating my birthday all weekend long with this decadent chocolate cake, and then spend all my time at spin class working it off!
Hey, a girl's gotta eat, right?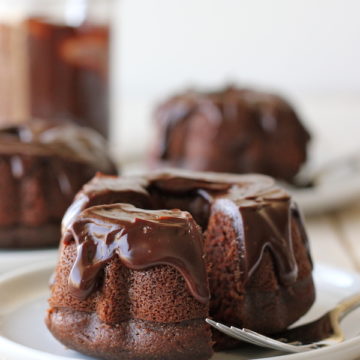 Chocolate Sour Cream Bundt Cake
Incredibly moist, melt-in-your mouth chocolate cake with the most decadent chocolate glaze!
40 minutes25 minutes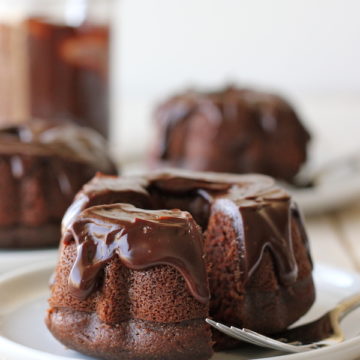 Ingredients:
2 cups all-purpose flour
1 cup sugar
1 1/2 teaspoons baking soda
1 cup unsalted butter
1/3 cup Dutch processed cocoa powder
1/2 teaspoon salt
2 large eggs
1/2 cup sour cream
1 teaspoon vanilla extract
For the chocolate glaze
1/2 cup heavy cream
1 1/2 tablespoons sugar
4 ounces bittersweet chocolate, finely chopped
1 1/2 tablespoons corn syrup
Directions:
Preheat oven to 350 degrees F. Lightly coat a mini bundt pan with nonstick spray.
In a large bowl, combine flour, sugar and baking soda; set aside.
In a small saucepan, combine butter, cocoa powder, salt and 1 cup water over medium heat. Cook, stirring, until melted and combined, about 2-3 minutes. Pour mixture over dry ingredients and stir using a rubber spatula just until moist. Beat in eggs, one at a time, until well combined. Beat in sour cream and vanilla until well combined.
Scoop the batter evenly into the bundt pan. Place into oven and bake for 20-25 minutes, or until a tester inserted in the center comes out clean.
Remove from oven and let cool for 15 minutes before inverting the cake onto a wire rack.
To make the glaze, combine heavy cream and sugar in a small saucepan over medium heat. Remove from heat. Stir in chocolate and corn syrup. Whisk until smooth. Drizzle the glaze evenly over the top of the cakes, allowing to drip down the sides.
Allow glaze to set before serving.
Did you Make This Recipe?
Tag @damn_delicious on Instagram and hashtag it #damndelicious.