Berry Medley Oatmeal Crumb Bars
Made with old fashioned oats and whole wheat pastry flour, you can indulge in these bars guilt-free in all of its crumbly glory!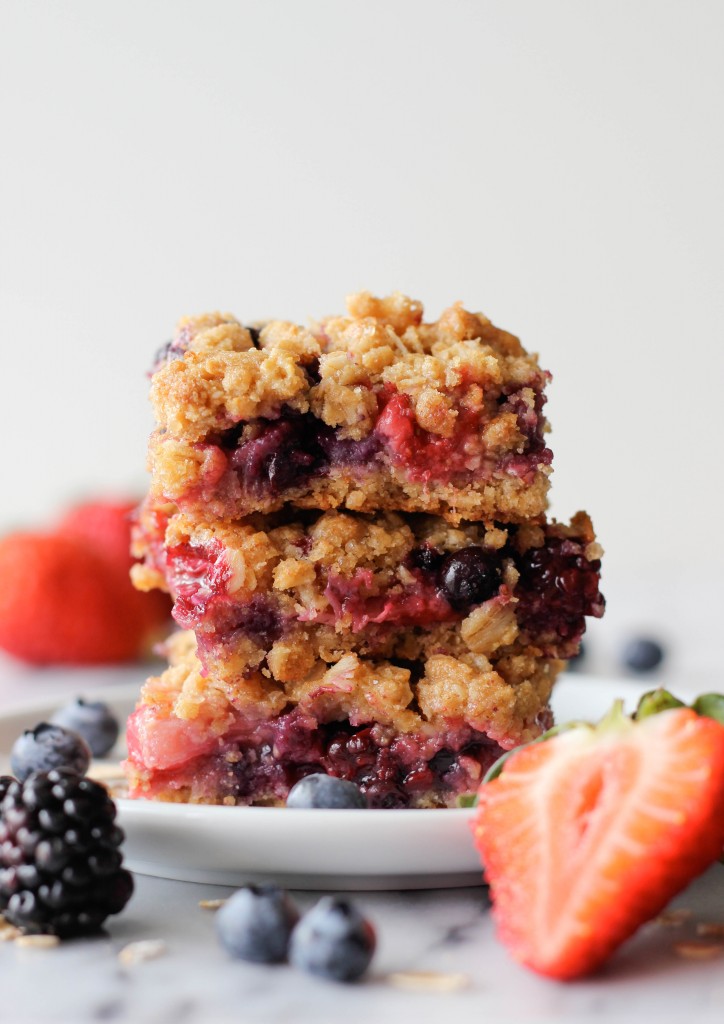 Boy, am I glad it's Friday. This week completely dragged on and I was honestly ready for a glass of wine at 10AM on Monday morning. Then, Wednesday, I woke up with a sore throat and now I am officially sick as a dog, inhaling cough drops by the minute and counting down the seconds until I am officially off of work to make my way to San Francisco.
See, Jason is officially done with his second year of architecture school so he will be moving back home to LA for 4 WHOLE MONTHS! I can't be more excited to have him back home again – this long-distance thing has been an absolute pain! But having him home for the whole summer is definitely going to change things around the house – i.e. I'll be back to inhaling burgers, chili cheese fries, late-night Mexican food and more-artery clogging foods.
But before you start seeing that all over the blog, I just had to share these bars with you. They're made with whole wheat pastry flour and loaded with three different kinds of berries, topped with a crumbly, oatmeal topping. I'm sure Jason would steer clear of these bars but that just means there's more guilt-free bars for me to indulge in!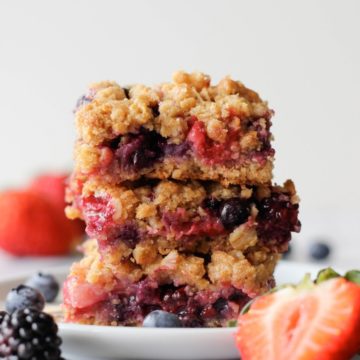 Berry Medley Oatmeal Crumb Bars
You can indulge in these bars guilt-free in all of its crumbly glory!
10 minutes30 minutes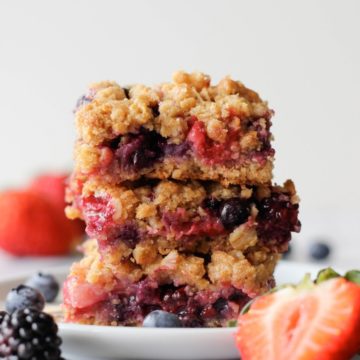 Ingredients:
3/4 cup blueberries
3/4 cup blackberries
3/4 cup sliced strawberries
2 tablespoons sugar
2 teaspoons cornstarch
3/4 cup whole wheat pastry flour
3/4 cup old fashioned oats
1/2 cup brown sugar
1/2 teaspoon baking powder Pinch of salt
1 large egg, beaten
1 teaspoon vanilla extract
1/2 cup (1 stick) unsalted butter, cut into cubes
1 tablespoon turbinado sugar
Directions:
Preheat oven to 375 degrees F. Lightly coat an 8×8 baking dish with nonstick spray.
In a small bowl, combine berries, sugar and cornstarch; set aside.
In a large bowl, combine flour, oats, brown sugar, baking powder and salt. Add egg, vanilla and cold butter, using your fingers to work the butter into the dry ingredients until it resembles coarse crumbs.
Spread 2/3 of the batter into the prepared baking dish. Spread berry mixture evenly over the bottom layer. Sprinkle with remaining 1/3 of the batter and turbinado sugar.
Place into oven and bake until lightly browned, about 25-30 minutes. Let cool slightly before cutting into bars.
Did you Make This Recipe?
Tag @damn_delicious on Instagram and hashtag it #damndelicious.