Slow Cooker Pulled Pork Gyros
It's time to dust off that crockpot with these pulled pork gyros loaded with homemade coleslaw, avocado and cherry tomatoes. Just let the slow cooker do all the work for you!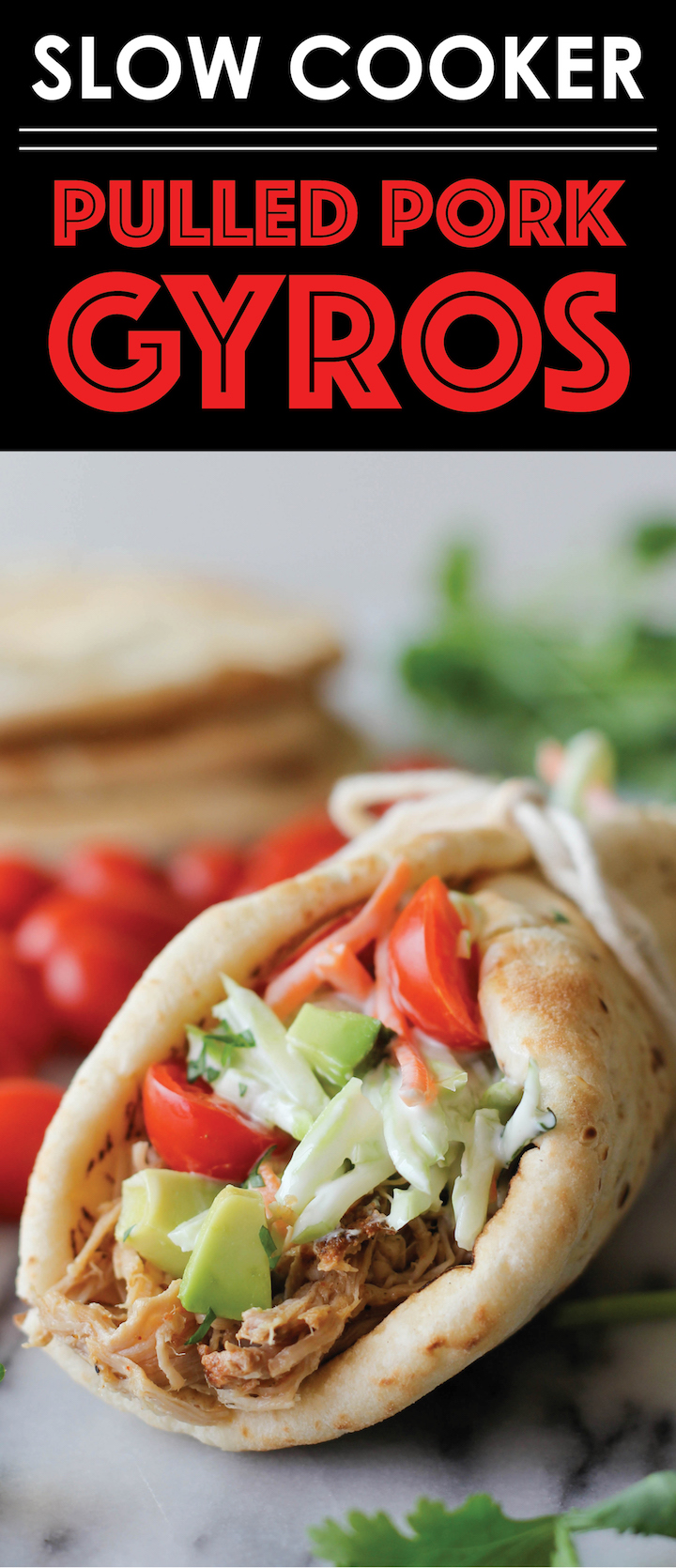 How do you plan your cooking during the week? If you're anything like me, you'll need a detailed weekly plan to get through the weekdays. It's actually a bit of a process for me – I spend hours on a meal plan before I even begin to create my grocery list in order of the aisles at the store. Yeah, I'm a bit OCD overly organized here.
That being said, I am happy to share that I have joined the amazing Cook Smarts family, a weekly meal planning service that provides you with 4 simple meals every week that can be customized for paleo, vegetarian and gluten-free meals. They provide easy dinner steps that also include short how-to videos to help you get smarter while making dinner, and they even give back to organizations in your local community that support bringing food education back to schools!
So in honor of my first meal plan, we wanted to celebrate with a giveaway for a one-year subscription to their weekly meal planning service AND a $50 Whole Foods gift card to help you with some of those groceries you'll be needing. We're all about helping the home cook live happier, simpler and smarter in the kitchen and hope to be seeing more of you.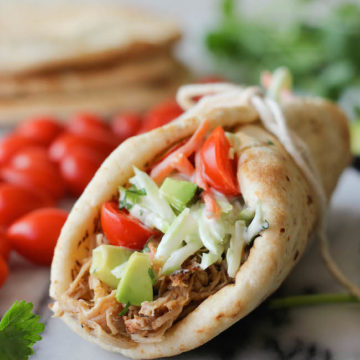 Slow Cooker Pulled Pork Gyros
It's time to dust off that crockpot with these tender pulled pork gyros! Just let the slow cooker do all the work for you!
15 minutes
8 hours 30 minutes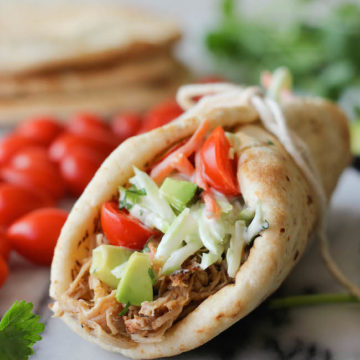 Ingredients:
1 tablespoon chili powder
2 teaspoons cumin
2 teaspoon dried oregano
2 teaspoon cayenne pepper
1 1/2 teaspoon salt
1/2 teaspoon ground pepper
2 1/2-3 lb pork loin, excess fat trimmed
2 tablespoons olive oil
4 cloves garlic, peeled
2 red onions, quartered
For the slaw
3 tablespoons Greek yogurt
3 tablespoons mayonnaise
1 1/2 tablespoons apple cider vinegar
1 1/2 teaspoons sugar, or more to taste
1 1/2 cups shredded cabbage
2 carrots, peeled and grated
For the gyros
8 pita bread, toasted
1 cup cherry tomatoes, halved
2 avocadoes, halved, seeded, peeled and diced
Directions:
In a small bowl, combine chili powder, cumin, oregano, cayenne, salt and pepper. Season pork loin with spice mixture, rubbing in thoroughly on all sides.
Heat olive oil in a Dutch oven or large pot over medium high heat. Add pork loin and sear both sides until browned, about 3-4 minutes per side.
Place garlic, onions, pork loin and 1 cup water into a slow cooker. Cover and cook on low heat for 8 hours or high for 4-5 hours.
Remove pork loin from the slow cooker and shred the meat before returning to the pot with the juices; season with salt and pepper, to taste, if needed. Cover and keep warm for an additional 30 minutes.
In a large bowl, combine cabbage and carrots. In a large glass measuring cup or another bowl, whisk together Greek yogurt, mayonnaise, apple cider vinegar and sugar, to taste. Pour mixture over cabbage slaw, and stir using a rubber spatula until well combined. Cover and place in the refrigerator for at least one hour.
To assemble, top each pita bread with pulled pork, slaw, tomatoes and avocado. Serve immediately.
Did you Make This Recipe?
Tag @damn_delicious on Instagram and hashtag it #damndelicious.
Disclosure: This giveaway is sponsored by Cook Smarts. All opinions expressed are my own.