Sweet Potato Casserole
Made with mashed roasted sweet potatoes and a crunchy pecan topping with an ooey gooey melted marshmallow center!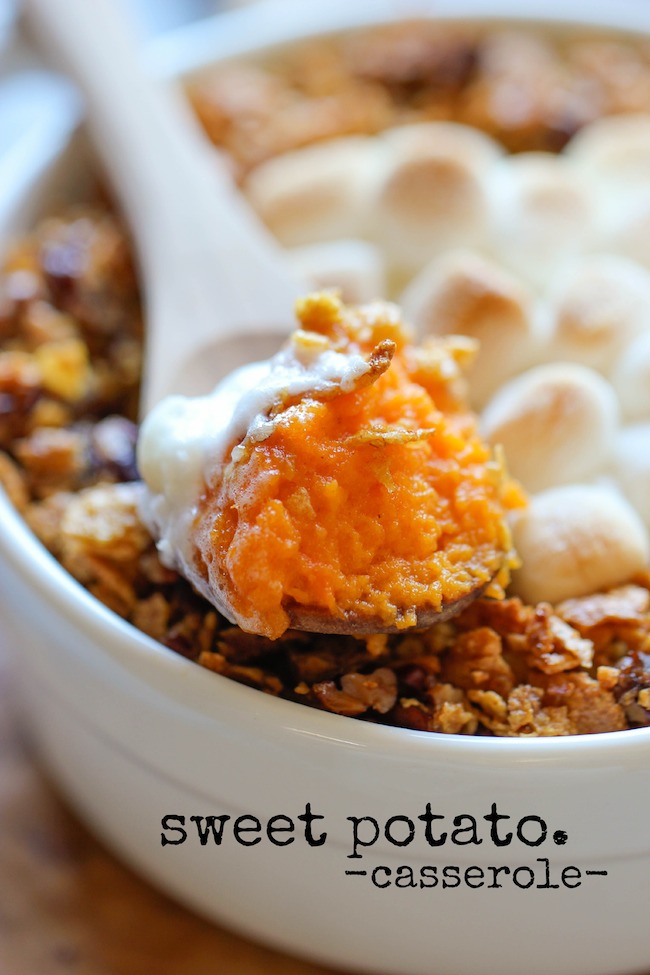 You know how they say that "when it rains, it pours"? Well, I got to personally experience that yesterday. My site was down for 4 hours due to my problematic web host, it was pouring rain during my 4-mile run, the rain then somehow damaged my iPhone, and when I wanted to get an old-fashioned donut – the only thing that was probably going to make me feel better – I had no cash on me. Not even $0.80 in coins! So yes, when it rains, it freaking pours.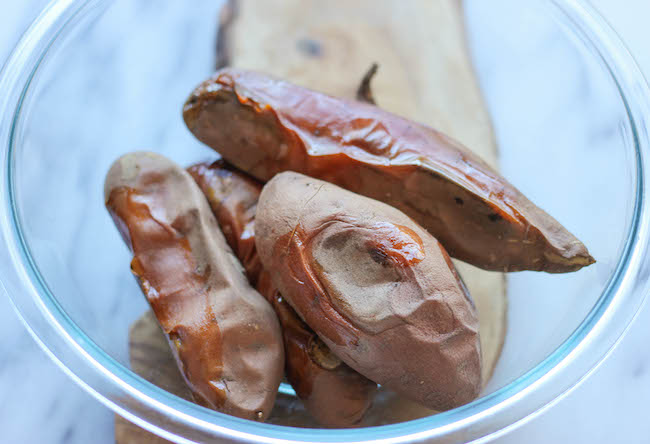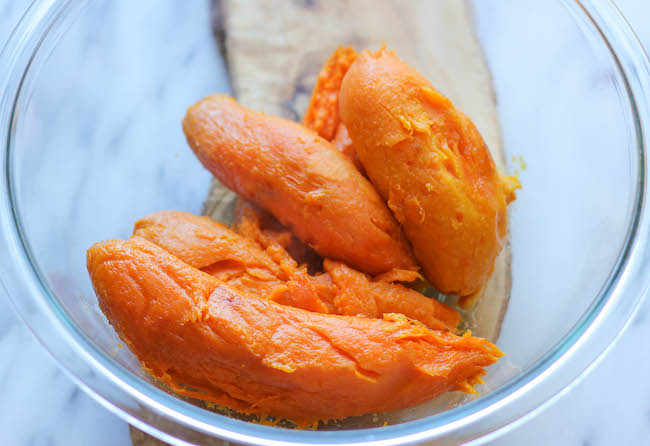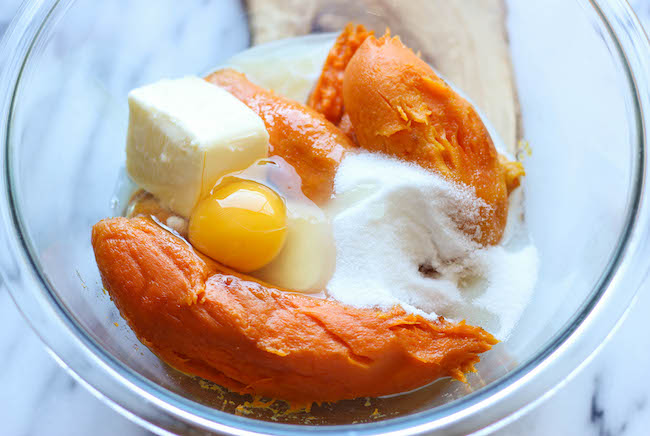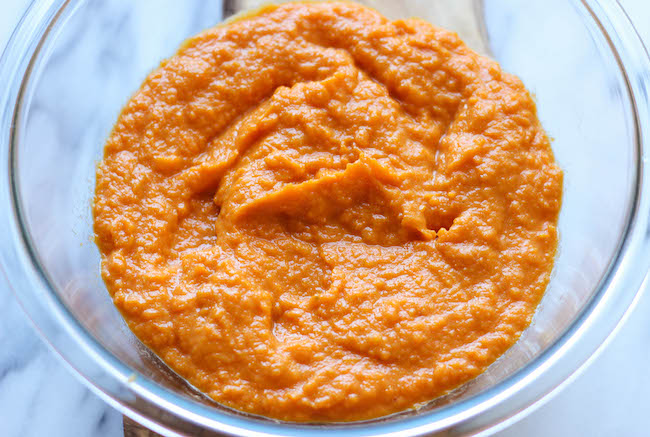 But with a huge batch of tacos for dinner last night, I'm slowly starting to recover from this day. Not to mention these sweet potatoes that I've had 3 nights in a row.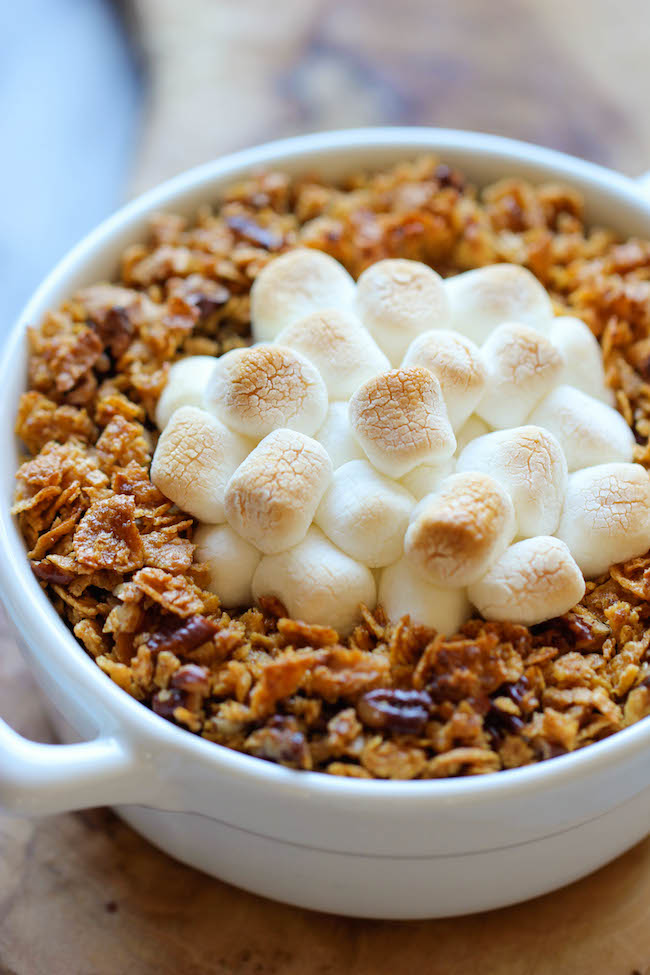 A side note here – please don't mind all of these photos. I just spent my life savings on a new macro lens so I was a bit of camera-happy when shooting these. After all, melted marshmallows is such a pretty sight, right?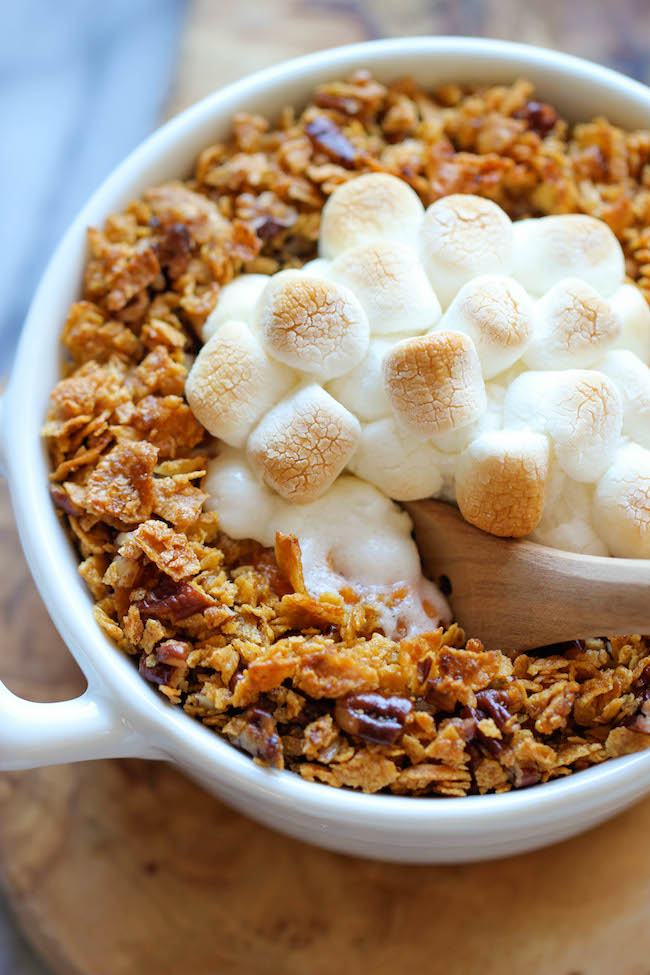 No, but really, I've made several kinds of sweet potato casseroles for the holidays in the past couple of years but I think I've finally perfected this. It's a simple casserole with roasted sweet potatoes but the star of this sweet potato dish are the toppings.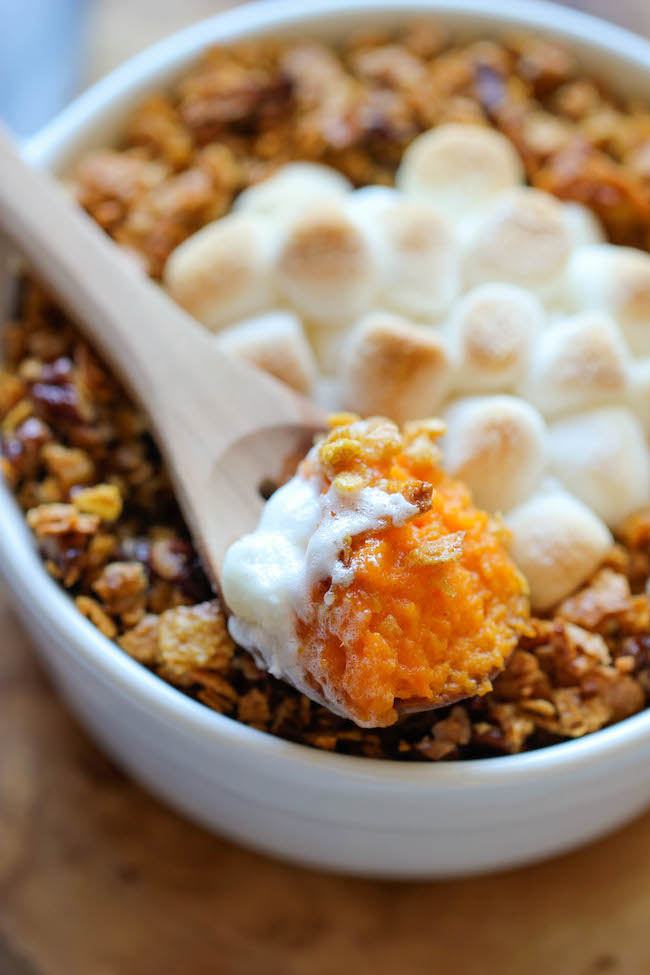 I usually see recipes with either a pecan streusel or marshmallow topping but with this, you get both! A crunchy, crushed corn flakes pecan topping on the outer rim and then a ooey, gooey marshmallow topping right in the center that just melts right into the potatoes.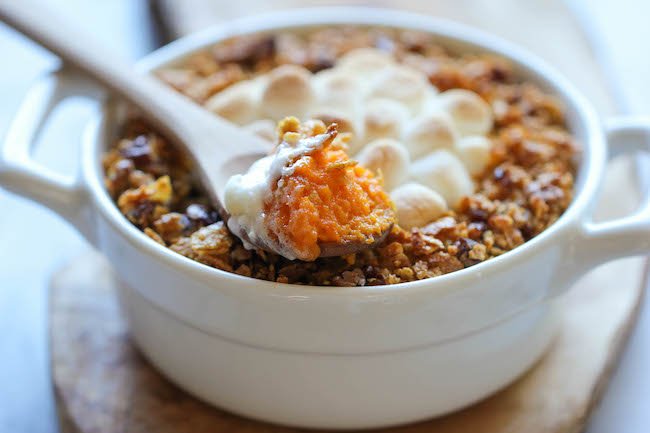 You get the best of both worlds on this casserole, and I promise you – it's going to be the #1 hit at your Thanksgiving dinner!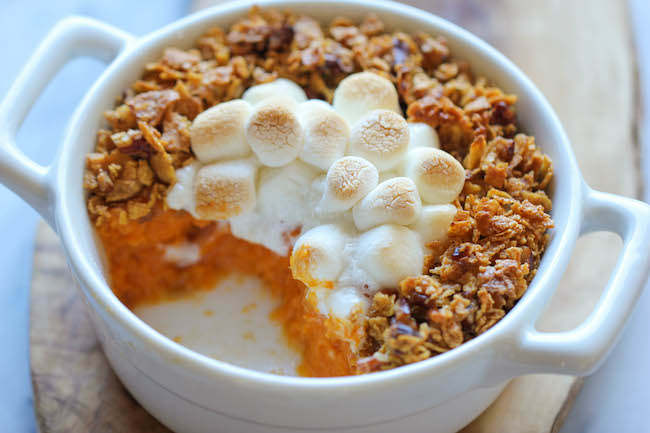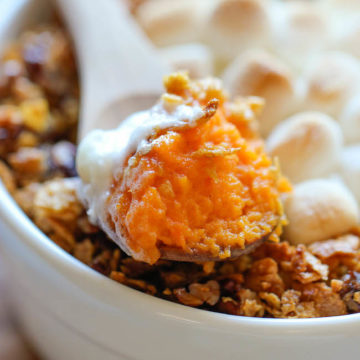 Sweet Potato Casserole
Made with mashed roasted sweet potatoes and a crunchy pecan topping with an ooey gooey melted marshmallow center!
20 minutes
1 hour, 25 minutes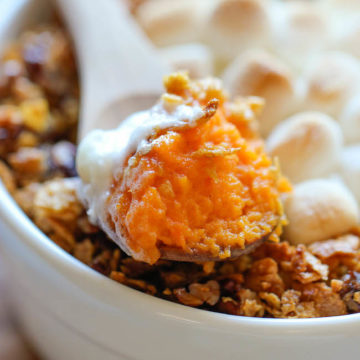 Ingredients:
3 pounds sweet potatoes
1/4 cup unsalted butter, at room temperature
1/4 cup sugar
1/4 cup milk
1 large egg
1/2 teaspoon vanilla extract
1/4 teaspoon salt, or more, to taste
For the topping
1 1/4 cups cornflakes cereal, crushed
1/3 cup pecans, chopped
1 tablespoon brown sugar, packed
1 tablespoon unsalted butter, melted
1 cup miniature marshmallows
Directions:
Preheat oven to 400 degrees F. Line a baking sheet with parchment paper.
Place potatoes onto prepared baking sheet. Place into oven and bake until tender, about 1 hour. Let cool before peeling.
Reduce oven temperature to 350 degrees F. Lightly oil a 9-inch pie plate or coat with nonstick spray.
To make the topping, combine cornflakes, pecans and brown sugar. Stir in butter until well combined; set aside.
In the bowl of an electric mixer fitted with the paddle attachment, beat sweet potatoes, butter, sugar, milk, eggs, vanilla and salt on medium-high until well combined, about 1-2 minutes.
Add sweet potato mixture to prepared baking dish. Sprinkle with cornflakes mixture around the outside of the dish, leaving room in the center.
Place into oven and bake until the topping is golden, about 20 minutes. Add marshmallows to the middle and bake until lightly golden on top, an additional 5 minutes.
Serve immediately.
Did you Make This Recipe?
Tag @damn_delicious on Instagram and hashtag it #damndelicious.