Biscuit Pot Pie
Comfort food never tasted so good in this comforting and creamy pot pie topped with easy homemade biscuits!

I don't know about you guys but we'll be having a beautiful turkey on our Christmas table this year. And when there's turkey involved, that means I could also look forward to the leftover pot pies!
I've made a couple of pot pie versions before but this one is by far my favorite. I mean with homemade biscuits, how can it not be the favorite? Now if you've never made biscuits before, have no fear. These come together so easily with pantry ingredients. Just make sure your butter is chilled when you toss it in the biscuit dough. Then you can let it chill in the refrigerator while you make your filling. Easy peasy, right?
Not only is this a good use of leftover turkey but this is the perfect time to indulge in this kind of comfort food before 2014 hits! Once the New Year comes, I'll be sticking to salads left and right. Until then, I'll be stuffing my face with this.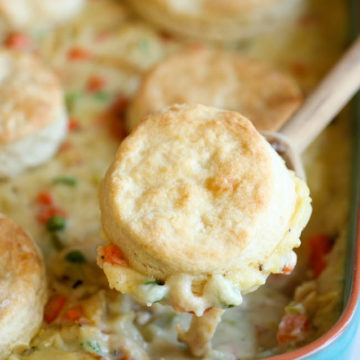 Biscuit Pot Pie
Comfort food never tasted so good in this comforting and creamy pot pie topped with easy homemade biscuits!
30 minutes
40 minutes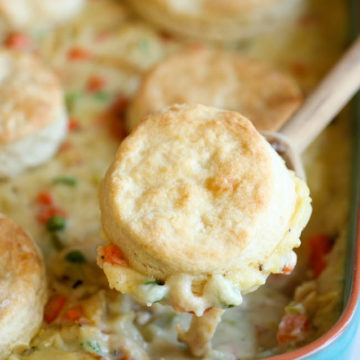 Ingredients:
2 tablespoons unsalted butter
2 cloves garlic, minced
1 small onion, diced
3 carrots, peeled and diced
2 ribs celery, diced
1/3 cup all-purpose flour
2 cups chicken broth
1 1/2 cups milk
1/2 teaspoon thyme
Kosher salt and freshly ground black pepper, to taste
3 1/2 cups shredded chicken
1/2 cup frozen peas
For the biscuits
2 cups all-purpose flour
2 teaspoon baking powder
1 teaspoon sugar
1/2 teaspoon baking soda
1/2 teaspoon salt
4 tablespoons (1/2 stick) unsalted butter, cut into cubes
3/4 cup buttermilk
Directions:
Line a baking sheet with parchment paper or a silicone baking mat; set aside.
In a large bowl, combine flour, baking powder, sugar, baking soda and salt. Add cold butter, using your fingers to work the butter into the dry ingredients until it resembles coarse crumbs. Add buttermilk and stir using a rubber spatula until a soft dough forms.
Working on a lightly floured surface, knead the dough 3-4 times until it comes together. Using a rolling pin, roll the dough into a 10- by 7-inch rectangle, about 1-inch thick. Cut out 6-8 rounds using a 3-inch biscuit or cookie cutter. Place biscuits onto the prepared baking sheet; set aside in the refrigerator.
Preheat oven to 400 degrees F. Lightly oil a 9×13 baking dish or coat with nonstick spray.
To make the filling, melt butter in a large skillet over medium high heat. Add garlic, onion, carrots and celery, and cook, stirring occasionally, until tender, about 3-4 minutes. Whisk in flour until lightly browned, about 1 minute. Gradually whisk in chicken broth, milk and thyme, and cook, whisking constantly, until slightly thickened, about 1-2 minutes. Stir in chicken and peas; season with salt and pepper, to taste.
Add chicken mixture to prepared baking dish. Place into oven and bake for 15 minutes. Top with prepared biscuits and bake until tops are golden brown, an additional 10-12 minutes. Let cool 5 minutes before serving.
Did you Make This Recipe?
Tag @damn_delicious on Instagram and hashtag it #damndelicious.