Avocado Pasta
The easiest, most unbelievably creamy avocado pasta that everyone will love. And it'll be on your dinner table in just 20 min!

Avocados. I love them. I could eat them by itself with a little bit of sea salt. I could eat them mashed up in guacamole with an entire bag of chips.
And now, I can eat them in the most glorious, most creamy pasta I've ever had. And the best part about this is that there's no cream or butter in this. All you need is simple, fresh ingredients. That's it.
So how is this so creamy? Well, all you need are a couple of ripe avocados, fresh basil leaves, garlic, lemon juice and olive oil. From there, you can just throw it all into a food processor and give it a whirl! Done and done.
Toss it with your favorite pasta noodles – spaghetti, rotini, macaroni, etc. – along with some fresh veggies. You can really use any veggies you'd like but I loved the sweet corn kernels and crisp cherry tomatoes.
Plus, it'll be on your dinner table in 20 min from start to finish. It doesn't get much easier than that!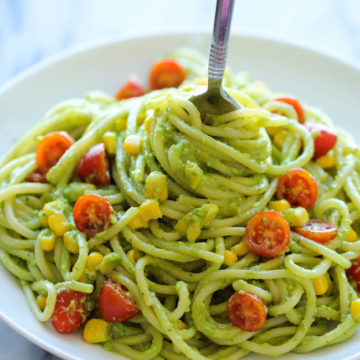 Avocado Pasta
The easiest, most unbelievably creamy avocado pasta. And it'll be on your dinner table in just 20 min!
10 minutes10 minutes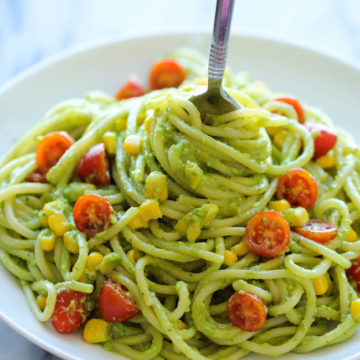 Ingredients:
12 ounces spaghetti
2 ripe avocados, halved, seeded and peeled
1/2 cup fresh basil leaves
2 cloves garlic
2 tablespoons freshly squeezed lemon juice
Kosher salt and freshly ground black pepper, to taste
1/3 cup olive oil
1 cup cherry tomatoes, halved
1/2 cup canned corn kernels, drained and rinsed
Directions:
In a large pot of boiling salted water, cook pasta according to package instructions; drain well.
To make the avocado sauce, combine avocados, basil, garlic and lemon juice in the bowl of a food processor; season with salt and pepper, to taste. With the motor running, add olive oil in a slow stream until emulsified; set aside.
In a large bowl, combine pasta, avocado sauce, cherry tomatoes and corn.
Serve immediately.
Did you Make This Recipe?
Tag @damn_delicious on Instagram and hashtag it #damndelicious.
Nutrition Facts
Serving Size
Servings Per Container 4
---
Amount Per Serving
Calories 670.7
Calories from Fat 307.8
% Daily Value*
Total Carbohydrate 80.7g
27%
---
*Percent Daily Values are based on a 2,000 calorie diet. Your daily values may be higher or lower depending on your calorie needs.