Slow Cooker Enchilada Orzo
The easiest, creamiest enchilada pasta ever. Even the pasta gets cooked right in the crockpot!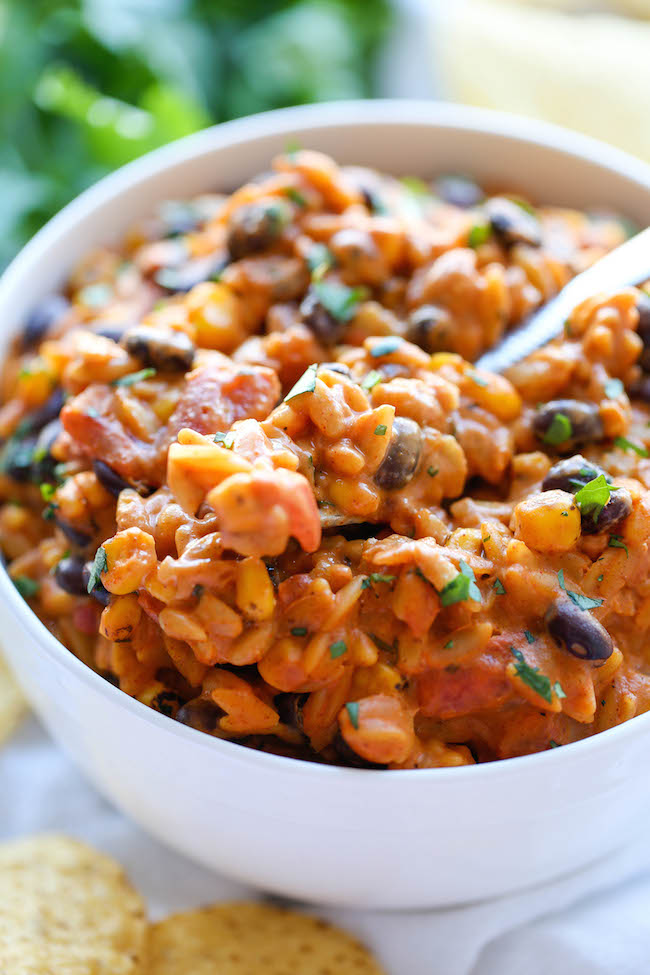 Now that we are finally in December and gearing up for the rest of the holidays, I figured we all needed a break from that Turkey Day comfort food and go a completely different direction to of course, Mexican food.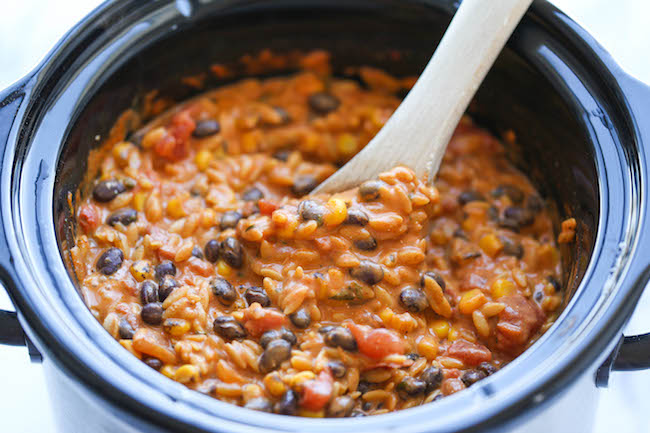 Well, I guess it's more Mexican-Italian with the pasta and all but still – there's no stuffing, no cranberry sauce and absolutely no turkey here. Just good old Mexican comfort food in pasta form.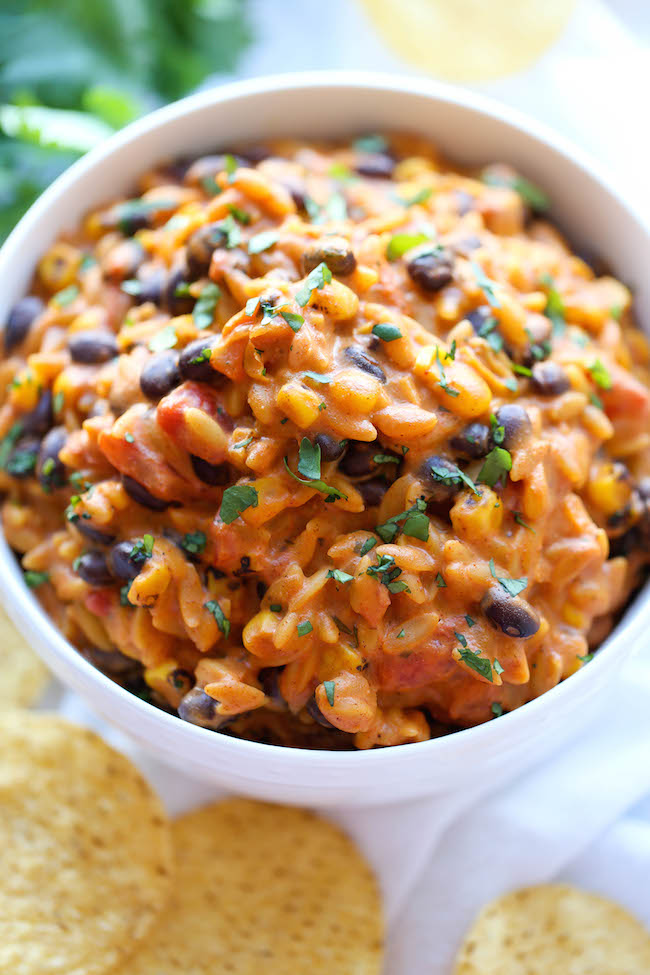 Best of all, it all comes together conveniently in a slow cooker. There's no sauteeing, no prepping, no nothing. Just throw it all in the crockpot and you're set. Done and done.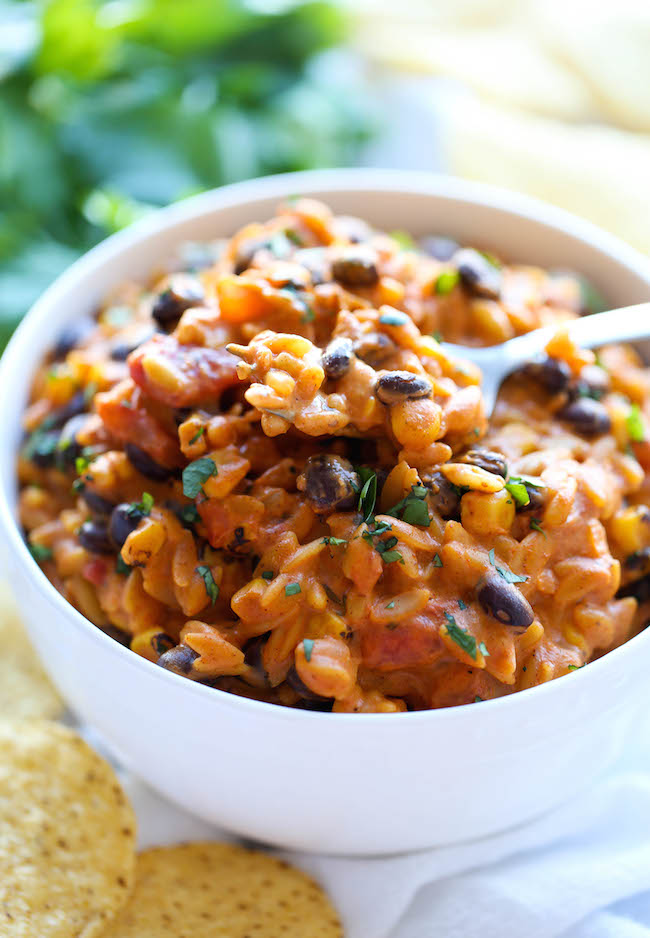 And when you get home from work, you'll have that creamy, cheesy enchilada goodness just waiting to be gobbled up. Just be sure to save a serving for later because the leftovers taste even better!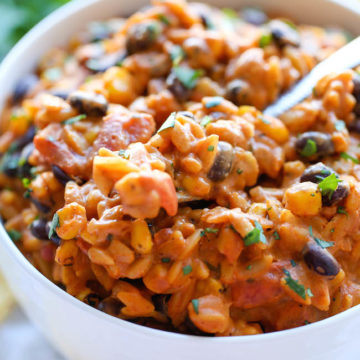 Slow Cooker Enchilada Orzo
The easiest, creamiest enchilada pasta ever. Even the pasta gets cooked right in the crockpot!
10 minutes8 hours, 15 minutes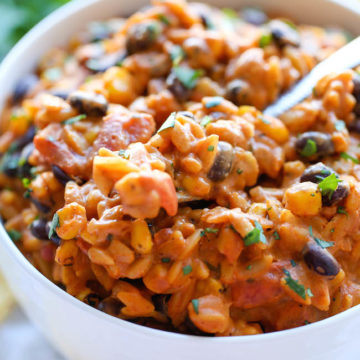 Ingredients:
1 (14.5-ounce) can fire roasted diced tomatoes
1 (10-ounce) can Old El Paso™ mild enchilada sauce
1 (4.5-ounce) can Old El Paso™ chopped green chiles, drained
1/2 cup vegetable broth, or more, as needed
1 cup corn kernels, frozen, canned or roasted
1 cup canned black beans, drained and rinsed
Kosher salt and freshly ground black pepper, to taste
4 ounces cream cheese, cubed
2 cups uncooked orzo pasta
2 tablespoons chopped fresh cilantro leaves
Directions:
Place diced tomatoes, enchilada sauce, green chiles, vegetable broth, corn and black beans into a 6-qt slow cooker.; season with salt and pepper, to taste. Stir until well combined. Top with cream cheese.
Cover and cook on low heat for 7-8 hours or high heat for 3-4 hours.
Uncover and stir until cream cheese is well combined. Stir in orzo. Cover and cook on high heat for an additional 15-30 minutes. Add more vegetable broth as needed until the desired consistency is reached.
Serve immediately, garnished with cilantro, if desired.
Did you Make This Recipe?
Tag @damn_delicious on Instagram and hashtag it #damndelicious.
Nutrition Facts
Serving Size 6
Servings Per Container
---
Amount Per Serving
Calories 331.8
Calories from Fat 70.2
% Daily Value*
Total Carbohydrate 54.6g
18%
---
*Percent Daily Values are based on a 2,000 calorie diet. Your daily values may be higher or lower depending on your calorie needs.
Disclosure: This post is sponsored by Old El Paso. All opinions expressed are my own.