Spaghetti with Tomato Cream Sauce
Jazz up those boring spaghetti nights with this super easy, no-fuss cream sauce made completely from scratch!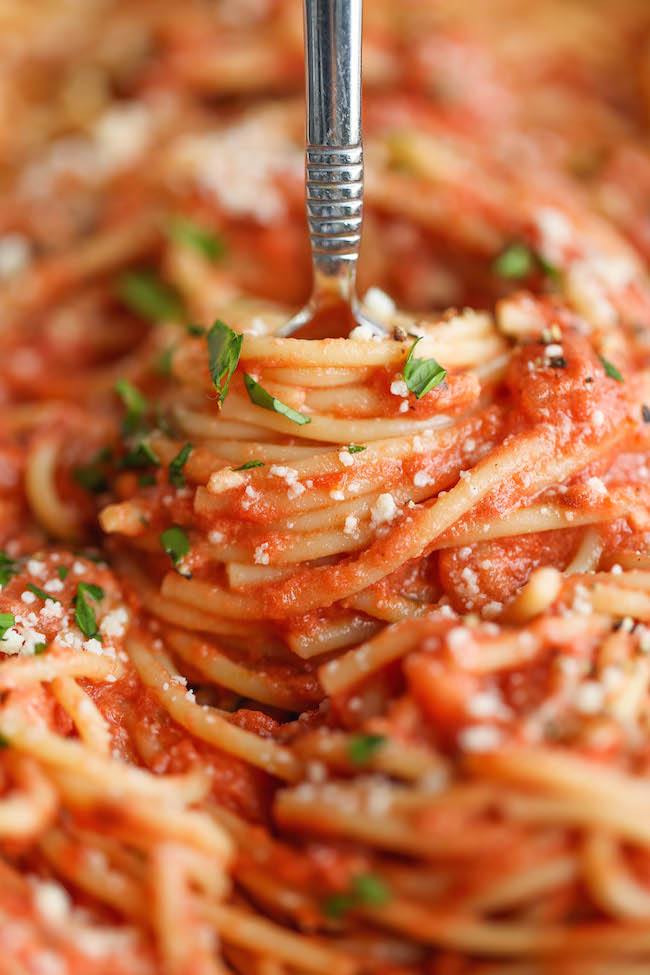 Spaghetti and Thrifty ice cream. Yes, it's a little weird. But I promise you, there's a connection here.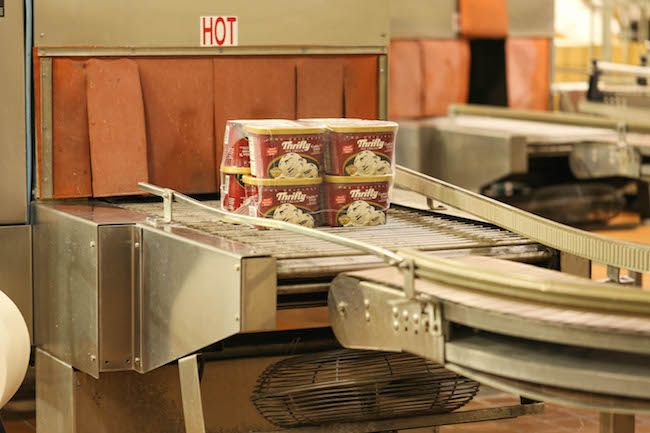 See, I was fortunate enough to attend the California Milk Advisory Board Farm Tour several weeks back, but little did I know that I was going to be stepping into the happiest place on Earth: the Thrifty ice cream factory.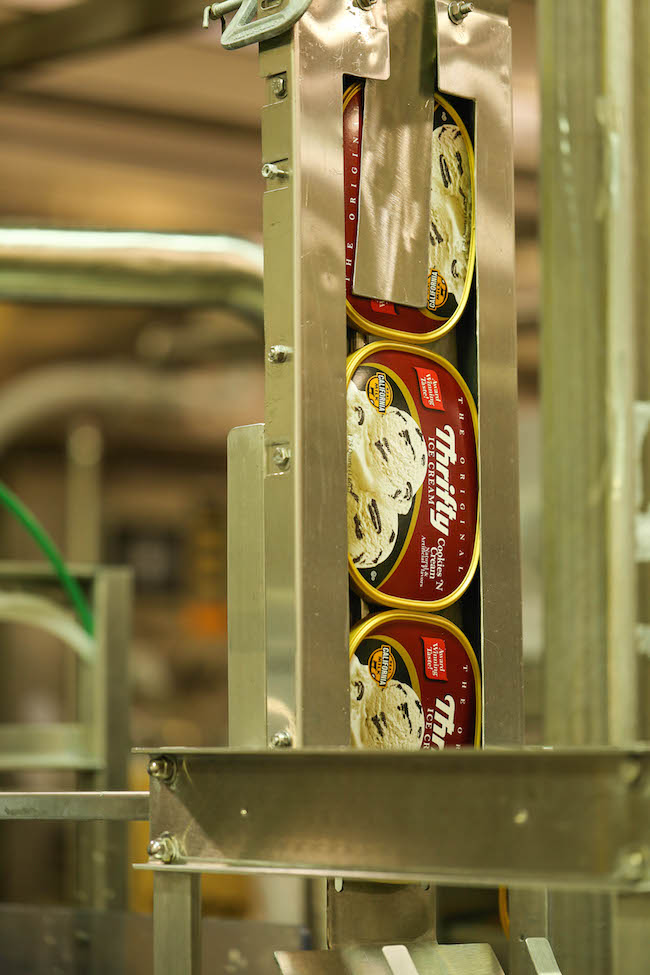 With loads of fresh ice cream everywhere, this place definitely trumps Disneyland, especially when cookies and cream is being made.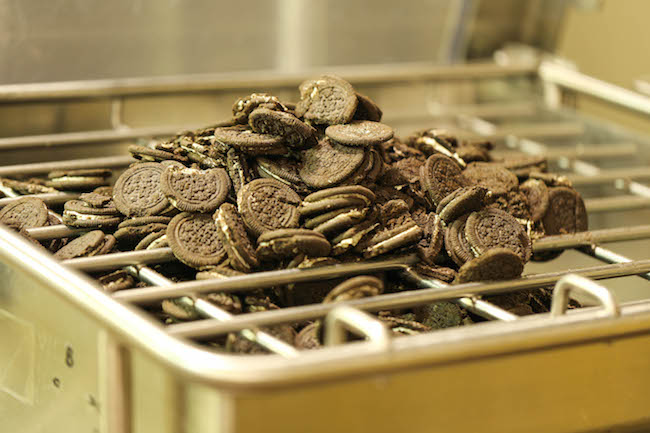 And by using 100,000-150,000 pounds of milk a day, you get this ice cream magic – unbelievably creamy and absolutely heavenly.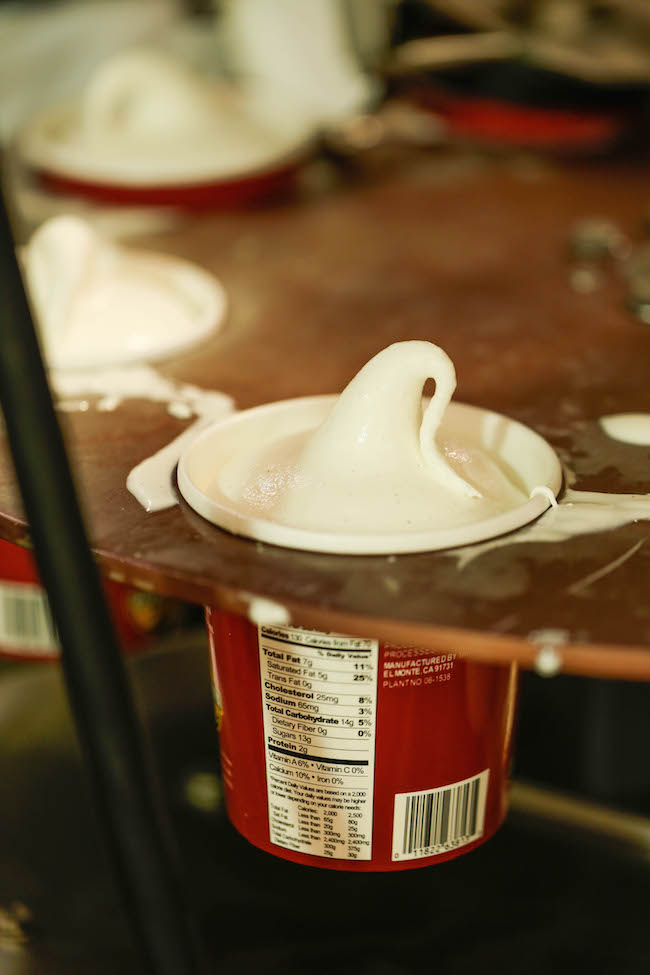 Don't think I wasn't going to take some ice cream home with me. If I lived any closer, I would've taken it all!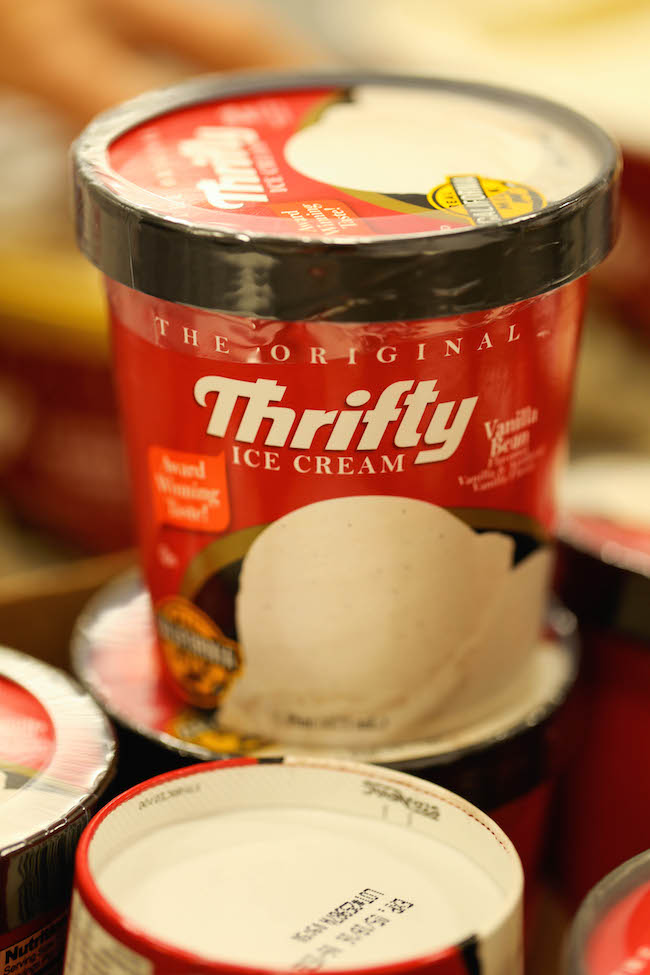 And the best part about the tour was definitely the freshly made mint chip ice cream. I just wanted to stuff my face in this entire tub.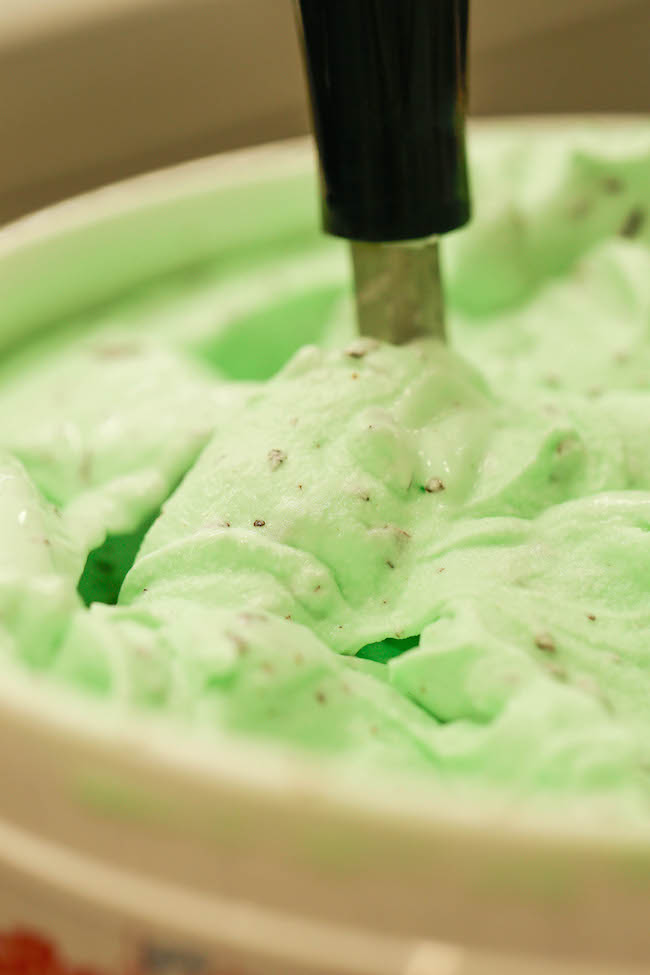 So back to the tomato cream sauce – well, of course it has dairy! And with a simple homemade tomato sauce using pantry ingredients, you can doctor it up into the most heavenly cream sauce for all your pasta needs.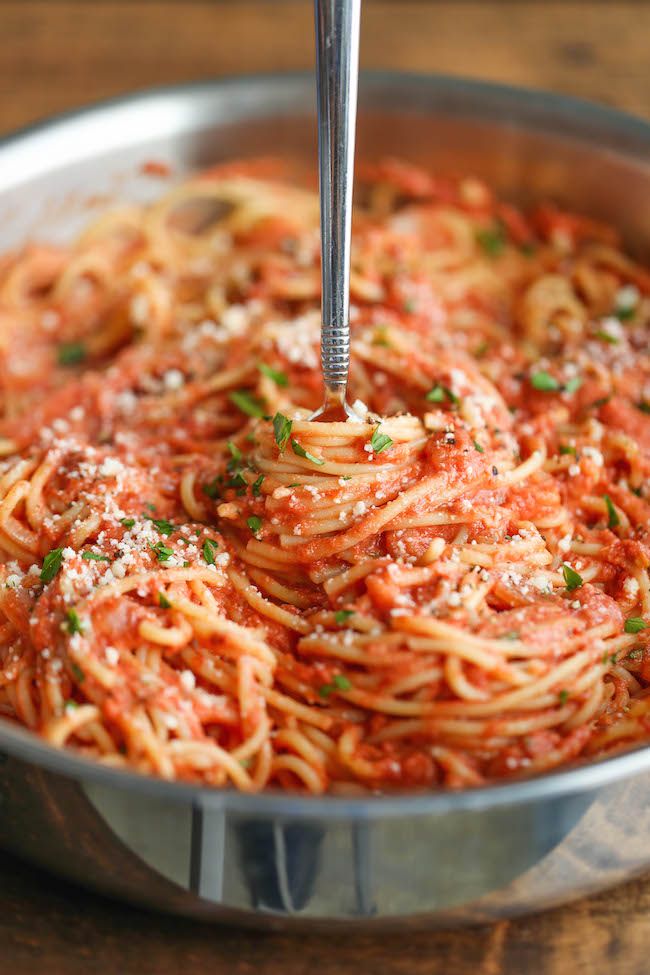 You can even throw in your favorite add-ins: grilled chicken, meatballs, sausage, etc. It's up to you! Either way, this is one of those quick and easy weeknight meals you'll want for the entire week. That and Thrifty ice cream for dessert, of course.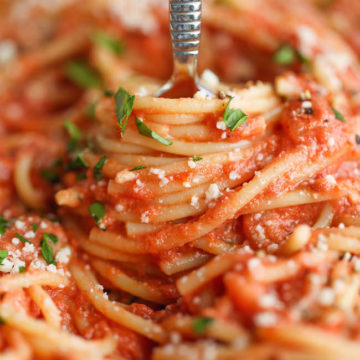 Spaghetti with Tomato Cream Sauce
Jazz up those boring spaghetti nights with this super easy, no-fuss cream sauce made completely from scratch!
10 minutes20 minutes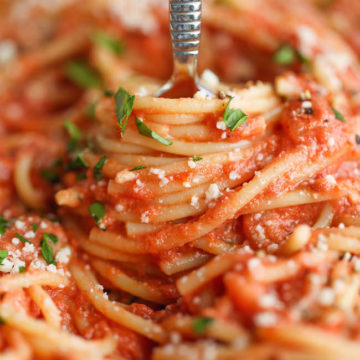 Ingredients:
1 pound spaghetti
2 tablespoons unsalted butter
3 cloves garlic, minced
1 onion, diced
1 (28-ounce) can crushed tomatoes
1 teaspoon dried basil
1/2 teaspoon dried oregano
1/2 teaspoon dried parsley
1/2 teaspoon crushed red pepper flakes, optional
Kosher salt and freshly ground black pepper, to taste
1 teaspoon balsamic vinegar
3/4 cup milk
1/4 cup heavy cream
1/4 cup freshly grated Parmesan cheese
2 tablespoons chopped fresh parsley leaves
Directions:
In a large pot of boiling salted water, cook pasta according to package instructions; drain well.
Melt butter in a large stockpot or Dutch oven over medium heat. Add garlic and onion to the skillet, and cook, stirring often, until onions have become translucent, about 3-4 minutes.
Stir in crushed tomatoes, basil, oregano, parsley and red pepper flakes; season with salt and pepper, to taste.
Bring to a boil; reduce heat to low and simmer, stirring occasionally, until sauce has thickened, about 15-20 minutes. Stir in balsamic vinegar.
Stir in milk and heavy cream until well combined and heated through, about 2 minutes.
Serve immediately, garnished with Parmesan and parsley, if desired.
Did you Make This Recipe?
Tag @damn_delicious on Instagram and hashtag it #damndelicious.
Nutrition Facts
Serving Size
Servings Per Container 4
---
Amount Per Serving
Calories 620.1
Calories from Fat 136.8
% Daily Value*
Total Carbohydrate 100.2g
33%
---
*Percent Daily Values are based on a 2,000 calorie diet. Your daily values may be higher or lower depending on your calorie needs.
Disclosure: This post is sponsored by the California Milk Advisory Board. All opinions expressed are my own.