Stovetop Mac and Cheese
A quick and easy, no-fuss mac and cheese made in less than 30 min. Comfort food never tasted so good!

About 90% of Asian Americans are lactose intolerant, and I've been incredibly blessed to not be included in this percentage. As you could imagine, dairy is a huge part of our diet, loaded with calcium, potassium, protein, and vitamin A among many other important nutrients that keep the body in optimum health. And when purchasing dairy products, I only buy products with the REAL® Seal, which lets me know that I am buying products with the wholesome goodness of the U.S.-produced cow's milk.
So in an effort to incorporate real dairy products into my diet, that's how this mac and cheese was born. But this isn't your ordinary mac and cheese. It's a mac and cheese that will blow. your. mind. And it comes together in 30 minutes. Yeah, it's that easy. Topped with a super crunchy bread crumb topping tossed with fresh herbs, you'll have a light, cheesy mac and cheese with a spicy, Creole kick. I honestly can't get over that batch of Emeril's Creole seasoning and I've been adding it to everything. And you know what – it works! Creole spiciness in mac and cheese is the absolute best, and such a fun spin on the traditional version!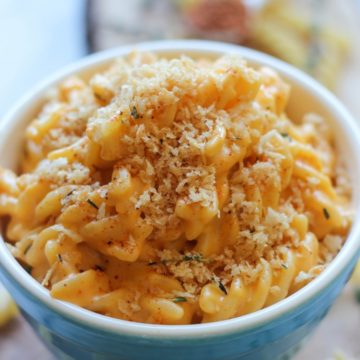 Stovetop Mac and Cheese
A quick and easy, no-fuss mac and cheese made in less than 30 min. Comfort food never tasted so good!
10 minutes
20 minutes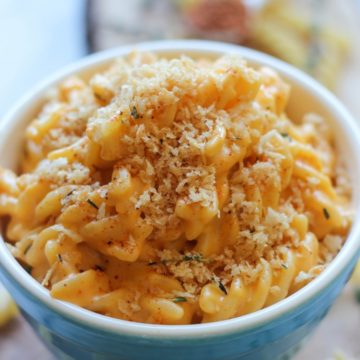 Ingredients:
3 tablespoons unsalted butter, divided
1/2 cup Panko*
1/2 teaspoon thyme leaves
1 1/2 cup shredded sharp cheddar cheese
1 cup shredded Monterey Jack cheese
1 tablespoon cornstarch
8 ounces fusilli pasta
1 (12-ounce) can evaporated milk
1 tablespoon Emeril's Essence Creole Seasoning
Kosher salt and freshly ground black pepper, to taste
Directions:
Melt 1 tablespoon butter in a small skillet over medium high heat. Add Panko and cook, stirring, until browned and toasted, about 3 minutes; stir in thyme and set aside.
In a large bowl, combine cheeses and cornstarch; set aside.
In a large pot of boiling salted water, cook pasta according to package instructions; drain well.
Stir in remaining 2 tablespoons butter until well combined. Stir in cheese mixture, evaporated milk and Emeril's Essence until cheese has melted, about 2-3 minutes; season with salt and pepper, to taste.
Serve immediately, topped with toasted Panko.
Notes:
*Panko is a Japanese-style bread crumb, you can find it in the Asian section of your local grocery store. 
Did you Make This Recipe?
Tag @damn_delicious on Instagram and hashtag it #damndelicious.
Disclosure: This post is sponsored by REAL® Seal. All opinions expressed are my own.