Quinoa Stuffed Bell Peppers
Loaded with protein, veggies and healthy grains, these stuffed bell peppers will provide the nutrition that you need for a healthy, balanced meal!

Stuffed bell peppers have been on my bucket list for at least a year and I'm so glad to finally cross it off my list.
Using leftover ingredients, I created a southwest quinoa mixture loaded with corn, beans, tomatoes, green chilis for a bit of heat and cheesy pepper-jack-feta goodness.
It's incredibly filling and hearty, making it the perfect vegetarian option for Meatless Monday or any other day of the week!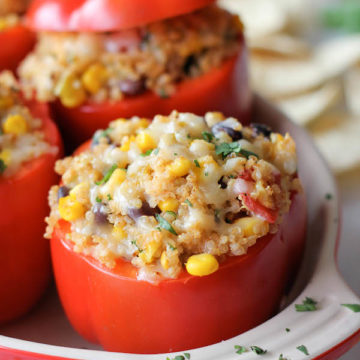 Quinoa Stuffed Bell Peppers
These stuffed bell peppers will provide the nutrition that you need for a healthy, balanced meal!
20 minutes30 minutes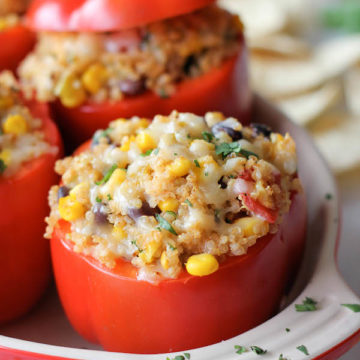 Ingredients:
3 cups cooked quinoa
1 (4-ounce) can green chiles
1 cup corn kernels
1/2 cup canned black beans, drained and rinsed
1/2 cup petite diced tomatoes
1/2 cup shredded pepper jack cheese
1/4 cup crumbled feta cheese
3 tablespoons chopped fresh cilantro leaves
1 teaspoon cumin
1 teaspoon garlic powder
1/2 teaspoon onion powder
1/2 teaspoon chili powder, or more to taste
Kosher salt and freshly ground black pepper, to taste
6 bell peppers, tops cut, stemmed and seeded
Directions:
Preheat oven to 350 degrees F. Line a 9×13 baking dish with parchment paper.
In a large bowl, combine quinoa, green chiles, corn, beans, tomatoes, cheeses, cilantro, cumin, garlic, onion and chili powder, salt and pepper, to taste.
Spoon the filling into each bell pepper cavity. Place on prepared baking dish, cavity side up, and bake until the peppers are tender and the filling is heated through, about 25-30 minutes.
Serve immediately.
Did you Make This Recipe?
Tag @damn_delicious on Instagram and hashtag it #damndelicious.
Nutrition Facts
Serving Size
Servings Per Container 6
---
Amount Per Serving
Calories 253.0
Calories from Fat 52.2
% Daily Value*
Total Carbohydrate 39.8g
13%
---
*Percent Daily Values are based on a 2,000 calorie diet. Your daily values may be higher or lower depending on your calorie needs.