Parmesan Crusted Scalloped Potatoes
Rich, creamy, and cheesy potatoes smothered in heavy cream and Parmesan goodness, and it's sure to be a hit at your Thanksgiving feast!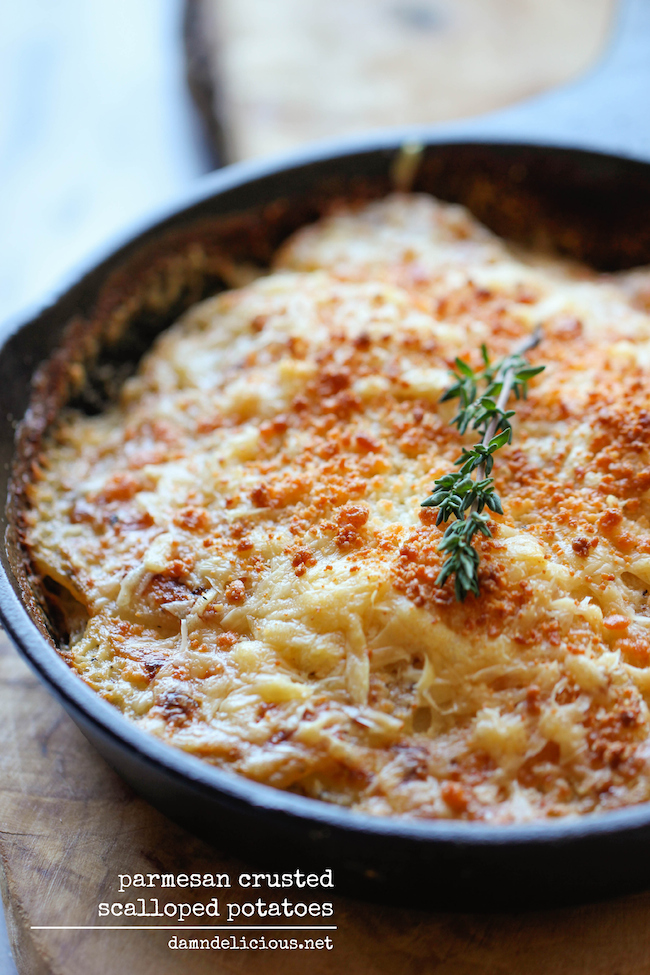 I'm not much of a sweets person but carbs and I get along very well, whether it's freshly baked bread, pasta, french fries, mashed potatoes, sweet potatoes, baked potatoes and pretty much any other potato variation out there. But I've come to realize that my ultimate potato weakness involves these scalloped potatoes.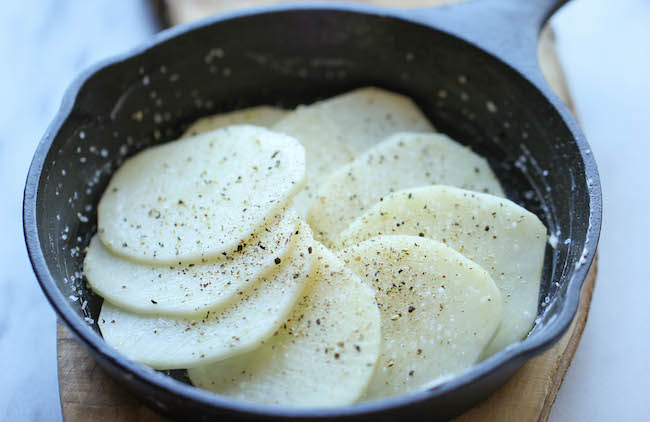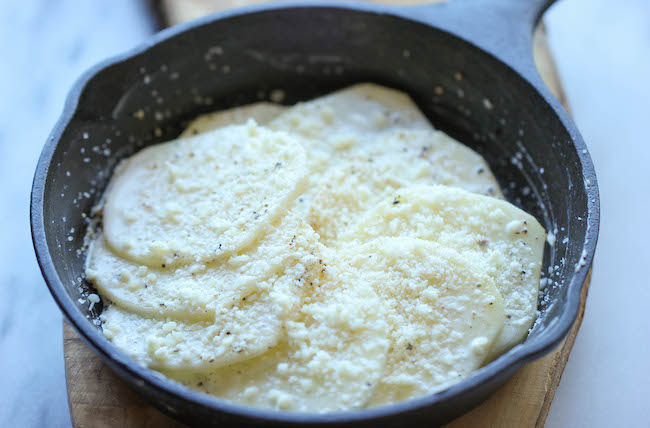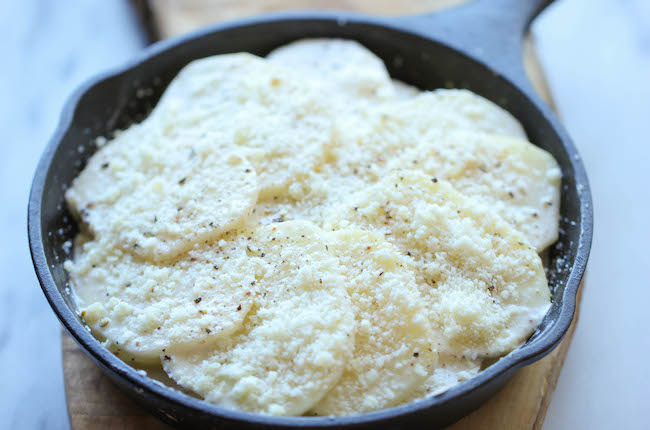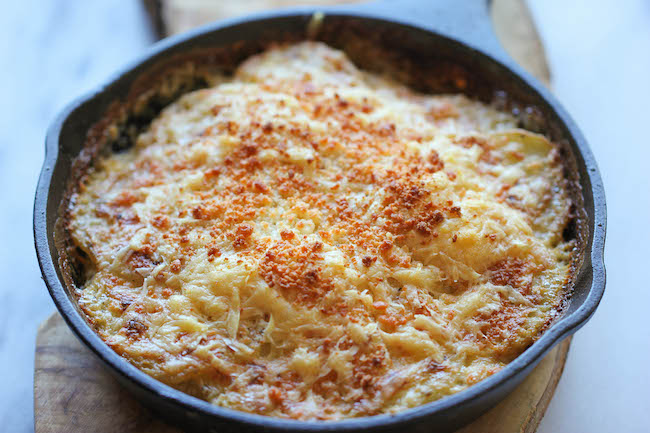 Now if you've never had scalloped potatoes, boy, are you in for a treat. Thinly sliced potatoes are arranged in an overlapping pattern before they're soaked in heavy cream simmered in garlic and fresh thyme. Then you top that off with a bit of grated Parmesan and pop that baby right into the oven. But I took it a step further and piled on that Parmesan cheese on that top layer, finishing it off in the broiler for that amazing, crispy, golden crust.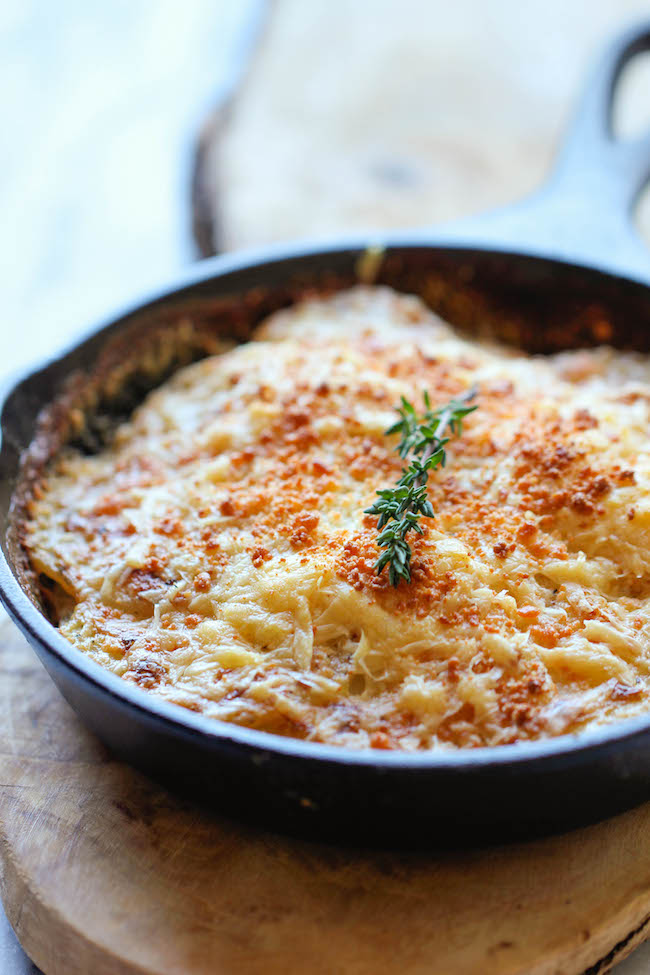 It's so good, you'll just want to devour that crust before diving right into the potatoes!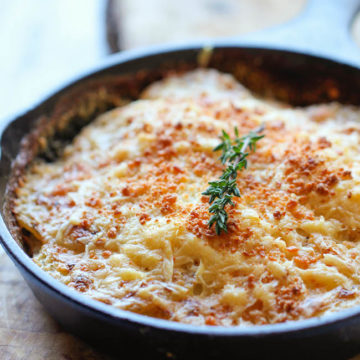 Parmesan Crusted Scalloped Potatoes
Rich, creamy, and cheesy potatoes smothered in heavy cream and Parmesan goodness!
15 minutes
50 minutes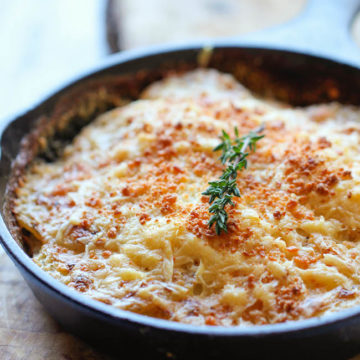 Ingredients:
1 1/2 cups heavy cream
2 cloves garlic, pressed
1 sprig fresh thyme
Pinch of nutmeg
2 pounds russet potatoes, peeled and cut into 1/8-inch thick slices
Kosher salt and freshly ground black pepper, to taste
9 tablespoons frehsly grated Parmesan, divided
Directions:
Preheat oven to 375 degrees F. Lightly oil a 9-inch pie plate or coat with nonstick spray.
In a medium saucepan, combine heavy cream, garlic, thyme and nutmeg over medium heat until heated through, about 1-2 minutes.
Add a layer of potatoes to the prepared baking dish in an overlapping pattern; season with salt and pepper, to taste. Pour 1/3 cup cream mixture over potatoes; sprinkle with 3 tablespoons Parmesan. Repeat with remaining potato slices, cream mixture and Parmesan to create 2 more layers.
Place into oven and bake until cooked through, about 35-40 minutes. Sprinkle with additional Parmesan and broil for 8-10 minutes, or until top becomes golden brown and crusted.
Serve immediately.
Did you Make This Recipe?
Tag @damn_delicious on Instagram and hashtag it #damndelicious.
Nutrition Facts
Serving Size
Servings Per Container 4
---
Amount Per Serving
Calories 523.3
Calories from Fat 329.4
% Daily Value*
Total Carbohydrate 39.1g
13%
---
*Percent Daily Values are based on a 2,000 calorie diet. Your daily values may be higher or lower depending on your calorie needs.