Southwest Wontons
Crispy wontons loaded with southwest, cheesy goodness. And you won't believe how easy this is to whip up!
I'm such a sucker for wontons. They're like glorified potstickers except they're a million times more crisp. Plus, I get such a kick out of eating triangle-shaped foods. I'm a little weird, I know. But growing up, my peanut butter and jelly sandwich always had to be cut in a sharp triangle.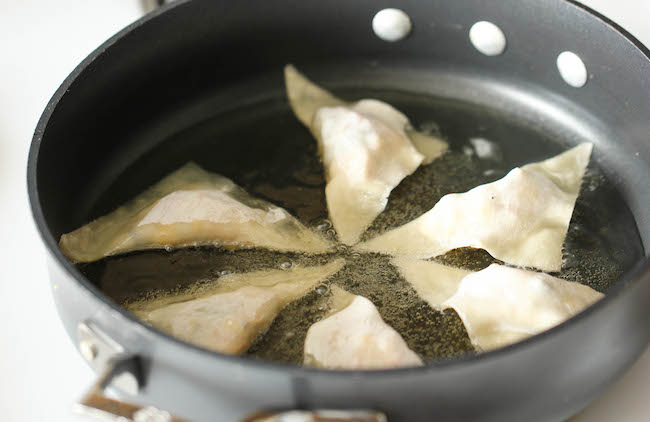 Now about these wontons – the great thing about them is that the filling is completely customizable. You can have an Asian-inspired filling or a southwest one like this here.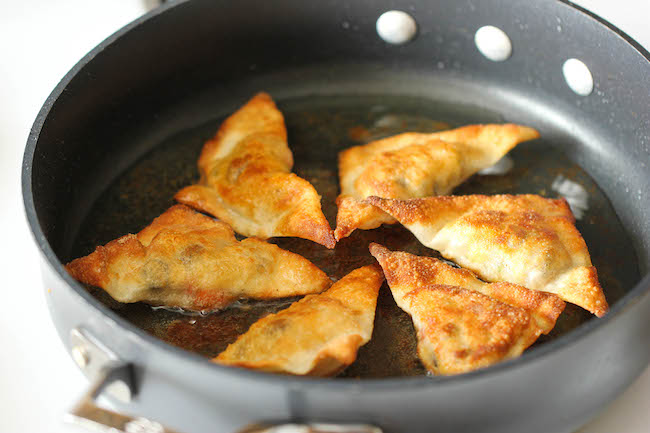 These babies here are loaded with with a fun Mexican twist, and they're cooked to absolute crisp perfection. Now remember – these are best when served immediately as the wontons lose their crispiness over time.
That being said, these bad boys are amazingly crispy and piping hot with cheesy goodness just waiting to be gobbled up!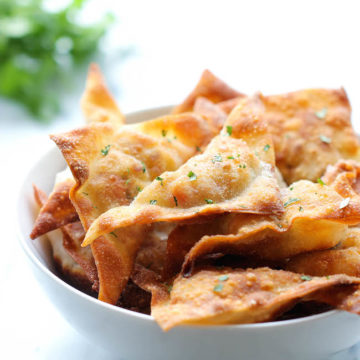 Southwest Wontons
Crispy wontons loaded with southwest, cheesy goodness. And you won't believe how easy this is to whip up!
25 minutes10 minutes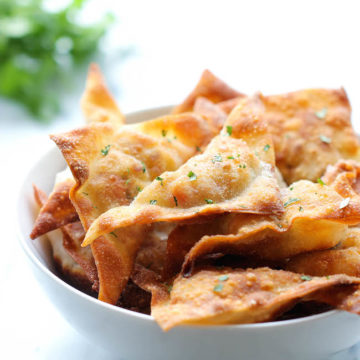 Ingredients:
1/2 cup vegetable oil
2 cloves garlic, minced
1/4 cup diced onion
1/4 cup diced red bell pepper
1/4 cup frozen corn kernels
1/4 cup canned black beans, drained and rinsed
2 tablespoons chopped fresh cilantro leaves
1/2 teaspoon chili powder
1/4 teaspoon cumin
Kosher salt and freshly ground black pepper, to taste
1/2 cup shredded cheddar cheese
24 won ton wrappers
Directions:
Heat vegetable oil in a large skillet or Dutch oven over medium high heat.
In a large bowl, combine garlic, onion, bell pepper, corn, black beans, cilantro, chili powder, cumin salt and pepper, to taste. Stir in cheese and gently toss to combine.
To assemble the wontons, place wrappers on a work surface. Spoon 1 1/2 teaspoons of the mixture into the center of each wrapper. Using your finger, rub the edges of the wrappers with water. Fold the wrapper over the filling to create a triangle, pinching the edges to seal.
Working in batches, add wontons to the skillet and fry until evenly golden brown and crispy, about 1-2 minutes. Transfer to a paper towel-lined plate.
Serve immediately.
Did you Make This Recipe?
Tag @damn_delicious on Instagram and hashtag it #damndelicious.