Chinese Chicken Salad
Restaurant quality that you can easily make right at home, except it's healthier and a million times tastier!

So I posted some veggie kabobs over the weekend, and then I immediately shared my cheesy garlic fries in foil in preparation of football season. And today, I have a salad. Like I said, it's all about balance, right?
No, but really, I've been dying to share this Chinese chicken salad recipe. It's one of my absolute favorite salads, and every time I feel the need to eat a little healthier, this is what I tend to order out. Except I just can't justify spending $13-15 each time, especially when they skimp and add about 4 pieces of chicken.
Best of all, this homemade version is so easy and much healthier than the restaurant. You can also add more vegetables to your liking, or omit as needed to fit your taste buds. Either way, you'll never have to order this out again!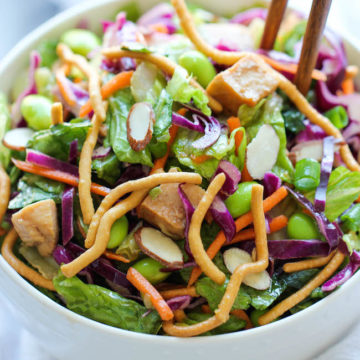 Chinese Chicken Salad
Restaurant quality that you can easily make right at home, except it's healthier and a million times tastier!
40 minutes15 minutes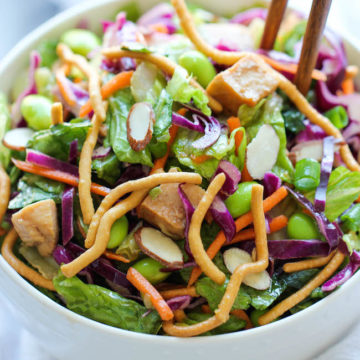 Ingredients:
2 boneless, skinless chicken breasts
2 tablespoons soy sauce
1 teaspoon sesame oil
1/4 teaspoon white pepper
4 cups chopped romaine lettuce
1 cup shredded red cabbage
1/3 cup grated carrots
1/4 cup shelled edamame
1 green onion, thinly sliced
1/4 cup chow mein noodles, for serving
1/4 cup sliced almonds, for serving
For the sesame vinaigrette
1/4 cup plus 2 tablespoons rice wine vinegar
1 clove garlic, pressed
1 tablespoon sesame oil
1 tablespoon sugar
1 teaspoon freshly grated ginger
1 teaspoon soy sauce
Directions:
Preheat oven to 350 degrees F.
To make the vinaigrette, whisk together rice wine vinegar, garlic, sesame oil, sugar, ginger and soy sauce in a small bowl; set aside.
In a gallon size Ziploc bag or large bowl, combine chicken, soy sauce, sesame oil and white pepper; marinate for at least 30 minutes, turning the bag occasionally.
Add chicken and marinade to a baking dish. Place into oven and bake until cooked through and juices run clear, about 13-15 minutes. Let cool before dicing into bite-size pieces.
To assemble the salad, place romaine lettuce in a large bowl; top with red cabbage, carrots, edamame, green onion and chicken. Pour sesame vinaigrette on top of the salad and gently toss to combine.
Serve immediately, topped with chow mein noodles and almonds, if desired.
Did you Make This Recipe?
Tag @damn_delicious on Instagram and hashtag it #damndelicious.
Nutrition Facts
Serving Size
Servings Per Container 4
---
Amount Per Serving
Calories 221.5
Calories from Fat 90.9
% Daily Value*
Total Carbohydrate 9.3g
3%
---
*Percent Daily Values are based on a 2,000 calorie diet. Your daily values may be higher or lower depending on your calorie needs.