Chorizo Mac and Cheese
A fun tex-mex twist on the traditional mac and cheese that the whole family will love!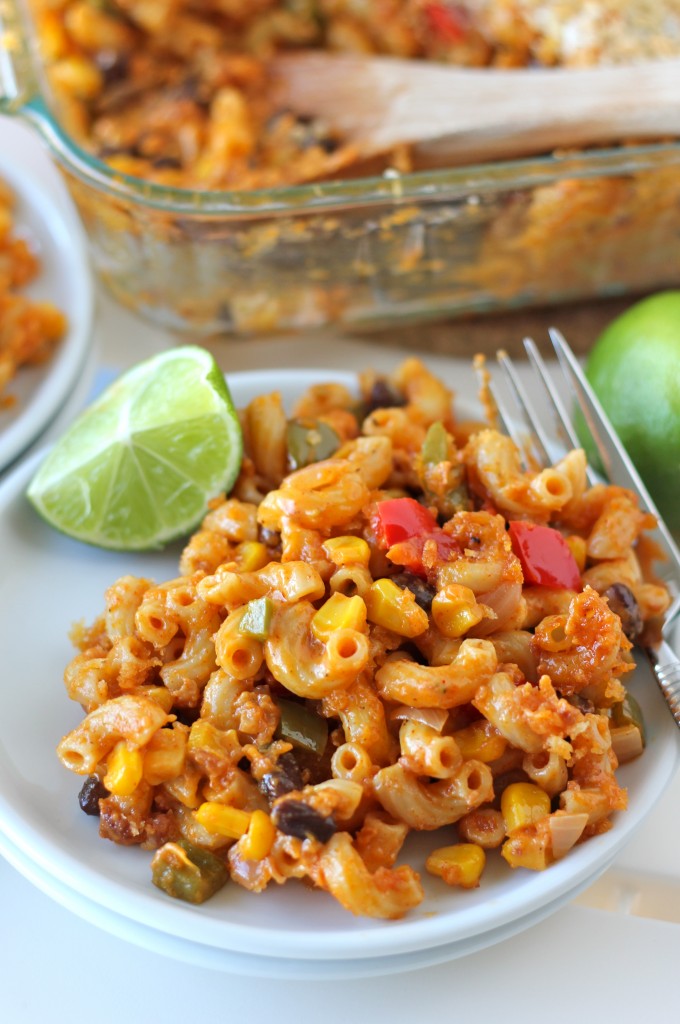 So Jason and I went to Costa Rica a couple of years ago, and when we went, we took a couple of those disposable underwater cameras. We developed one of the cameras but saved the other one since there was still some film left to take more photos. But "saving it" really meant that it would be left in the back of the closet for over 2 years.
I completely forgot about it until Jason mentioned it last night in passing since we are planning on doing some water activities up in Lake Tahoe in a couple of weeks. He wanted to just use the remaining film on this 2-year-old camera but instead, I surprised him by finally developing the photos.
Waiting over 2 years to develop these photos is completely ridiculous but seeing them actually made the wait all the more worth it. This picture here is my absolute favorite. It's funny how much younger we look here, but Jason and I were able to reminisce about what a great time we had white water river rafting in Río Pacuare. It was such an adventure, but I don't think I could ever do it again because it is freaking scary as hell.
At least I have my memories, right?
Anyway, there's my spiel about my camera developing irresponsibility.
Now on to this pasta. Yes, I made mac and cheese but it's definitely not your ordinary mac and cheese. It's filled with red bell pepper, jalapeños, black beans, corn and best of all, chorizo. Just a couple of months ago, I never even had chorizo and now I'm adding it to everything!
This is definitely my favorite kind of mac and cheese yet. It's spicy, meaty and chock full of veggies. Best of all, it's not too cheesy, which isn't necessarily a bad thing, but when it's too stringy and thick, I get a bit nauseous from eating it. But with this, it's a bit lighter on the cheese side since you stuff this baby with all sorts of goodies so you could definitely have more than 1 serving at a time!
So here's how you make this:
Let's first start with some chorizo…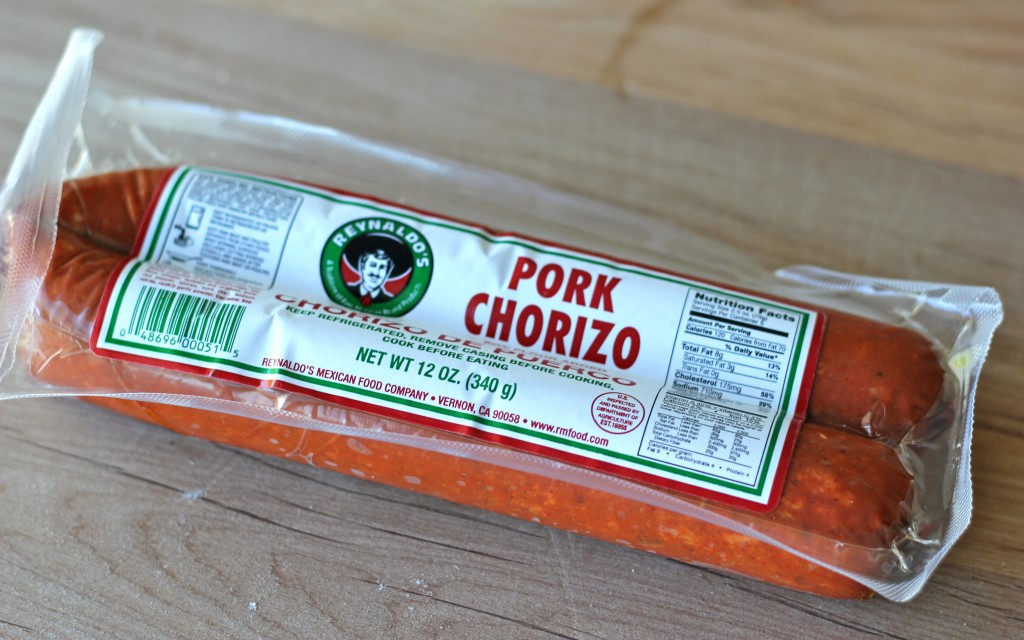 and then throw about 6 ounces of it into a saucepan, letting it crumble as it cooks.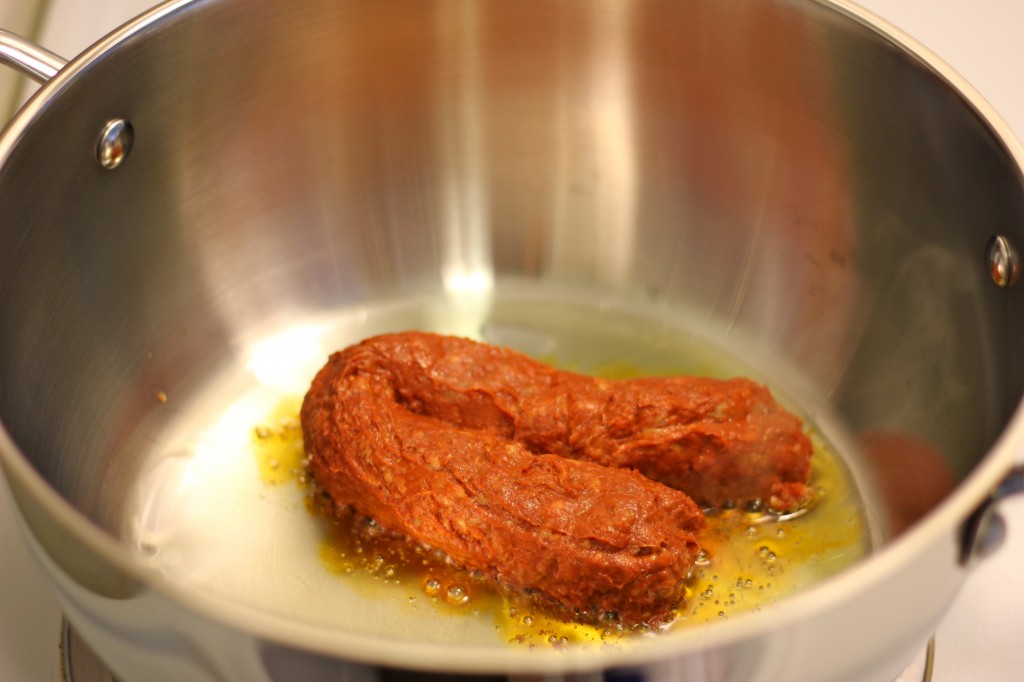 Then we'll add some red onion, bell pepper and jalapeños. We'll let that cook until the onions begin to soften.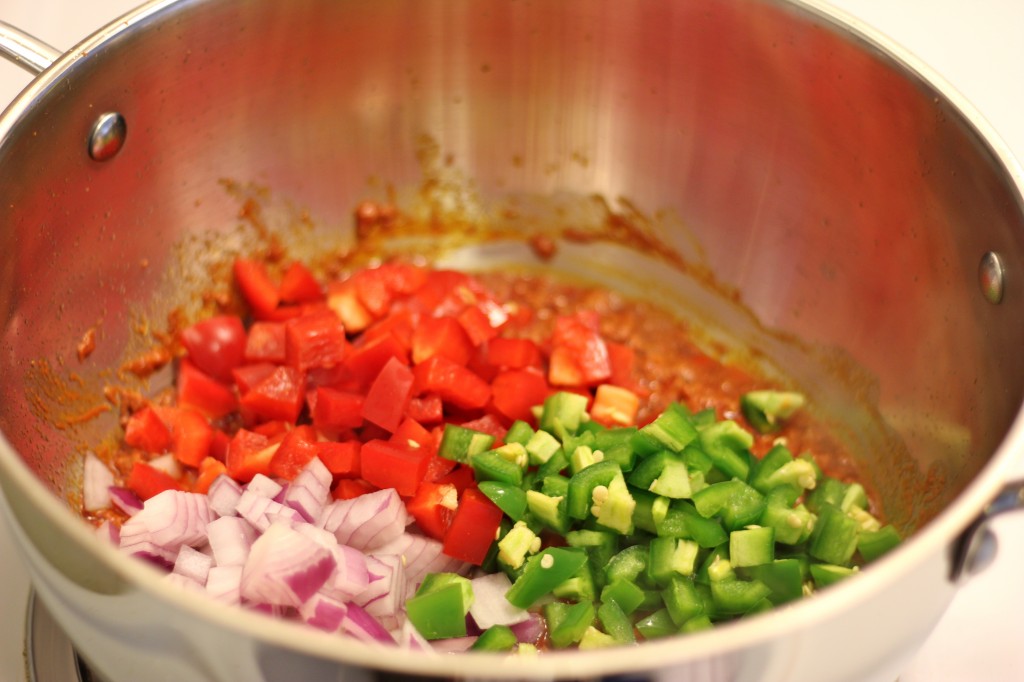 Next, we'll add in some flour, giving it a good stir to make sure it gets fully incorporated.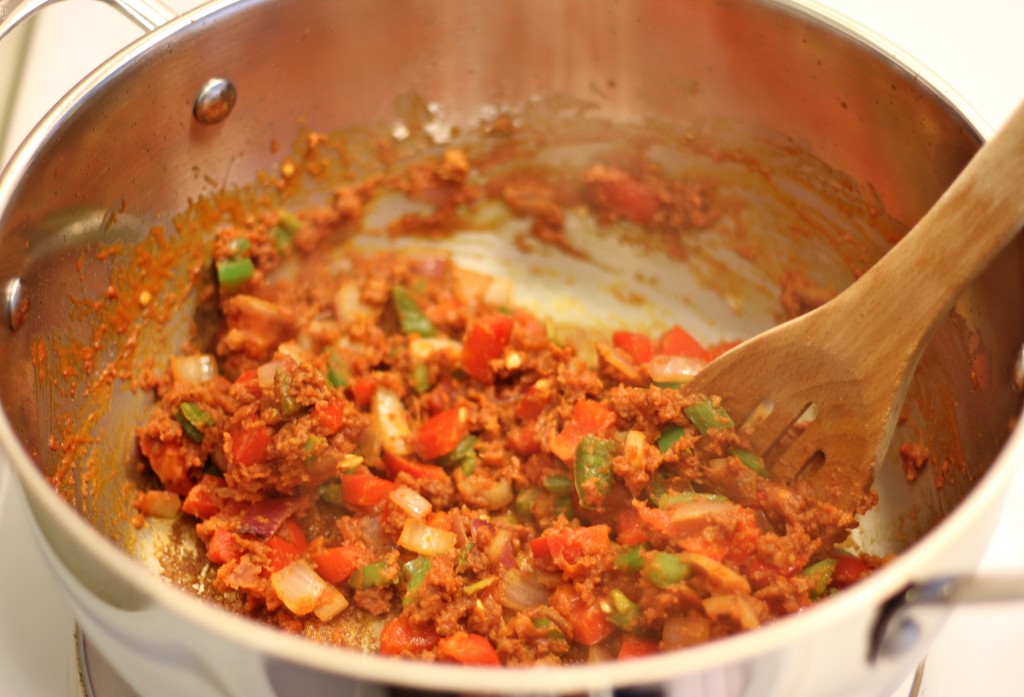 Then comes the milk and cheeses…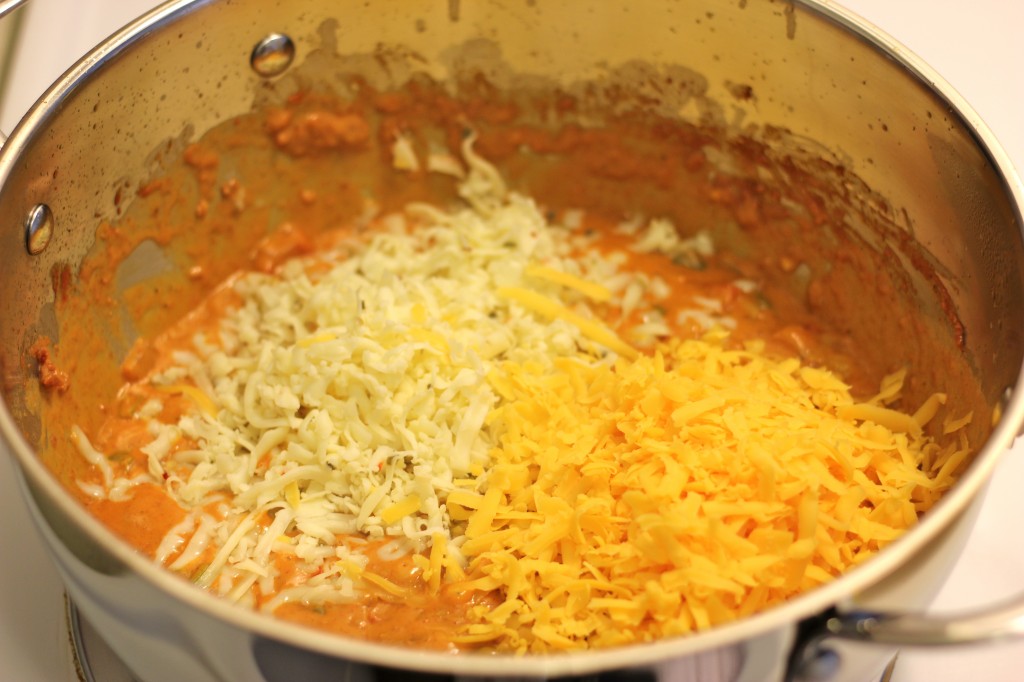 stirring until it gets all cheesilicious and smooth.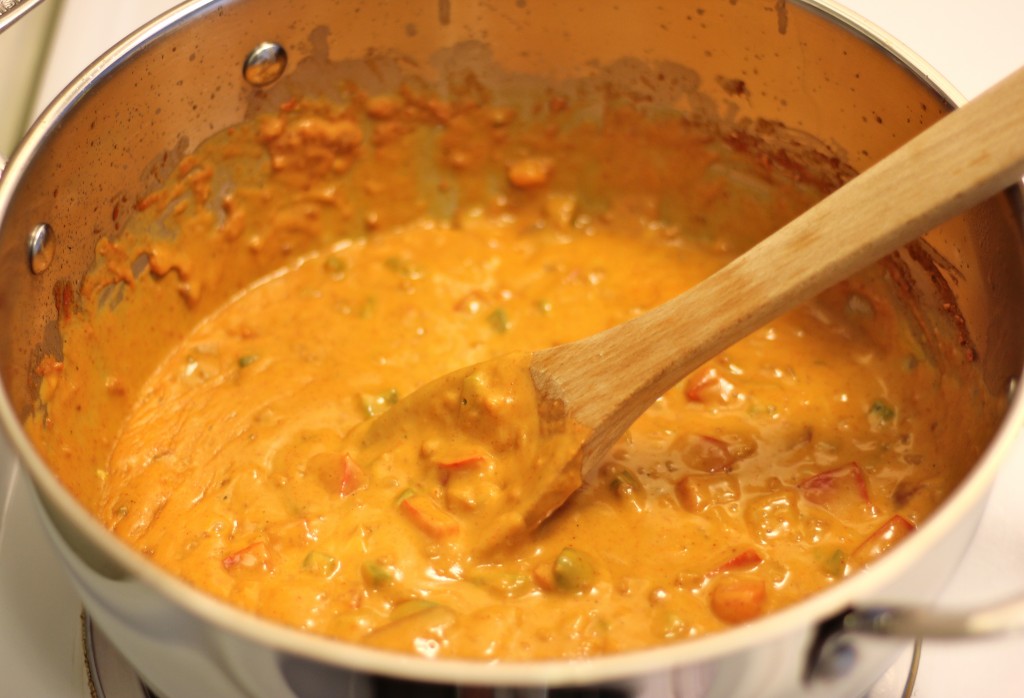 Let's remove it from the heat and throw in the rest of our ingredients – our cooked macaroni, corn, black beans and lime juice.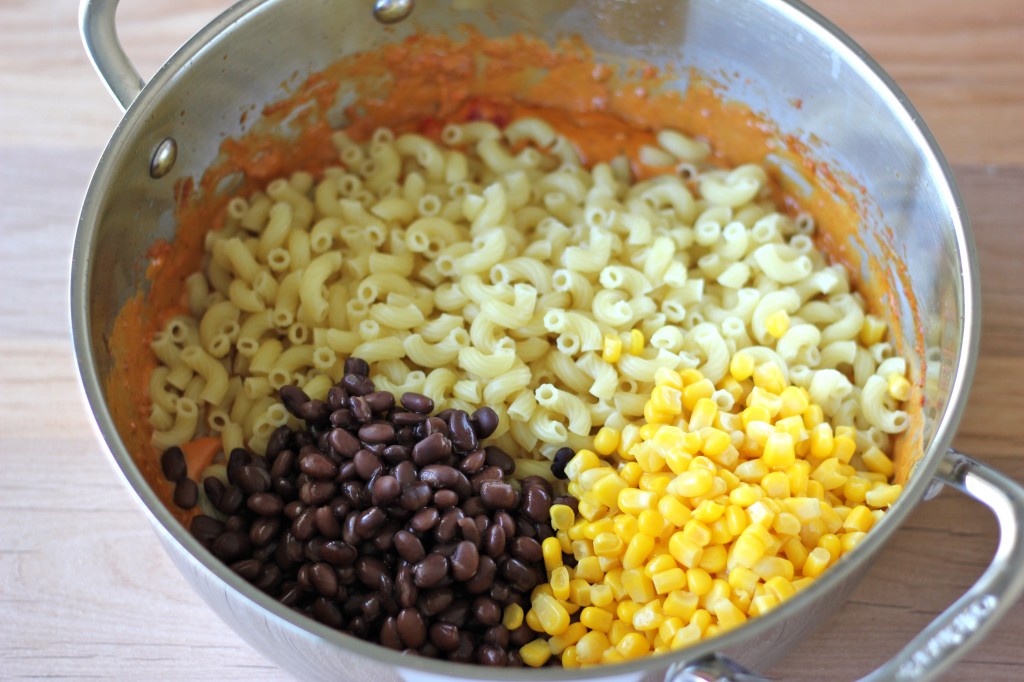 Give it a good stir, taking a bite or two to "sample." I think I had a whole bowlful at this point.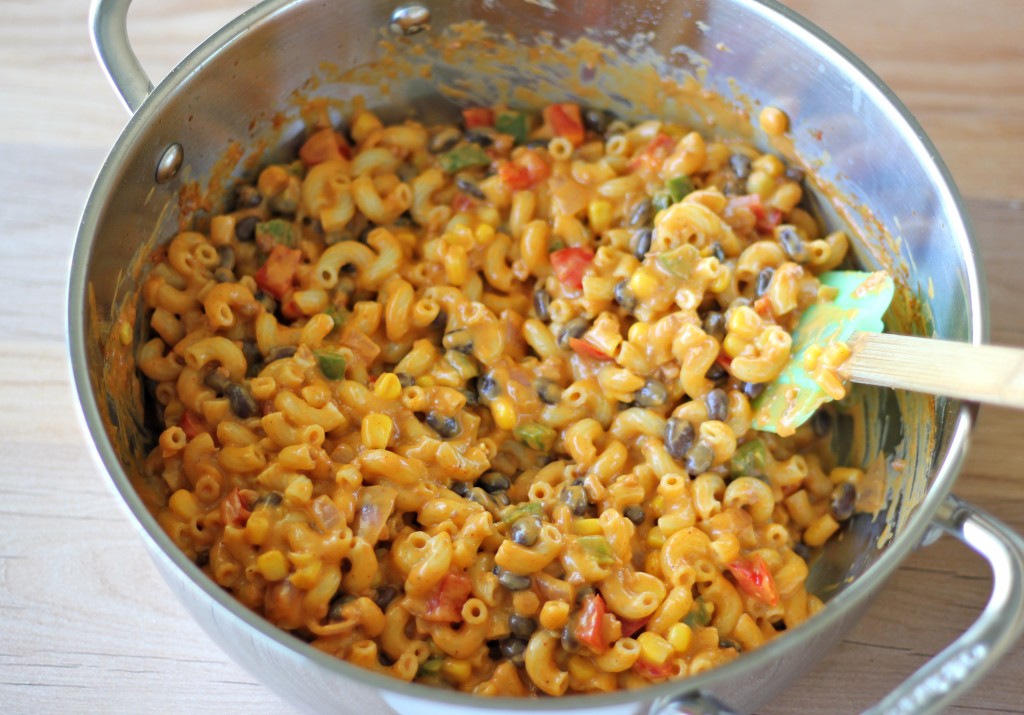 Then we'll pack it up into a baking dish, top with Panko and pop it into the oven for about 25 minutes.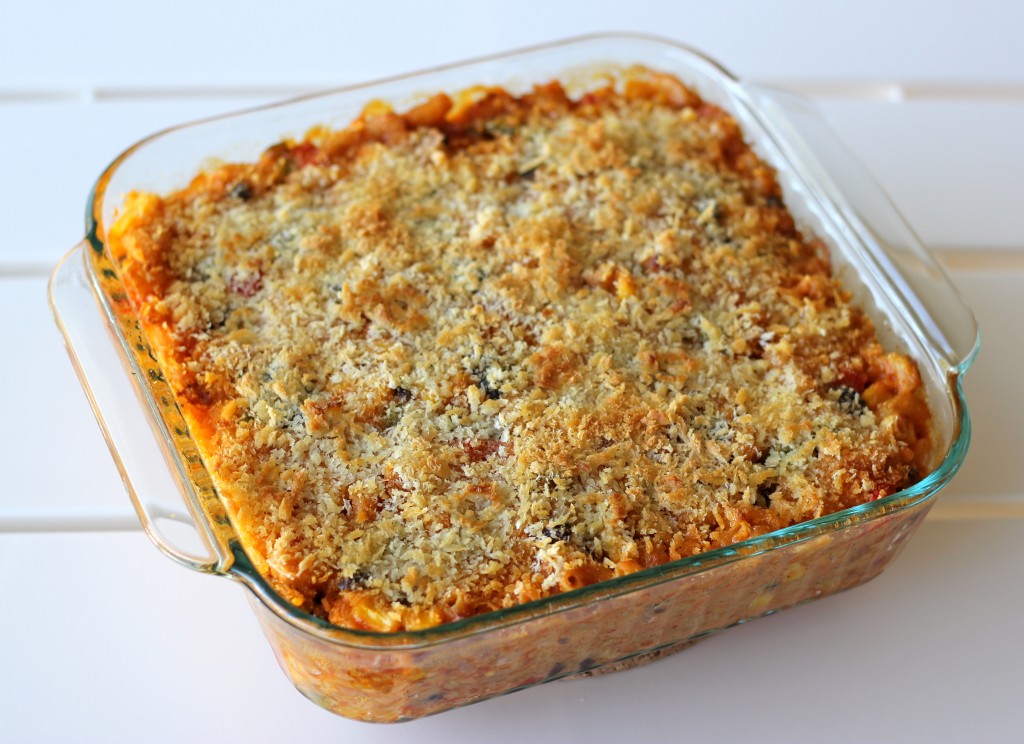 Let it cool for 10 minutes and serve.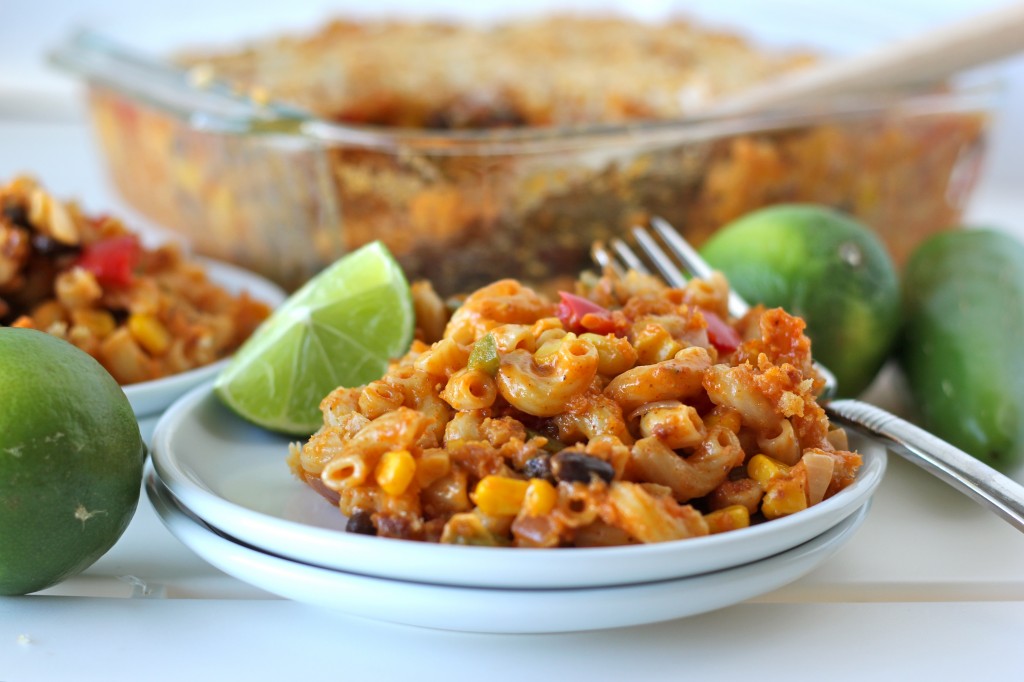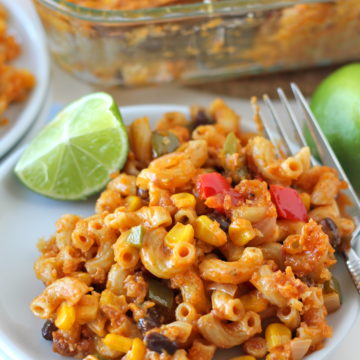 Chorizo Mac and Cheese
A fun tex-mex twist on the traditional mac and cheese that the whole family will love!
10 minutes
35 minutes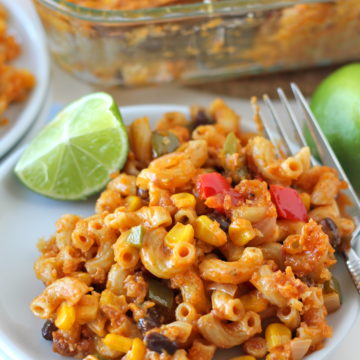 Ingredients:
2 cups elbow macaroni
1 tablespoon olive oil
6 ounces Mexican chorizo, casing removed
1 small red onion, diced
1/2 red bell pepper, diced
2 jalapeños, diced
2 tablespoons all-purpose flour
1 cup milk, warmed
1 cup shredded cheddar cheese
1 cup shredded jalapeño pepper jack cheese
1 cup corn kernels
1 cup canned black beans
2 teaspoons lime juice
2 tablespoons Panko
Directions:
Preheat oven to 375 degrees F. Lightly oil an 8×8 baking dish or coat with nonstick spray.
In a large pot of boiling salted water, cook pasta according to package instructions; drain well.
Heat olive oil in a large skillet over medium high heat. Add chorizo and cook until dry and crisp, about 2 minutes, making sure to crumble the chorizo as it cooks. Add red onion, bell pepper and jalapeños and cook until the onions begin to soften, about 3-4 minutes.
Whisk in flour until well combined. Then gradually whisk in milk and cook, whisking constantly, until incorporated, about 1-2 minutes. Whisk in cheeses until smooth, about 1-2 minutes. Remove from heat. Stir in pasta, corn, black beans and lime juice.
Spread pasta mixture into the prepared baking dish. Sprinkle Panko evenly over the top. Place into oven and bake for 20-25 minutes, or until golden brown.
Let cool for 10 minutes before serving.
Did you Make This Recipe?
Tag @damn_delicious on Instagram and hashtag it #damndelicious.