Pumpkin Bundt Cake with Pumpkin Glaze
A perfect fall cake that is sure to be a crowd pleaser! It's so good, you'll want to make it all year long!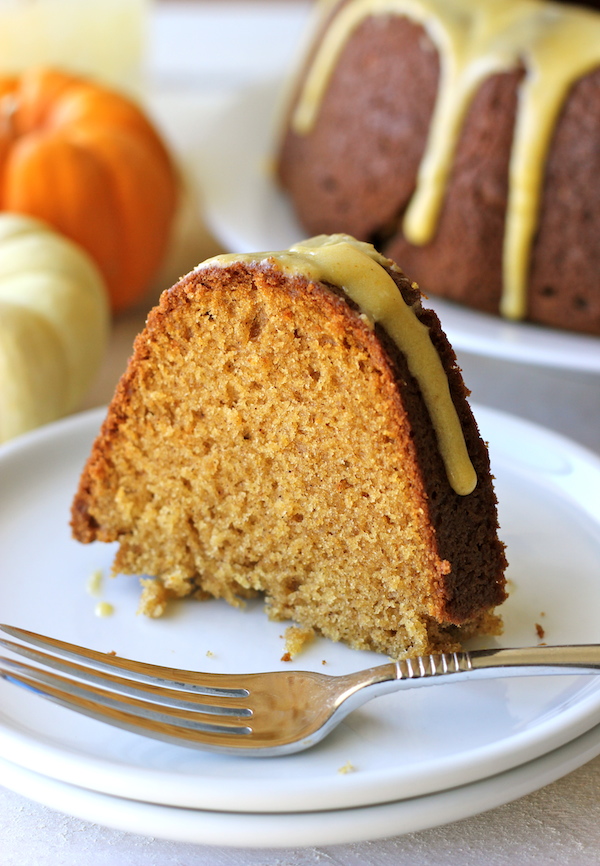 Confession time: I bought a bundt cake pan from Amazon on December 4th of last year (I went back to my Amazon account to make sure I had the right date) and I just used it for the very first time on Saturday afternoon. Yeah, it's pretty embarrassing as to how it took me almost an entire year to finally use it. I think it was because of all the horror stories I hear about how the bundt never comes out in one piece.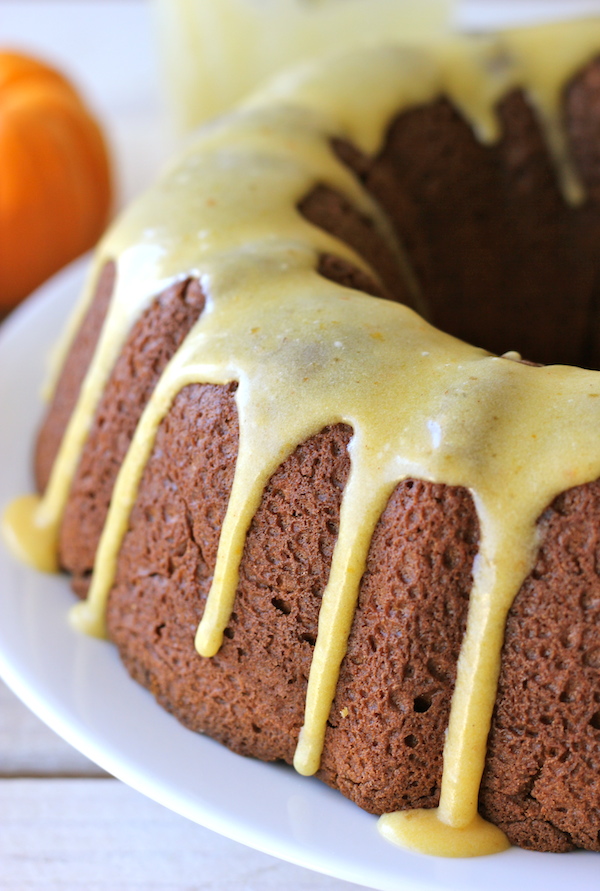 But I recently joined in on #Bundtamonth hosted by Baker Street and Cake Duchess where you pretty much get to bake a bundt cake with a different theme each month. So I finally had to put my fears aside and bake my very first bundt. I was scared out of my mind that the cake wouldn't come out but with the wonderful invention of canola oil spray, the cake just slid right on out.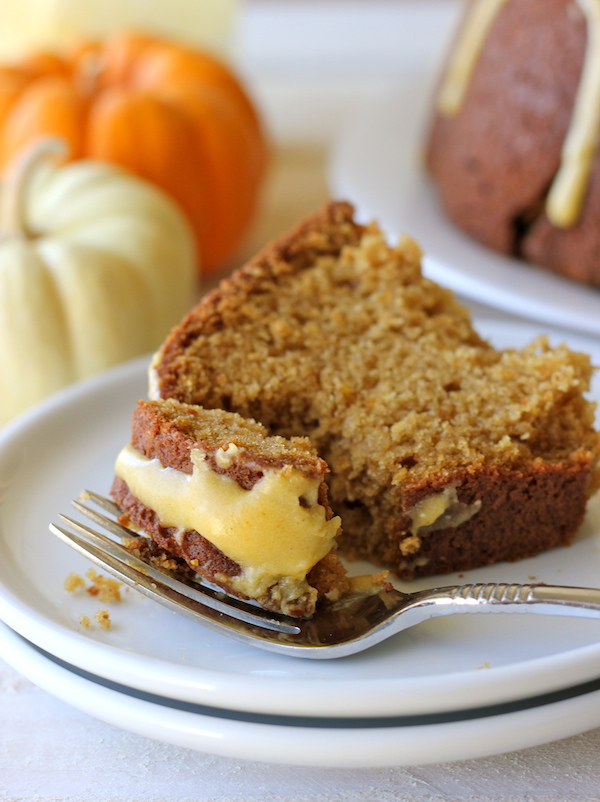 Now aside from the stress of making my virgin bundt cake, I was so antsy to dive right into this. Letting it cool for 15 minutes in the pan was absolute torture. I honestly didn't wait the entire time and possibly burnt half of my left hand but that's besides the point. I took a fork and bit right into the cake (the part where it had most of the glaze of course) and I was in heaven. It was so incredibly moist and light, and I just loved how it was not too overpowering with the pumpkin, even with the glaze. It was an absolute hit with Jason's family, and I'm sure this will make another appearance at our Thanksgiving table!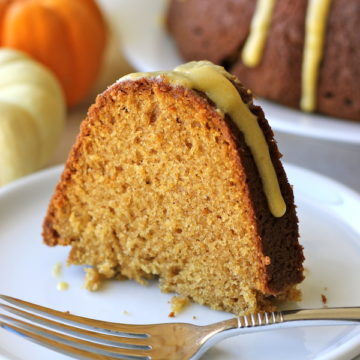 Pumpkin Bundt Cake with Pumpkin Glaze
A perfect fall cake that is sure to be a crowd pleaser! It's so good, you'll want to make it all year long!
15 minutes1 hour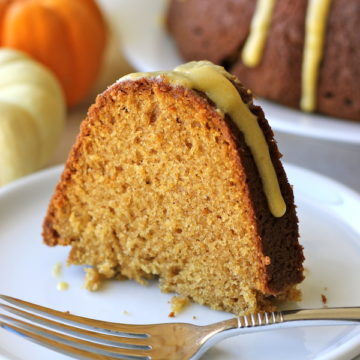 Ingredients:
3 cups all-purpose flour
1 tablespoon cinnamon
2 teaspoons baking soda
1 teaspoon salt
1 cup (2 sticks) unsalted butter, softened
1 3/4 cup sugar
4 large eggs
1 cup pumpkin puree
1 cup Greek yogurt
2 teaspoons vanilla extract
For the glaze
1/2 cup confectioners' sugar
1/2 tablespoon milk
1/4 teaspoon vanilla extract
1 tablespoon pumpkin puree
Pinch of cinnamon
1 tablespoon unsalted butter, melted and cooled
Directions:
Preheat oven to 350 degrees F. Lightly coat a 12-cup bundt pan with nonstick spray.
In a large bowl, combine flour, cinnamon, baking soda and salt.
In the bowl of an electric mixer fitted with the paddle attachment, beat butter and sugar on medium-high until light and fluffy, about 2-3 minutes. Beat in eggs, one at a time, until well combined. Beat in pumpkin, yogurt and vanilla until well combined. Gradually add flour mixture, one cup at a time, to the sugar mixture at low speed, beating just until incorporated.
Scoop the batter evenly into the bundt pan. Place into oven and bake for 55-60 minutes, or until a tester inserted in the center comes out clean.
Remove from oven and let cool for 15 minutes before inverting the cake onto a wire rack.
To make the glaze, combine confectioners' sugar, milk, vanilla, pumpkin, cinnamon and butter. Whisk until smooth. If the glaze is too thin, add more confectioners' sugar as needed. Drizzle the glaze evenly over the top of the cake, allowing to drip down the sides.
Allow glaze to set before serving.
Did you Make This Recipe?
Tag @damn_delicious on Instagram and hashtag it #damndelicious.