Roasted Shrimp Quinoa Spring Rolls
Quinoa is a wonderful protein-packed substitute for rice noodles in these easy spring rolls!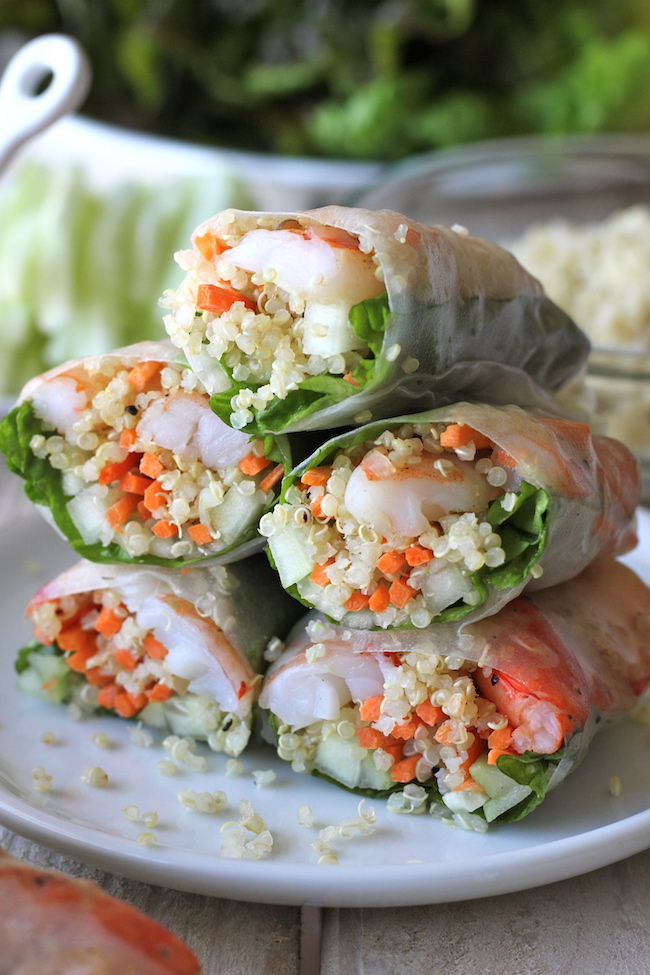 Remember when I mentioned that I was a Dexter addict? Well, I started the series premiere like a month ago and now I am officially caught up to the current season. Amazing, right? Or is it just downright ridiculous that I'd lose sleep and personal hygiene over this show?
I'm completely upset though because I just found out that the next season of Dexter (season 8) is going to be the final season. Not sure how life goes on without Dexter, M99 and plastic sheeting.
As you can tell, I get very attached to my TV shows. That's why I keep watching Greys despite the fact that it's falling apart.
Anyway, let's talk about something more pleasant.
I wanted to experiment with some quinoa so I made some spring rolls and added that right in, substituting it for the traditional vermicelli noodles. Coupled with the roasted shrimp, veggies and spicy peanut sauce, I was in heaven. The quinoa provided a nice carb base to go along with everything and provided such a wonderful nutty texture. And I just kept taking roll after roll, dipping it into the sauce, and gobbling it right up. I think I managed to eat 4 or 5 of these before I was officially unable to eat anything else!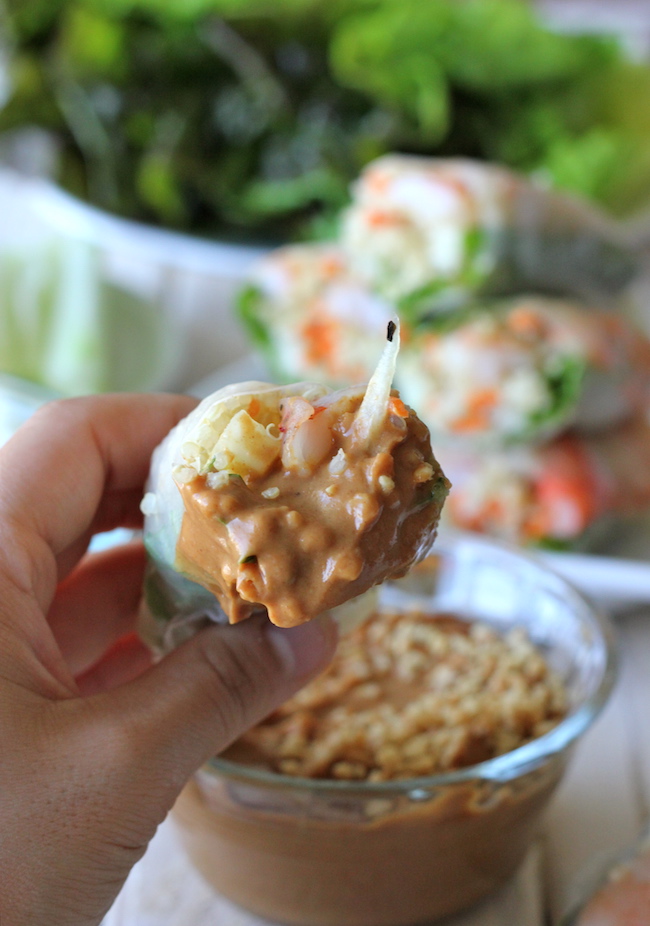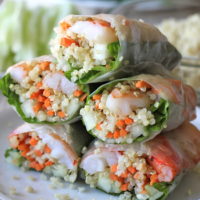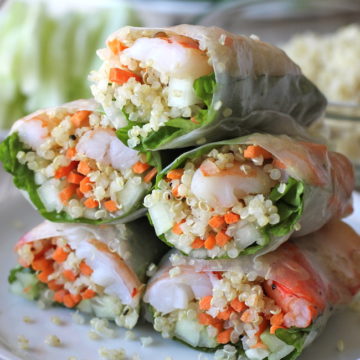 Roasted Shrimp Quinoa Spring Rolls
Quinoa is a wonderful protein-packed substitute for rice noodles in these easy spring rolls!
Ingredients
1

pound

medium shrimp

,

peeled and deveined

12

16-cm rice paper wrappers

1

head green-leaf lettuce

,

leaves separated, rinsed and dried

1 ½

cups

cooked quinoa

1

cucumber

,

julienned

1

carrot

,

peeled and julienned
For the spicy peanut sauce
¼

cup

peanut butter

¼

cup

water

1

tablespoon

hoisin

1

teaspoon

Sriracha

,

or more, to taste
Instructions
Preheat oven to 400 degrees F. Lightly oil a baking sheet or coat with nonstick spray.

To make the dipping sauce, whisk together peanut butter, water, hoisin and Sriracha in a small bowl; set aside.

Place shrimp onto the prepared baking sheet. Place into oven and roast just until pink, firm and cooked through, about 6-8 minutes. Let cool before slicing in half lengthwise.

Working one at a time, wet rice paper for 10 seconds and transfer to a work surface; place lettuce leaf in the center of each wrapper and top with 2 tablespoons quinoa, 3 slices of cucumber and carrot sticks each and 3 shrimp halves, cut sides down.

Bring the bottom edge of the wrap tightly over the filling and then folding in the sides, rolling from bottom to top until the top of the sheet is reached, being careful not to tear the rice paper. Repeat with remaining wrappers and filling.

Serve immediately with spicy peanut sauce.