Lemon Belgian Waffles with Blueberry Syrup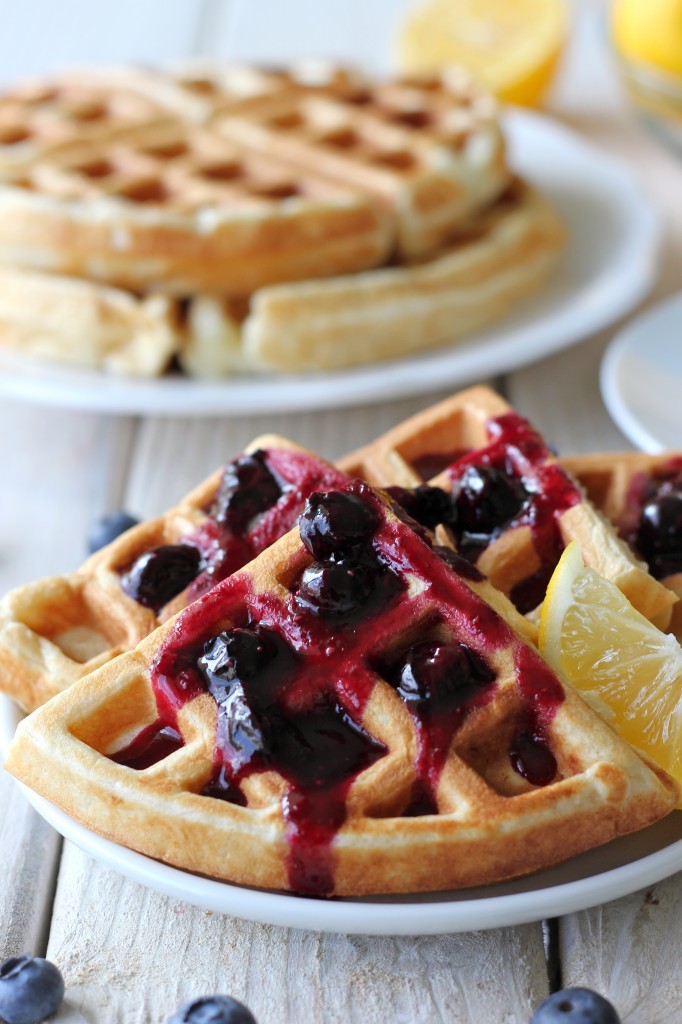 When I think of waffles, I imagine the perfect breakfast, sitting out on the patio with freshly squeezed orange juice, a side of hash browns, crisp bacon and 2 eggs over easy. With that, you need the perfect waffle recipe, and this may just be that perfect recipe I've been looking for.
I've learned that one of the secrets to making the best waffles includes whipped egg whites for more of a light and airy texture, and I've found the perfect appliance to help out with that.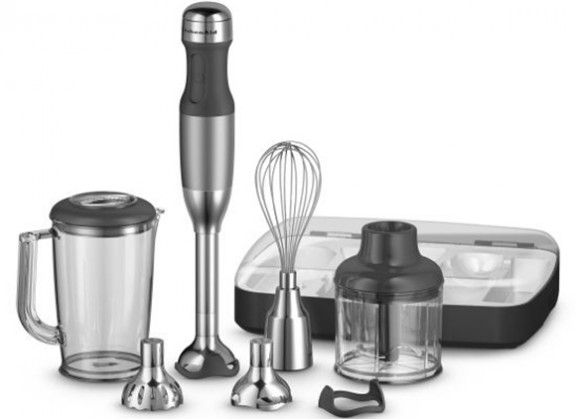 The kind folks over at KitchenAid sent me the 5-Speed Hand Blender to try out, and the minute I unpacked everything, I was instantly in love.
It's such a compact appliance with these interchangeable blades that suits all kinds of culinary needs. I've used it as an immersion blender on so many occasions when making soups and I've also used it as a food processor to purée so many things, especially leftover chipotle peppers.
But my absolute favorite way to use the hand blender is for whipping up egg whites. It takes just minutes for soft peaks to form and when you're done, you can throw everything in the dishwasher. How easy is that? Plus it barely takes up any counter space, which is something I desperately need in my tiny, closet-sized kitchen!
You can also make homemade whipped cream in just 30 seconds using the hand blender too! It would be the perfect addition to these waffles. Or on some strawberries, ice cream, pie… I can go on and on here.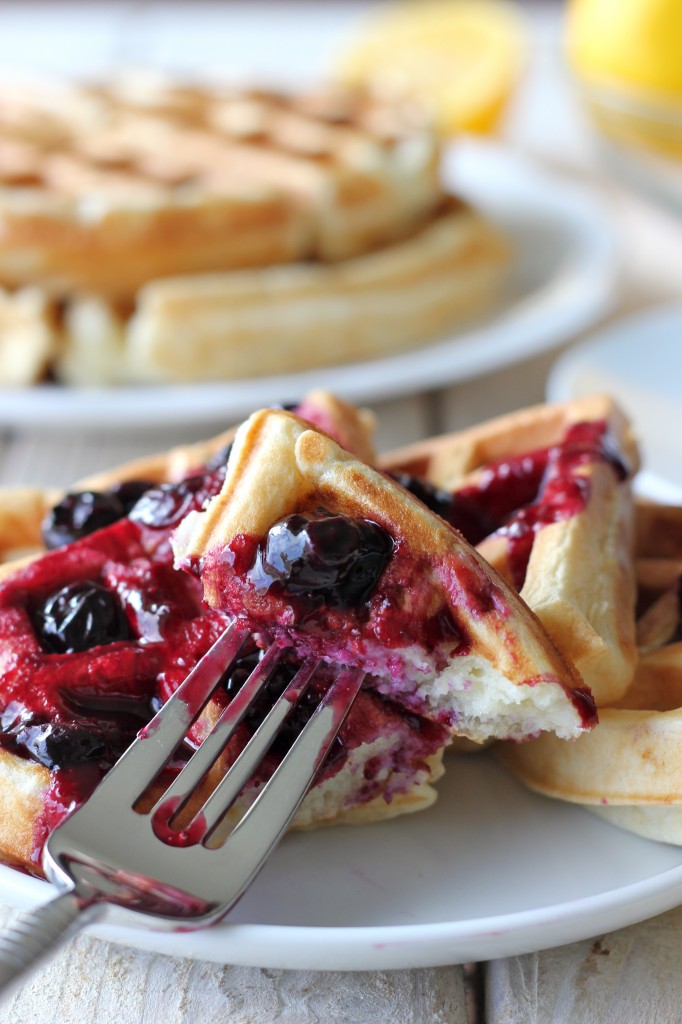 So there you have it, a crisp, buttery waffle with such a light interior and a wonderfully refreshing hint of Meyer lemon, drizzled with homemade blueberry sauce. Now if only I can get some patio furniture, I'll have that perfect breakfast!
Lemon Belgian Waffles with Blueberry Syrup (adapted from Cooking Classy):
Yields 3-4 servings
INGREDIENTS:
2 cups all-purpose flour
1/2 teaspoon baking soda
1/2 teaspoon salt
1 1/4 cups buttermilk
1/2 cup milk
2 tablespoons vegetable oil
2 tablespoons applesauce
2 large eggs, separated
2 tablespoons sugar
2 tablespoons freshly squeezed Meyer lemon juice
1 1/2 tablespoons Meyer lemon zest
For the blueberry syrup:
1 1/2 tablespoons freshly squeezed Meyer lemon juice

2 tablespoons cornstarch

2 cups blueberries

3/4 sugar
DIRECTIONS:
Preheat oven to 200 degrees F and a waffle iron according to manufacturer's instructions.
To make the blueberry sauce, combine lemon juice and cornstarch in a small bowl; set aside.
In a medium saucepan, combine blueberries, sugar and 1 cup water. Stir in the lemon juice and cornstarch mixture. Bring to a boil; reduce heat to low and simmer, stirring occasionally, until sauce has thickened, about 5-10 minutes. Keep warm; set aside.
In a large bowl, combine flour, baking soda and salt. In a large glass measuring cup or another bowl, whisk together buttermilk, milk, vegetable oil, applesauce, egg yolks, sugar, Meyer lemon juice and lemon zest. Pour mixture over dry ingredients and stir using a rubber spatula just until combined.
Using the KitchenAid 5-Speed Hand Blender fitted with the whisk attachment, whip egg whites until soft peaks form. Fold in the egg whites into the batter just until moist.
Lightly coat waffle iron with nonstick spray and ladle the recommended amount of waffle batter onto the iron according to manufacturer's recommendations. Close and cook according to manufacturer's instructions until golden brown, about 2-3 minutes; keep warm in oven.
Serve immediately with blueberry syrup.
Disclosure: KitchenAid provided me with a 5-Speed Hand Blender for review. All opinions expressed are my own.