Brown Butter Rolo Toffee Chocolate Chip Cookies
The most irresistible cookies stuffed with caramel and chocolatey goodness!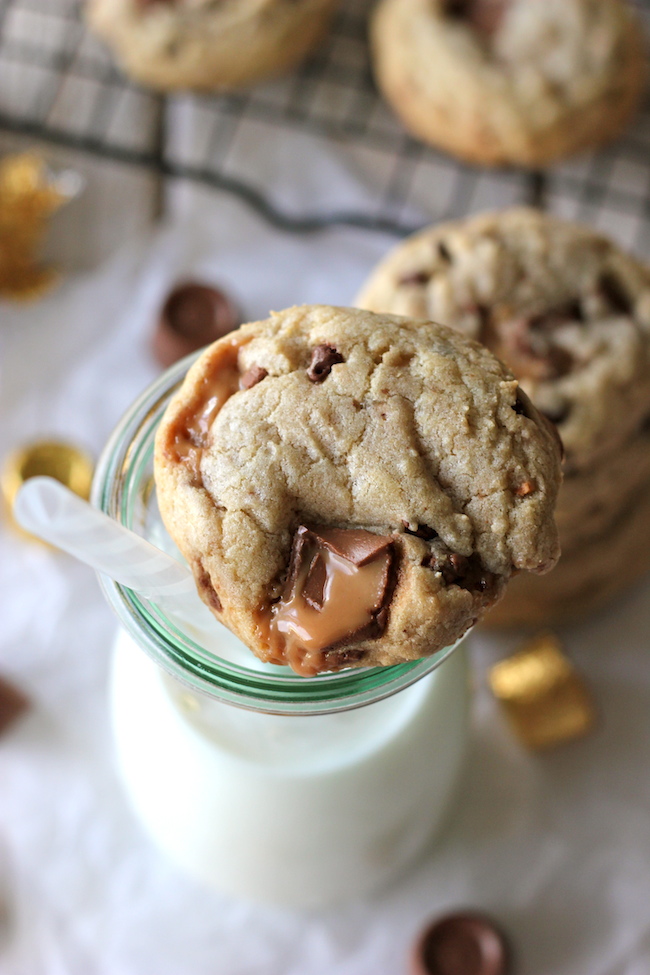 Confession time: I just recently found out what a Rolo is.
I had only heard about it an episode of Friends when Monica and Chandler go on a getaway trip because they were so tired of sneaking around. They end up at the hotel and switch rooms at least 5 times because, well, Monica is a crazy clean freak. Anyway, when Monica and Chandler first get to the hotel, Monica says, "Ooh, chocolates on the pillows! I love that!" Chandler responds, "Oh, you should live with Joey, Rolos everywhere."
I'm not sure why but when he said that, I always imagined Frito-type fusili-looking kind of chips with chili pepper on them. Little did I know that Rolos involved chewy caramel and mik chocolate.
So once I made this amazing discovery, I couldn't help but make these cookies, studded with Rolos and toffee bits throughout. At the last minute, I decided to add just a tiny bit of miniature chocolate chips since you get a generous dose of milk chocolate-y goodness from the Rolos. You can never actually have too much chocolate but I was a bit conservative here so the flavor of the Rolos could really shine.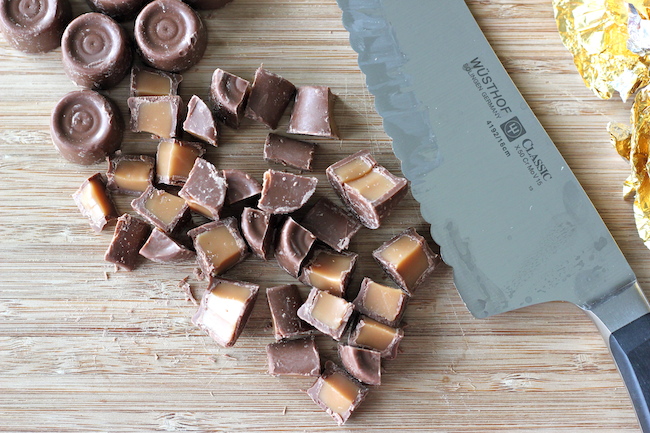 With Valentine's Day right around the corner, these cookies are a must. Just be sure to pour yourself and your special someone a tall glass of milk when serving these!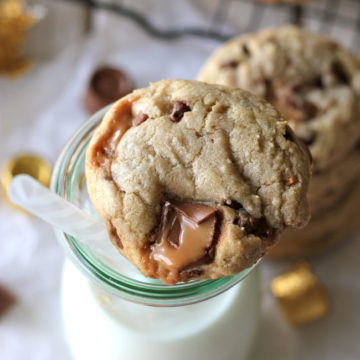 Brown Butter Rolo Toffee Chocolate Chip Cookies
The most irresistible cookies stuffed with caramel and chocolatey goodness!
20 minutes20 minutes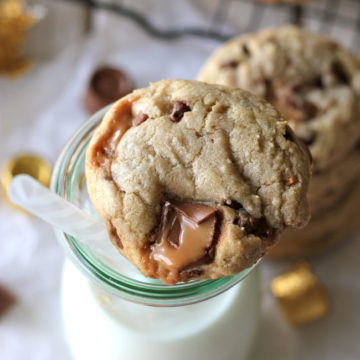 Ingredients:
12 tablespoons unsalted butter
2 cups all-purpose flour
1/2 teaspoon baking soda
1/2 teaspoon salt
1/2 cup sugar
1/2 cup brown sugar, packed
1 teaspoon vanilla extract
2 large eggs
1/2 cup toffee bits
1/4 cup miniature chocolate chips
16 Rolos, unwrapped and quartered
Directions:
Preheat oven to 350 degrees F. Line a baking sheet with parchment paper or a silicone baking mat; set aside.
Melt butter in a medium saucepan over medium heat. Cook, whisking constantly, until the foam subsides and the butter begins to turn a golden brown, about 3 minutes. Remove from heat.
In a medium bowl, combine flour, baking soda and salt.
In the bowl of an electric mixer fitted with the paddle attachment, beat browned butter and sugars on medium-high until well combined, about 1-2 minutes. Beat in vanilla and eggs, one at a time, until well combined. Gradually add flour mixture to sugar mixture at low speed, beating just until incorporated.
Gently fold in toffee bits, chocolate chips and Rolos.
Drop tablespoons of batter onto prepared baking sheet. Place into oven and bake until edges are golden brown but center is still moist, about 7-8 minutes.
Remove from oven and cool on a wire rack.
Did you Make This Recipe?
Tag @damn_delicious on Instagram and hashtag it #damndelicious.