Individual Strawberry Cream Pie
An unbelievably creamy no-bake pie in single serving jars for a beautiful presentation!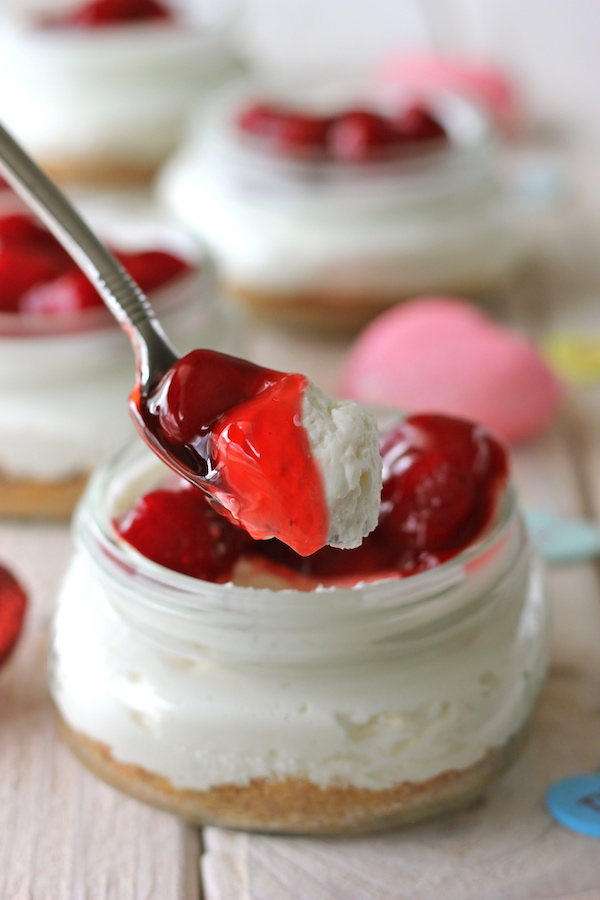 Jason and I have been together for 4 years, and we've only celebrated one Valentine's Day together, which was the first year we started dating. I'm really not the biggest fan of this "Hallmark holiday", mainly because I feel like you don't need a reason or a particular day to go out and celebrate your love for one another.
But that doesn't mean I don't like to make the Valentine's Day desserts and treats. It's kind of like how I didn't even know the football teams who played in the Super Bowl yet I made like ten different kinds of party food. Life of a food blogger, right?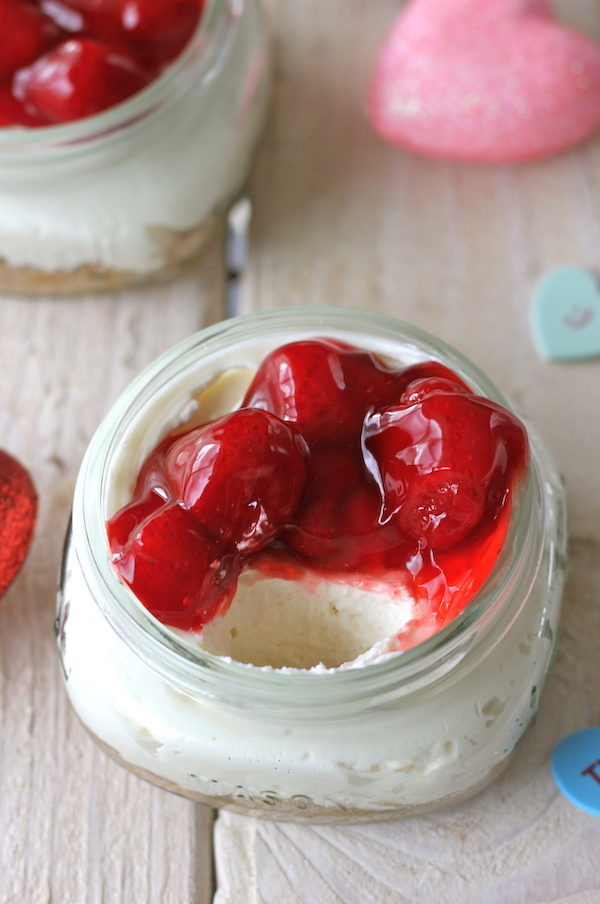 So for those of you celebrating Valentine's Day, I bring you these cream pies. See, Lucky Leaf was kind enough to send over a couple of their pie fillings so I decided to make a creamy, cheesecake pie filling with a graham cracker pie crust topped with a little bit of strawberry pie filling, all nested in a small mason jar. This comes together in just 15-20 minutes, and with the assortment of pie fillings, you can have several different kinds of desserts for your guests. And don't be deceived by the size of these pies. The jars can hold a lot of pie filling, but you'll want to finish every last bite of it!
The best part about these pies is that the kind folks over at Lucky Leaf want to send one lucky Damn Delicious reader a can of Lucky Leaf pie filling, a recipe card, fun and festive muffin cup papers and a bakery bag!
Just be sure to enter through the rafflecopter below. Good luck!
Giveaway ends on Monday, February 18, 2013 at 9:00 p.m. Pacific time. The winner will be selected by random.org and contacted by email. If there is no response after 48 hours, another winner will be selected. Open to US residents only.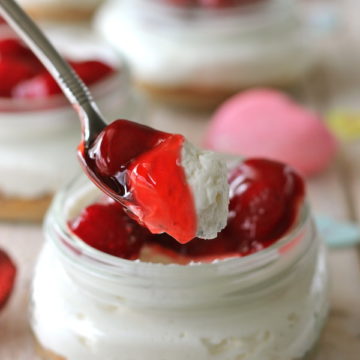 Individual Strawberry Cream Pie
An unbelievably creamy no-bake pie in single serving jars for a beautiful presentation!
20 minutes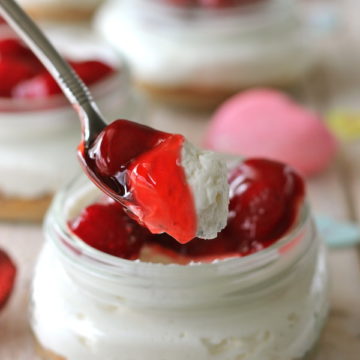 Ingredients:
1 1/2 cups graham cracker crumbs
5 tablespoons unsalted butter, melted
2 cups heavy cream
2 (8-ounce) packages cream cheese, at room temperature
1/2 cup sugar
2 teaspoons vanilla extract
1/2 cup Lucky Leaf Premium Strawberry Pie Filling
Directions:
In a small bowl, combine graham cracker crumbs and melted butter until a crumbly, moist mixture forms. Press 1/4 cup crumb mixture over the bottom of six wide-mouth 8-ounce mason jars; set aside.
In the bowl of an electric mixer fitted with the whisk attachment, whip heavy cream until stiff peaks form; set aside.
In another clean bowl of an electric mixer fitted with the paddle attachment, beat cream cheese, sugar and vanilla until smooth, scraping the sides of the bowl and beaters as needed. Fold in 1/3 of the whipped cream to lighten it; then add remaining whipped cream, gently folding until the filling is light and fluffy.
Pour the filling into each mason jar, spreading it out in an even layer.
Serve chilled, topped with strawberry pie filling.
Did you Make This Recipe?
Tag @damn_delicious on Instagram and hashtag it #damndelicious.
Disclosure: This giveaway is sponsored by Lucky Leaf. All opinions expressed are my own.