Bolognese Sauce
Homemade ragu that tastes so much better than the bottled stuff!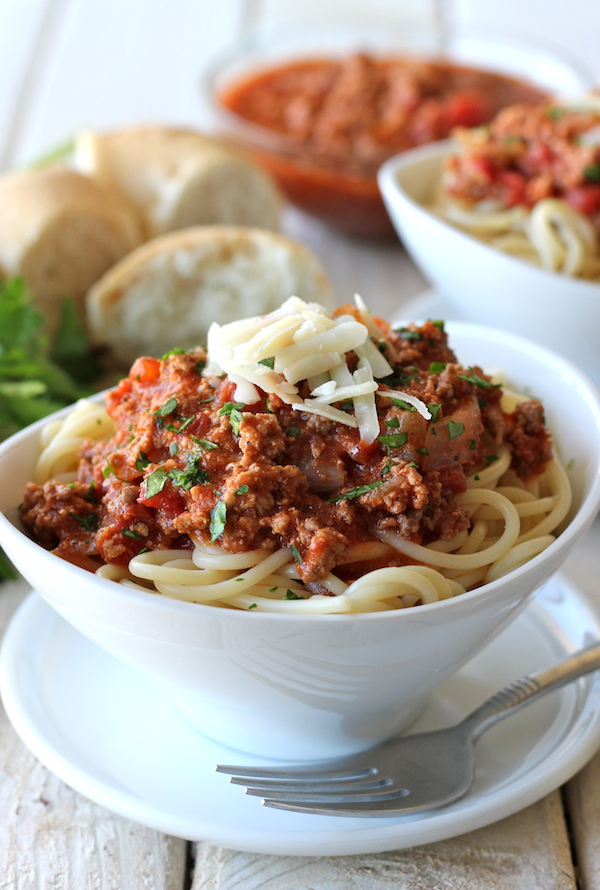 Growing up, I was one of those Korean kids who couldn't go to the mall with friends or go to sleepovers of any kind. Instead, I had go to swim practice 6 times a week and practice violin right afterwards. Then I'd have to finish my homework and study so I can get an A+ on every assignment, quiz, and test.
That was my life. It was tough, but my mom wanted the best for me and she worked hard for it.
My mom raised me to do a million things a day, and going into adulthood, I always felt like I can actually do a million things a day.
I can have a full-time job.
I can have a full-time blog job.
I can go to the gym 6 times a week.
I can clean the house, vacuum the carpet, scrub the toilet and dust off the counters.
I can have a social life.
I can do it all.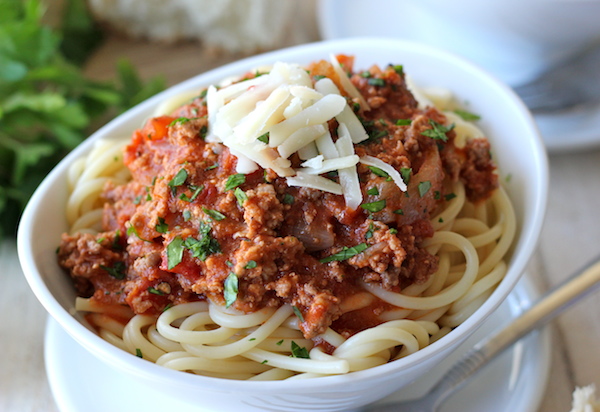 But you know what? I can't. I really can't.
It took me quite some time to finally accept that but I'm glad I did.
Just the other night, the clock was hitting 10PM and I still had to send out at least 4 recipes to the companies that I work for, create a post for the blog in which I haven't even edited the photos yet and sleep at a reasonable hour for a full work day the next morning.
That's when I realized I just had to cut down my hours at my day job. I spoke to my bosses the next day and they were very understanding about how overwhelmed I am and said they would try to let me have a day off a week, depending on the workload.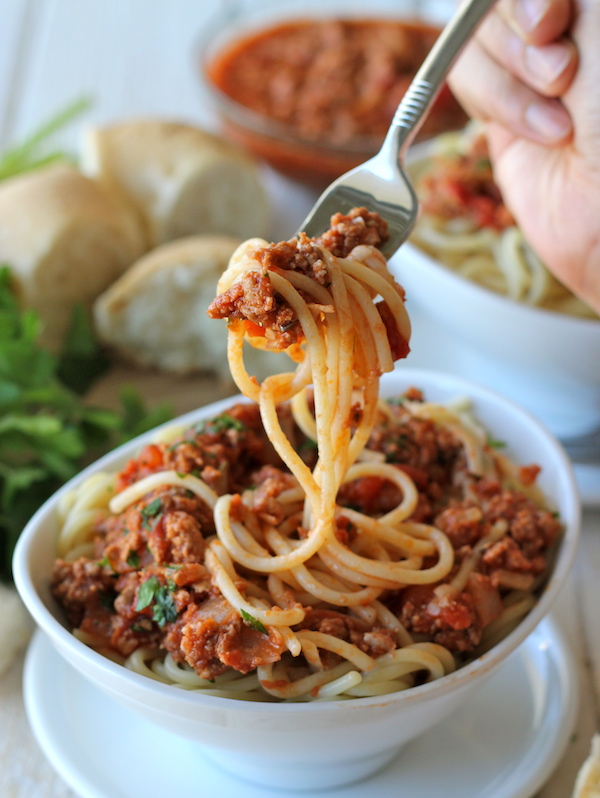 That's how I got the day off from work yesterday. I woke up at 6AM, worked on recipe development, gorged on some amazing pancakes, treated myself to Thai food, took a 2 hour nap and skipped the gym.
It was a much needed day off. And I couldn't be more thrilled to have some time off from my day job.
Whew. Okay, sorry for that essay there. I think I was just rambling at some point.
Enough about me though. Let's talk pasta!
Today I am sharing my all-time favorite kind of comfort food: homemade bolognese cooked low and slow. It comes together quite easily and makes the house smell amazing while it's cooking. It also yields enough servings to feed a small army so this would go perfectly at your next dinner party or a big family dinner without having to slave away in the kitchen all night long. I'm sure your guests would greatly appreciate a plate of this and be begging for seconds. After all, who can turn down a bowl of pasta filled with a hearty, tender meat sauce with a side of crusty bread and a glass of red wine?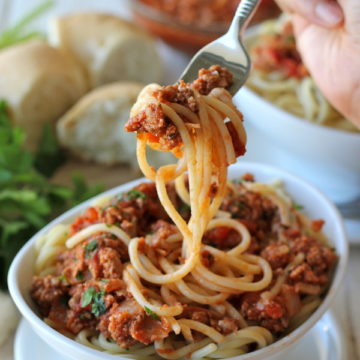 Bolognese Sauce
Homemade ragu that tastes so much better than the bottled stuff!
10 minutes
2 hours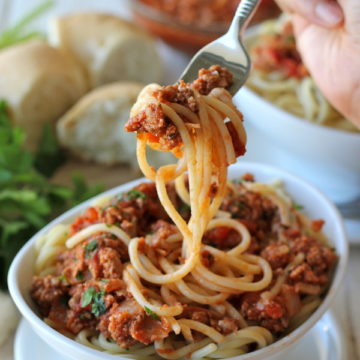 Ingredients:
1 tablespoon olive oil
1 clove garlic, thinly sliced
1 small onion, chopped
Kosher salt, to taste
2 pounds ground beef
1 (14.5-ounce) can diced tomatoes
1 (14.5-ounce) can tomato sauce
2 cinnamon sticks
6-8 cloves
1/4 cup chopped fresh parsley leaves
1 pound spaghetti
Directions:
Heat olive oil in a Dutch oven or large pot over medium high heat. Add garlic and saute until the edges are golden, about 2-3 minutes. Add onions and cook, stirring occasionally, until translucent, about 5 minutes. Season with salt, to taste. Add beef and cook until browned, about 5-8 minutes, making sure to crumble the beef as it cooks; season with salt, to taste.
Stir in diced tomatoes, tomato sauce, cinnamon sticks and cloves. Reduce heat to low; simmer, stirring occasionally, with lid slightly ajar, until sauce has thickened, about 90-120 minutes. Stir in parsley.
In a large pot of boiling salted water, cook pasta according to package instructions; drain well.
Serve immediately with spaghetti.
Did you Make This Recipe?
Tag @damn_delicious on Instagram and hashtag it #damndelicious.