Green Tea Cupcakes with Matcha Cream Cheese Frosting
A deliciously moist cupcake infused with antioxidant-rich green tea!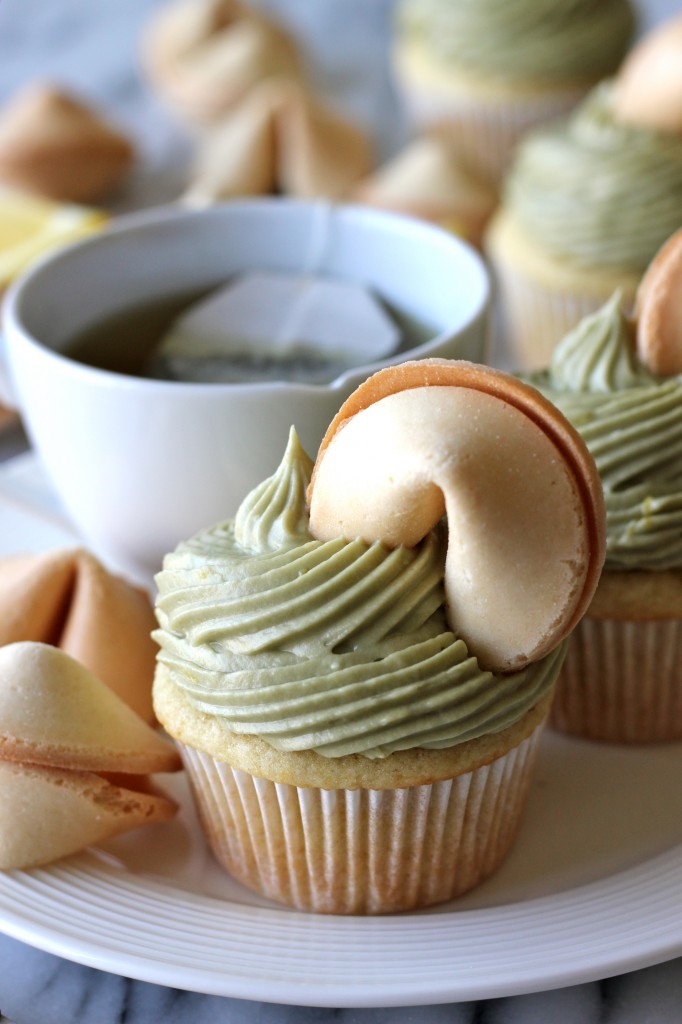 I'm not really one to celebrate St. Patty's Day. Don't get me wrong, the idea of going to an Irish pub and guzzling beer sounds fun but I gave up alcohol years ago. But I do enjoy the the St. Patty's Day food, particularly the corned beef and cabbage combo (Jason waits all year long for me to make it around this time of year), irish stew and now, these matcha green tea cupcakes.
See, I wanted to make a "green" dessert without any kind of artificial coloring so I couldn't help but use matcha green tea powder in an incredibly light and fluffy cream cheese frosting. It was the absolute perfect complement to the lemon cupcake base infused with green tea, giving you a double kick of that wonderful green tea taste. And you can't forget that fortune cookie garnish. I love that it gives off that polished, finished look, which will be sure to impress everyone. And yes, I did purchase a whole container of fortune cookies for a garnish. Thank goodness I have a niece and 2 newphews that would devour them in the blink of an eye!
You can get the full recipe here over at Dixie Crystals!
Disclosure: This post is sponsored by Dixie Crystals. All opinions expressed are my own.