Grilled Corn Salad
A smoky grilled corn salad loaded with fresh cherry tomatoes, avocado and basil leaves tossed in a refreshing vinaigrette – perfect for a summer picnic!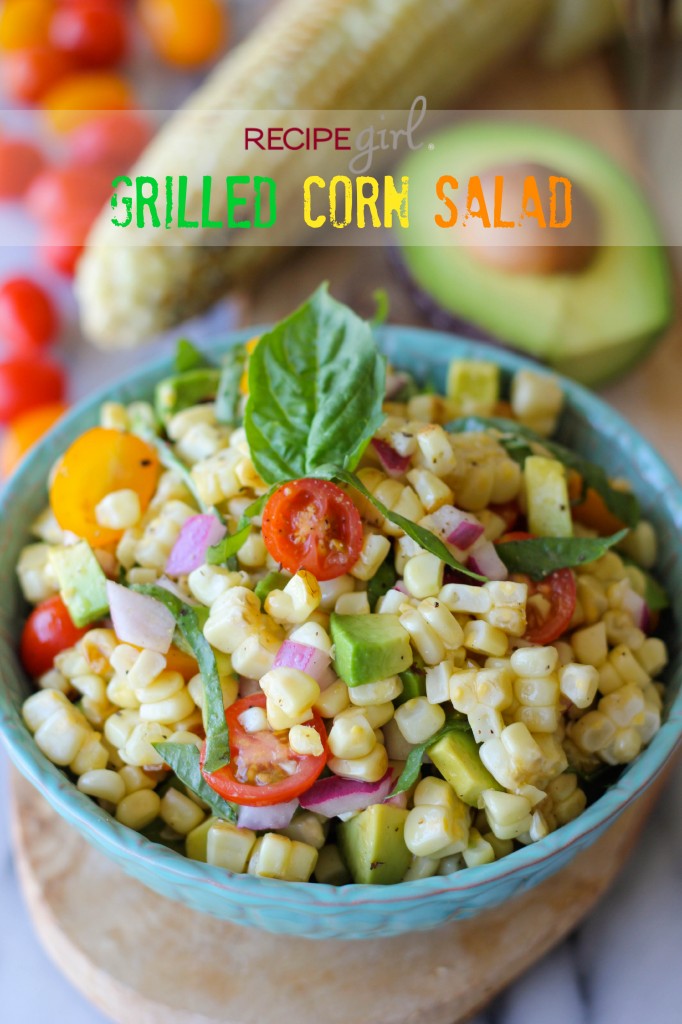 When I first started blogging back in April 2011, I had no idea what I was doing – with photos, writing, and even cooking! I was honestly just thrown in the deep-end of the pool without a floater. To find some direction in this blogging and cooking world, I searched through a countless number of food blogs, and that's when I stumbled upon Lori's blog, RecipeGirl.
With at least 2500 original and adapted recipes, RecipeGirl quickly became one of my favorite blogs. I've made a countless number of her recipes, from this Bacon Fat Chicken Alfredo to her Irish Soda Bread Muffins and of course, her Better than Starbucks' Pumpkin Scones. Her recipes have never failed me!
Over the past couple of years, I've gotten to know more and more about Lori, and I even had the opportunity to meet her in person at the Big Traveling Potluck. You could imagine how excited I was when we ended up sitting next to each other at dinner. After all, Lori's kind of celebrity in the food blogging word! And when she sent me an email a couple weeks back asking if I'd like to review her cookbook, I might have fainted.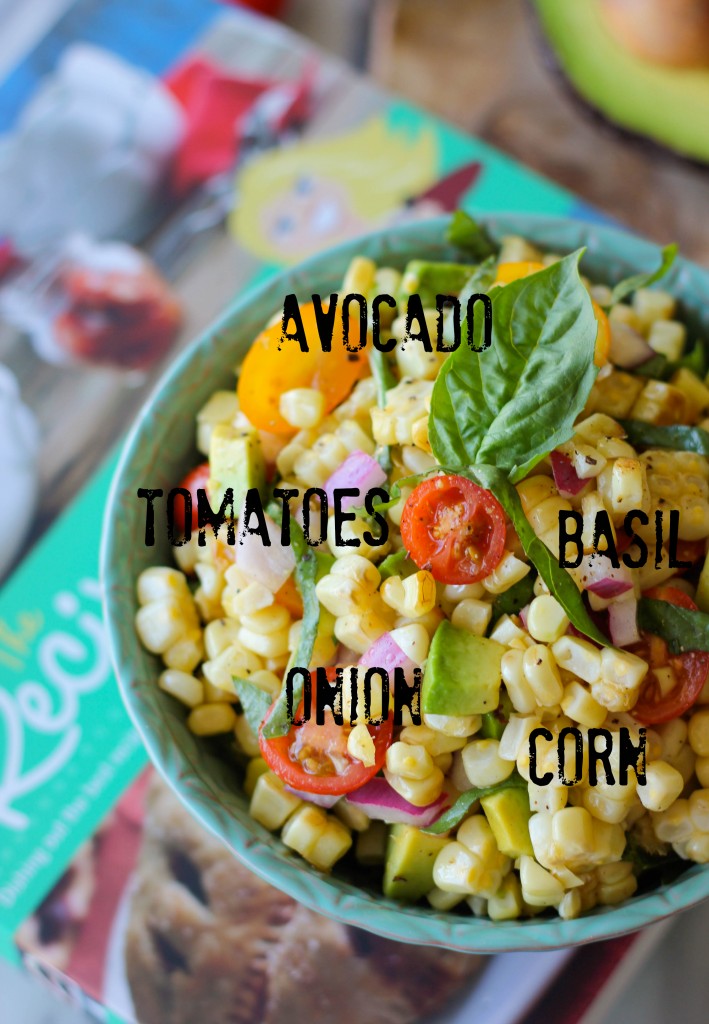 The minute I received Lori's book in the mail, I was in love. Her book is filled with such easy, family-friendly recipes for the everyday home cook, and after perusing through the entire book, I honestly bookmarked 99.9% of her recipes. I just love the ease of all of her recipes because at the end of the day, I just don't have the time to shell out 1-2 hours to cook a full meal after spending 10 hours at the office. Lori also includes recipes that are a web favorite, vegetarian, gluten-free or dairy-free, making it incredibly easy for those with dietary restrictions. The "change it up" options also provide incredibly handy and helpful substitutions.
So after hours and hours of trying to choose one of her recipes to feature on the blog, I couldn't help but make her grilled corn salad. With 90+ degree weather in LA, I really needed to make a refreshing dish, which is exactly what this dish provides. With some simple, fresh ingredients like juicy, tender, smoky grilled corn, cherry tomatoes, avocado and basil leaves, you'll have summer in a bowl as you stuff your face with this. It's a perfect picnic summer dish, or a dish you eat in your living room with the AC blasting on. I did the latter – it's just too dang hot for a picnic right now.
Now for the giveaway!
Lori has been so kind to offer her cookbook to one lucky Damn Delicious reader. Just be sure to enter the giveaway through the rafflecopter below. Good luck!
Giveaway ends on Sunday, July 21, 2013 at 9:00 p.m. Pacific time. The winner will be selected by random.org and contacted by email. If there is no response after 48 hours, another winner will be selected. Open to US and Canada residents only.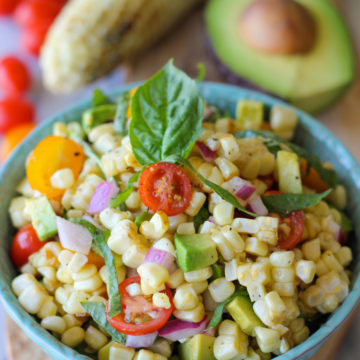 Grilled Corn Salad
A smoky grilled corn salad loaded with fresh cherry tomatoes, avocado and basil leaves tossed in a refreshing vinaigrette – perfect for a summer picnic!
20 minutes
10 minutes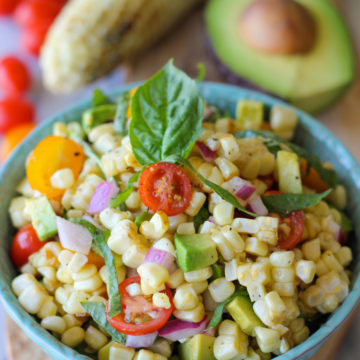 Ingredients:
5 ears corn, shucked and rinsed
1 cup cherry tomatoes, halved
1 avocado, halved, seeded, peeled and diced
1/2 cup fresh basil leaves, chiffonade
1/4 cup diced red onion
Kosher salt and freshly ground pepper, to taste
For the vinaigrette
3 tablespoons olive oil
3 tablespoons apple cider vinegar
1 tablespoon freshly squeezed lemon juice
Kosher salt and freshly ground black pepper, to taste
Directions:
In a small bowl, whisk together olive oil, apple cider vinegar, lemon juice, salt and pepper, to taste; set aside.
In a large bowl of water, soak corn for 30 minutes; drain well.
Preheat grill to medium high heat. Add corn to grill and cook until grill marks appear, about 3-4 minutes on each side; let cool before cutting the corn kernels off the cobs.
In a large bowl, combine corn, tomatoes, avocado, basil, red onion, salt and pepper to taste. Stir in vinaigrette and gently toss to combine. campaignIcon
Serve immediately.
Did you Make This Recipe?
Tag @damn_delicious on Instagram and hashtag it #damndelicious.
Disclosure: This giveaway is sponsored by RecipeGirl. All opinions expressed are my own.