Berry Cantaloupe Salad
A super easy and amazingly refreshing fruit salad – the perfect way to cool down!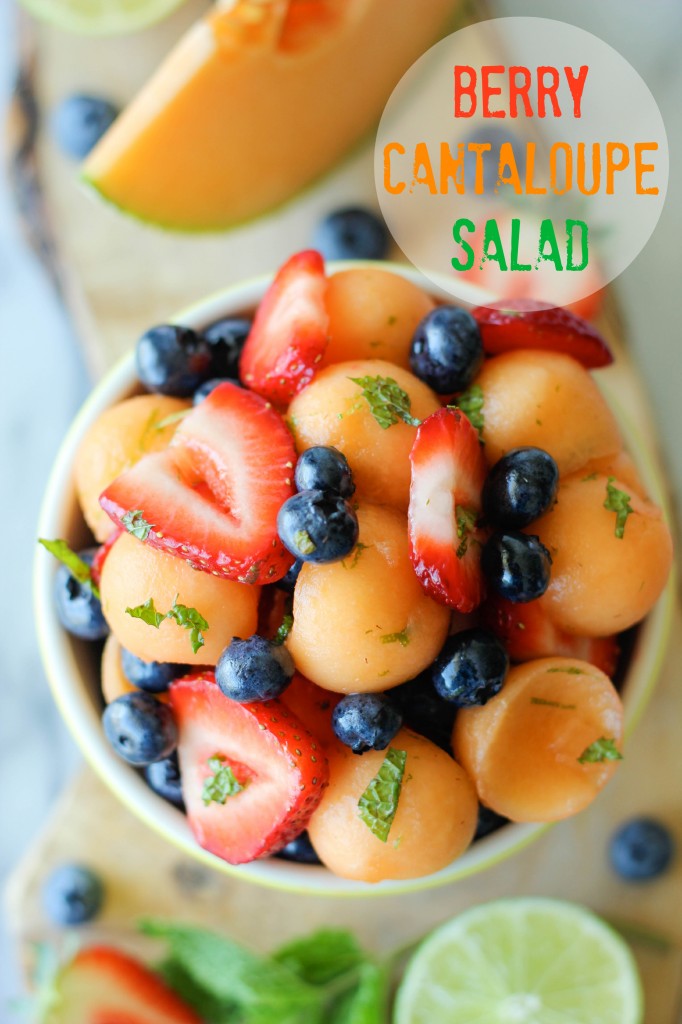 Healthy snacks are a must, especially for a notorious, carboholic snacker like me. Hawaiian bread, pita chips, cookies & cream chocolate bars. The list goes on and on. And as the skinny jeans are getting tighter and tighter, I finally opted out for a change.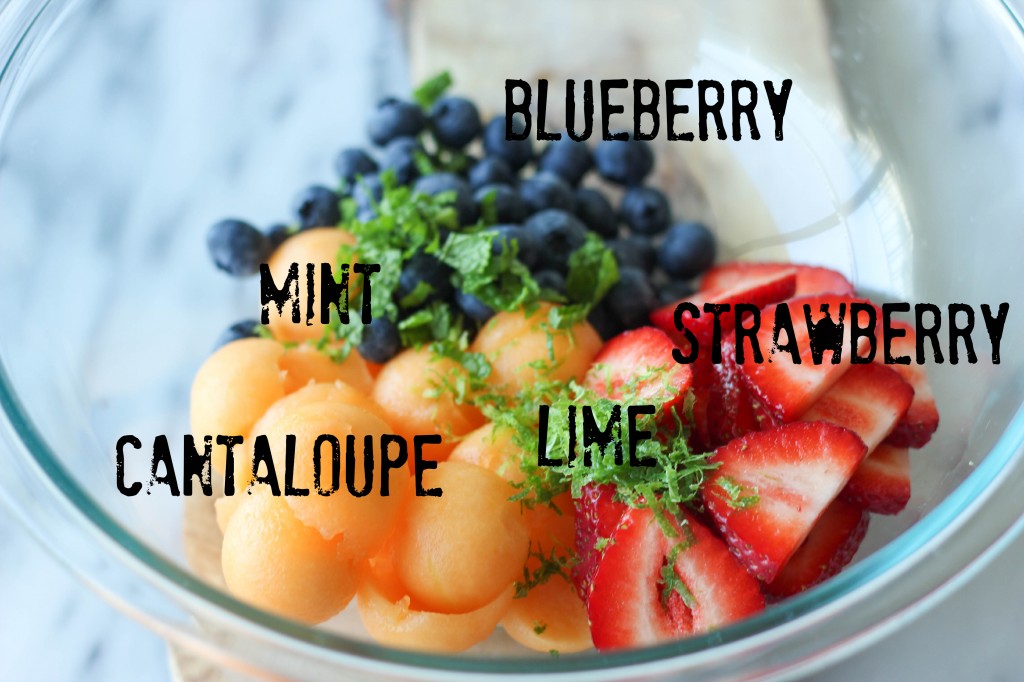 With the help of Cooking Light's most current issue, I've learned to stock up the fridge with bags of fresh cut fruit, individual containers of yogurt, and part-skim mozzarella cheese sticks, creating a healthy snack environment that won't leave me reaching for fried chips and highly processed foods. And it always helps to have fruit popsicles, like these cantaloupe popsicles, in the freezer for those hot summer days.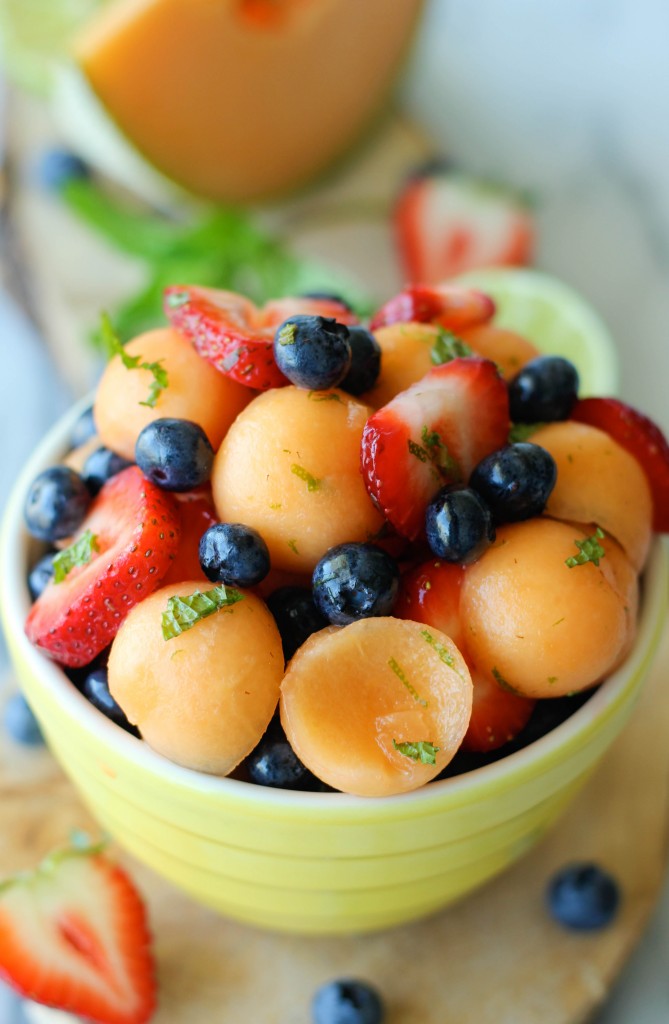 I've also learned that it's incredibly helpful to place the healthy snacks in eyesight, whether it's on the counter or right in front of the fridge. The more convenient it is, the more likely I'll grab the gorgeous Fiji apple versus the slice of chocolate cake in the back of the fridge!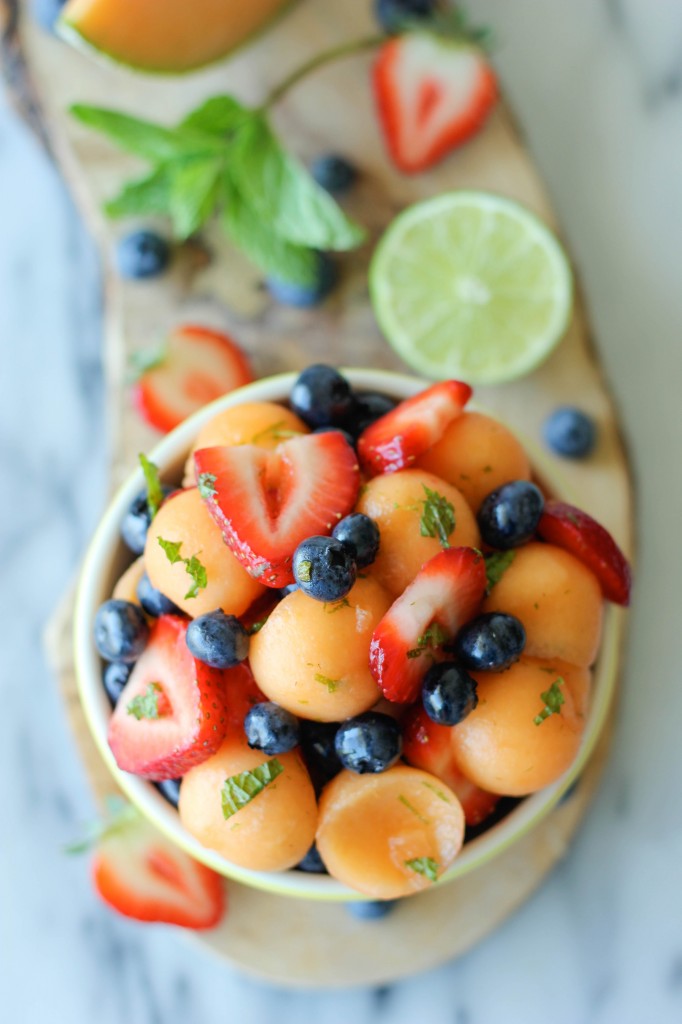 With that in mind, I had a bunch of gorgeous fruit front and center in the fridge so I decided to make a fun, berry cantaloupe fruit salad, perfect as an after-school snack or for us grown-ups, a midnight snack during the 10PM-2AM zone. It's so easy to make, and you can also incorporate your favorite kind of berries. And with a bit of lime zest, freshly squeezed lime juice and a sprinkling of mint leaves, you'll have a mint, tangy sweet fruit salad perfect for the whole family!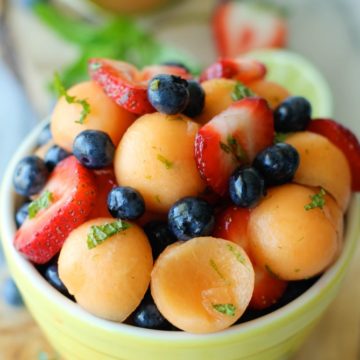 Berry Cantaloupe Salad
A super easy and amazingly refreshing fruit salad – the perfect way to cool down!
35 minutes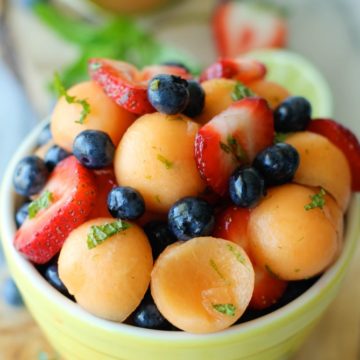 Ingredients:
1/2 cantaloupe, scooped with melon baller
1 cup strawberries, thinly sliced
1 cup blueberries
1 tablespoon freshly squeezed lime juice
1/2 teaspoon lime zest
2 teaspoons chopped mint leaves
Directions:
In a large bowl, combine cantaloupe, strawberries, blueberries, lime juice and zest and mint; set aside in the refrigerator for at least 30 minutes.
Did you Make This Recipe?
Tag @damn_delicious on Instagram and hashtag it #damndelicious.