Loaded Baked Potato Soup
All the flavors of a loaded baked potato comes together beautifully in this satisfyingly creamy and comforting soup!

So now that I work from home all day, I get to watch a lot of television. How I Met Your Mother, Grey's Anatomy, Charmed, Law and Order SVU, Gilmore Girls – you name it (oh and btw, half these shows are on Lifetime, which is like the best network ever).
But yesterday I couldn't watch my Grey's reruns because they played A Walk to Remember instead. Now this movie came out when I was in the 8th grade, and I was completely googly-eyed over 24-year old Shane West. Now that it's on 11 years later, nothing has changed, except I'm crying in almost every scene – when Shane West takes Mandy Moore to the state line and she's in two places at once, or when he names a star after her –  yeah, sob fest all over.
I think I need to get out more.
But the good thing about working from home is that I can raid the kitchen and gobble up anything and everything, like this loaded baked potato soup. This oh-so-creamy and rich, carb-loaded, cheesy, bacony, comforting, cozy soup that I can eat all day long. It's honestly become one of my favorite soups ever, and I've had it 3 times this week already! With the melted cheddar and the crispy bacon bits, how can you resist?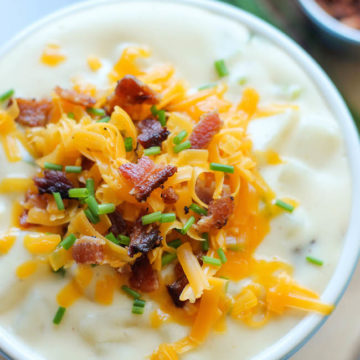 Loaded Baked Potato Soup
All the flavors of a loaded baked potato comes together in this comforting soup!
10 minutes
30 minutes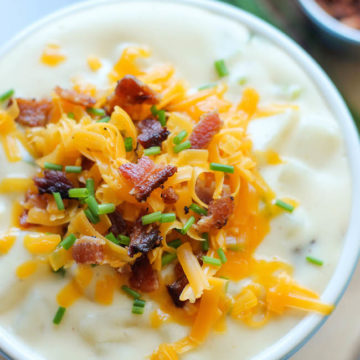 Ingredients:
4 slices bacon, diced
5 tablespoons unsalted butter
1/4 cup all-purpose flour
3 1/2 cups milk, or more, as needed
3 russet potatoes, peeled and cubed
2 green onions, thinly sliced
1 cup shredded cheddar cheese
1/2 cup sour cream
Kosher salt and freshly ground black pepper, to taste
Directions:
Heat a large skillet over medium high heat. Add bacon and cook until brown and crispy, about 6-8 minutes. Transfer to a paper towel-lined plate; set aside.
Melt butter in a large stockpot or Dutch oven over medium heat. Whisk in flour until lightly browned, about 1 minute. Gradually whisk in milk, and cook, whisking constantly, until slightly thickened, about 1-2 minutes. Stir in potatoes and green onions.
Bring to a boil; reduce heat and simmer until potatoes are tender, about 15-20 minutes. Stir in cheese, sour cream, salt and pepper, to taste. If the soup is too thick, add more milk as needed until desired consistency is reached.
Serve immediately, garnished with green onion, cheese and bacon, if desired.
Did you Make This Recipe?
Tag @damn_delicious on Instagram and hashtag it #damndelicious.