Slow Cooker Honey Sesame Chicken
Simply throw everything in the crockpot and you're set for a family-friendly meal – it doesn't get easier than that!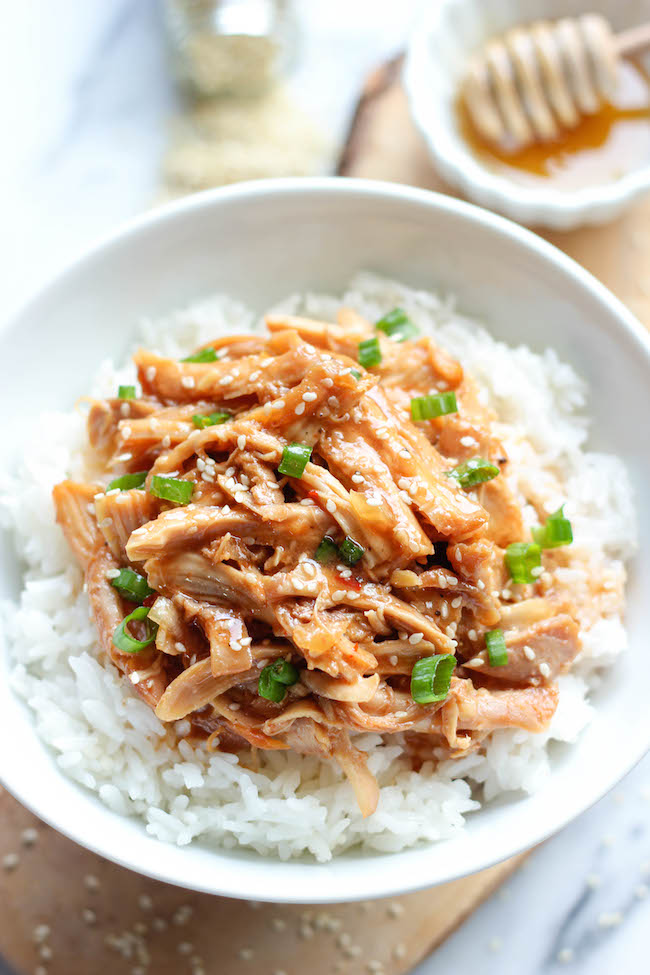 You know how you get a song stuck in your head and you sing it over and over and over for a week and a half until a new song gets stuck in your head? Well, my current song is Boy Dance Party by Bruce Willis and the boys from SNL. Ever since they played that skit, I've had it stuck in my head non-stop! I'll go around the house singing it at the top of my lungs until Jason looks at me and says, "But babe, you're not a boy."
Figures.
I apologize in advance if you have this song stuck in your head for the next couple of weeks. It's so catchy!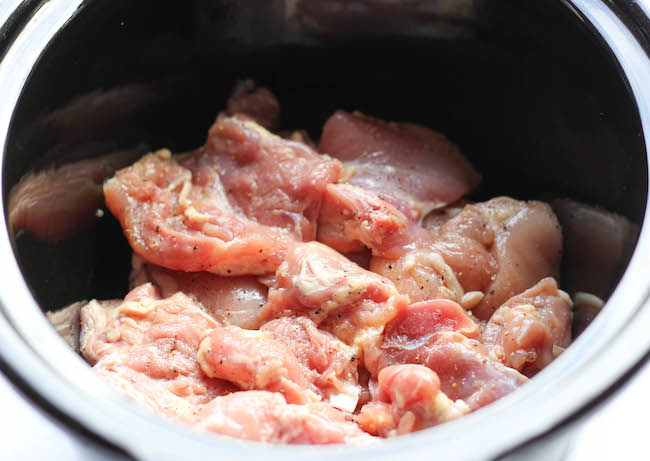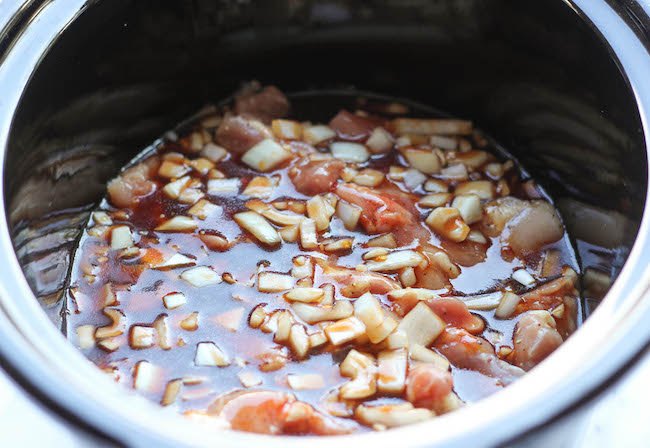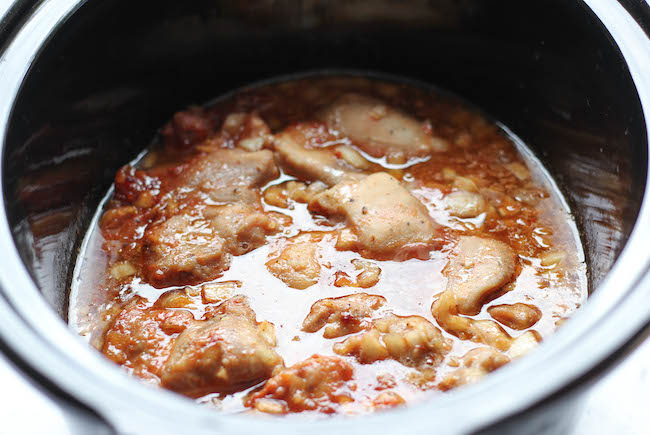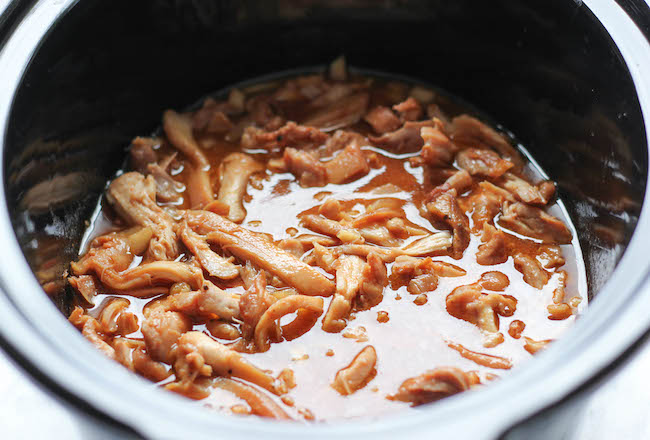 But enough about what the guys do when their ladies aren't around. Let's talk about this easy crockpot dish!
It's such a simple, effortless dish that comes together so easily in the slow cooker. Simply throw everything into your slow cooker and that's it! There's just one tedious part shredding the chicken. But other than that, it's an easy-peasy, no fuss dish with a sweet honey flavor that even the pickiest of eaters will enjoy!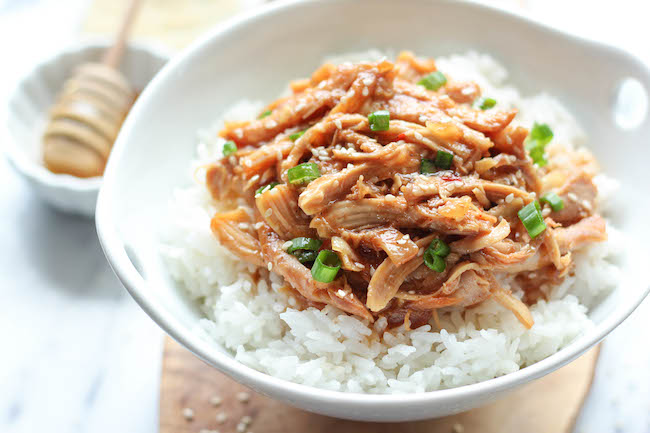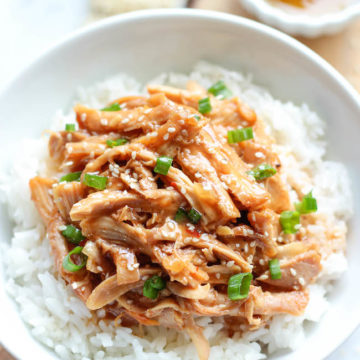 Slow Cooker Honey Sesame Chicken
Simply throw everything in the crockpot for a quick and easy, no-fuss, family-friendly meal!
10 minutes4 hours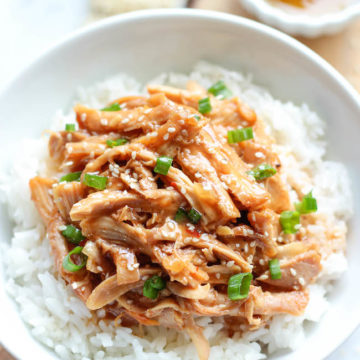 Ingredients:
1 small onion, diced
2 cloves garlic, minced
1/2 cup honey
1/2 cup soy sauce
1/4 cup ketchup
2 tablespoons vegetable oil
1/4 teaspoon crushed red pepper flakes
2 pounds boneless, skinless chicken thighs
Kosher salt and freshly ground black pepper, to taste
1 green onion, thinly sliced for garnish
Sesame seeds, for garnish
Directions:
In a large bowl, combine onion, garlic, honey, soy sauce, ketchup, vegetable oil and red pepper.
Season chicken thighs with salt and pepper, to taste. Place chicken thighs into a slow cooker. Add honey mixture and gently toss to combine. Cover and cook on low heat for 3 hours and 30 minutes.
Remove chicken thighs from the slow cooker and shred the chicken before returning to the pot with the juices. Cover and keep warm for an additional 30 minutes.
Serve immediately, garnished with green onions and sesame seeds, if desired.
Did you Make This Recipe?
Tag @damn_delicious on Instagram and hashtag it #damndelicious.
Nutrition Facts
Serving Size
Servings Per Container 6
---
Amount Per Serving
Calories 379.1
Calories from Fat 124.2
% Daily Value*
Total Carbohydrate 29.6g
10%
---
*Percent Daily Values are based on a 2,000 calorie diet. Your daily values may be higher or lower depending on your calorie needs.