Spicy Parmesan Shrimp Pasta
So flavorful, so spicy and so easy to put together, perfect for those busy weeknights!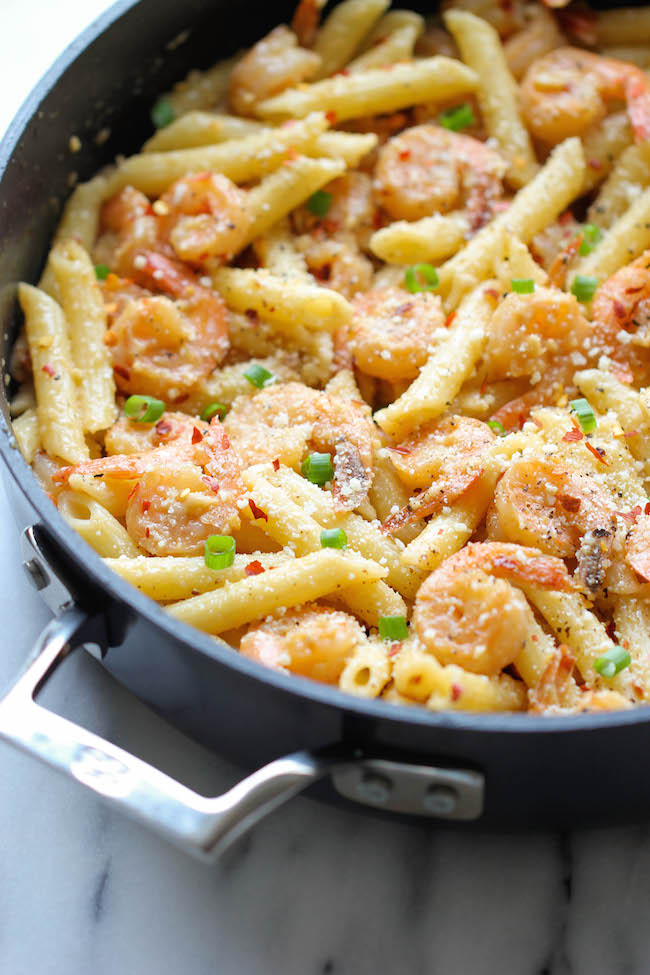 I've been somewhat obsessed with skillet dishes. It takes minutes to put together and Jason and I get a kick out of eating it right out of the pan. Hey, we don't even have a dining table so you could imagine us just shoving our heads together into a skillet on our coffee table. And that's exactly what happened with this shrimp pasta.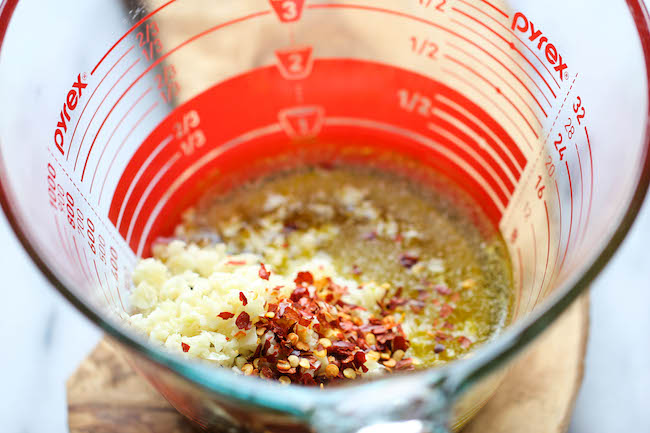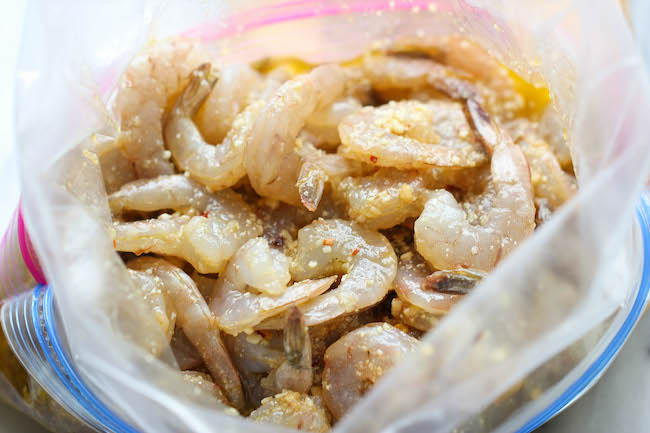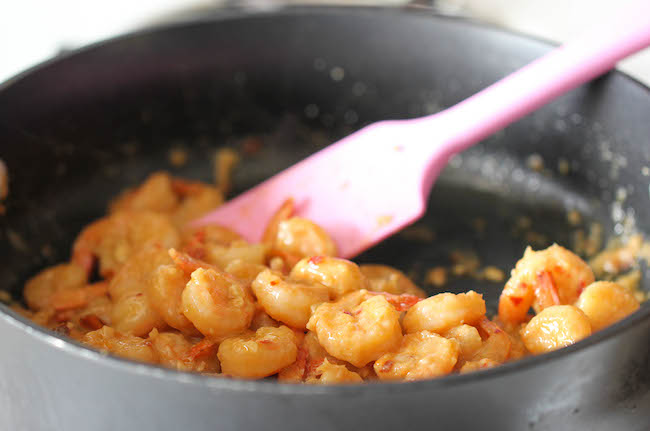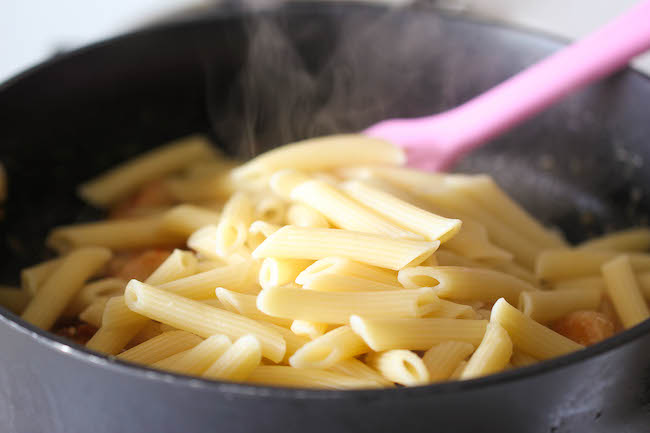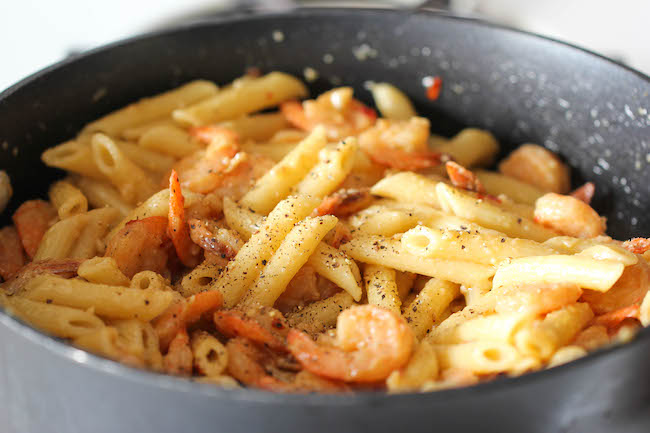 This shrimp pasta comes together so easily with just a handful of pantry ingredients. Just be sure to prepare yourself for a 30 minute marinade. You can even make the marinade the night before so it's ready to use for dinnertime. Once that's ready, throw everything into a skillet, add your cooked pasta and that's it. Done and done. Easy enough, right?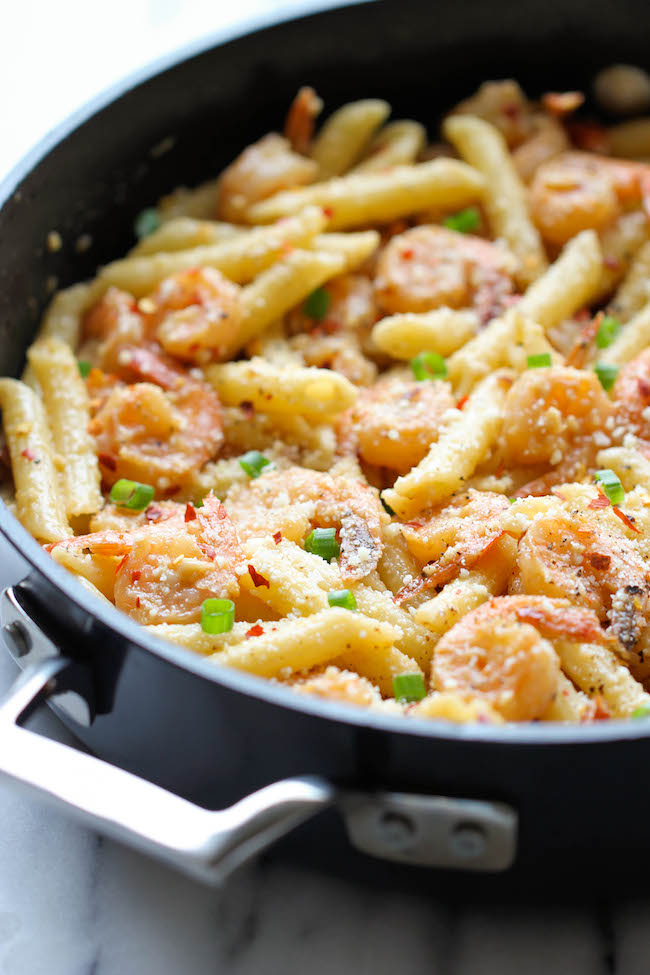 But don't be fooled by the ease of this recipe. It's incredibly flavorful and wonderfully spicy. If you're not a fan of the heat, just cut down on the red pepper flakes. A little bit goes a long way.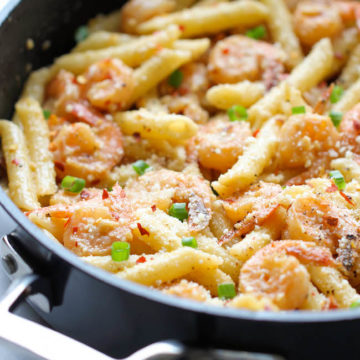 Spicy Parmesan Shrimp Pasta
So flavorful, so spicy and so easy to put together, perfect for those busy weeknights!
45 minutes5 minutes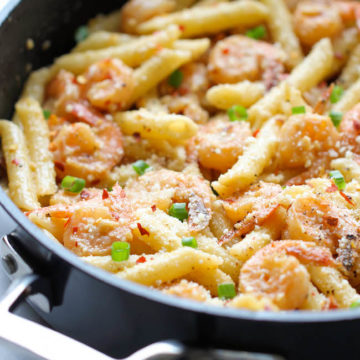 Ingredients:
1/3 cup olive oil
1/4 cup Parmesan cheese
4 cloves garlic, minced
1 tablespoon brown sugar
2 teaspoons soy sauce
1/2 teaspoon red pepper flakes, or more, to taste
1 pound medium shrimp, peeled and deveined
8 ounces penne
Kosher salt and freshly ground black pepper, to taste
1 green onion, thinly sliced
Directions:
In a medium bowl, whisk together olive oil, Parmesan, garlic, brown sugar, soy sauce and red pepper flakes. In a gallon size Ziploc bag or large bowl, combine shrimp and olive oil mixture; marinate for at least 30 minutes to overnight, turning the bag occasionally.
In large pot of boiling salted water, cook pasta according to package instructions; drain well.
Heat a large skillet over medium high heat. Add shrimp and sauce mixture and cook, stirring occasionally, until pink, about 2 minutes. Stir in pasta and gently toss to combine; season with salt and pepper, to taste.
Serve immediately, garnished with Parmesan and green onions, if desired.
Did you Make This Recipe?
Tag @damn_delicious on Instagram and hashtag it #damndelicious.
Nutrition Facts
Serving Size
Servings Per Container 4
---
Amount Per Serving
Calories 527.3
Calories from Fat 197.1
% Daily Value*
Total Carbohydrate 47.7g
16%
---
*Percent Daily Values are based on a 2,000 calorie diet. Your daily values may be higher or lower depending on your calorie needs.