Slow Cooker Butter Chicken
Skip the take-out and try this super easy, lightened-up creamy butter chicken right in the crockpot – it's less calories and tastes a million times better!

When Jason and I lived in LA, we had Indian take-out at least once a week. It was our regular joint out in Beverly Hills, and I would always pick up two tikka masala bowls on my way home from work. But ever since we relocated out to the Bay Area, we haven't had our Indian take-out fix in so long. My cravings have taken over for weeks so I finally made this butter chicken right at home, and boy, am I glad I did because the homemade version is so much better, and healthier, than take-out!
If you've never had butter chicken, it's a very popular Indian dish, and can be made mild or spicy to taste. I kept the recipe very mild but the heat seekers can certainly add more chili powder, to taste.
Now this is a super simple crockpot dish. There is a little bit of sauteeing but you're pretty much throwing all the ingredients into a saucepan before throwing it into the slow cooker. Easy peasy, right? From there, you can let that cook low and slow for 5 hours, leaving you to come home to the most fragrant, most flavorful and creamy butter chicken.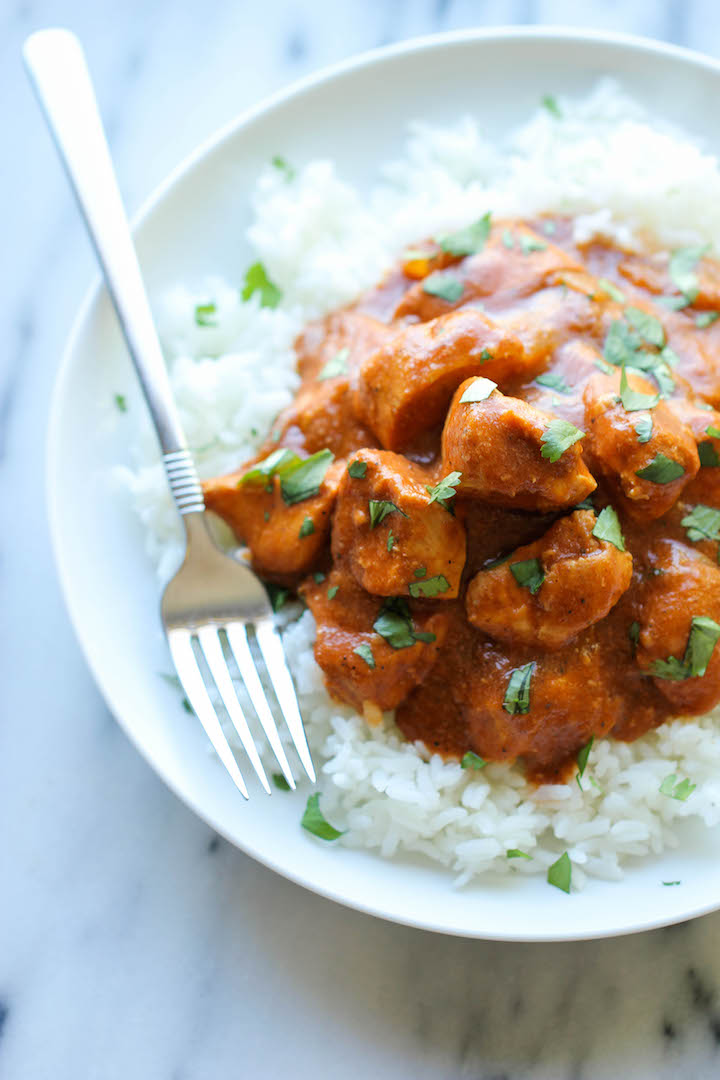 Best of all, it's lightened up with coconut milk and whole wheat flour, saving you on a ton of calories this spring season!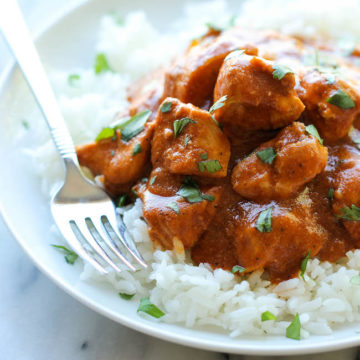 Slow Cooker Butter Chicken
Skip the take-out and try this super easy, lightened-up creamy butter chicken right in the crockpot!
10 minutes
5 hours, 5 minutes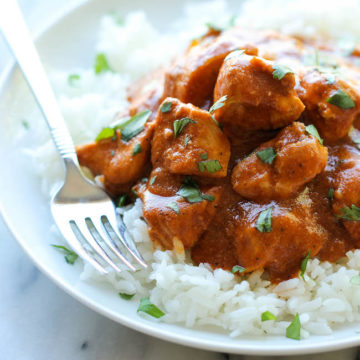 Ingredients:
1 tablespoon olive oil
4 cloves garlic, crushed
1 onion, diced
1 (14-ounce) can light coconut milk
1 (6-ounce) can tomato paste
2 tablespoons whole wheat flour
2 teaspoons garam masala
1 teaspoon curry powder
1/2 teaspoon chili powder, or more, to taste
1/2 teaspoon ginger powder
Kosher salt and freshly ground black pepper, to taste
3 pounds boneless, skinless chicken thighs, cut into 2-inch pieces
2 tablespoons chopped fresh cilantro leaves
Directions:
Heat olive oil in a large saucepan over medium high heat. Add garlic and onion, and cook, stirring frequently, until onions have become translucent, about 2-3 minutes. Stir in coconut milk, tomato paste, flour, garam masala, curry powder, chili powder and ginger powder until well combined and slightly thickened, about 1-2 minutes; season with salt and pepper, to taste.
Place chicken into a slow cooker. Add sauce mixture and gently toss to combine. Cover and cook on low heat for 5 hours.
Serve immediately, garnished with cilantro, if desired.
Did you Make This Recipe?
Tag @damn_delicious on Instagram and hashtag it #damndelicious.