Steak Cobb Salad Meal Prep
Prep for the week ahead! Loaded with protein, nutrients and greens! Plus, this is low carb, easy peasy and budget-friendly.

Sometimes lean meats and fishes can get a little boring after a while.
That's why I try to switch up my diet regularly so my body never gets used to the same nutrition.
So I introduce to you one of my all-time favorites: the steak cobb salad.
And, it comes just in time for Valentine's Day. Prep it ahead of time, and serve with a glass of wine.
You don't need last minute dinner reservations, and you have a particularly low carb meal that's high in protein to keep you physically lean and mentally alert.
See, I got you guys covered.
So let's go ahead and break down the ingredients of this awesome box:
Steak: High in protein, rich in iron and a great source of Vitamin B12. All of which keep the immune system working, builds strong bones and muscles, and keeps red blood cells healthy.
Hardboiled Eggs: Contains good fats that can lower your risk of heart disease, and also high in protein and Vitamin A. Vitamin A has been shown to help with keeping your eyes healthy.
Tomatoes: An excellent source of Vitamin C, Vitamin K, biotin and antioxidants.
Feta Cheese: One of the lowest calorie cheeses to eat. Also an excellent source of Vitamin D.
Pecans: High in unsaturated fat, and they also contain a number of vitamins and minerals. And just a few a day can help reduce bad cholesterol.
Spinach: Full of vitamins, minerals and antioxidants. You should always try to incorporate dark leafy greens into your diet as part of your healthy routine. You can also try the blueberry kale protein smoothie as a way to sneak your greens into your day.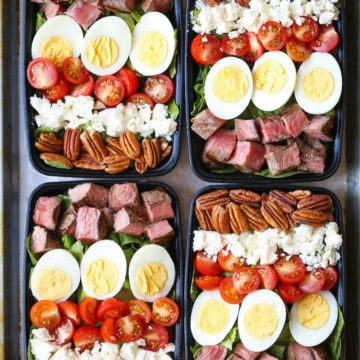 Steak Cobb Salad Meal Prep
Prep for the week ahead! Loaded with protein, nutrients and greens! Plus, this is low carb, easy peasy and budget-friendly.
30 minutes
15 minutes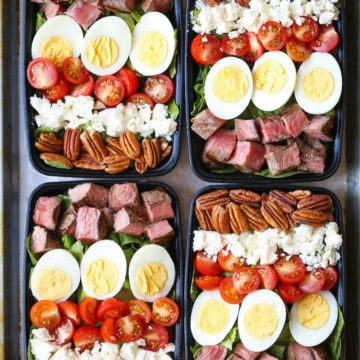 Ingredients:
2 tablespoons unsalted butter
1 pound steak*
2 tablespoons olive oil
Kosher salt and freshly ground black pepper, to taste
6 large eggs
6 cups baby spinach
1 cup cherry tomatoes, halved
1 cup Fisher Nuts Pecan Halves
1/2 cup crumbled feta cheese
Directions:
Melt butter in a large skillet over medium high heat.
Using paper towels, pat both sides of the steak dry. Drizzle with olive oil; season with salt and pepper, to taste.
Add steak to the skillet and cook, flipping once, until cooked through to desired doneness, about 3-4 minutes per side for medium-rare. Let cool before dicing into bite-size pieces.
Place eggs in a large saucepan and cover with cold water by 1 inch. Bring to a boil and cook for 1 minute. Cover eggs with a tight-fitting lid and remove from heat; set aside for 8-10 minutes. Drain well and let cool before peeling and dicing.
To assemble the salad, place spinach into meal prep containers; top with arranged rows of steak, eggs, tomatoes, pecans and feta.
Serve with balsamic vinaigrette, or desired dressing.
Notes:
*New York, rib-eye or filet mignon can be used.
Did you Make This Recipe?
Tag @damn_delicious on Instagram and hashtag it #damndelicious.
Nutrition Facts
Serving Size
Servings Per Container 4
---
Amount Per Serving
Calories 640.3
Calories from Fat 459
% Daily Value*
Total Carbohydrate 9.8g
3%
---
*Percent Daily Values are based on a 2,000 calorie diet. Your daily values may be higher or lower depending on your calorie needs.
Disclosure: This post is sponsored by Fisher Nuts. As always, I only partner with brands that I love and truly believe in, allowing me to create more quick and easy recipes to get us through the week without breaking the bank. All opinions expressed are my own.