Sun-Dried Tomato Fettuccine Alfredo
Disclosure: This post is sponsored by Barilla. As always, I only partner with brands that I love and truly believe in, allowing me to create more quick and easy recipes to get us through the week without breaking the bank. All opinions expressed are my own.
The most AMAZING cream sauce that just melts in your mouth. Made LIGHTER, except you can't even taste the difference!

Guys.
So, I'm kind of in Italy.
It's for work, I promise.
But clearly, I'm here for pleasure.
Because I'm about to attend the 6th edition of the Pasta World Championship in Milan and Parma on behalf of Barilla®!
Yes, there's definitely a competition for pasta making.
Clearly, because, well, YOLO.
And with 20 young talent chefs from around the world, they will compete to win the title of Pasta World Champion.
Can you imagine having that coveted title?
I would have that displayed high and proud in my kitchen. On all my pans, my plates, my silverware…
As I serve myself this pasta on my Pasta World Champion engraved plate every single day for the rest of my life.
Just like the chefs competing this year, I love getting creative with pasta. It allows me to truly express myself.
And you know you can never run out of creative pasta ideas.
Take my sun-dried tomato obsession here.
With it, I just had to create the most epic cream sauce of ALL TIME.
(Hey, guys, I'm also trying to be the pasta champion here too.)
But really, I love how this pasta dish is so versatile.
It's made lighter using 2% milk and reduced fat cream cheese, and you even have the option to use Barilla's Whole Grain Linguine.
You won't be able to taste the difference.
TRUST.
It's just lighter on the calories.
So you're welcome for that.
Also.
I'm not that nice but it's also good to share this with friends and family together around the table.
Pasta really does help me feel connected to my loved ones when we share meals.
Because you know everyone will be begging for seconds and thirds, as I secretly hoard the rest for my lunch tomorrow.
We just won't be telling that to anyone else.
Don't forget to follow my adventures with Barilla at the Pasta World Championships all week on Instagram at @damn_delicious. You won't want to miss it!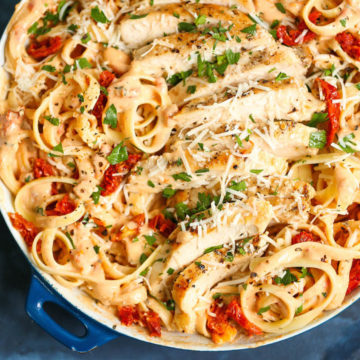 Sun-Dried Tomato Fettuccine Alfredo
The most AMAZING cream sauce that just melts in your mouth. Made LIGHTER, except you can't even taste the difference!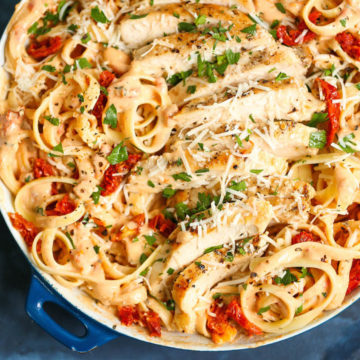 Ingredients:
8 ounces Barilla fettuccine pasta
4 tablespoons unsalted butter, divided
2 boneless, skinless chicken breasts
1 teaspoon Italian seasoning
Kosher salt and freshly ground black pepper
4 cloves garlic, minced
1 1/2 tablespoons all-purpose flour
1 tablespoon tomato paste
1 teaspoon dried basil
1 3/4 cups 2% milk
1/2 cup finely chopped sun-dried tomatoes
3 ounces reduced fat cream cheese, cubed
1/2 cup freshly grated Parmesan
2 tablespoons chopped fresh parsley leaves
Directions:
In a large pot of boiling salted water, cook pasta according to package instructions; drain well.
Melt 1 tablespoon butter in a large skillet over medium high heat. Season chicken with Italian seasoning, salt and pepper, to taste. Add chicken to the skillet and cook, flipping once, until cooked through, about 3-4 minutes per side. Let cool before slicing; set aside.
Melt remaining 3 tablespoons butter in the skillet. Add garlic, and cook, stirring frequently, until fragrant, about 1-2 minutes. Whisk in flour, tomato paste and basil until lightly browned, about 1 minute.
Gradually whisk in milk and sun-dried tomatoes. Cook, whisking constantly, until slightly thickened, about 5 minutes. Stir in cream cheese and Parmesan until smooth, about 1-2 minutes. If the mixture is too thick, add more milk as needed; season with salt and pepper, to taste.
Stir in pasta and chicken, and gently toss to combine.
Serve immediately, garnished with Parmesan and parsley, if desired.
Did you Make This Recipe?
Tag @damn_delicious on Instagram and hashtag it #damndelicious.