Garlic Shrimp and Avocado Crostini
Disclosure: This post is sponsored by the National Fisheries Institute Shrimp Council. As always, I only partner with brands that I love and truly believe in, allowing me to create more quick and easy recipes to get us through the week without breaking the bank. All opinions expressed are my own.
The quickest and easiest appetizer you can whip up that is sure to be a crowd-pleaser! Everyone will beg for seconds!

I'm not sure about you guys but I'm going crazy with Christmas shopping right now.
You have to get that perfect gift for your niece, your mom, your father-in-law, that distant cousin you never really see, and your favorite Grandma who loves the Dodgers.
Oh, and apparently all your friends want an Instant Pot but they're out of stock.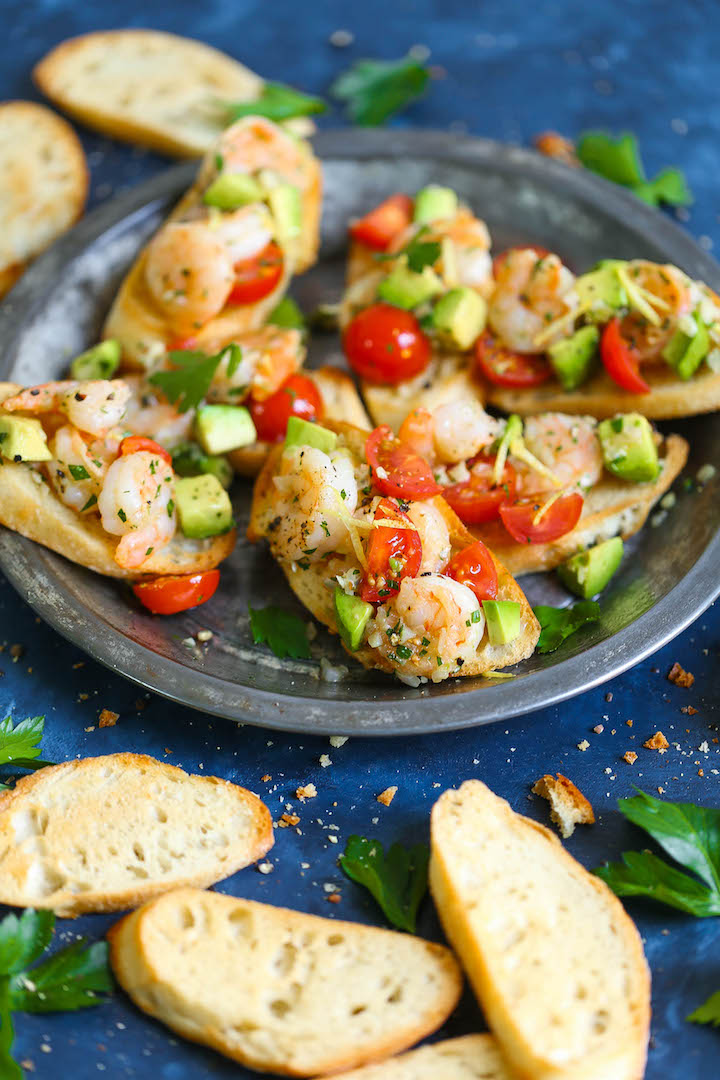 It's a lot. But, yet, I find true solace in this. The butteriest, garlickiest shrimp crostini.
It's quick and easy so you can whip this up in seconds to bring to a last-minute holiday party, or when you don't have the perfect holiday gift for everyone.
Plus, these bites can be made ahead of time and they don't require oven space for assembly – simply toast your baguette ahead of time and prepare the shrimp right before serving!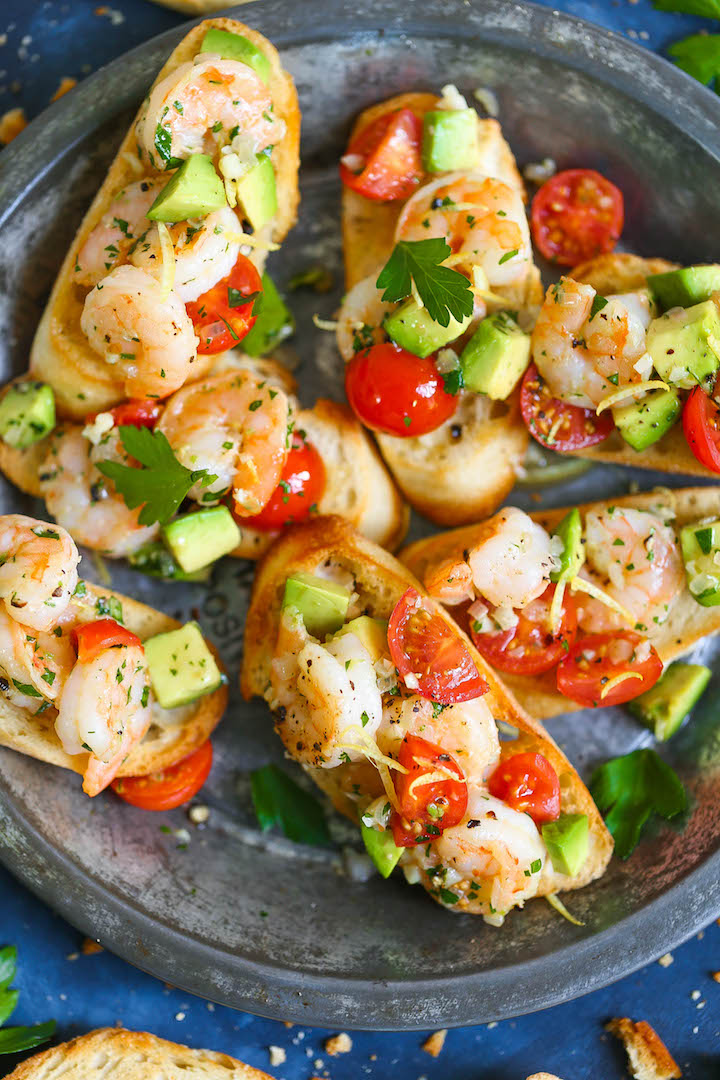 You can follow Eat Shrimp on Facebook and Pinterest for more shrimp recipe inspiration!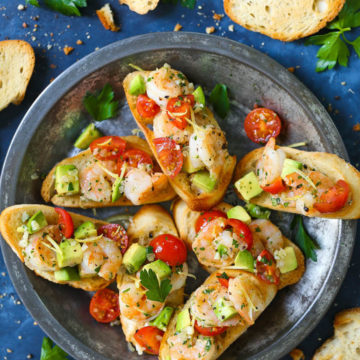 Garlic Shrimp and Avocado Crostini
The quickest and easiest appetizer you can whip up that is sure to be a crowd-pleaser! Everyone will beg for seconds!
15 minutes
10 minutes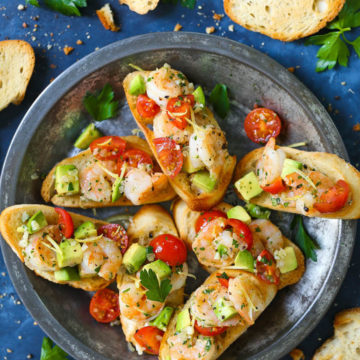 Ingredients:
1 French baguette, ends trimmed and cut into 1/3-inch slices
1/4 cup unsalted butter
3 cloves garlic, minced
1 shallot, diced
1 pound medium shrimp, peeled and deveined
2 cups cherry tomatoes, halved
1 avocado, halved, peeled, seeded and diced
2 tablespoons chopped fresh parsley leaves
1 tablespoon freshly squeezed lemon juice, or more, to taste
Kosher salt and freshly ground black pepper
Directions:
Preheat oven to 400 degrees F. Lightly oil a baking sheet or coat with nonstick spray.
Place baguette slices in a single layer onto the prepared baking sheet. Place into oven and bake until lightly toasted, about 8 minutes; set aside.
Melt butter in a large skillet over medium high heat. Add garlic and shallot, and cook, stirring frequently, until fragrant, about 2 minutes.
Add shrimp and cook, stirring occasionally, until pink, about 2-3 minutes.
Stir in tomatoes, avocado, parsley and lemon juice; season with salt and pepper, to taste.
Top each baguette slice with shrimp mixture.
Serve immediately.
Did you Make This Recipe?
Tag @damn_delicious on Instagram and hashtag it #damndelicious.