Instant Pot Ground Beef Tacos
Using frozen ground beef – no need to thaw! Cooks in just 20 min. Serve with desired toppings. So fast, so easy, so so good.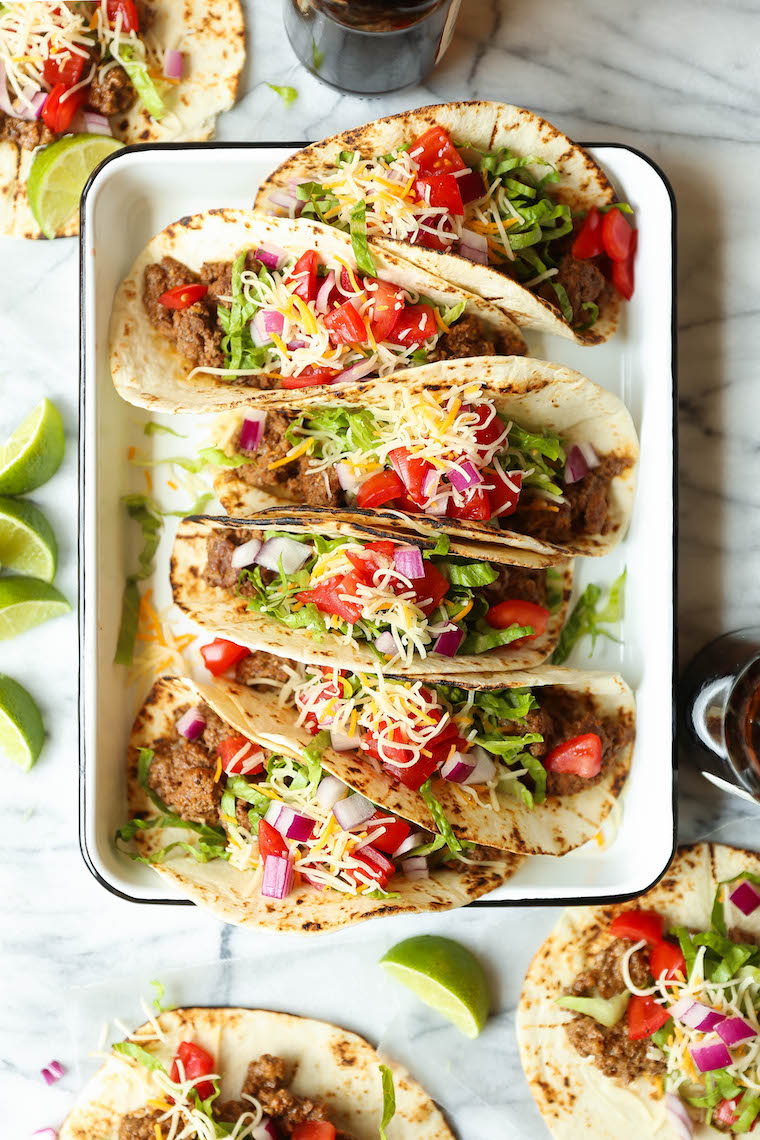 Do you ever forget to thaw your frozen ground beef and realize that dinner will be an absolute disaster?
Because this probably happens to me at least once a week. I always have some frozen ground beef to use up except I never remember to thaw it in time!
But now you don't have to worry about any thawing at all. Nope. No thawing, no worries. You can use your ground beef and go straight from freezer to your Instant Pot.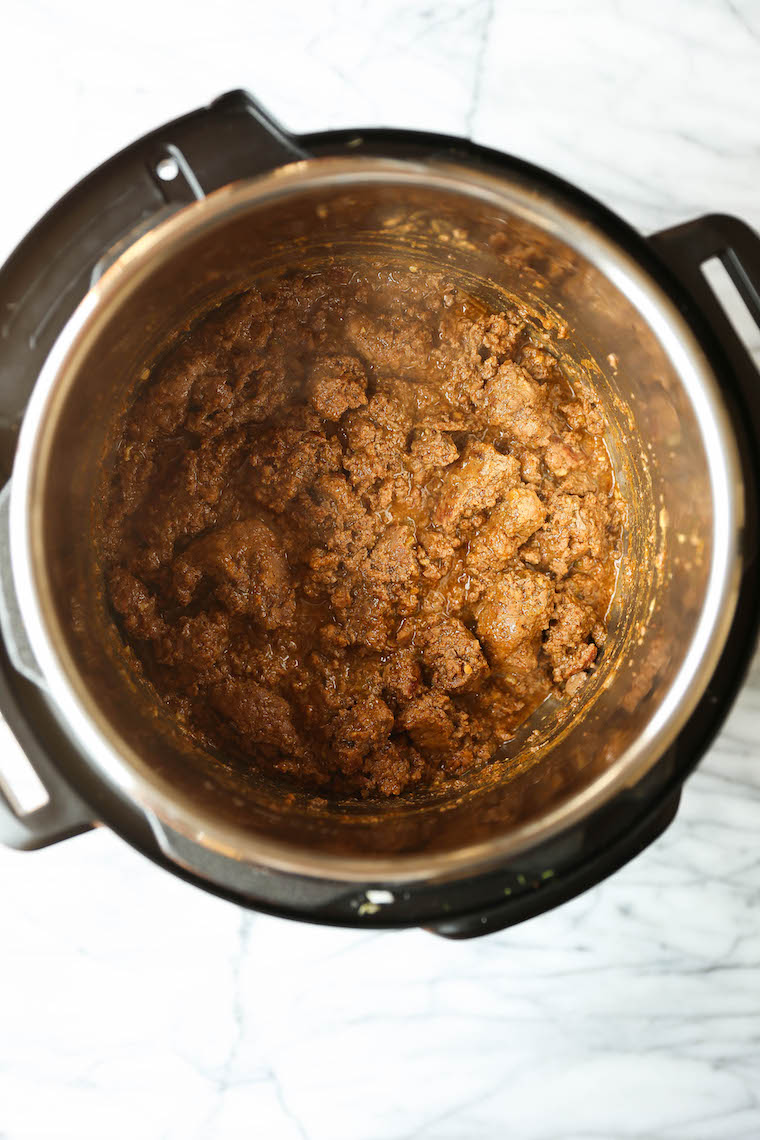 You just need TWO 1 pound frozen bricks of ground beef here (totaling 2 pounds). I DO NOT RECOMMEND THROWING IN A 2 POUND BRICK AS ONE PIECE – it will not cook in the allotted time here.
So two frozen bricks, some seasonings and boom, you're done. The IP will cook it absolutely perfectly with your homemade taco seasoning. And when you open up your pressure cooker, make sure you let it simmer for 5-6 minutes until it gets real saucy, breaking up the meat as it cooks.
Serve in warmed tortillas or crispy taco shells because dinner is served just like that.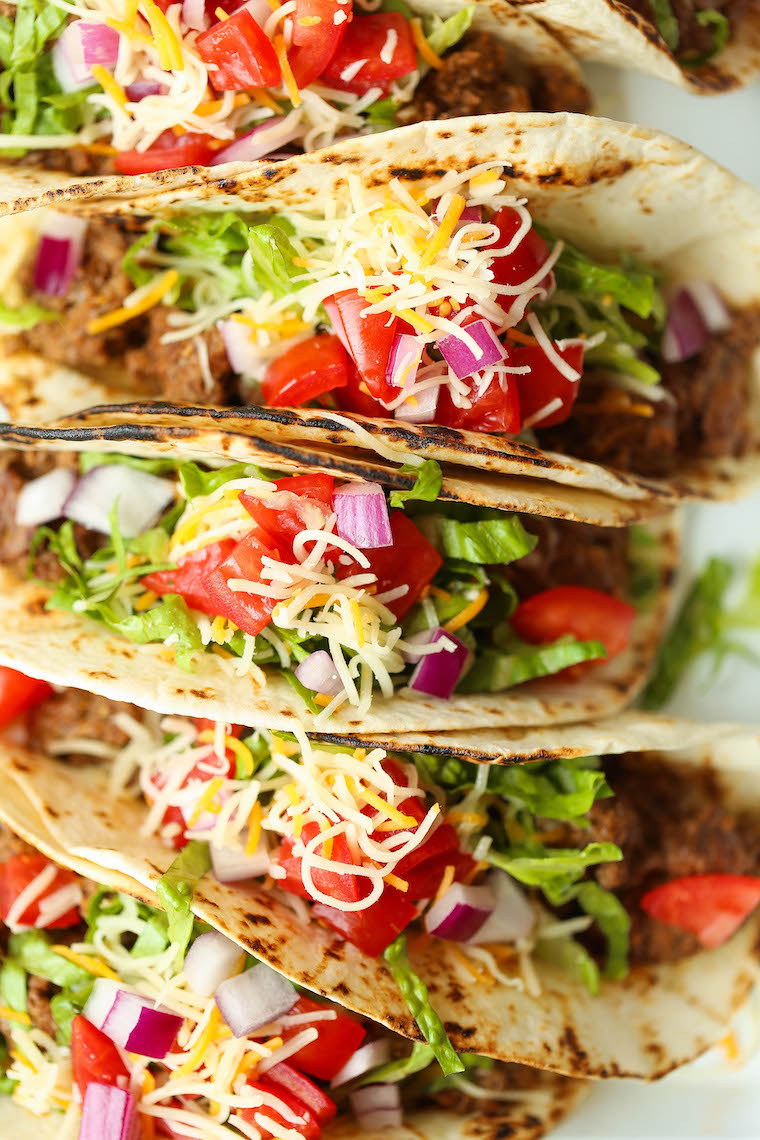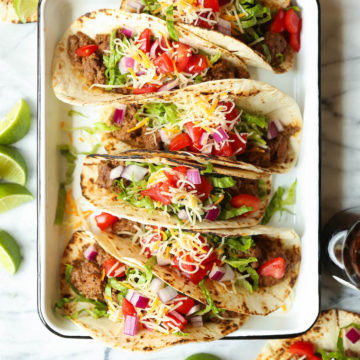 Using frozen ground beef – no need to thaw! Cooks in just 20 min. Serve with desired toppings. So fast, so easy, so so good.
35 minutes
20 minutes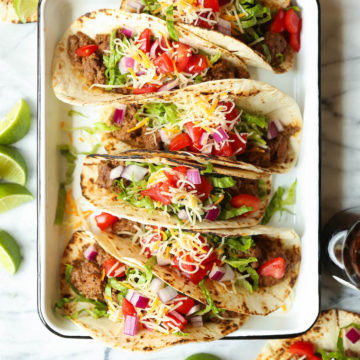 Ingredients:
3/4 cup beef broth
1 1/2 tablespoons cornstarch
3 cloves garlic, minced
1/2 small onion, diced
1 (4-ounce) can diced green chiles
2 (1 pound) packages frozen ground beef
1 tablespoon chili powder
1 teaspoon smoked paprika
1 teaspoon dried oregano
3/4 teaspoon cumin
Kosher salt and freshly ground black pepper, to taste
For serving
Tortillas (flour or corn) or crispy taco shells
Shredded lettuce
Diced tomato
Diced red onion
Shredded Mexican blend cheese
Directions:
Add beef broth to a 6-qt Instant Pot®; whisk in cornstarch.
Stir in garlic, onion and green chiles. Gently place frozen ground beef on top; slightly overlapping.
In a small bowl, combine chili powder, paprika, oregano, cumin, 1 teaspoon salt and 1/2 teaspoon pepper; sprinkle over frozen ground beef.
Select manual setting; adjust pressure to high, and set time for 20 minutes. When finished cooking, quick-release pressure according to manufacturer's directions.
Select high sauté setting. Simmer, stirring occasionally, until reduced and slightly thickened, about 5-6minutes, making sure to crumble the beef as it cooks.
Serve immediately in tortillas or shells with desired toppings.
Did you Make This Recipe?
Tag @damn_delicious on Instagram and hashtag it #damndelicious.