BBQ Chicken Cornbread Pie
The best kind of pie is when BBQ chicken goodness is sitting on a bed of fluffy, crumbly cornbread!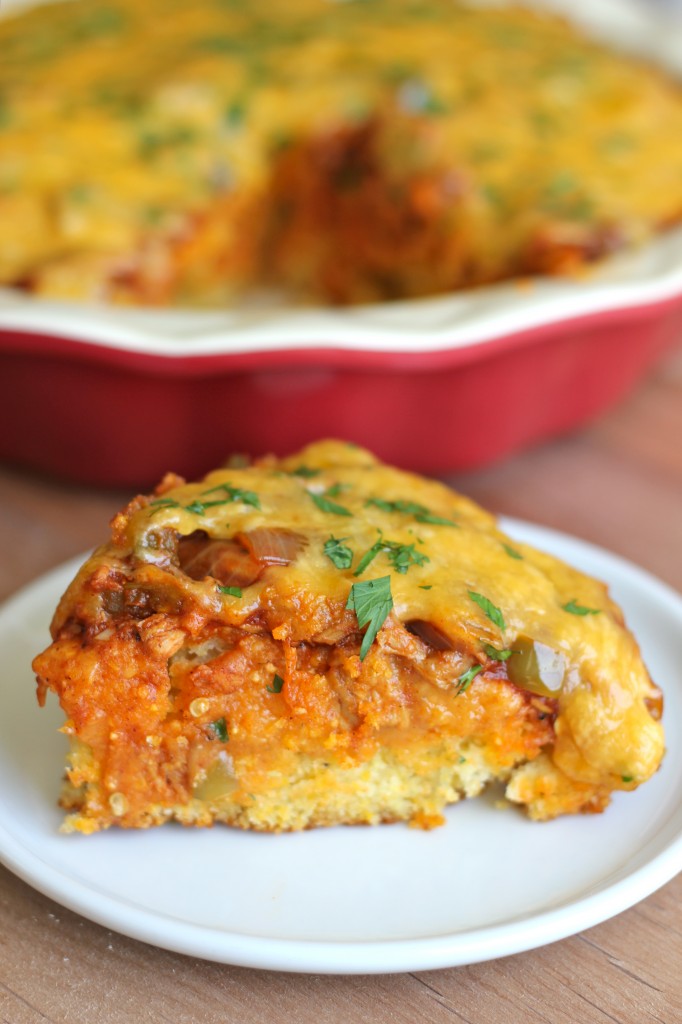 When Laura's Sweet Spot first posted this, I seriously could not wait to recreate this. I mean a cornbread pie base topped with BBQ chicken and lots and lots of melted cheddar cheese? Uh, yes please! I mean I'm not much of dessert pie person but if you throw a shepherd's pie or a cornbread pie my way, I will devour the entire pie without a problem.
MY OTHER RECIPES
The only change I made to this recipe is swapping out the store-bought corn muffin mix and using my go-to cornbread recipe from Georgia over at Comfort of Cooking. It's simple, easy and I have not found a cornbread recipe that I love more. But if you're short on time, feel free to use the box mix. Julie does a wonderful job sprucing it up by adding some corn kernels. Genius, right?
When I made this, it was early Sunday morning and Jason was still sleeping. But once I finished taking the photos, there was a slice of pie just staring right at me. I promised myself that I'd wait until Jason wakes up but after 5 minutes of self-control, I took a fork and just dove right into the pie. I sat on the living room floor, next to the camera, next to the props (I just didn't want to waste any time walking to the dining room table) and stuffed myself like there was no tomorrow. I even told myself that I'd just take a bite for taste-taking purposes but that didn't work out too well.
Once I took that first bite of the fluffy cornbread topped with the sweet barbecue chicken with the ooey gooey melted cheese on top, a wonderful balance of flavors and textures, I knew that I had to finish the entire slice. Plus an extra one.
So here's how you make this:
Let's first start by making the cornbread. Go ahead and mix up your dry ingredients.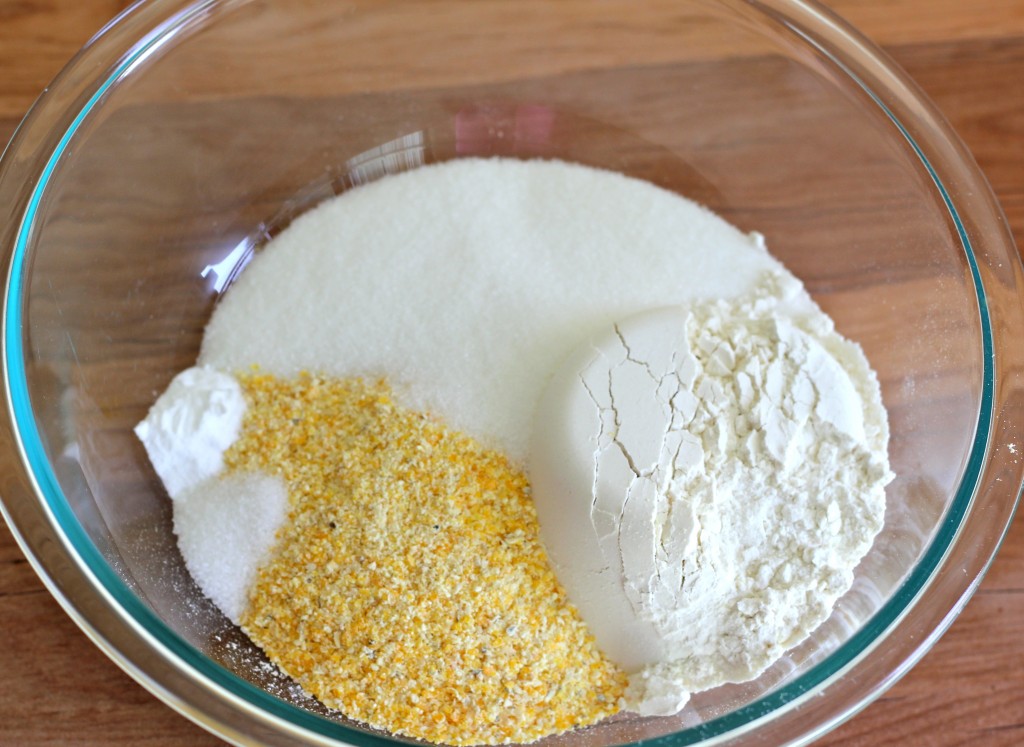 Then mix your wet ones – buttermilk, butter and eggs.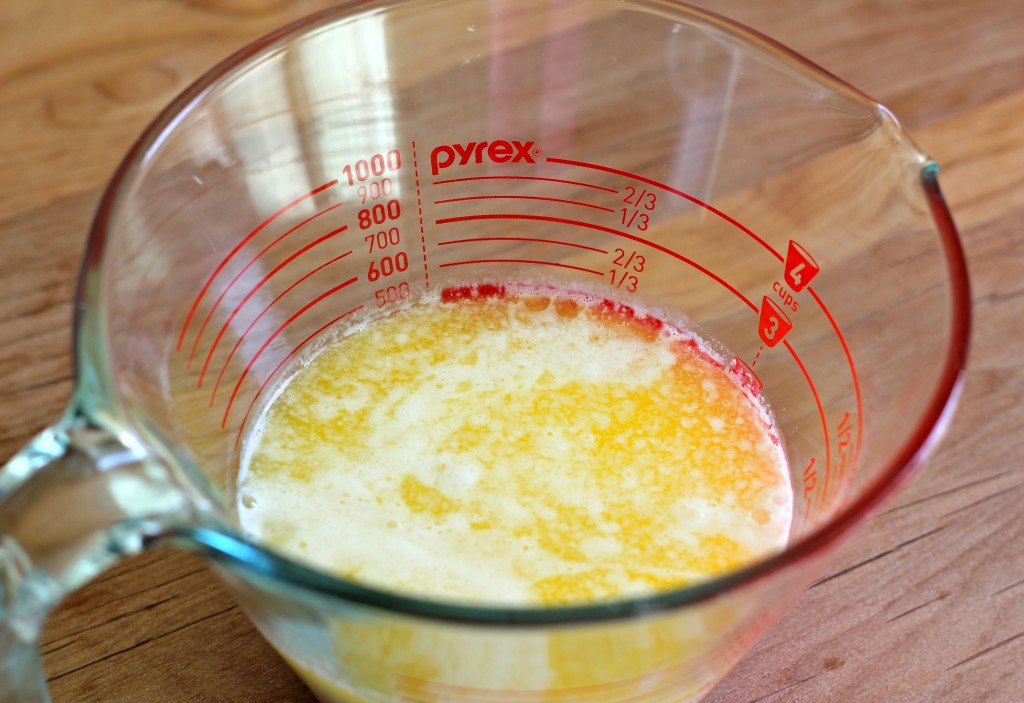 Stir in the wet to dry ingredients just until moist.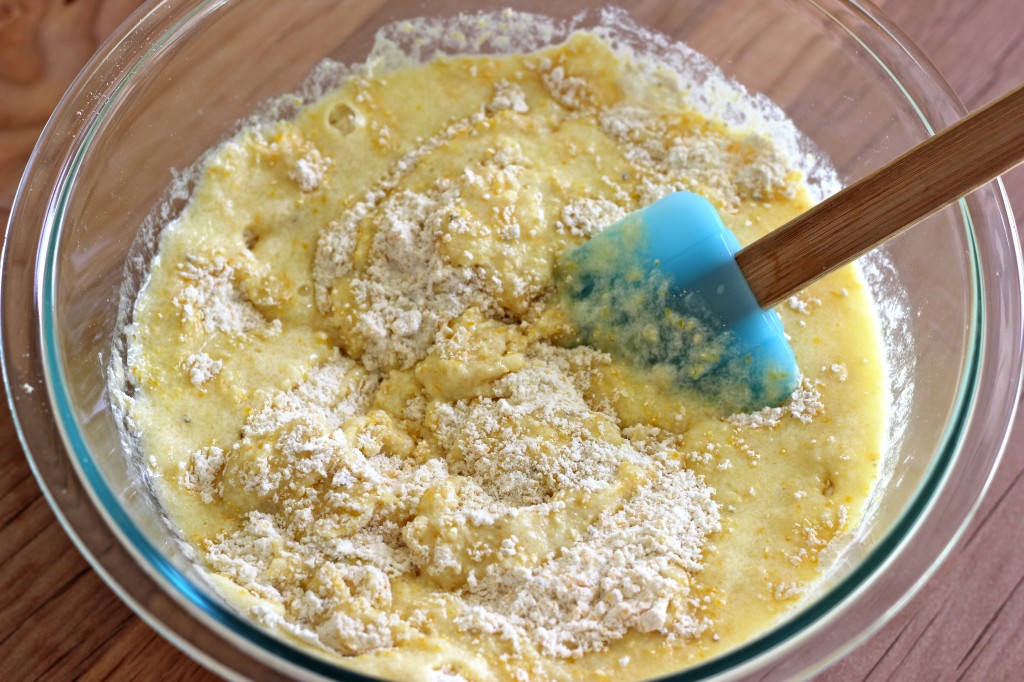 Pour it into a pie plate, smoothing out the top.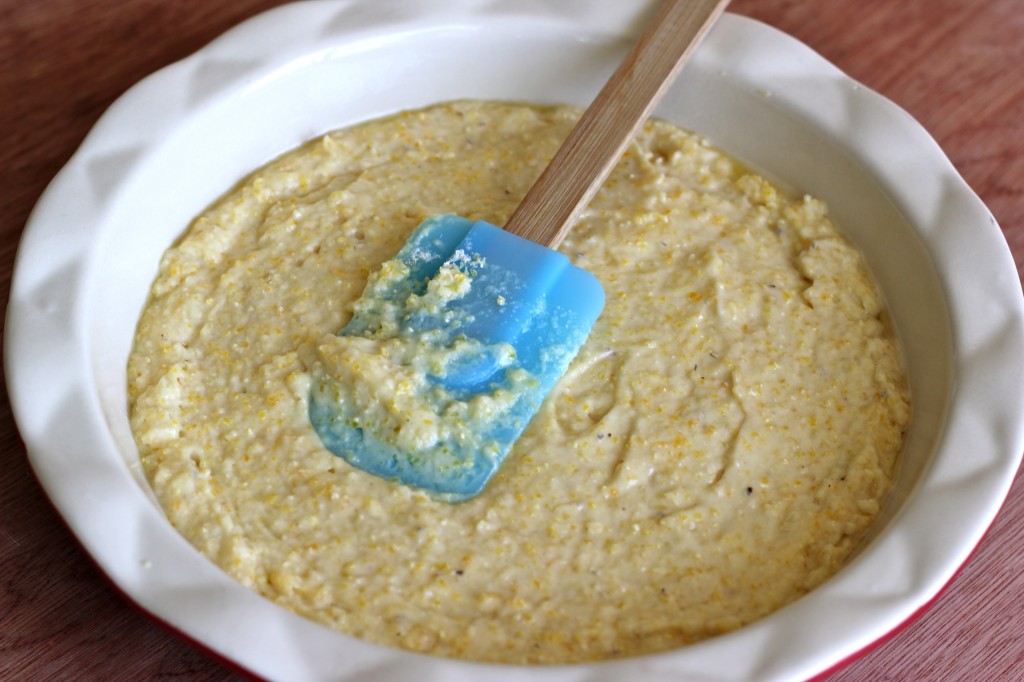 Pop it in the oven for about 30 minutes.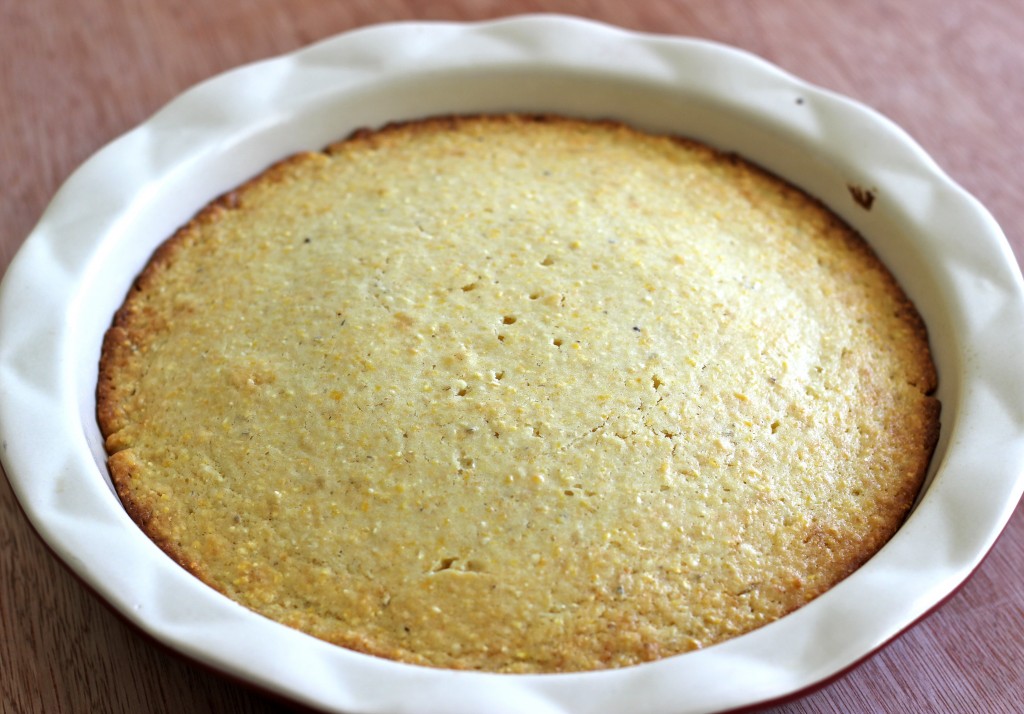 While the cornbread bakes in the oven, go ahead and cook up some chicken breasts to shred. You could also use some leftover chicken and shred them. Be sure to sample a couple of chicken pieces. It's for taste-testing purposes, right?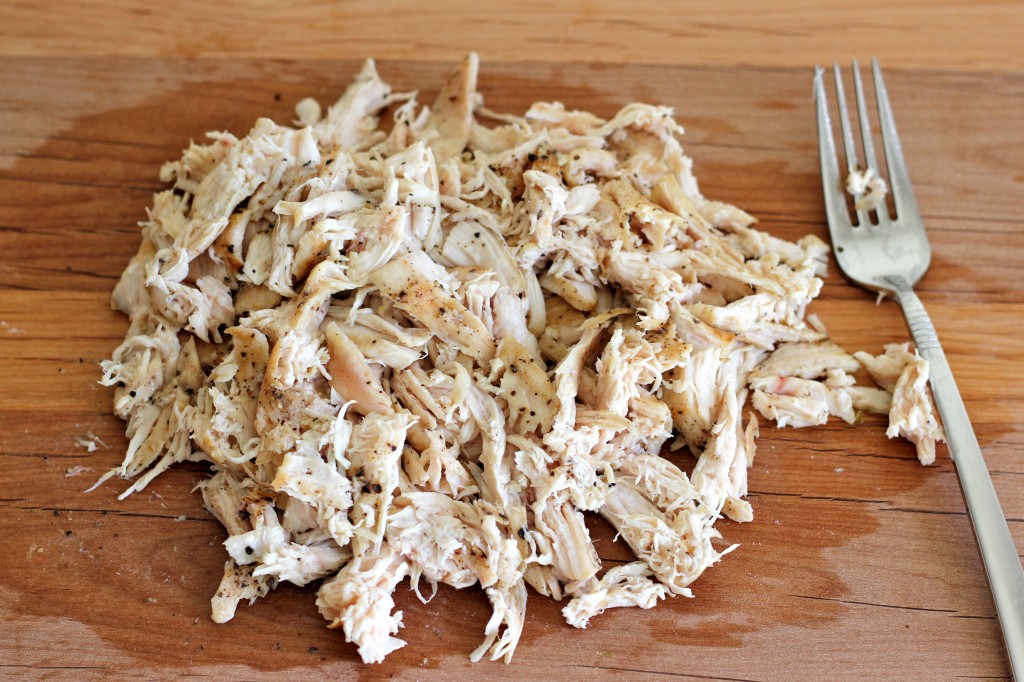 Throw the shredded chicken back into the skillet,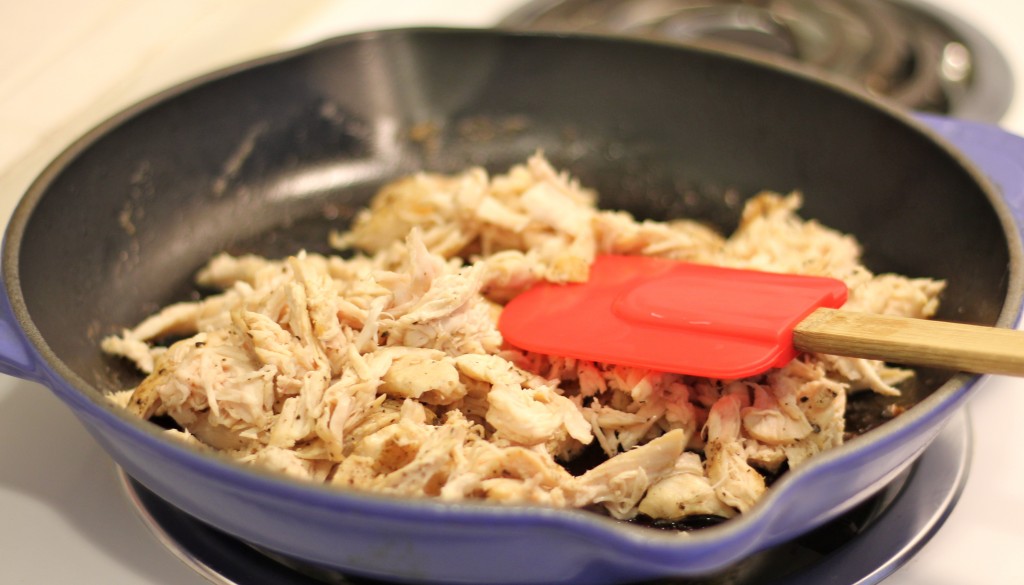 along with the onions and bell pepper.
Once the veggies begin to sweat a bit, throw in some garlic.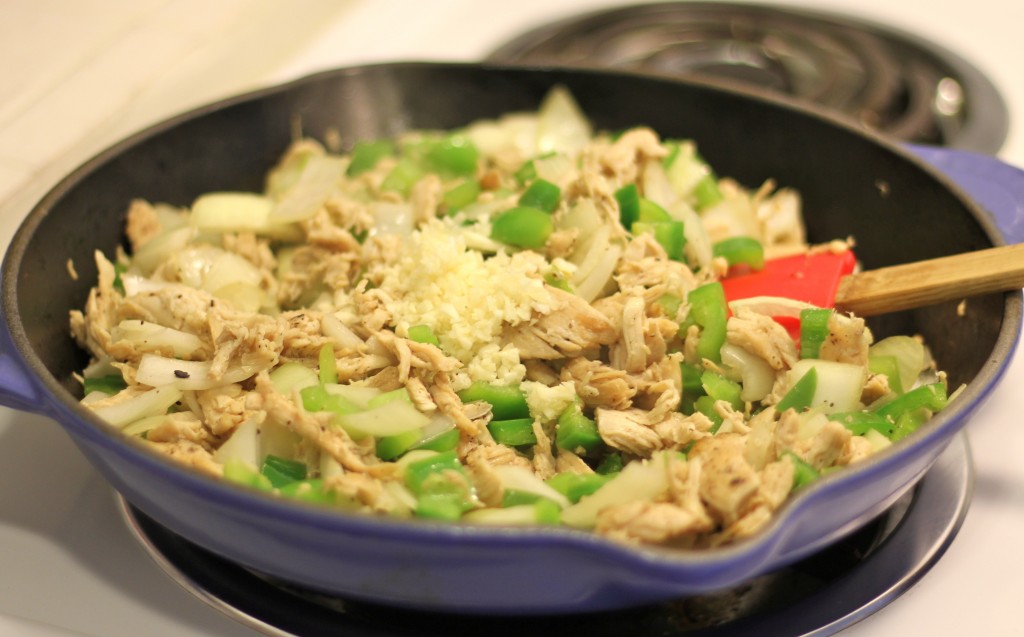 Then come the spices – chili powder, cumin and of course, hot sauce.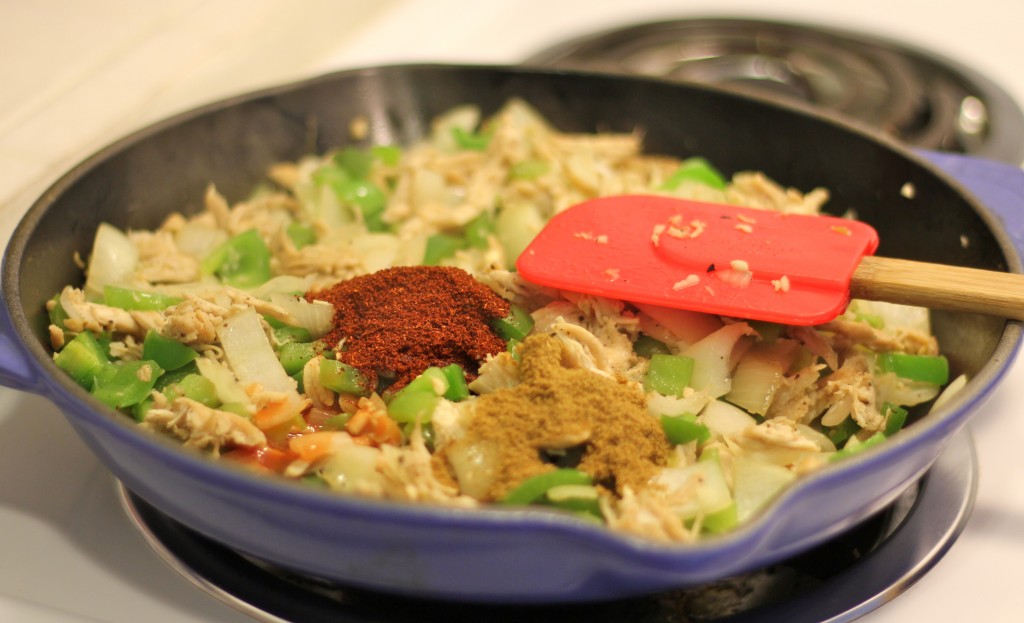 Now we'll add the tomato sauce, Worcestershire and brown sugar.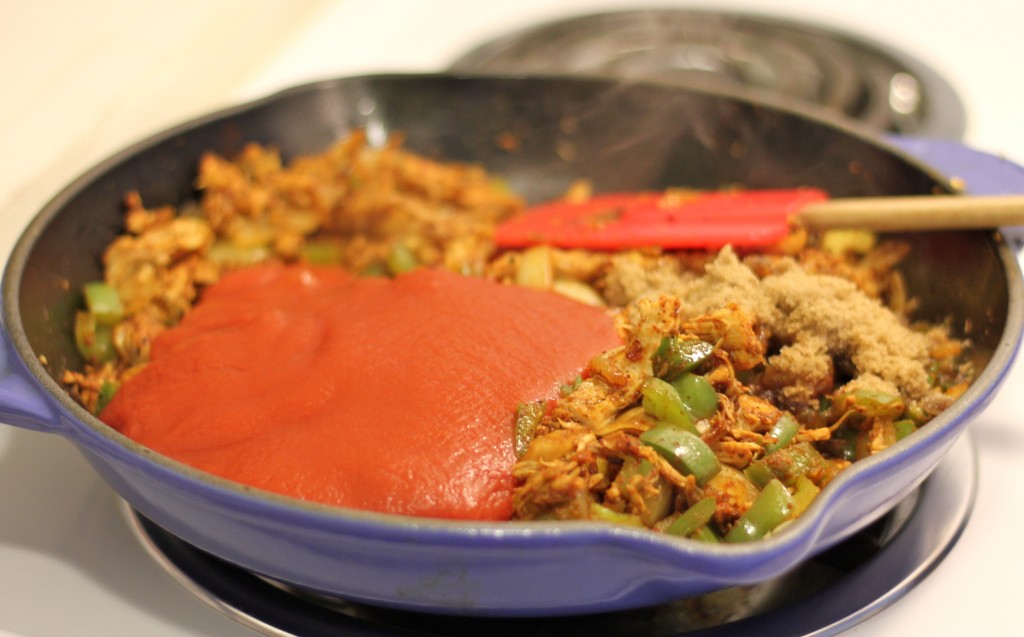 Give it a good stir, making sure everything is well combined.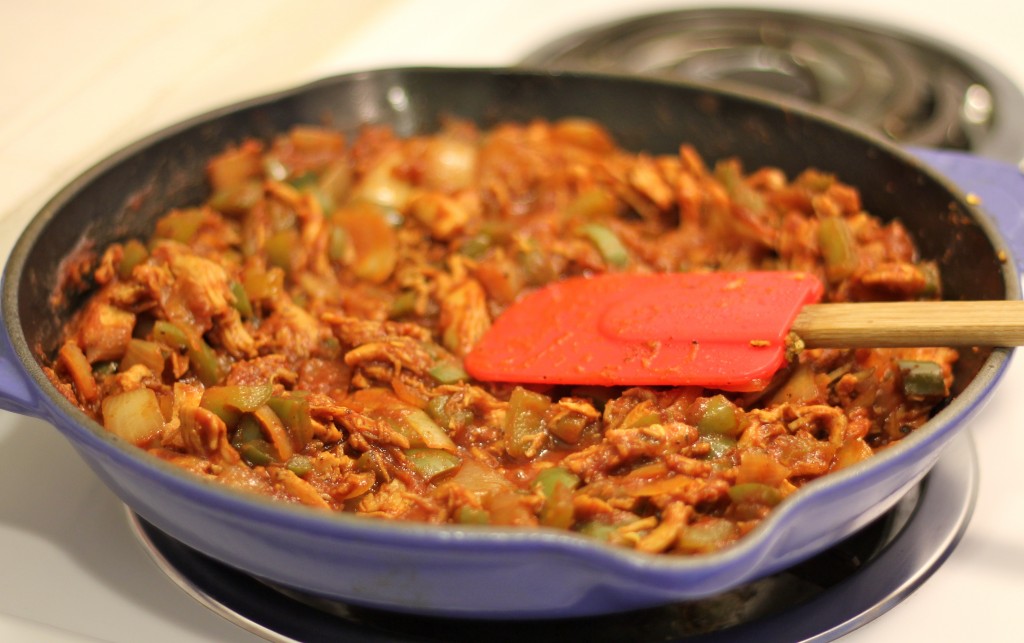 Top the cornbread with the chicken mixture. If you have some leftover BBQ chicken, I highly recommend using it in a sandwich topped with some melted cheese. It is to die for!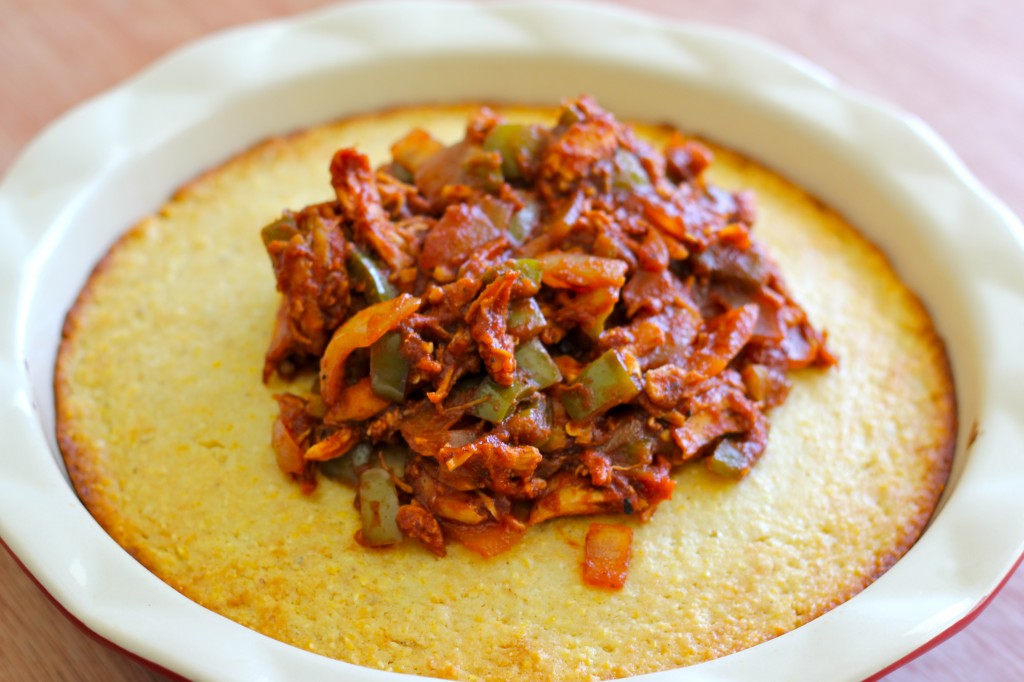 Add a liberal amount of cheddar. I might have added too much. But then again, there's no such thing as too much cheese. Now we'll pop it back in the oven but only until the cheese melts.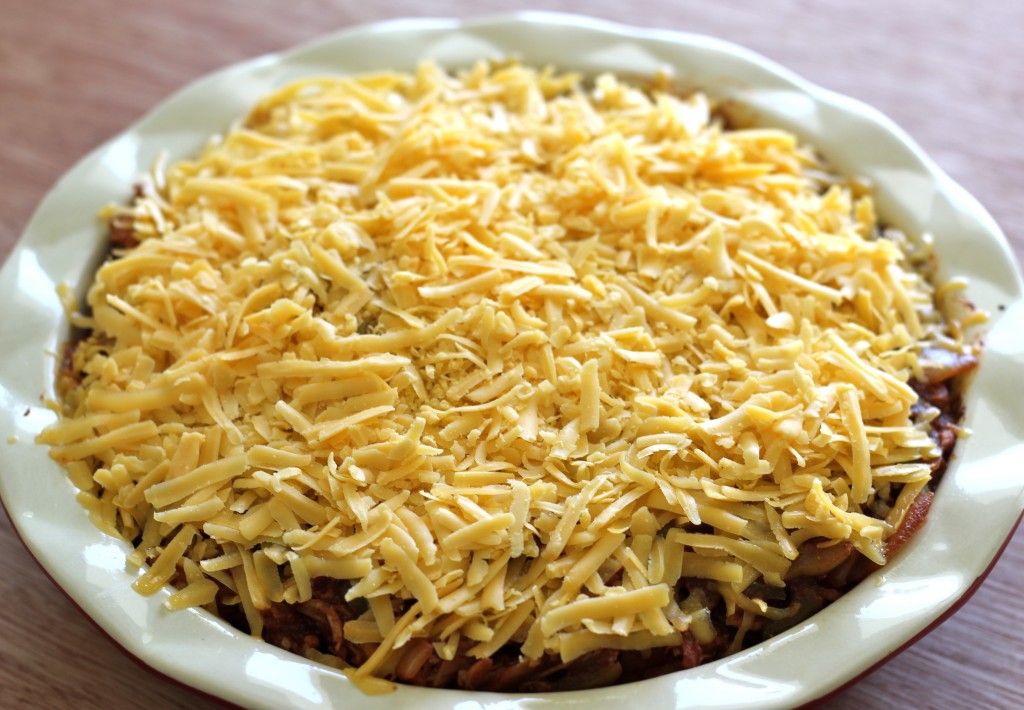 Slice, serve and eat!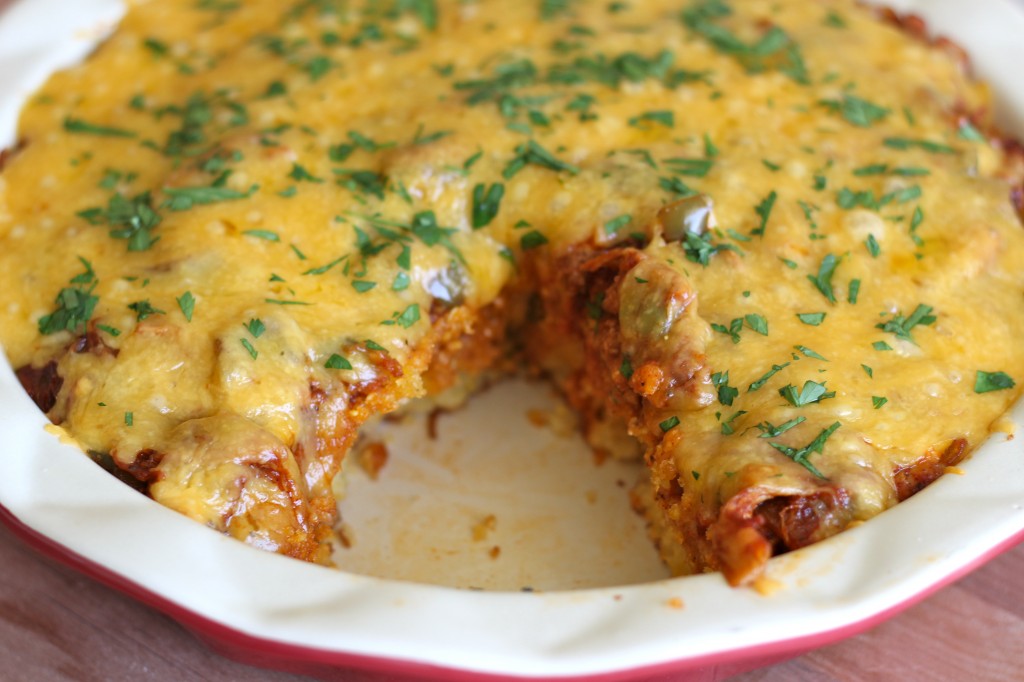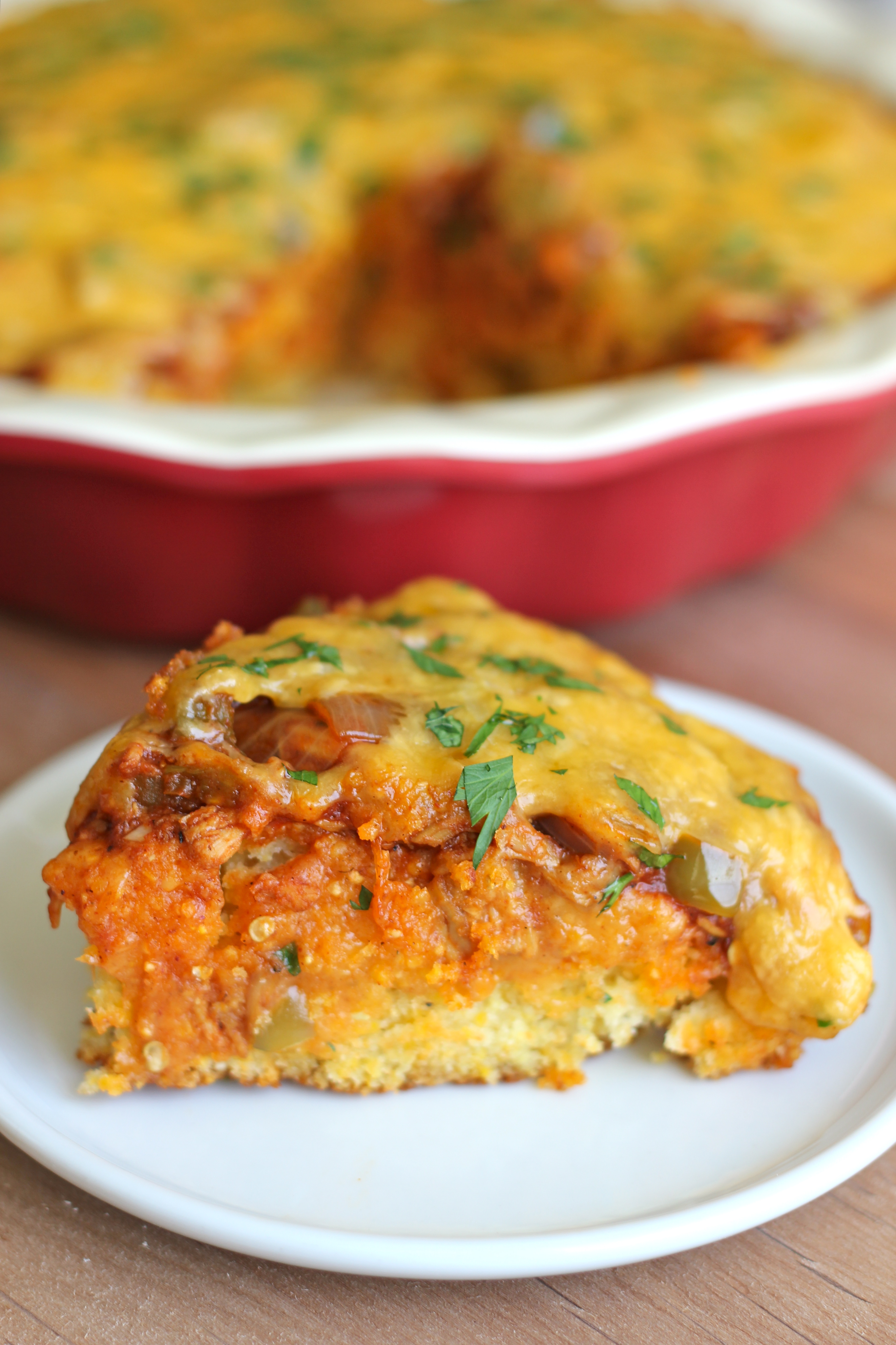 The best kind of pie is when BBQ chicken goodness is sitting on a bed of fluffy, crumbly cornbread!
Ingredients
2 tablespoons olive oil
1 medium onion, chopped
1 bell pepper, diced
2 boneless, skinless chicken breasts, cooked and shredded
3 cloves garlic, minced
1 tablespoons chili powder
1 1/2 teaspoons cumin
2 teaspoons hot sauce
Kosher salt and freshly ground black pepper, to taste
1 cup tomato sauce
2 tablespoons Worcestershire sauce
2 tablespoons dark brown sugar
1 1/2 cups shredded cheddar cheese
2 tablespoons chopped fresh parsley leaves

For the cornbread

1 cup all-purpose flour
1 cup yellow cornmeal
2/3 cup sugar
1/2 teaspoon baking soda
1/2 teaspoons salt
1 cup buttermilk
1/2 cup (1 stick) unsalted butter, melted
2 large eggs
Instructions
Preheat oven to 375 degrees F. Lightly oil a 9-inch pie pan or coat with nonstick spray; set aside.
In a large bowl, combine flour, cornmeal, sugar, baking soda and salt.
In a large glass measuring cup or another bowl, whisk together buttermilk, butter and eggs.
Pour mixture over dry ingredients and stir using a rubber spatula just until moist. Add batter to the pie pan, smoothing out the top.
Place into oven and bake for 30-35 minutes, or until a tester inserted in the center comes out clean.
Remove from oven and cool on a wire rack; set aside.
Preheat the broiler.
Heat olive oil in a medium skillet over medium high heat. Add chicken, onion and bell pepper and cook, stirring occasionally, until the onions become translucent, about 5 minutes. Add garlic and cook, stirring frequently, until fragrant, about 1-2 minutes. Add chili powder, cumin and hot sauce; season with salt and pepper, to taste. Stir in the tomato sauce, Worcestershire sauce and brown sugar.
Reduce heat to low; simmer, stirring occasionally, until sauce has thickened, about 5-7 minutes.
Spread the chicken mixture evenly over the cornbread. Sprinkle with cheese.
Place into oven and broil just until the cheese has melted, about 3 minutes.
Slice into wedges and serve immediately, garnished with parsley.
Notes
http://damndelicious.net/2012/06/11/bbq-chicken-cornbread-pie/