Black Bean Quinoa Salad
A light and healthy quinoa salad tossed in a refreshing orange vinaigrette, chockfull of protein and fiber!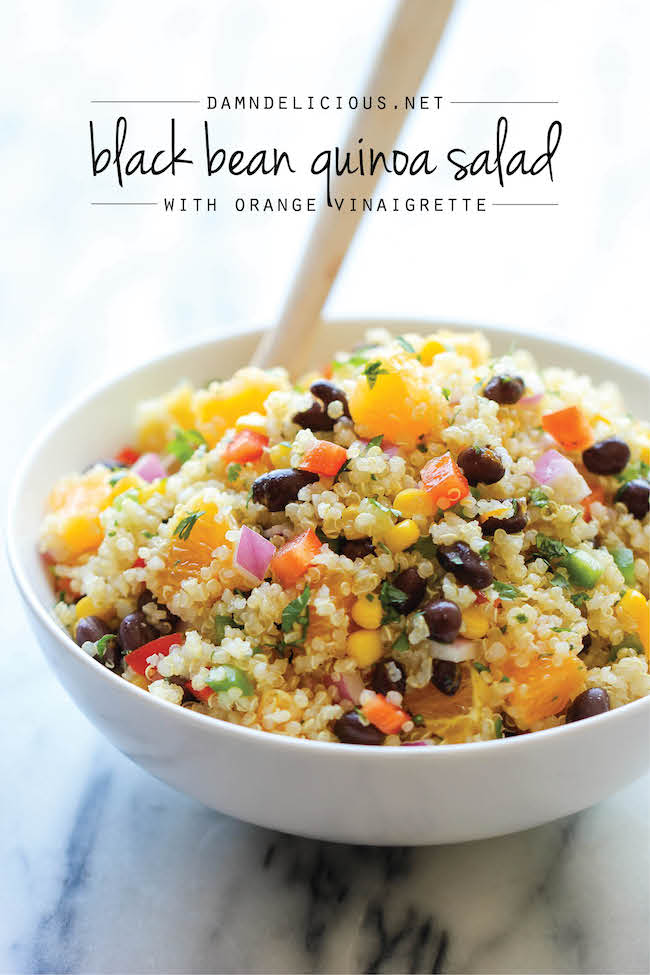 Greetings from Cabo! After a very emotional departure with Butters, a 4AM wake up call, and spending 10 hours at the airport, we finally made it! So please forgive me if this post is a bit erratic and short. The gorgeous beach view and the last 3 glasses of margaritas are a bit distracting.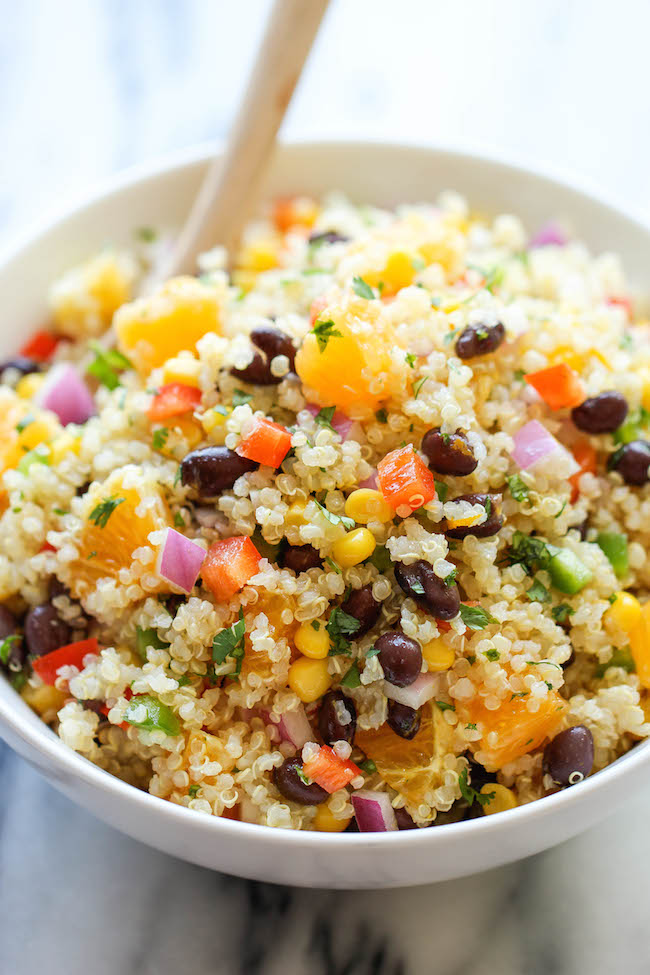 Now I should tell you that I clearly did not plan for this trip at all. I tried to – I really did. I even planned a strict "diet" for months prior to the trip, but that didn't pan out as I hoped as Jason and I gorged on chicken and waffles, Korean BBQ crinkle fries, and tater tot breakfast skillets.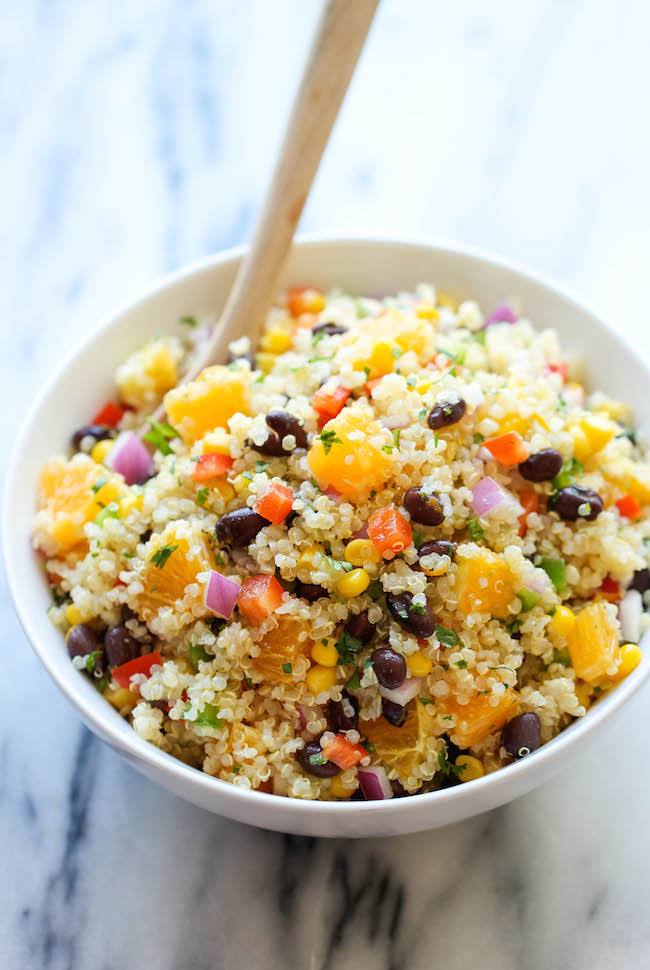 So like the caprese avocado salad I posted the other day, this was one of the last and final attempts for clean eating before our trip. And I must say, it was the most glorious protein-rich salad I could ask for. Loaded with tons of fresh veggies and a refreshing orange vinaigrette, I gorged on this for 3 days straight!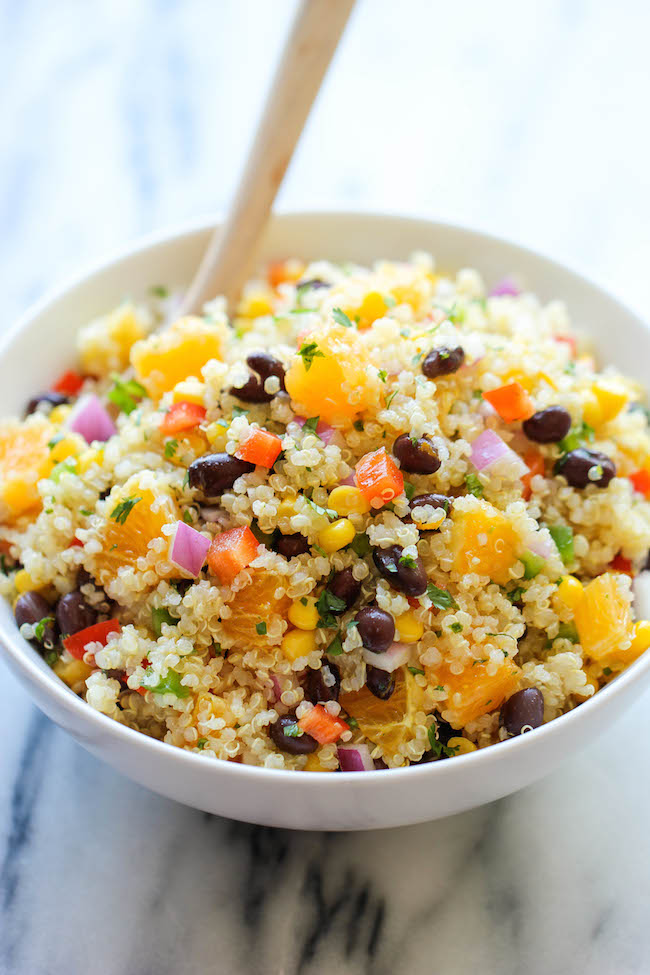 And honestly, if all quinoa salads were like this, dieting would never be an issue.
Black Bean Quinoa Salad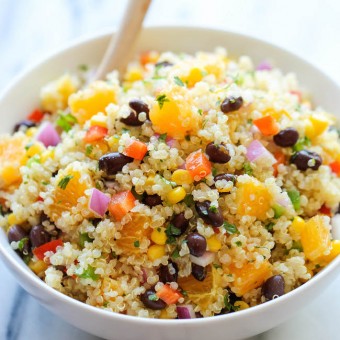 A light and healthy quinoa salad tossed in a refreshing orange vinaigrette, chockfull of protein and fiber!
Ingredients:
1 cup quinoa
2 large navel oranges, cut into segments
1 red bell pepper, diced
1 jalapeno, seeded and diced
1 cup canned black beans, drained and rinsed
1/2 cup canned corn kernels, drained
1/3 cup chopped red onion
2 tablespoons chopped fresh cilantro leaves
For the orange vinaigrette
1/4 cup olive oil
1/4 cup apple cider vinegar
1/4 cup freshly squeezed orange juice
Zest of 1 orange
1 tablespoon sugar
Directions:
In a large saucepan of 2 cups water, cook quinoa according to package instructions; set aside.
To make the vinaigrette, whisk together olive oil, apple cider vinegar, orange juice, orange zest and sugar in a small bowl; set aside.
In a large bowl, combine quinoa, oranges, bell pepper, jalapeno, black beans, corn, onion and cilantro. Pour the vinaigrette on top of the salad and gently toss to combine.
Serve immediately.
Why It's A Smart Choice
Nutrition Facts
Serving Size
Servings Per Container 4
---
Amount Per Serving
Calories 438.8 Calories from Fat 151.2
% Daily Value*
Total Fat 16.8g 26%
Saturated Fat 2.3g 12%
Trans Fat 0g
Cholesterol 0mg 0%
Sodium 249.7mg 10%
Total Carbohydrate 62.6g 21%
Dietary Fiber 10.1g 40%
Sugars 16.5g
Protein 11.7g 23%
---
*Percent Daily Values are based on a 2,000 calorie diet. Your daily values may be higher or lower depending on your calorie needs.
Quinoa and black beans are a great source of iron for vegetarian meals. But it's really important to consume a source of Vitamin C at the same time to help your body absorb the iron. Due to the oranges and orange juice, this salad is a superstar for Vitamin C!
Nutritional information provided by Jessica Penner, RD at Smart Nutrition.