Baked Parmesan Zucchini
Crisp, tender zucchini sticks oven-roasted to absolute perfection. It's healthy, nutritious and completely addictive!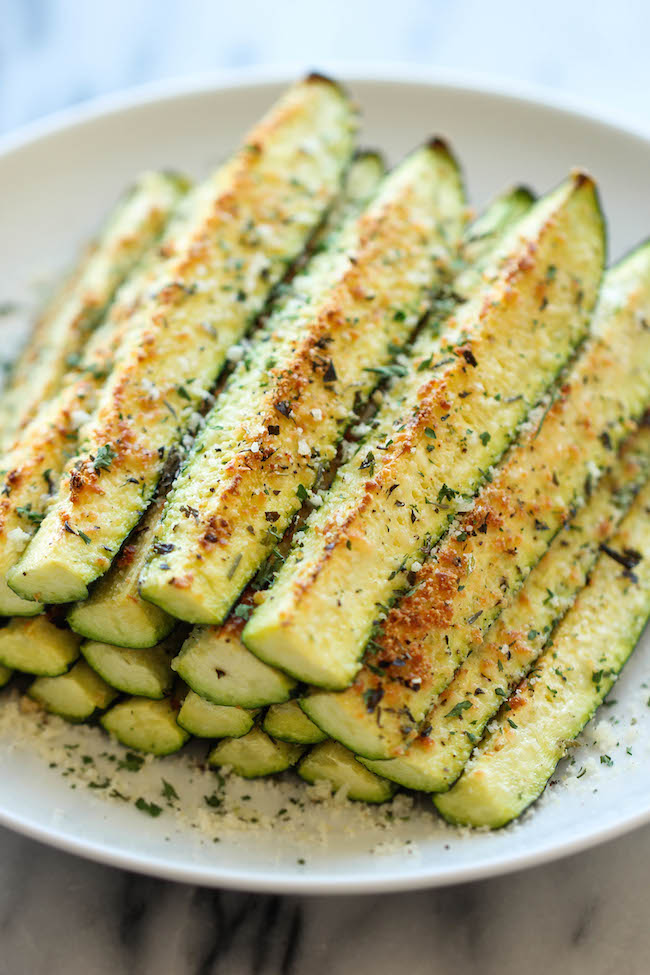 Zucchini and parmesan cheese. It's a match made in heaven. And if all veggies were like this, I'd become a vegetarian tomorrow.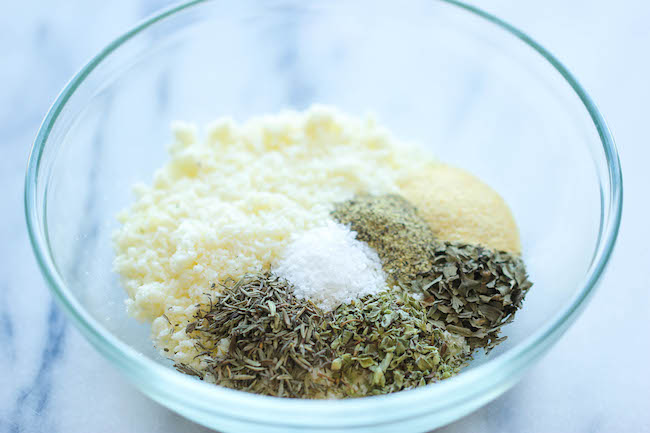 No, but really, this is by far one of the best veggie side dishes I've ever made. And the best part about this is that there is absolutely no deep frying or sauteing of any kind.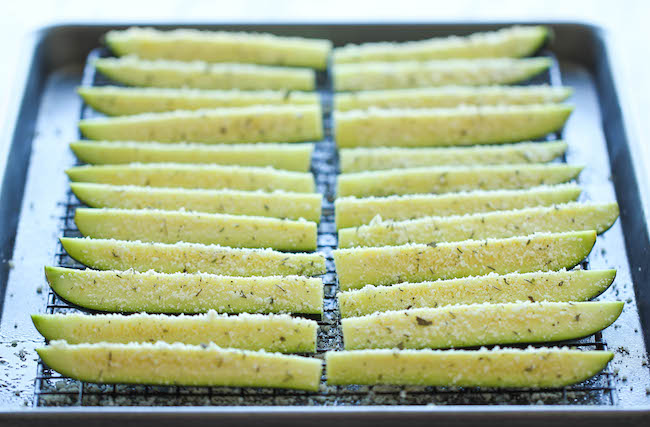 Simply cut your zucchini into quarters lengthwise, sprinkle on that Parmesan goodness and throw into the oven to let it get nice and crisp.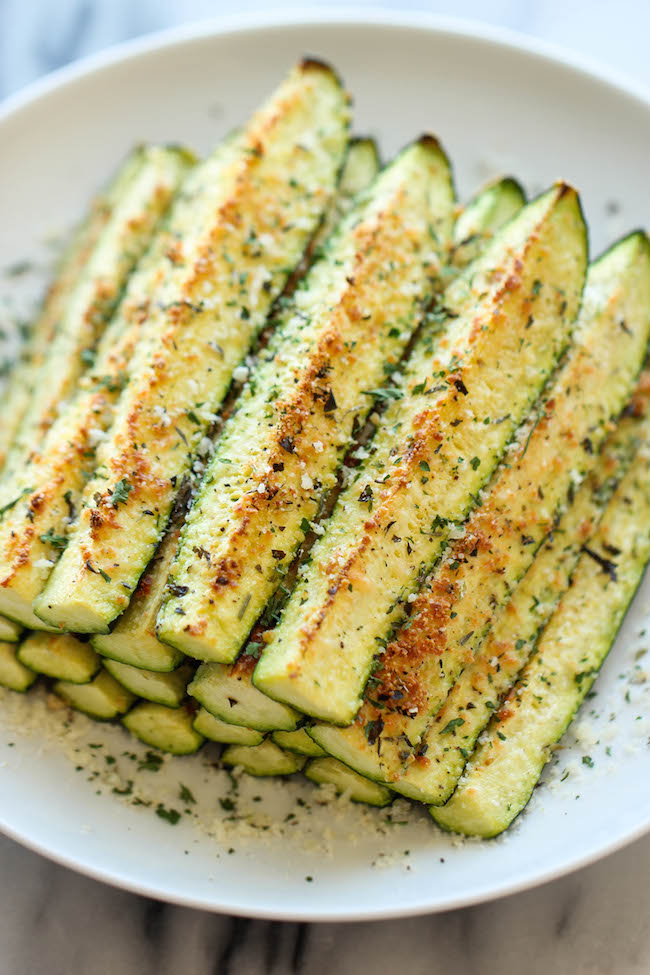 I like to let mine broil the last couple of minutes to get that nice golden brown crust. It's so good, even your picky eaters will be begging for seconds and thirds!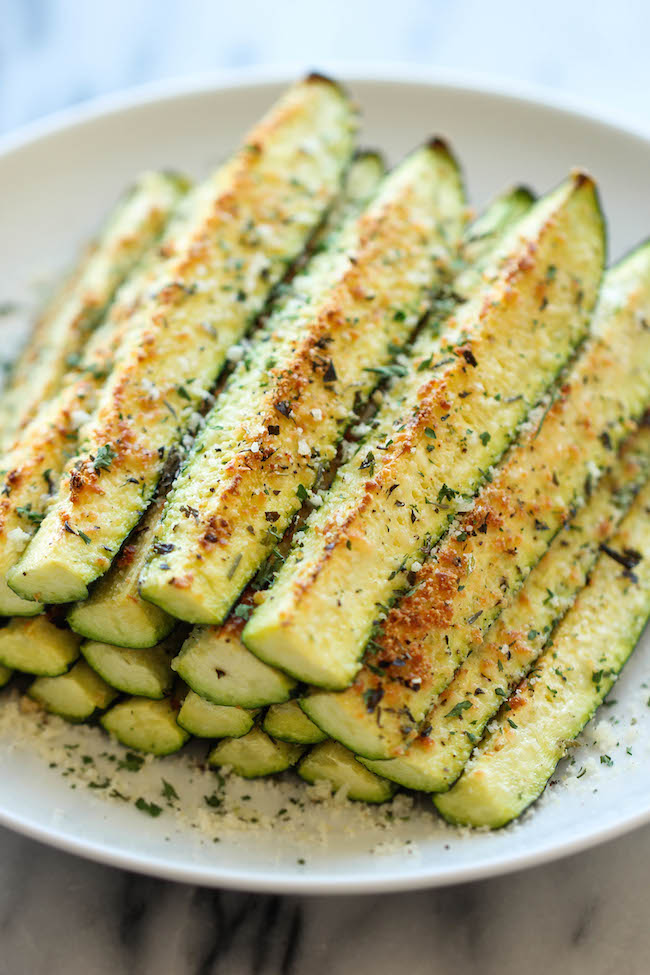 Crisp, tender zucchini sticks oven-roasted to absolute perfection. It's healthy, nutritious and completely addictive!
Ingredients
4 zucchini, quartered lengthwise
1/2 cup grated Parmesan
1/2 teaspoon dried thyme
1/2 teaspoon dried oregano
1/2 teaspoon dried basil
1/4 teaspoon garlic powder
Kosher salt and freshly ground black pepper, to taste
2 tablespoons olive oil
2 tablespoon chopped fresh parsley leaves
Instructions
Preheat oven to 350 degrees F. Coat a cooling rack with nonstick spray and place on a baking sheet; set aside.
In a small bowl, combine Parmesan, thyme, oregano, basil, garlic powder, salt and pepper, to taste.
Place zucchini onto prepared baking sheet. Drizzle with olive oil and sprinkle with Parmesan mixture. Place into oven and bake until tender, about 15 minutes. Then broil for 2-3 minutes, or until crisp and golden brown.
Serve immediately, garnished with parsley, if desired.
Notes
http://damndelicious.net/2014/06/21/baked-parmesan-zucchini/
Why It's A Smart Choice
Nutrition Facts
Serving Size
Servings Per Container 4
---
Amount Per Serving
Calories 151.3 Calories from Fat 100.8
% Daily Value*
Total Fat 11.2g 17%
Saturated Fat 3.4g 17%
Trans Fat 0g
Cholesterol 11.6mg 4%
Sodium 218.8mg 9%
Total Carbohydrate 6.8g 2%
Dietary Fiber 2.0g 8%
Sugars 5.0g
Protein 7.5g 15%
---
*Percent Daily Values are based on a 2,000 calorie diet. Your daily values may be higher or lower depending on your calorie needs.
This is a very heart-friendly side dish. Zucchinis are a great source of potassium, which is important in maintaining a healthy blood pressure. The soluble fiber helps to lower blood cholesterol, and the cheese helps your body absorb the fat soluble vitamins found in the zucchini.
Nutritional information provided by Jessica Penner, RD at Smart Nutrition.