Cheesy Garlic Fries in Foil
The easiest, cheesiest fries you will ever make in foil packets right in the oven. And they're much healthier than the fried kind!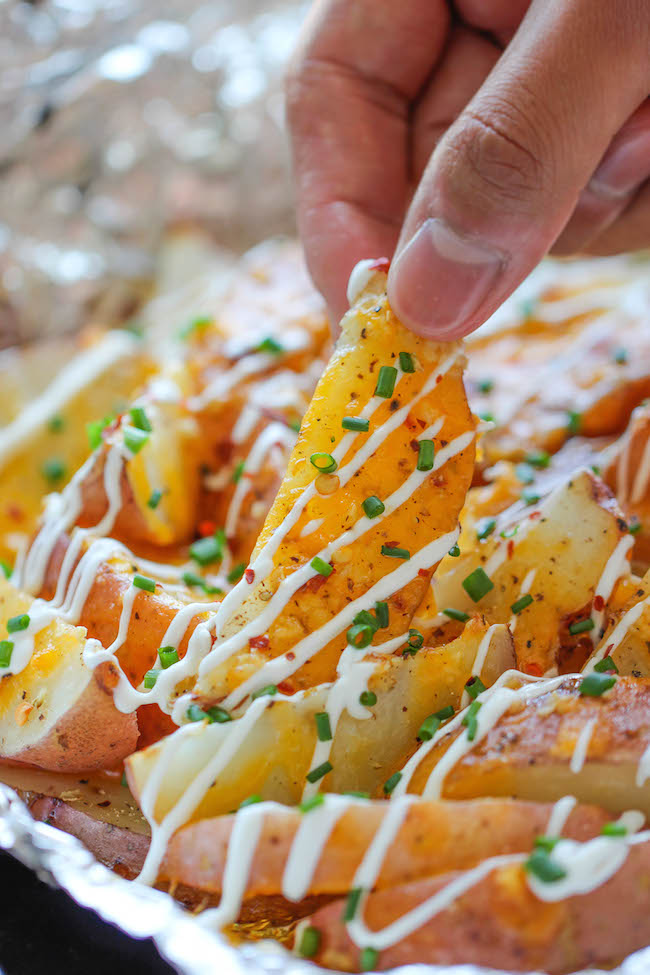 So I'm about 1 week early for football season but still – I don't need any excuse to make these foil fries. Yes, these fries are made right in foil packets, baked to absolute cheesy, crisp perfection. And even with my upcoming marathon and my veggie kabobs from yesterday, you still need a little bit of balance.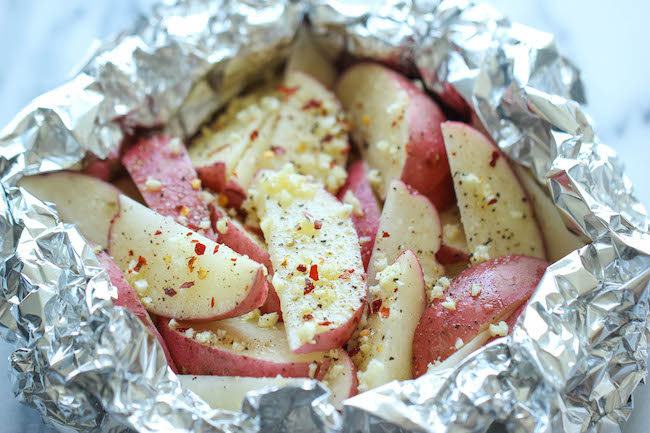 These are probably the easiest fries you will ever make. And there's no deep-frying of any kind here. Simply throw everything right into some foil, wrap it up, let it bake and then smother it with all that cheesy goodness your little heart desires.
When you're ready to serve, go ahead and drizzle on your favorite toppings – sour cream and bacon is an absolute must!
Cheesy Garlic Fries in Foil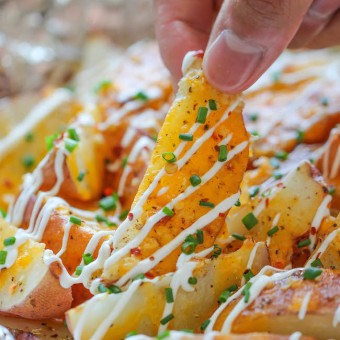 The easiest, cheesiest fries you will ever make in foil packets, baked to absolute crisp perfection!
Ingredients:
2 tablespoons olive oil
4 cloves garlic, minced
1/2 teaspoon crushed red pepper flakes, or more, to taste
Kosher salt and freshly ground black pepper, to taste
1 pound red potatoes, cut into 8 long wedges
1 cup shredded sharp cheddar cheese
2 tablespoons sour cream
2 tablespoons chopped fresh chives
Directions:
Preheat oven to 400 degrees F. Line a baking sheet with foil.
In a small bowl, whisk together olive oil, garlic, red pepper flakes, salt and pepper, to taste.
Place potato wedges onto prepared baking sheet and fold up all 4 sides of the foil. Spoon the olive oil mixture over the potatoes. Fold the sides of the foil over the potato wedges, covering completely and sealing the packet closed.
Place into oven and bake until tender, about 30-35 minutes.* Sprinkle with cheese; then broil for 2-3 minutes, or until the cheese has melted and the potatoes are crisp.
Serve immediately, garnished with sour cream and chives, if desired.
*Baking time may need to be adjusted depending on the thickness of the potato wedges.