Slow Cooker Enchilada Stack
The easiest enchiladas you will ever make. Simply turn on your crockpot and forget all about it until you have the cheesiest, creamiest enchiladas ever!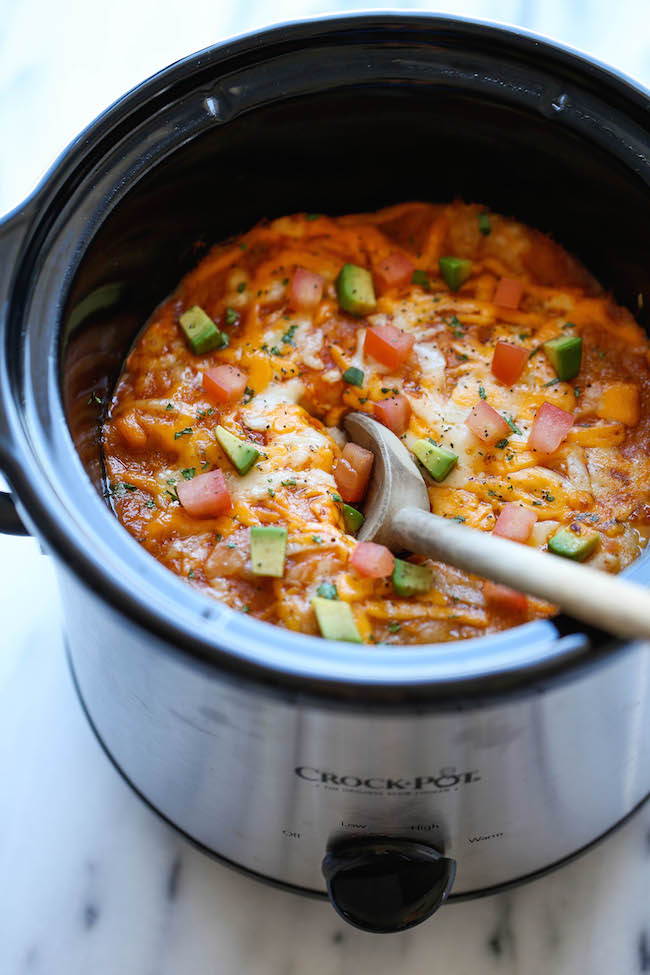 My slow cooker and I have become very good friends this fall season. I'm not sure how it came to be but just last year, I think I made about 3 recipes in the Crock-Pot and called it a year.
MY OTHER RECIPES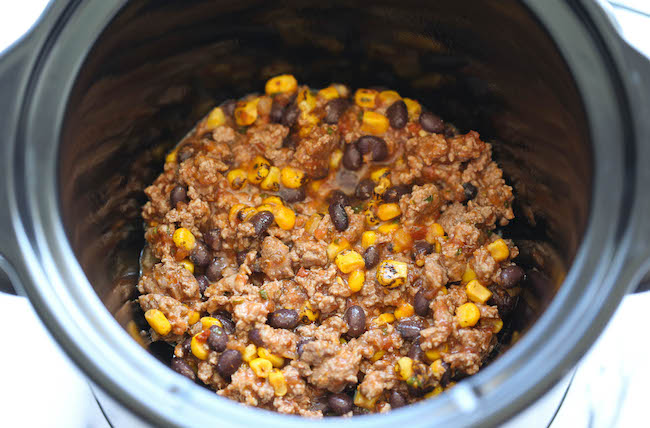 But now, I've made 10 slow cooker recipes in the last month, and I have many, many, many more to come.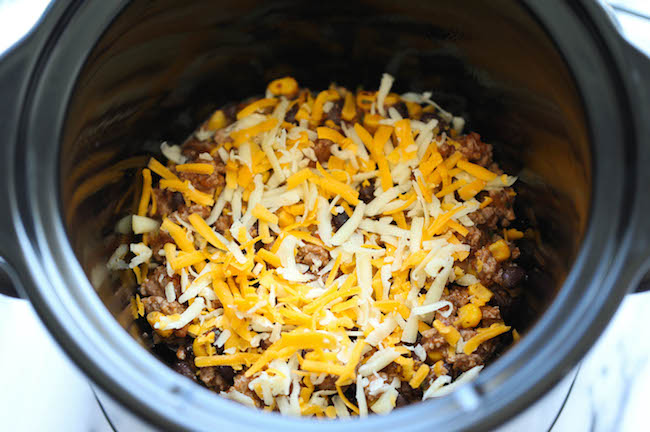 I may just be making up for lost time since I only started to use my slow cooker about 2 years ago.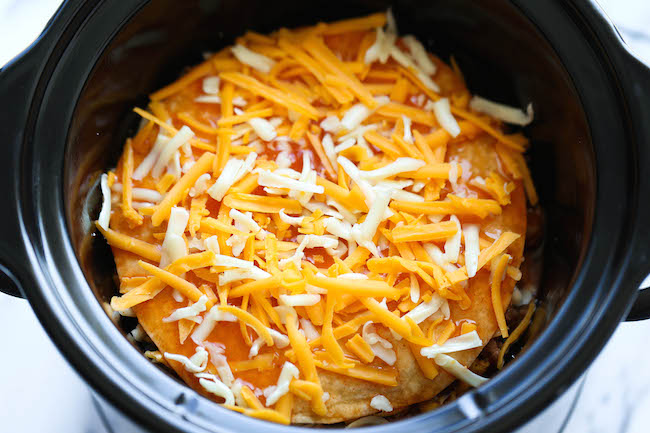 Although I can't help but think where the art of slow cooking has been my entire life as you can pretty much make anything and everything in a Crock-Pot.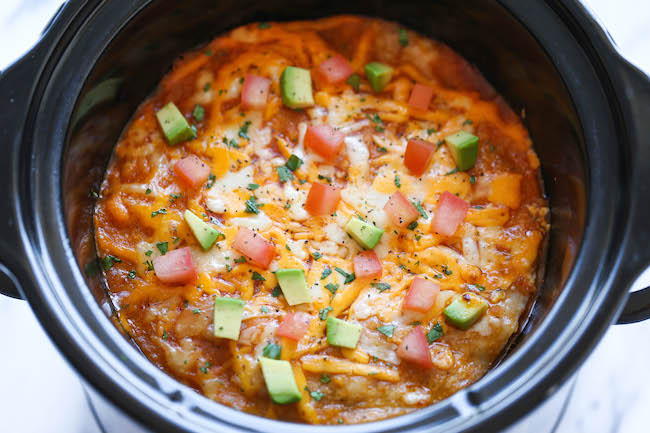 Like these epic enchiladas. Yes, believe it or not, you can make enchiladas effortlessly in a Crock-Pot. It's so easy, it's practically fool-proof.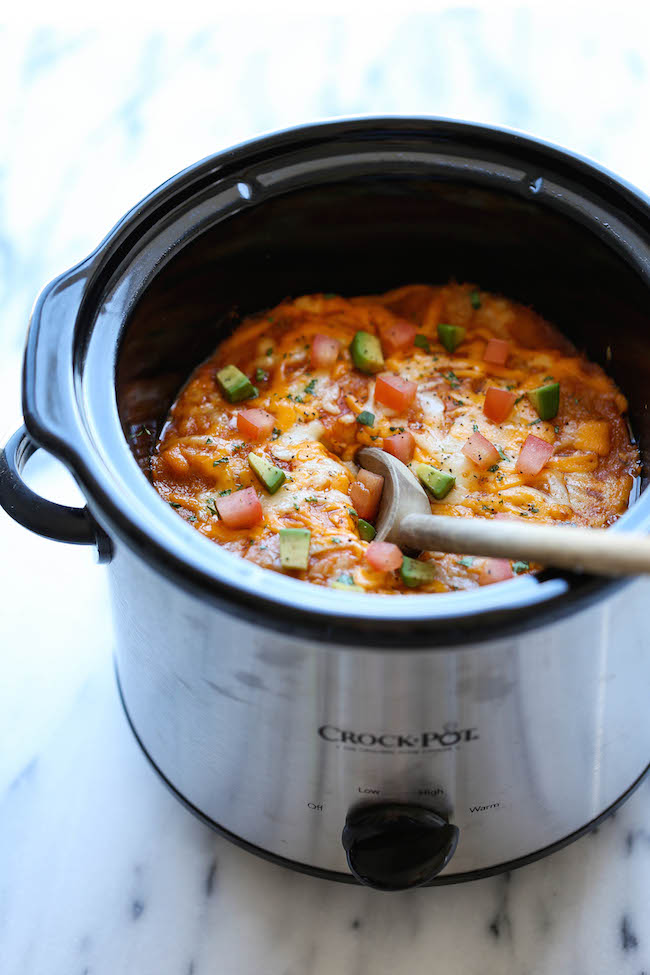 All you have to do is ground up some beef and stir in your veggies. That's it! There's absolutely no rolling or stuffing here.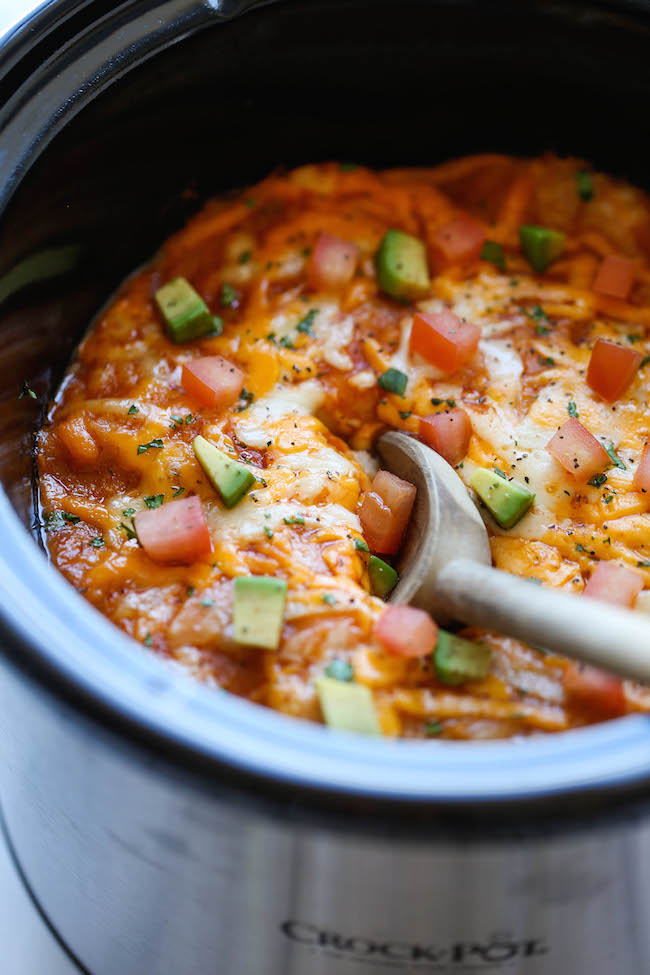 What's left from there is turning on your Crock-Pot. It doesn't get easier than that!
Slow Cooker Enchilada Stack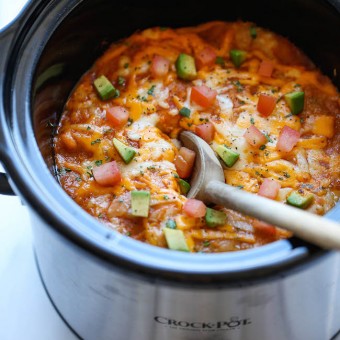 Simply turn on your crockpot and forget all about it until you have the cheesiest and creamiest enchiladas ever! It's so easy!
Ingredients:
1 pound ground beef
1 (15-ounce) can black beans, drained and rinsed
1 cup corn kernels, frozen, canned or roasted
1 cup salsa, homemade or store-bought
1 (4.5-ounce) can Old El Paso™ chopped green chiles, drained
2 teaspoons Old El Paso™ taco seasoning mix
1 (10-ounce) can Old El Paso™ mild enchilada sauce, divided
4 9-inch flour tortillas
2 cups shredded Mexican blend cheese, divided
1 avocado, halved, seeded, peeled and diced, for serving
1 Roma tomato, diced, for serving
2 tablespoons chopped fresh cilantro leaves
Directions:
Heat olive oil in a large skillet over medium high heat. Add ground beef and cook until browned, about 3-5 minutes, making sure to crumble the beef as it cooks; drain excess fat and remove from heat.
Stir in black beans, corn, salsa, green chiles, taco seasoning and enchilada sauce, reserving 1/2 cup.
Lightly coat the inside of a slow cooker with nonstick spray. Place 1 tortilla on the bottom of the slow cooker. Spread 1/3 ground beef mixture evenly over the top; sprinkle with 1/2 cup cheese. Repeat with 2 more layers; top with remaining tortilla, enchilada sauce, and cheese.
Cover and cook on low heat for 3-4 hours or high heat for 2-3 hours.
Serve immediately, garnished with avocado, tomato and cilantro, if desired.
Disclosure: This post is sponsored by Old El Paso. All opinions expressed are my own.