Cheater Pho (Asian Noodle Soup)
With this simplified version, you can have homemade pho on your table in 30 min or less. It doesn't get any easier!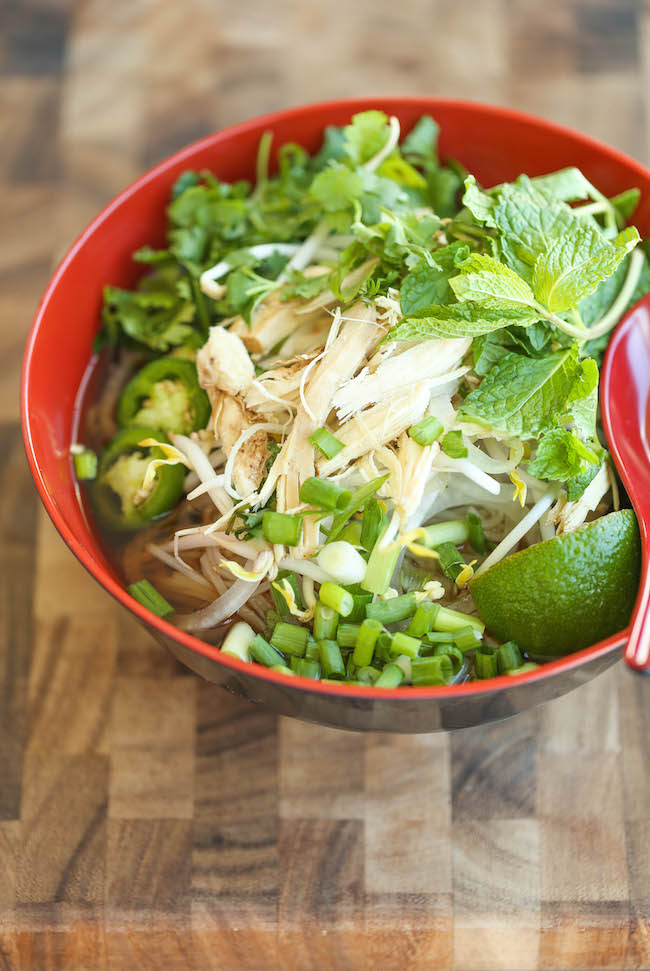 Pho is a super popular Vietnamese noodle dish. It's also one of those amazing hangover foods that comes in particularly handy during your college days.
But pho typically takes hours and hours of simmering, which is simply too long for those busy weeknights. Now with this cheater version here, you'll still have homemade pho, made from scratch of course, in 30 min or less.
And if rice noodles are difficult to find in your area, feel free to substitute any other kind of noodles here to your liking – ramen, udon, angel hair pasta, etc.
Quick dinners are meant to be exactly that. Quick and easy, not leaving you with crazy ingredients that you can't find at your local grocery store.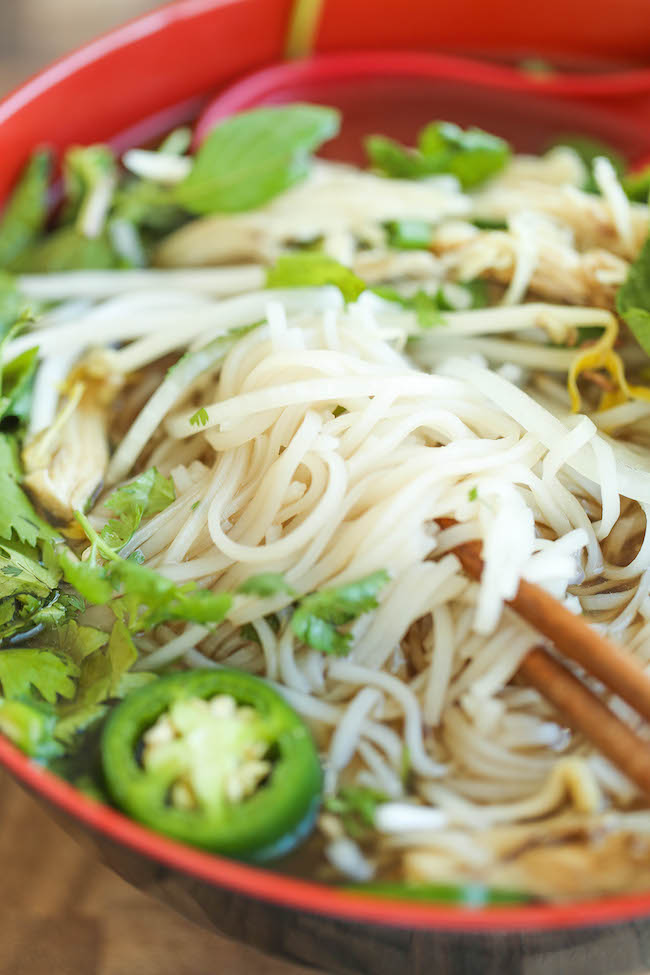 So there you have it – this cheater pho is quick, comforting and just so darn easy.
Cheater Pho (Asian Noodle Soup)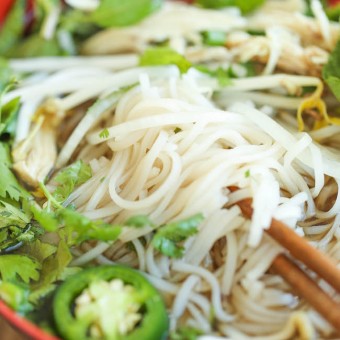 With this simplified version, you can have homemade pho on your table in 30 min or less. It doesn't get any easier!
Ingredients:
8 ounces dried rice noodles
2 tablespoons olive oil, divided
1 pound boneless, skinless chicken thighs, cut into 1-inch chunks
Kosher salt and freshly ground black pepper
3 cloves garlic, minced
1 tablespoon freshly grated ginger
6 cups chicken stock
2 tablespoon hoisin sauce
1 tablespoons fish sauce
For the garnishes
1 onion, thinly sliced
2 cups bean sprouts
1/2 cup fresh cilantro leaves
1/2 cup fresh mint leaves
1 jalapeno, thinly sliced
2 limes, halved
Directions:
In a large pot of water, cook rice noodles according to package instructions; drain well and set aside.
Heat 1 tablespoon olive oil in a large stockpot or Dutch oven over medium heat. Season chicken with salt and pepper, to taste. Add chicken to the stockpot and cook until golden, about 2-3 minutes; set aside.
Add remaining 1 tablespoon oil to the stockpot. Add garlic and ginger, and cook, stirring frequently, until fragrant, about 1-2 minutes.
Whisk in chicken stock, hoisin sauce and fish sauce. Bring to a boil; reduce heat and simmer for 10 minutes.
Serve immediately with rice noodles and chicken, garnished with onion, bean sprouts, cilantro, mint, jalapeno and limes, if desired.
Why It's A Smart Choice
Nutrition Facts
Serving Size
Servings Per Container 4
---
Amount Per Serving
Calories 626.4 Calories from Fat 169.2
% Daily Value*
Total Fat 18.8g 29%
Saturated Fat 4.2g 21%
Trans Fat 0g
Cholesterol 104.8mg 35%
Sodium 1190.5mg 50%
Total Carbohydrate 73.5g 25%
Dietary Fiber 3.5g 14%
Sugars 12.3g
Protein 38.7g 77%
---
*Percent Daily Values are based on a 2,000 calorie diet. Your daily values may be higher or lower depending on your calorie needs.
Bean sprouts are a delicious way to add extra nutrients into your dishes but they do carry a higher risk of food borne illness than other foods. Cooking them in stir fries or soups, like this pho, is a great way to make sprouts safer!