Spinach Prosciutto Alfredo Pizza
A fancy, schmancy pizza that's actually so easy to make right at home!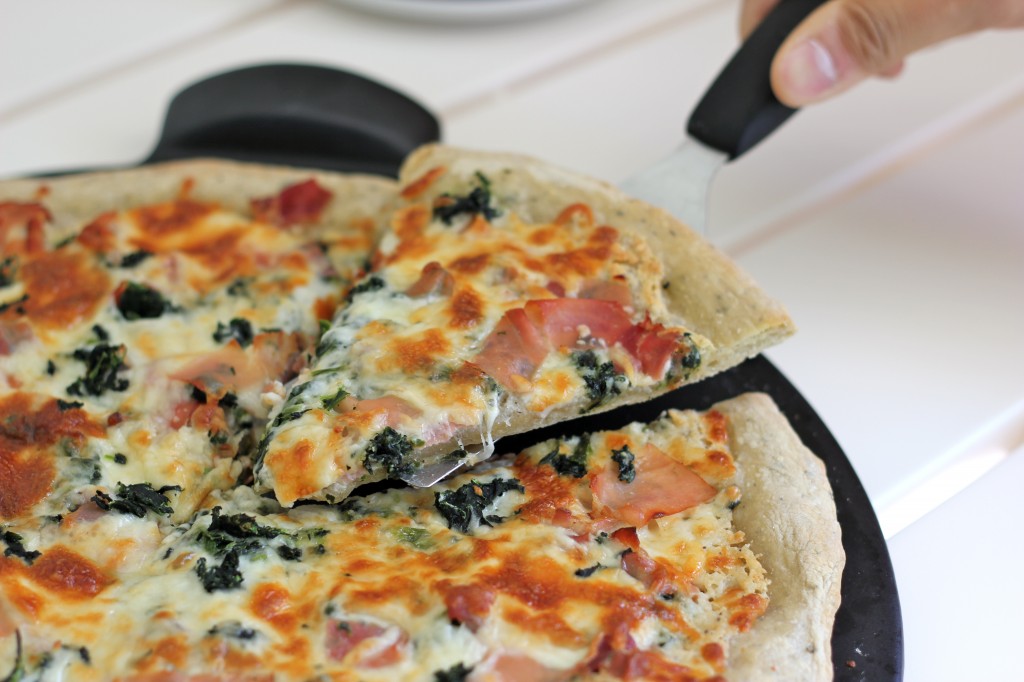 Remember when I used my pizza stone for the very first time with the Jalapeño Popper Pizza? Well I didn't want it to be another 6 months before I used it again so I decided to make another pizza over the weekend. Making pizzas are so easy and customizable, plus they serve as the perfect leftovers for work, so I'm actually aiming to make one pizza a week.
For this week's pizza, I went with a spinach alfredo pizza, which involves a homemade alfredo sauce in place of the marinara. Then the pizza gets topped off with some spinach and lots and lots of mozzarella. But at the last minute, I decided to spruce it up and add prosciutto, one of the best deli-cut meats ever. It's a bit on the pricey end so Jason and I can't indulge in this awesomeness as often as we'd like.
Anyway, it turned out that adding prosciutto was one of the best decisions I've ever made. All the ingredients and flavors melded so well together, especially the saltiness from the prosciutto which was wonderfully complemented by the creamy alfredo sauce.
Jason and I managed to finish half the pie and packed the rest for work leftovers for today. I hope my lunch break comes soon because I absolutely cannot wait to dive into this baby. It will be the highlight of my day!
Here's how to make this:
Let's start by making the alfredo sauce by melting some butter.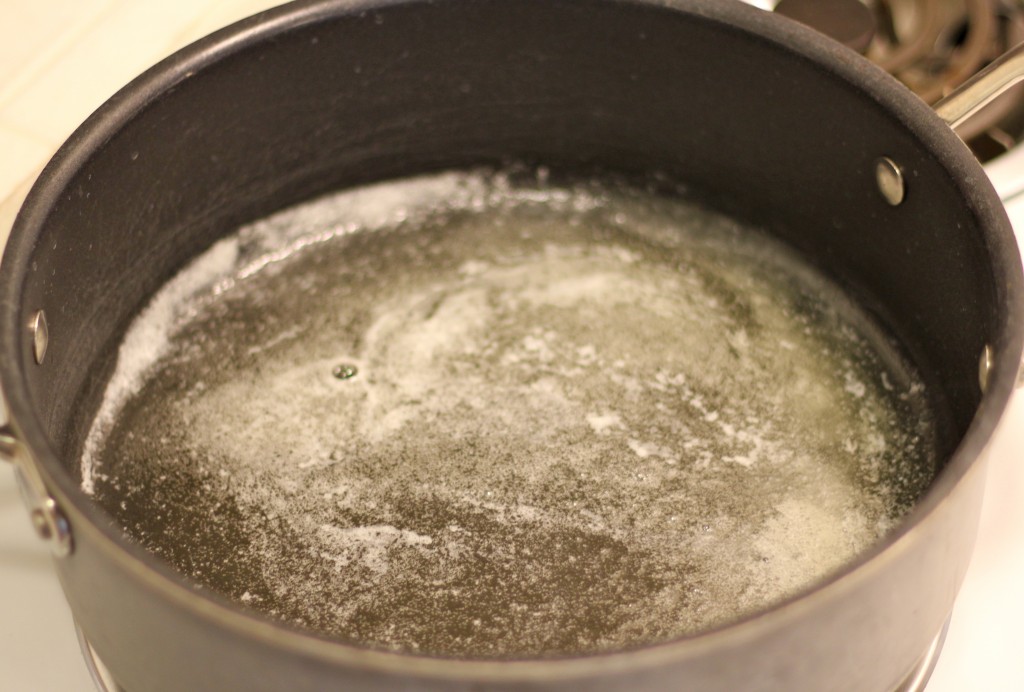 Then stir in the heavy cream until it gets nice and bubbly.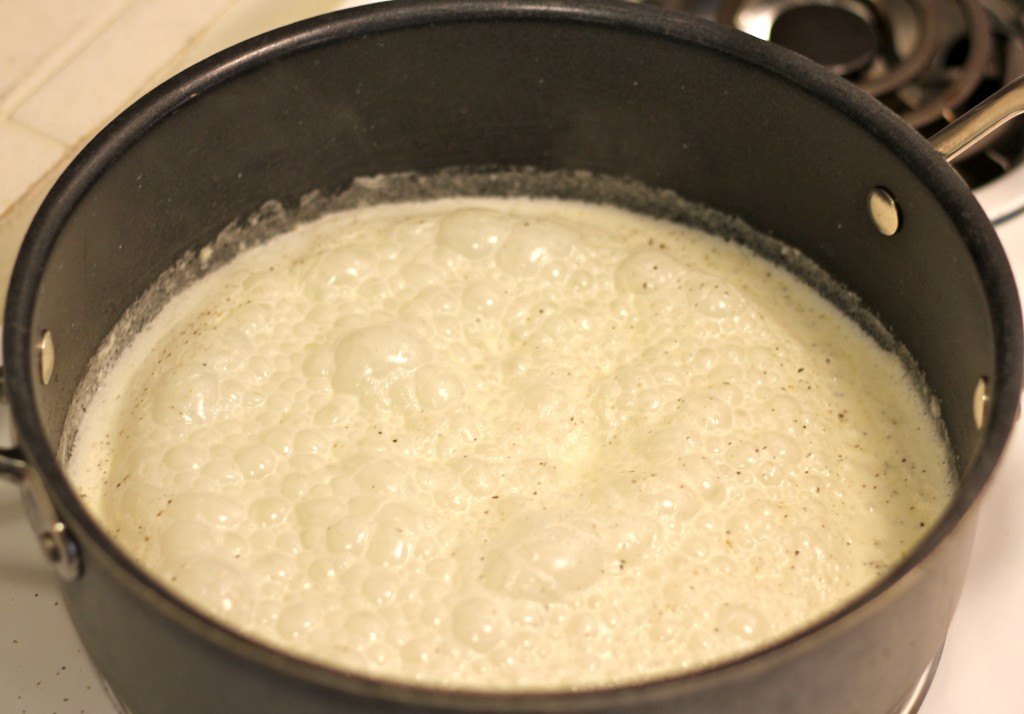 Remove from heat and add in the Parmesan. I like using a Pecorino Romano and Parmesan blend. Go ahead and give it a stir until it gets nice and creamy.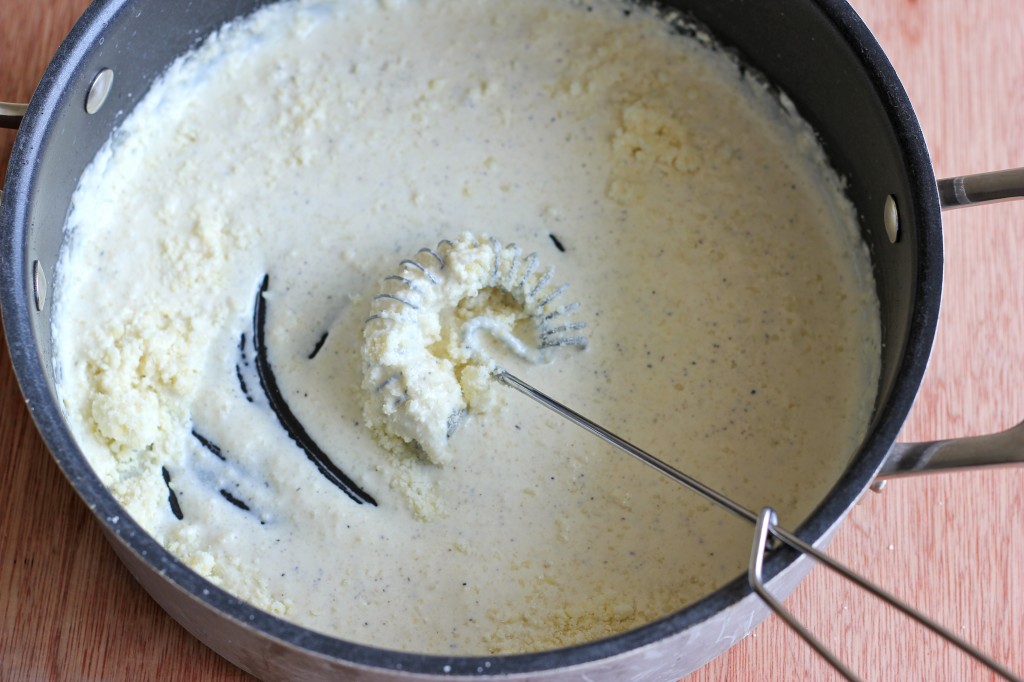 Make sure you have some of that awesome prosciutto on hand. Give it a good chop, but go easy on the sampling.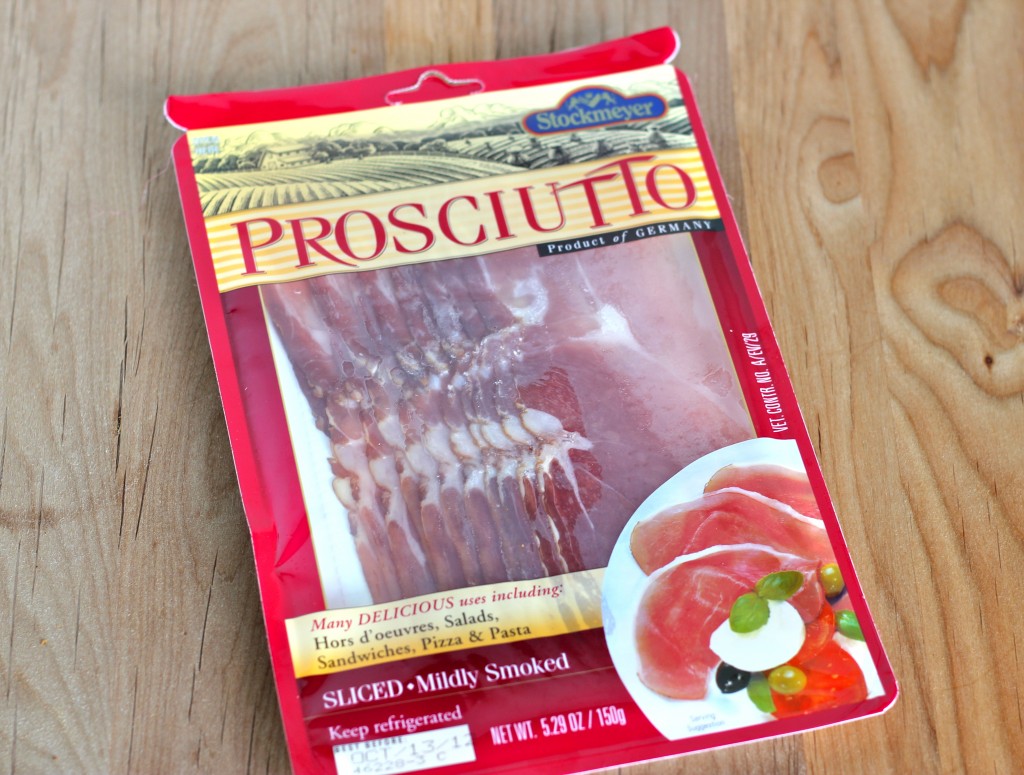 When your dough is rolled out to a 12-inch diameter, let's spread the alfredo sauce first (I used it all up – no need to waste any ingredients guys) before topping it off with the mozzarella, spinach and prosciutto.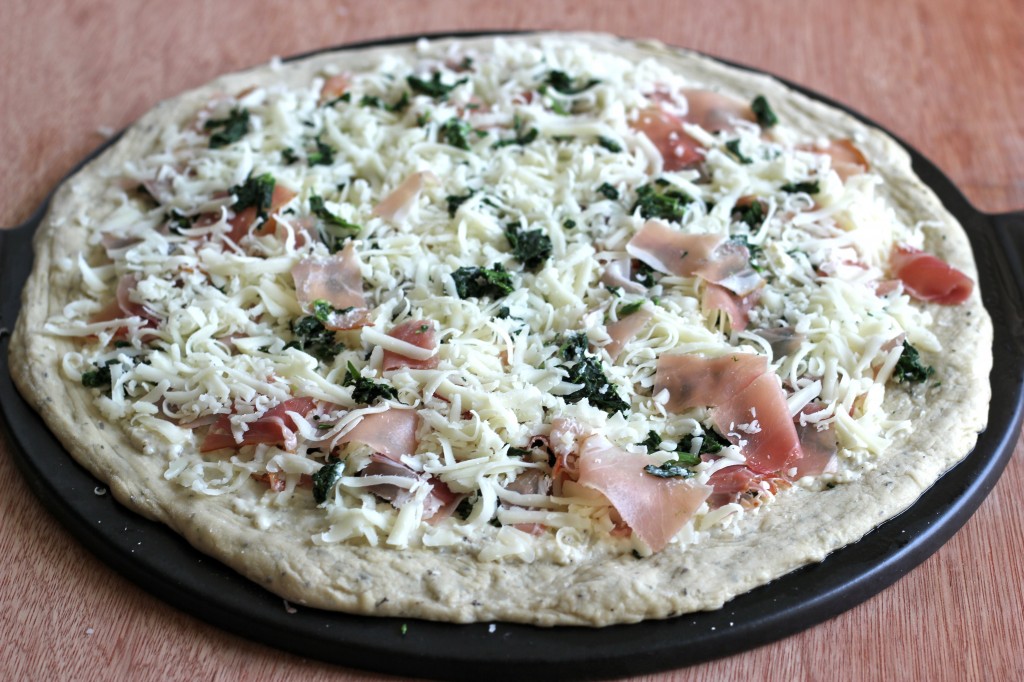 Pop it into the oven for about 15 minutes. Voila, dinner is done! Now how easy was that?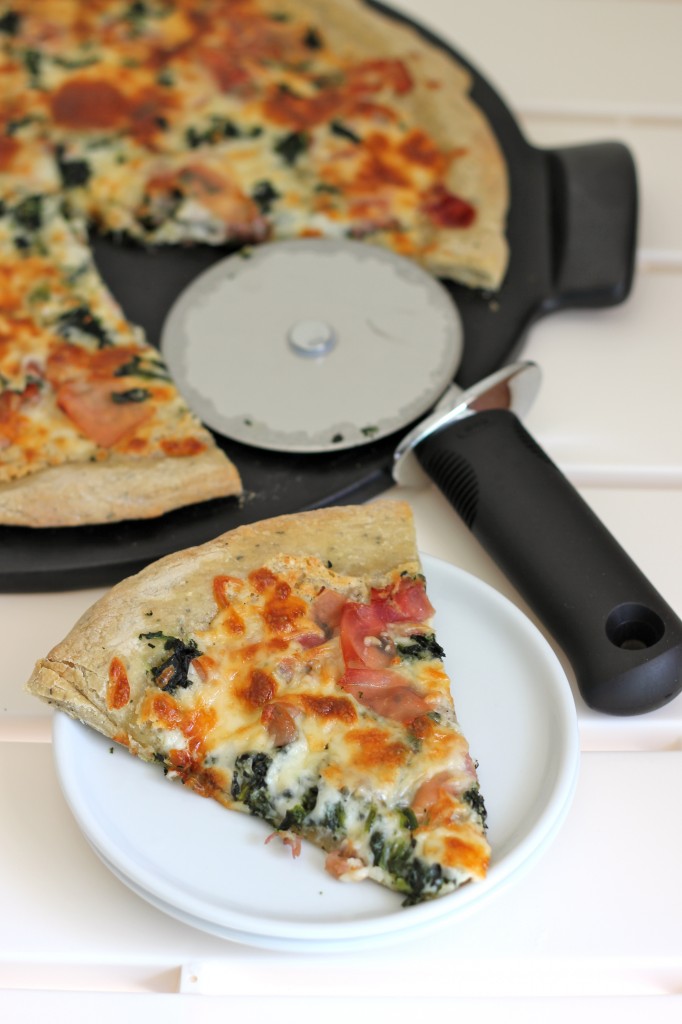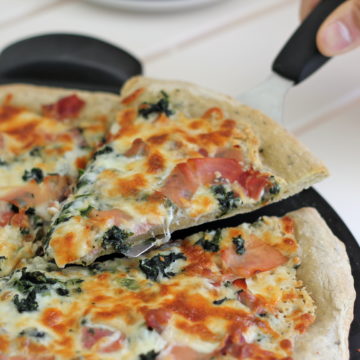 Spinach Prosciutto Alfredo Pizza
A fancy, schmancy pizza that's actually so easy to make right at home!
15 minutes
25 minutes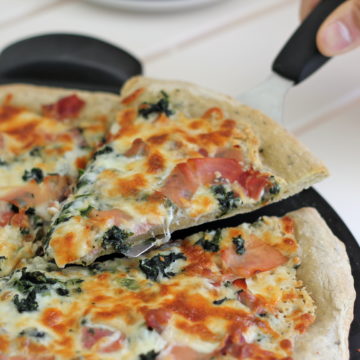 Ingredients:
2 tablespoons olive oil
2 tablespoons unsalted butter
3/4 cup heavy cream
3/4 cup grated Parmesan
Kosher salt and freshly ground black pepper, to taste
1 ball pizza dough, homemade or store-bought
2 cups shredded mozzarella
1 cup chopped frozen spinach, thawed and excess water squeezed out
4 slices prosciutto, chopped
Directions:
Preheat oven to 450 degrees F. Lightly coat a baking sheet or pizza pan with olive oil.
Melt butter in a medium saucepan over medium heat. Add heavy cream and bring to a boil, stirring. Remove from heat and allow to rest until ready to use. Stir in the Parmesan; season with salt and pepper, to taste.
Working on a surface that has been sprinkled with semolina or cornmeal, roll out pizza dough into a 12-inch-diameter round. Transfer to prepared baking sheet or pizza pan.
Spread prepared Parmesan mixture evenly over the top, leaving a 1-inch border. Top with mozzarella, spinach and prosciutto.
Place into oven and bake for 15-20 minutes, or until the crust is crisp and brown on the bottom and the cheese is melted on top.
Cut the pizza into wedges and serve immediately.
Did you Make This Recipe?
Tag @damn_delicious on Instagram and hashtag it #damndelicious.