White Chocolate Blueberry Oatmeal Cookies
Boy am I glad that it is finally Friday. This week was quite long and exhausting, and I cannot wait to relax all weekend. But then the real challenge is getting through work today!
The worst part about it is that I don't have any more of these cookies! See, that's the hardest part about food blogging. It's not the stress of creating recipes, the chase of natural lighting, the potential fires that start in the oven, or the gnarly kitchen wounds from your mandoline. It's the staring and the drooling of the pictures of the food that you made weeks ago, and then having to write about how amazing the food was without having a plate for yourself!
So that's what I'm doing here. I had yet another cereal dinner, plus like half a box of cereal without the milk, but I'm looking at these cookies and thinking that I may just bake a batch right now and have that as dinner part two.
I mean these might be the best cookies I've ever made in a long time. They had the perfect texture of the slightly crisp edges but it was also incredibly light and fluffy with every bite, along with the juicy blueberries that had an incredible marriage with the creamy vanilla notes of the white chocolate. Plus, oatmeal is healthy, right? Couple that with some blueberries and I call this breakfast!
One year ago: Roast Pork Loin with Bacon and Brown Sugar Glaze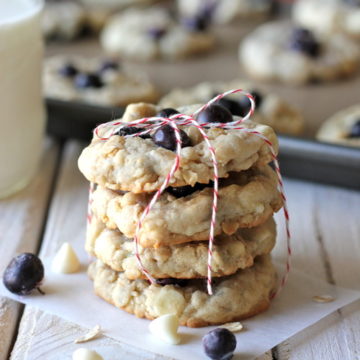 White Chocolate Blueberry Oatmeal Cookies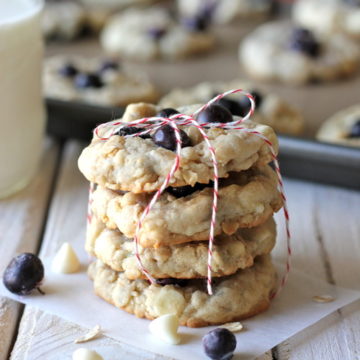 Ingredients:
1 1/4 cups all-purpose flour
3/4 cup old fashioned oats
1/2 teaspoon cinnamon
1/2 teaspoon baking powder
1/8 teaspoon baking soda
1/8 teaspoon salt
1/2 cup (1 stick) unsalted butter, softened
2/3 cup sugar
1/4 cup brown sugar
1 teaspoon vanilla extract
1 large egg
1/2 cup white chocolate chips
1/2 cup blueberries
Directions:
Preheat oven to 350 degrees F. Line a baking sheet with parchment paper or a silicone baking mat; set aside.
In a medium bowl, combine flour, oats, cinnamon, baking powder, baking soda and salt.
In the bowl of an electric mixer fitted with the paddle attachment, beat butter and sugars on medium-high until light and fluffy, about 2-3 minutes. Beat in vanilla and egg until well combined. Gradually add flour mixture to sugar mixture at low speed, beating just until incorporated.
Gently fold in chocolate chips and blueberries.
Drop tablespoons of batter onto prepared baking sheet and press down lightly to flatten.
Place into oven and bake until edges are golden brown but center is still moist, about 7-8 minutes.
Remove from oven and cool on a wire rack.
Did you Make This Recipe?
Tag @damn_delicious on Instagram and hashtag it #damndelicious.