Carnitas Avocado Pizza
Pizza was meant to be smothered in slow-cooked, tender carnitas and drizzled with chipotle avocado mayo!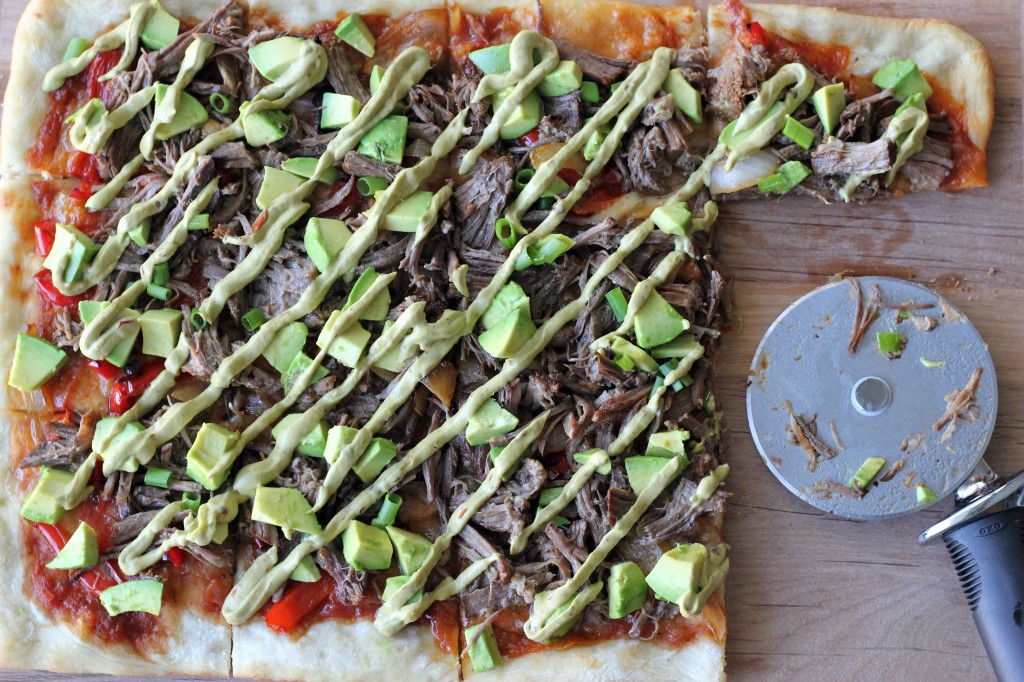 It's Sunday, which means I have another installment of #SundaySupper, except today's theme revolves around a Mexican fiesta. That means we're serving up margaritas, salsa, quesadillas and of course, carnitas… on a pizza.
Yeah, I so went there.
And instead of marinara, I used tomatilla salsa as the base, a topping of caramelized onions, bell peppers and jalapenos, and then a chipotle avocado mayo drizzle with some extra diced avocado.
I'm a bit of an avocado freak lover.
I was actually a bit worried about having too much avocado (is that even possible?!) but even with the double dose, it actually balanced so well with the juicy, flavorful carnitas, which was roasted for a good four hours. It also made the house smell AH-MAZING, although it was definitely a bit tortuous waiting for it to finish cooking.
The best part about this recipe is not the meaty-avocado goodness on a wonderfully thin crust pizza but the leftover carnitas! Jason and I made tacos with the leftover meat along with the chipotle avocado mayo and it was to die for!
So here's how to make this:
Let's first make the spice rub for the carnitas by combining some chili powder, cumin, oregano and salt.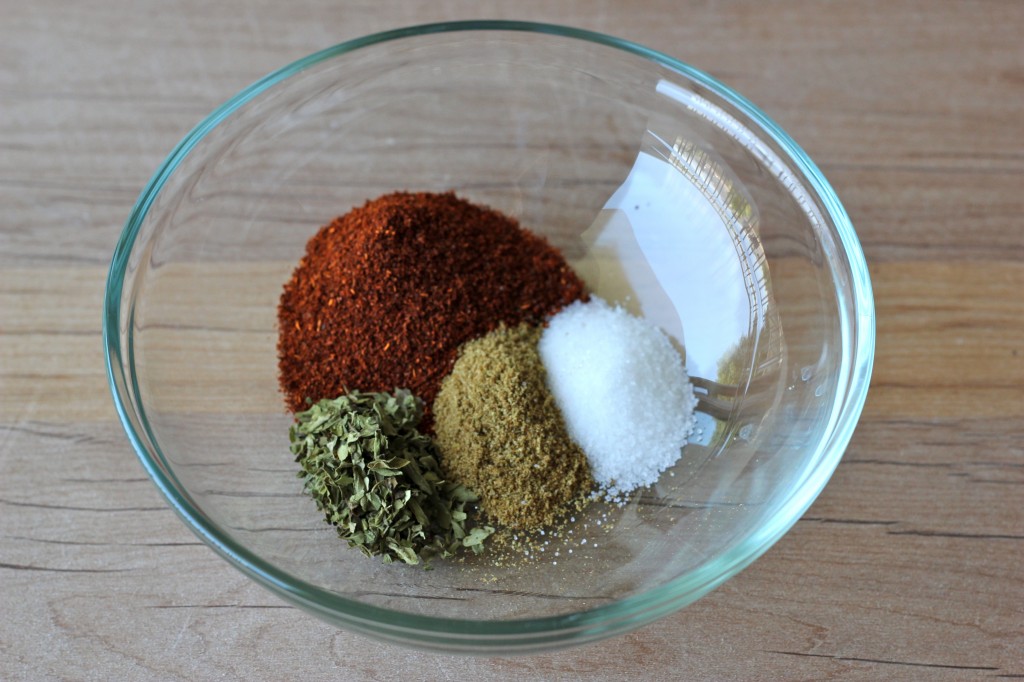 Go ahead and slather this rub all over the chuck roast. You want to get all the corners and the sides (you'll thank me later for this).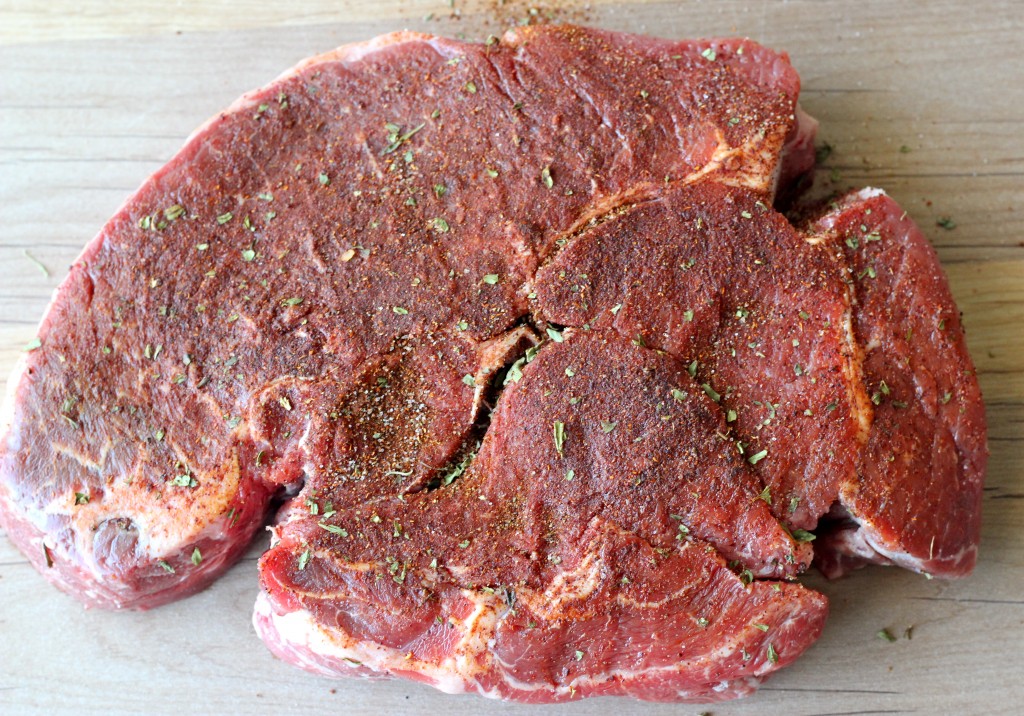 Now let's sear this baby on both sides, letting it get nice and brown.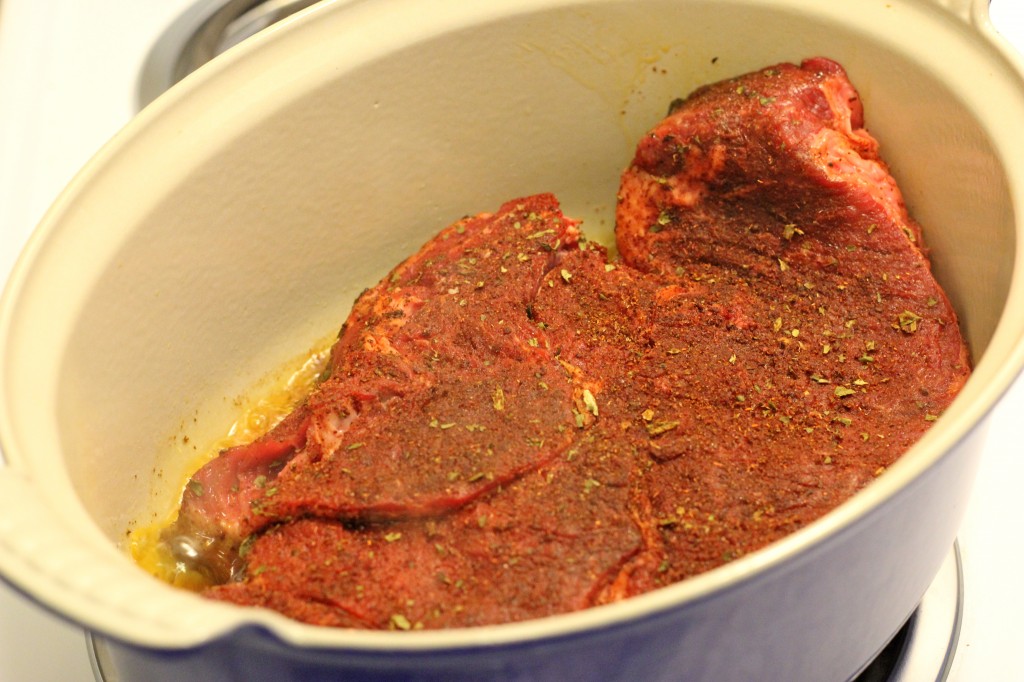 Yeah, that's what I'm talking about.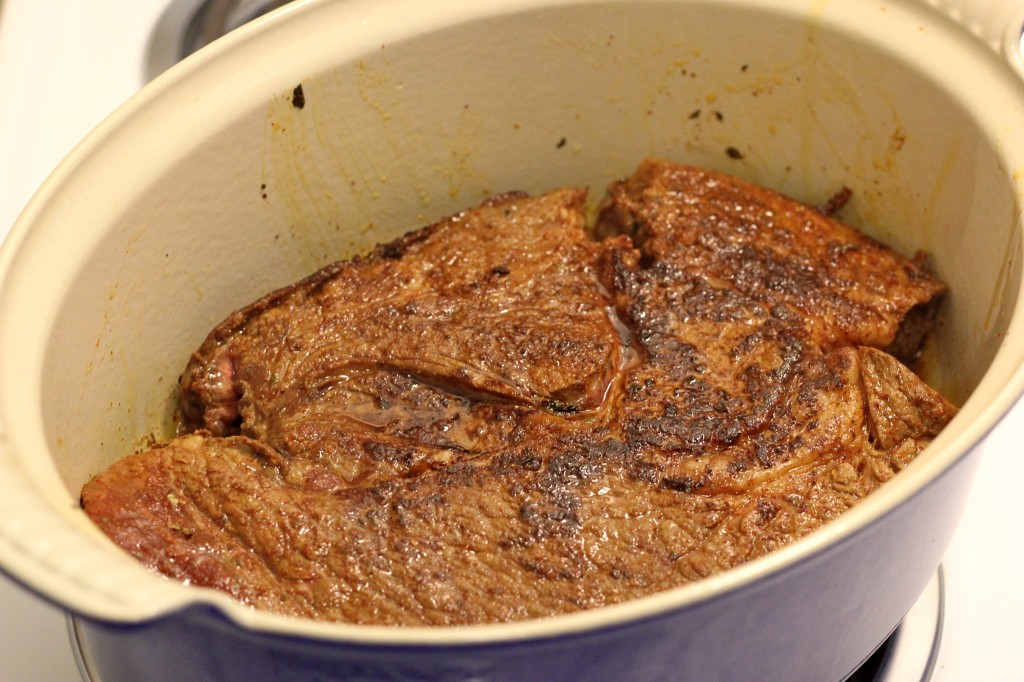 Then we'll pour in the orange juice and cover it up to roast on low heat for about 3-4 hours.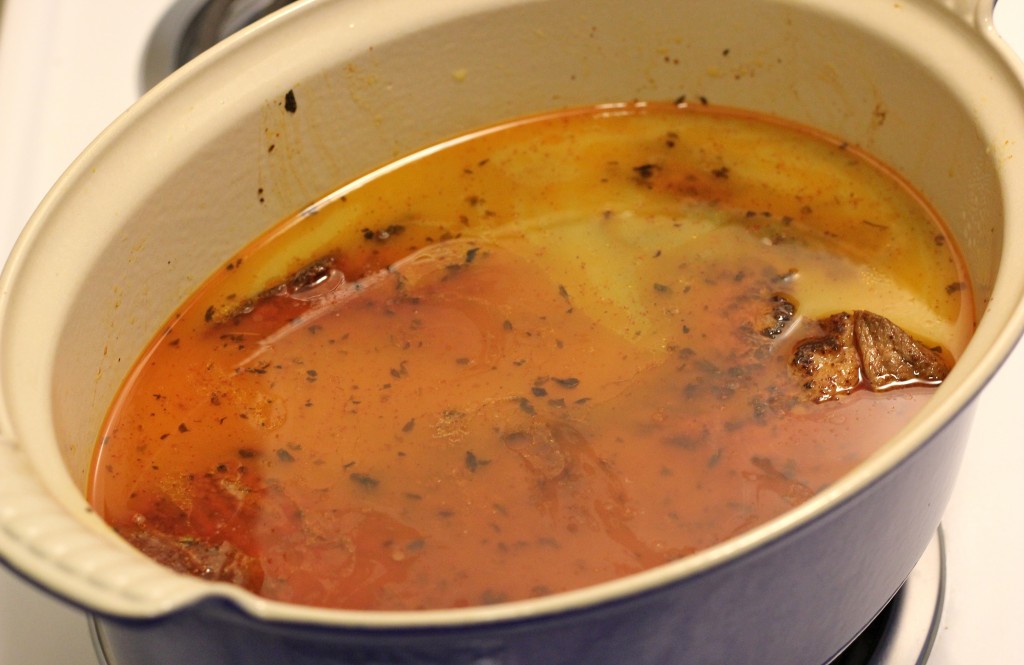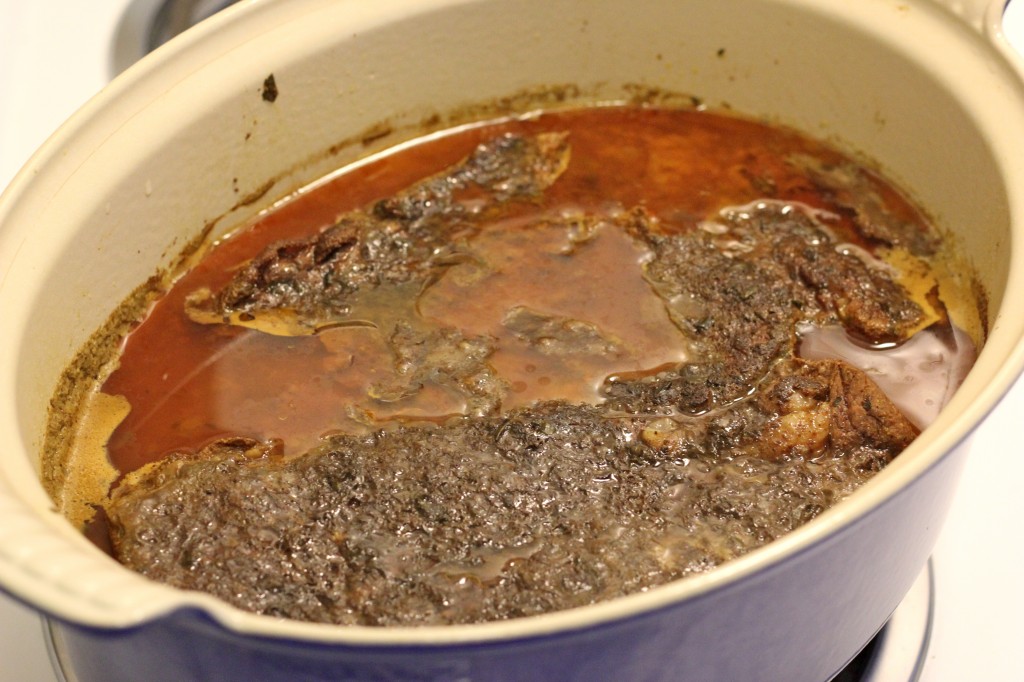 Go ahead and shred this baby before throwing it back into the pot with the juices.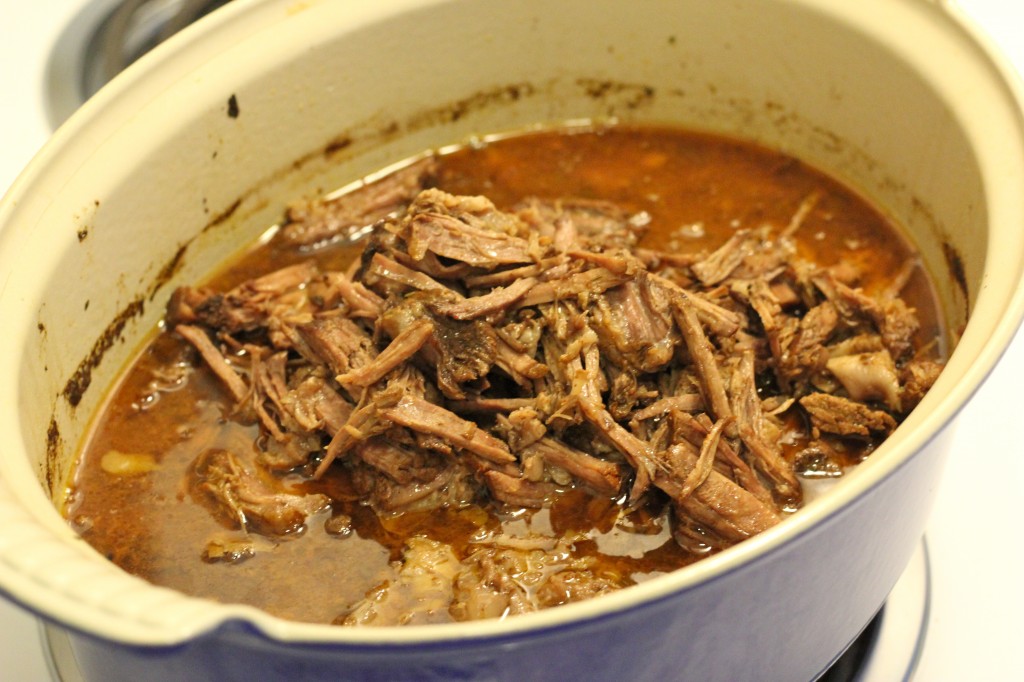 Next we'll saute some onion, bell pepper and jalapeno until they get nicely caramelized and golden.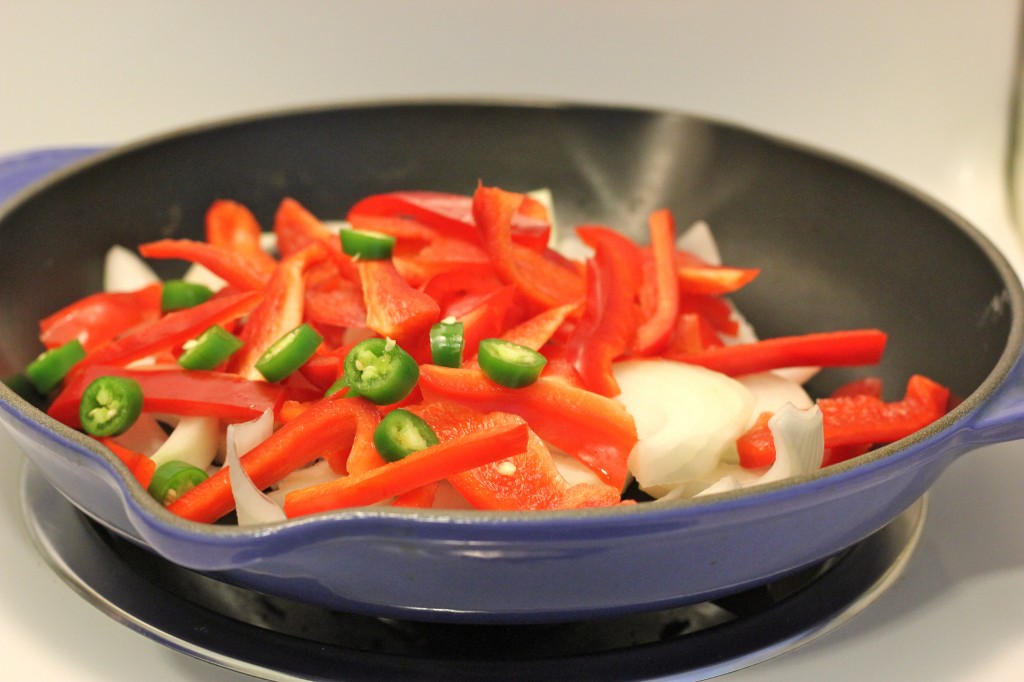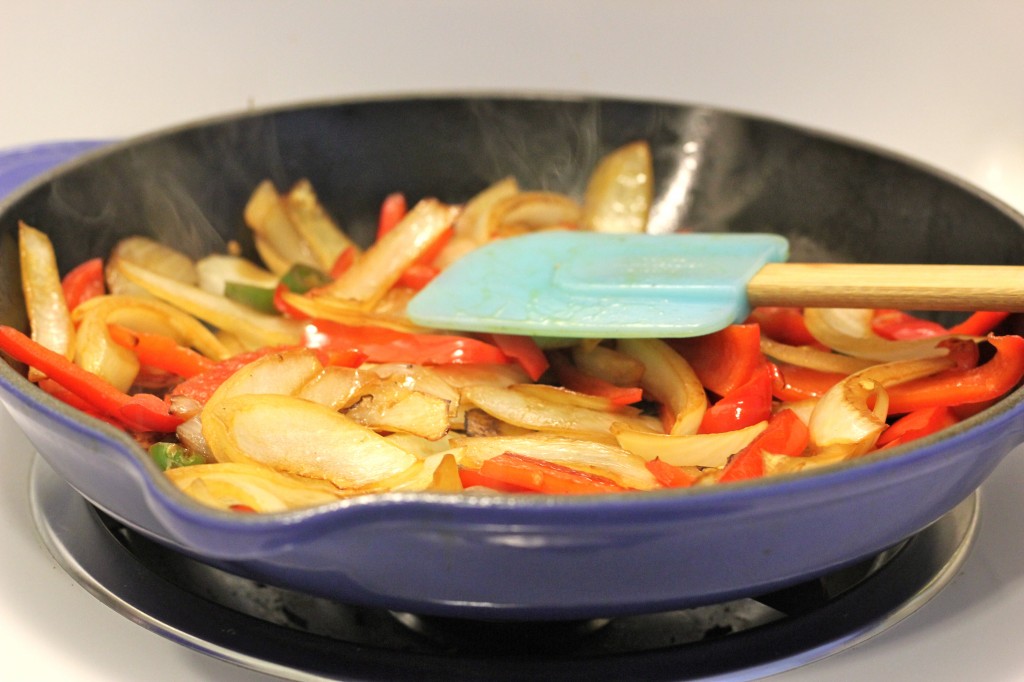 Now take a jar of tomatillo salsa and slather it on a stretched out pizza dough before topping it off with some fresh mozzarella and the onion-bell-pepper-jalapeno mixture. Go ahead and pop that bad boy into the oven to bake for about 12-15 minutes.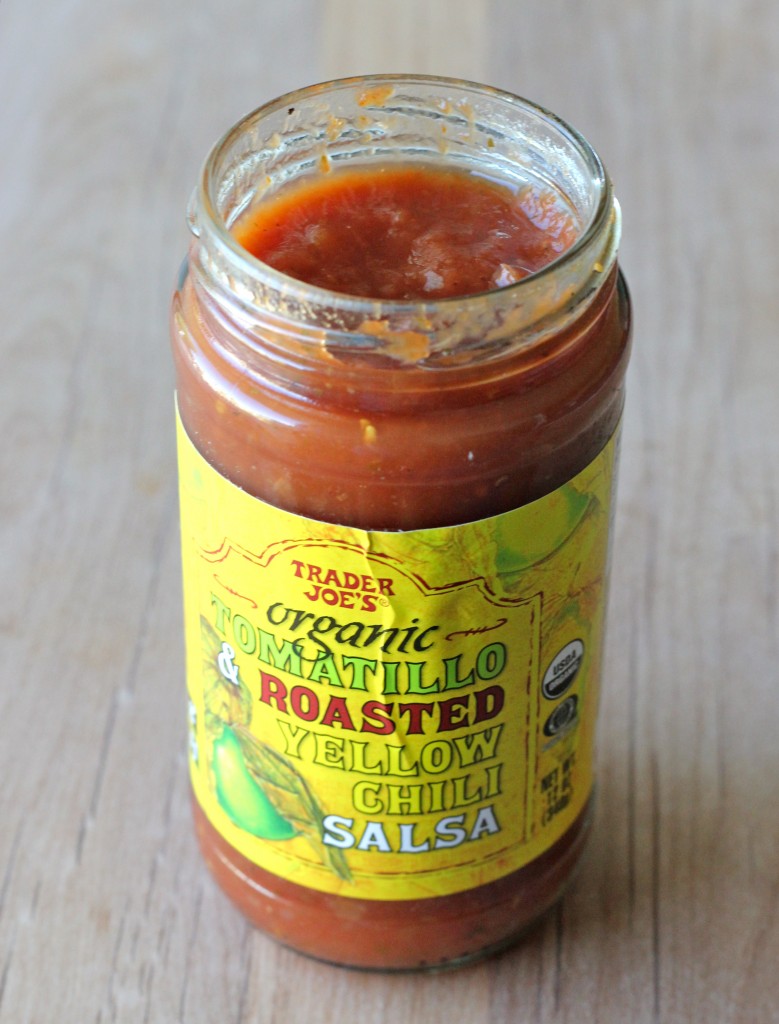 Once it's out of the oven, top it off with the juicy carnitas, some avocado and green onions and a final drizzle of the chipotle avocado mayo goodness.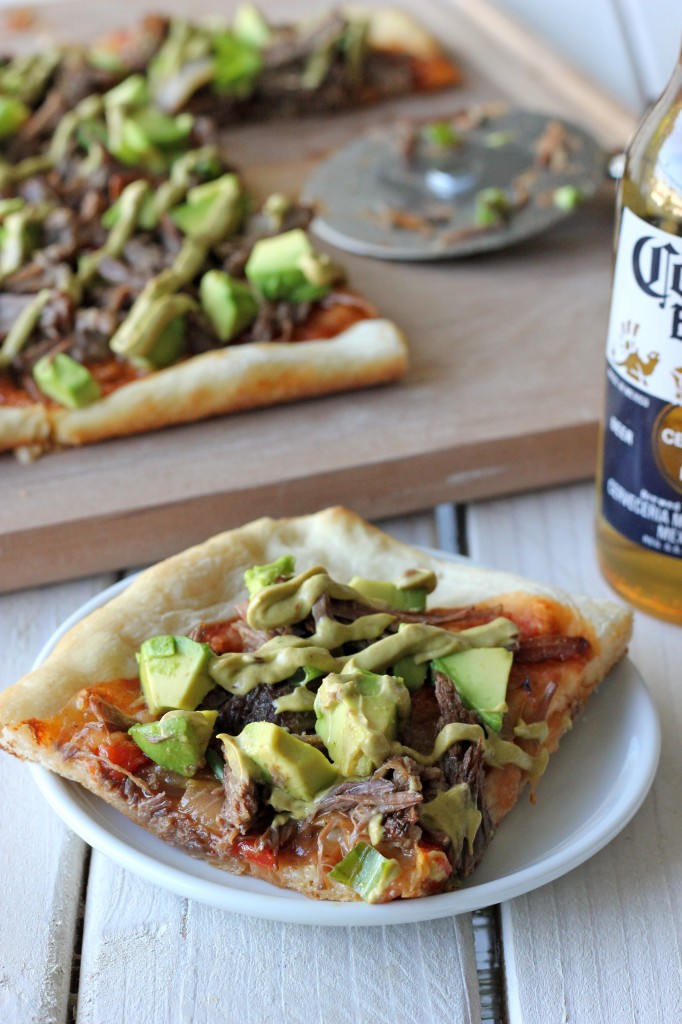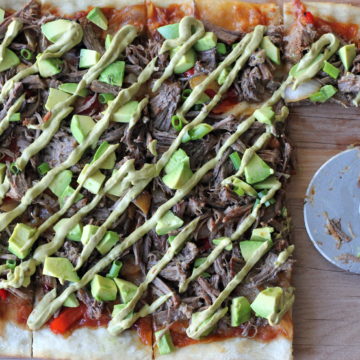 Carnitas Avocado Pizza with Avocado Mayonnaise Drizzle
Pizza was meant to be smothered in slow-cooked, tender carnitas and drizzled with chipotle avocado mayo!
20 minutes
4 hours, 25 minutes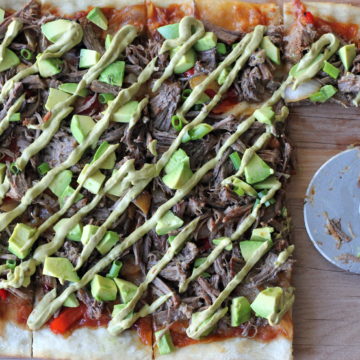 Ingredients:
2 teaspoons chili powder
1 teaspoon cumin
1 teaspoon oregano
1 teaspoon kosher salt
3-4 pounds chuck roast
2 tablespoons canola oil
2 1/2 cups orange juice
1 tablespoon olive oil
1 onion, thinly sliced
1 red bell pepper, thinly sliced
1 jalapeno, thinly sliced
1 ball pizza dough, homemade or store-bought
1/4 cup semolina or yellow cornmeal
1 cup tomatillo salsa
12 ounces mozzarella, thinly sliced
2 green onions, sliced
1/4 cup chipotle avocado mayonnaise
Diced avocado, for serving
Directions:
To make the spice rub, combine chili powder, cumin, oregano and salt in a small bowl.
Sprinkle the spice rub over the chuck roast, rubbing in thoroughly on all sides.
Heat canola oil in a Dutch oven or large pot over medium high heat. Add chuck roast and sear both sides until browned, about 2 minutes per side. Add orange juice. Cover and roast until tender and falling apart, about 3-4 hours.
Remove the chuck roast from the Dutch oven and shred the meat before returning to the pot with the juices.
Heat olive oil in a medium skillet over medium high heat. Add onion, bell pepper and jalapeno and cook until tender and golden, about 5-6 minutes.
Preheat oven to 475 degrees F. Lightly coat a baking sheet or pizza pan with olive oil.
Working on a surface that has been sprinkled with semolina or cornmeal, roll out pizza dough into a thin rectangle. Transfer to prepared baking sheet or pizza pan.
Spread tomatillo salsa over the top, leaving a 1-inch border. Top with mozzarella and onion mixture.
Place into oven and bake for 12-15 minutes, or until the crust is crisp and brown on the bottom and the cheese is melted on top.
Top with shredded carnitas, chipotle avocado mayonnaise, green onions and avocado.
Cut the pizza into squares and serve immediately.
Did you Make This Recipe?
Tag @damn_delicious on Instagram and hashtag it #damndelicious.