Blueberry Oatmeal Yogurt Pancakes
Start your mornings off right with these light and fluffy, healthy pancakes chockfull of juicy blueberries!

As you read this post, I am on my way to San Francisco for the Foodbuzz Food Blogger Festival! I am incredibly excited for all the events that are lined up for us, like the walnut harvest tour and the TCHO chocolate factory tour, and I also get to spend some time with Jason so I could not be happier. I hope to see many of you out there! If not, I'll be sure to keep you guys updated via Instagram and Twitter.
Now before I left for SF, I saved this pancake post for you guys in continuation of breast cancer awareness month. The last post was a "pink post" but today, I have a healthy post that can be helpful in fighting cancer. Thus, I bring you blueberry oatmeal yogurt pancakes.
According to livestrong.com, oatmeal can lessen your risk of cancer with its fiber-rich goodness. Combine that with some incredibly fresh, plump blueberries and the most fluffiest pancakes, and you'll have one of the best pancakes ever. I managed to finish an entire stack by myself, and I already had a bagel before!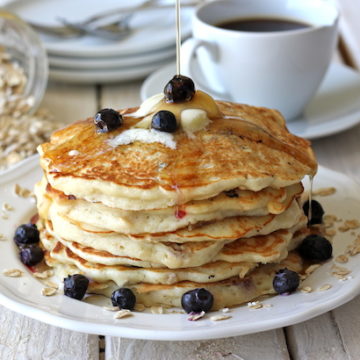 Blueberry Oatmeal Yogurt Pancakes
Start your mornings off right with these light and healthy pancakes loaded with juicy blueberries!
10 minutes10 minutes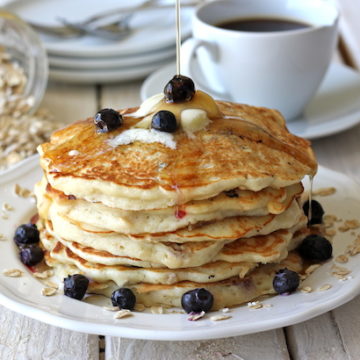 Ingredients:
1 2/3 cups all-purpose flour
2/3 cup old-fashioned rolled oats
2 tablespoons sugar
1 1/4 teaspoons baking powder
1/4 teaspoon baking soda
1/4 teaspoon salt
1 cup plain Greek yogurt
1 cup milk
4 tablespoons unsalted butter, melted
2 large eggs
1 cup blueberries
1/4 cup maple syrup
Directions:
Preheat oven to 200 degrees F and a nonstick griddle to 350 degrees F. Lightly coat a griddle or nonstick skillet with nonstick spray.
In a large bowl, combine flour, oats, sugar, baking powder, baking soda and salt.
In a large glass measuring cup or another bowl, whisk together yogurt, milk, butter and eggs. Pour mixture over dry ingredients and stir using a rubber spatula just until moist. Add blueberries and gently toss to combine.
Working in batches, scoop 1/3 cup batter for each pancake and cook until bubbles appear on top and underside is nicely browned, about 2 minutes. Flip and cook pancakes on the other side, about 1-2 minutes longer; keep warm in oven.
Serve immediately with maple syrup.
Did you Make This Recipe?
Tag @damn_delicious on Instagram and hashtag it #damndelicious.