Southwest Quinoa Sliders with Avocado Cream Sauce
Healthy, hearty and such a crowd-pleaser!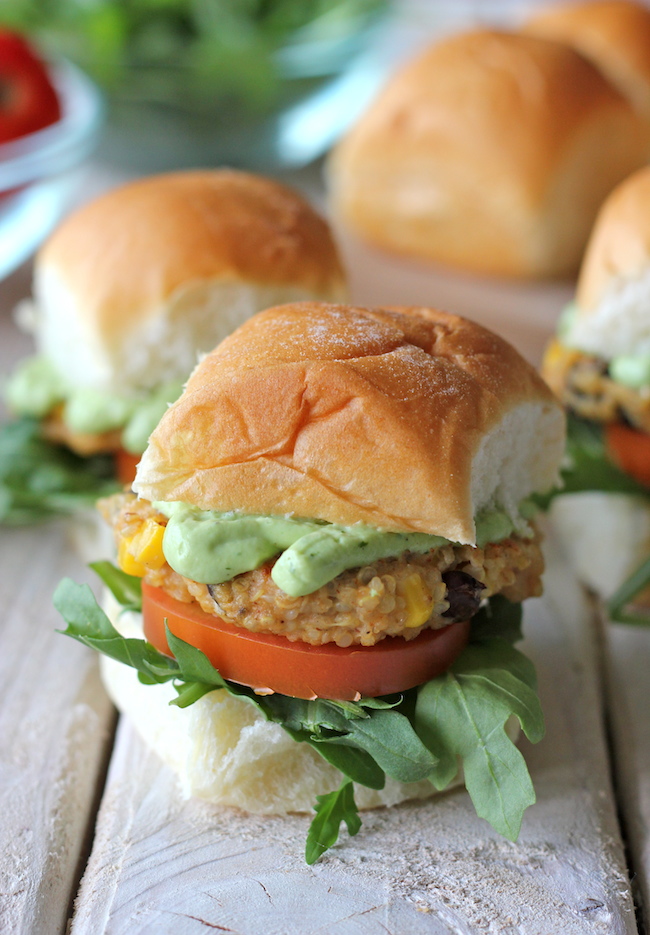 Ugh, I have the Monday blues. It doesn't matter that this is a short work week – Mondays will always be Mondays. Although I am pretty freaking grateful that I have Thursday and Friday off. Now if only I can survive the grocery store tonight. I have some last minute things to pick up so I can make this stuffing with jalapeño cornbread.
Speaking of Thanksgiving, I am so grateful that I have a menu finalized! Jason's sister's family takes care of the bird and various sides but this year, I am in charge of the ham, stuffing, cornbread, candied yams, and dessert. I just hope I can pull it all off. I always plan way more than I can handle!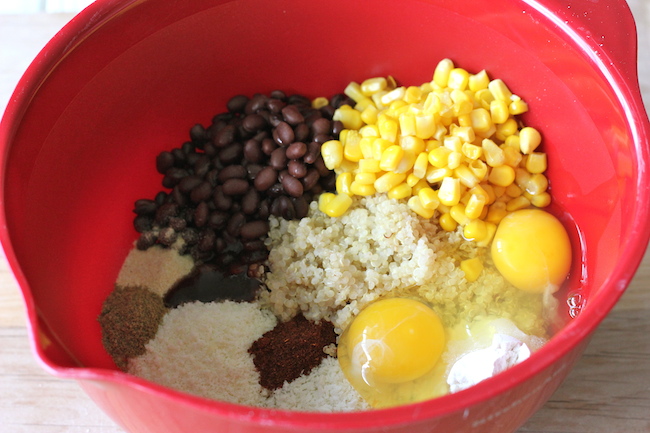 Now you're probably wondering why on earth I would post quinoa sliders today. I did have a week of Thanksgiving leftover recipes for you guys but then I thought, with the biggest holiday right around the corner where we all overindulge and overeat and can't fit into our skinny jeans, I couldn't help but post a meatless, healthy recipe. I think it's safe to say that we all need to go a bit lighter in preparation for the big day, right?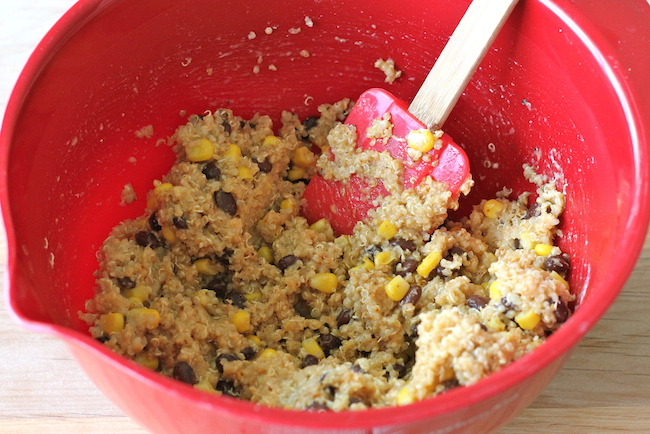 And that's exactly what this recipe does. It's vegetarian-friendly and chockfull of Mexican flair with chipotle peppers, corn, beans and of course, a creamy avocado sauce. Now don't be fooled by the size of these cute little sliders. A couple of these babies is just enough for a perfectly light yet hearty dinner option!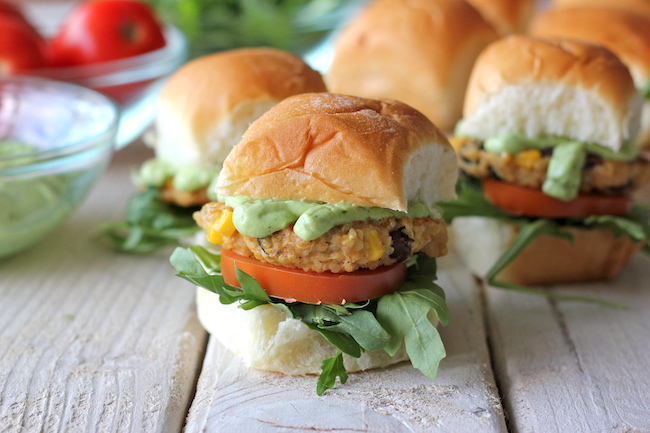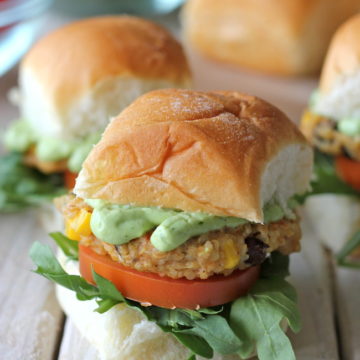 Southwest Quinoa Sliders with Avocado Cream Sauce
Healthy, hearty and such a crowd-pleaser!
20 minutes
5 minutes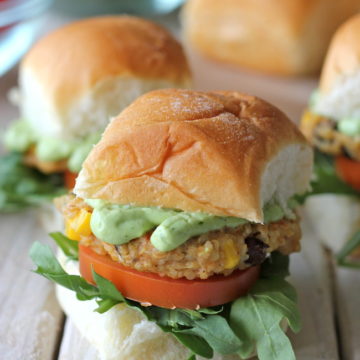 Ingredients:
2 cups cooked quinoa
1/4 cup grated Parmesan
1/4 cup panko
2 tablespoons all-purpose flour
1 teaspoon cumin
1 teaspoon garlic powder
1/2 teaspoon chili powder
1-2 tablespoons pureed chipotle peppers, in adobo sauce
1 tablespoon freshly squeezed lime juice
2 large eggs
1/2 cup whole kernel corn
1/2 cup canned black beans, drained and rinsed
Kosher salt and freshly ground black pepper, to taste
Olive oil
12 split slider buns, toasted, for serving
2 cups arugula, for serving
2 Roma tomatoes, thinly sliced, for serving
For the avocado cream sauce
1 avocado, halved, seeded and peeled
2 cloves garlic
1/3 cup Greek yogurt
1/4 cup fresh cilantro leaves
Kosher salt and freshly ground black pepper, to taste
Directions:
To make the avocado cream sauce, combine avocado, garlic, Greek yogurt, cilantro, salt and pepper, to taste, in the bowl of a food processor; set aside.
In a large bowl, combine qunioa, Parmesan, panko, flour, cumin, garlic powder, chili powder, chipotle peppers, lime juice, eggs, corn, beans, salt and pepper, to taste. Divide the mixture into 12 balls; press each lightly to form 1/4-inch-thick patties.
Heat olive oil in a large skillet over medium high heat. Add patties to the skillet and cook until browned and cooked through, about 3-4 minutes per side, flipping only once.
Serve quinoa patties on rolls with arugula, tomatoes and avocado cream sauce.
Did you Make This Recipe?
Tag @damn_delicious on Instagram and hashtag it #damndelicious.