Bacon Wrapped Teriyaki Hot Dogs with Pineapple Salsa
An amazing combination of crisp bacon, a refreshing salsa and a sweet teriyaki drizzle – perfect for game day!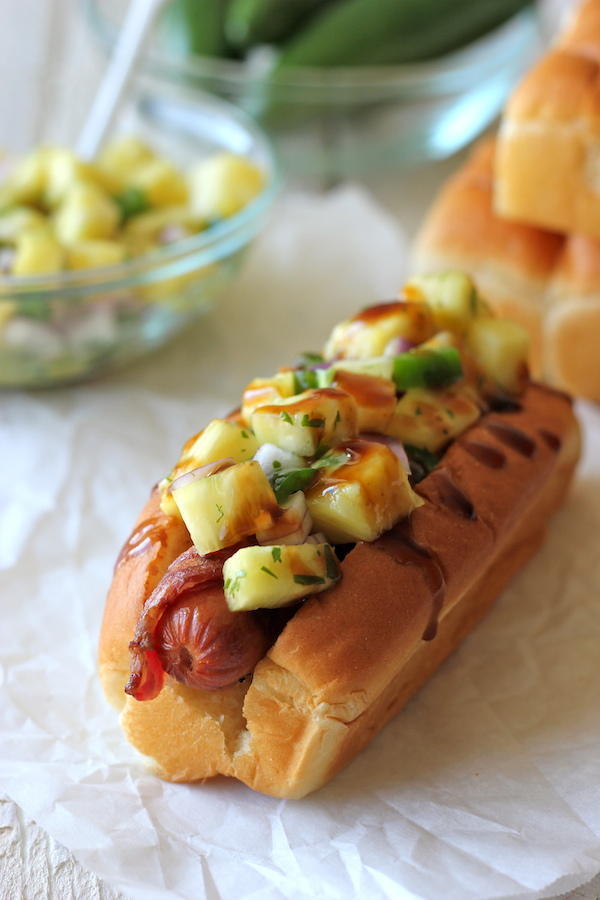 I grew up loving King's Hawaiian bread. I would always snack on the sweet rolls by itself, unable to stop myself until my mother took the bag away from me. And of course, this snacking habit carried on until today.
Just the other day, I found a bag of their hamburger buns and I snacked on a couple before I headed off to work. Then, when I came home, Jason made some burgers and we didn't have enough buns so we had to use english muffins instead.
Oops.
Just recently I found out that King Hawaiian had a line of hot dog buns too. So in honor of the Superbowl, which is just 2 weeks away, I couldn't help but bring you a Hawaiian-type hot dog as the perfect Superbowl party food. These hot dogs are loaded with freshly made pineapple salsa and a homemade teriyaki drizzle, all on top of an applewood smoked bacon-wrapped dog.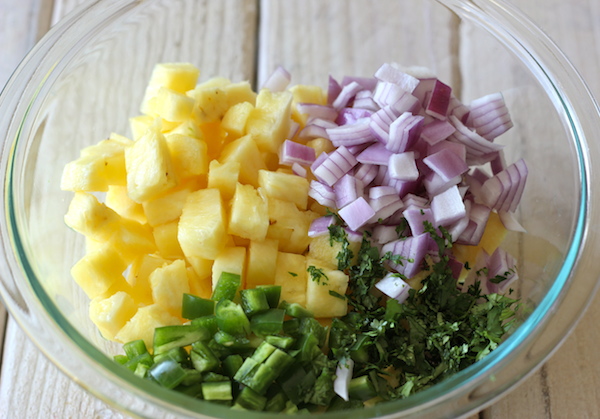 It was such a wonderful combo of sweetness from the buns with a refreshing burst from the pineapple along with a hint of spiciness from the jalapeños. I guarantee that one of these hot dogs will not be enough. I attempted to eat 3 but I think I capped out at 2.
Either way, I'll be sure to make this again and again, even after football season is over.
That is, if I ever stop eating the buns beforehand!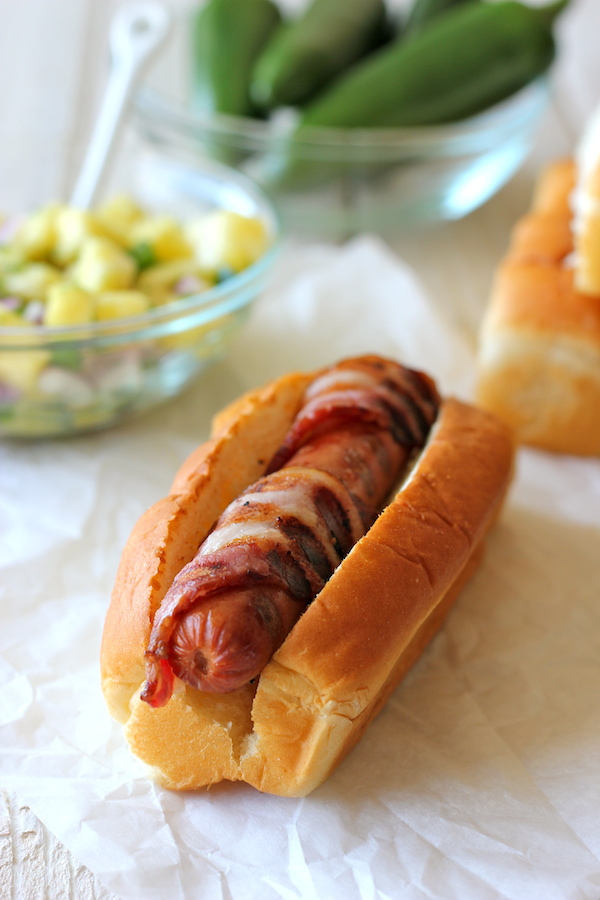 I also have a wonderful giveaway for you all. The folks over at King's Hawaiian has so graciously offered 1 lucky Damn Delicious reader the Aloha Basket, which includes:
An authentic lined wicker Hawaiian basket
King's Hawaiian apron
King's Hawaiian reusable shopping bag
A variety of King's Hawaiian product
King's Hawaiian coffee
King's Hawaiian VIP product coupons
Just be sure to enter through the rafflecopter below. Good luck!
a Rafflecopter giveaway

Giveaway ends on Sunday, January 27, 2013 at 9:00 p.m. Pacific time. The winner will be selected by random.org and contacted by email. If there is no response after 48 hours, another winner will be selected. Open to US residents only.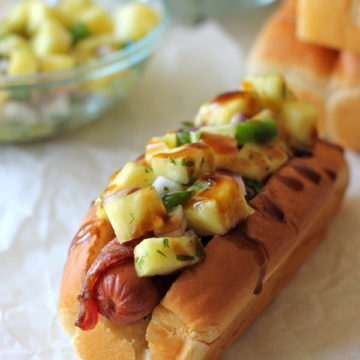 Bacon Wrapped Teriyaki Hot Dog with Pineapple Salsa
An amazing combination of crisp bacon, a refreshing salsa and a sweet teriyaki drizzle – perfect for game day!
15 minutes
5 minutes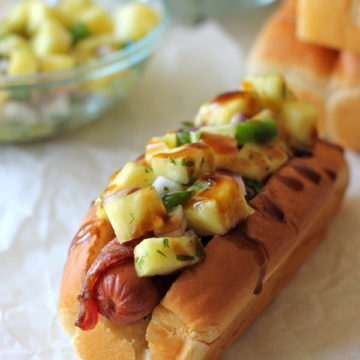 Ingredients:
6 hot dogs
6 slices applewood smoked bacon
1 package KING'S HAWAIIAN Hot Dog Buns
1/4 cup plus 2 tablespoons teriyaki sauce, homemade or store-bought
For the pineapple salsa
2 cups diced pineapple
1/4 cup diced red onion
1 jalapeño, diced
2 tablespoons chopped cilantro
2 tablespoons freshly squeezed lime juice
Directions:
Preheat grill to medium high heat.
In a medium bowl, combine pineapple, onion, jalapeño, cilantro and lime juice; set aside.
Wrap each hot dog in a strip of bacon. Add hot dogs to the grill and cook until the bacon is brown and crispy, about 4-5 minutes.
To assemble the hot dogs, add the hot dogs into each hot dog bun. Top with pineapple salsa and drizzle teriyaki sauce on each hot dog.
Serve immediately
Did you Make This Recipe?
Tag @damn_delicious on Instagram and hashtag it #damndelicious.
Disclosure: This giveaway is sponsored by King's Hawaiian. All opinions expressed are my own.