Raspberry Balsamic Glaze Pork Sliders with Coleslaw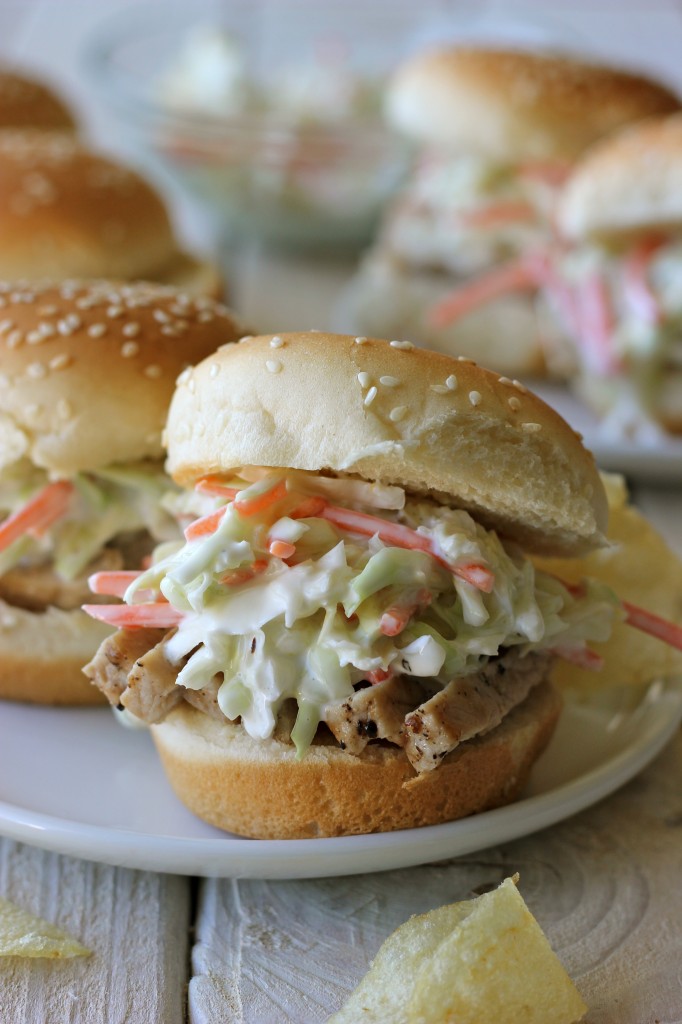 I recently upgraded to Mac OS X Mountain Lion (which is like the best thing ever!) and I was using the message app to talk to Jason. I just kept typing out my messages and pressing send each time I finished a tiny little phrase. That's when it began to feel very familiar. Almost too family. Like AIM, early 2000s familiar.
That's when Jason and I started talking about our super cool screen names back in the day. And as embarrassing as it is, I just have to share what some of our screen names were.
I hated my name growing up since it was constantly butchered but I was in love with the name Jenna so I couldn't help but make my screen name jenna8488. Then I upgraded to chungiwungi22.
Yeah, it's pretty bad. But I'm so glad I'm not the only one with the 
embarrassing
 usernames. Jason's was
flowingx
. It's not as bad as chungiwungi but still – it makes me feel a bit better.
But I digress.
What we should really be talking about is these sliders, which have tender pork slices that had been marinating in Star Fine Foods' new line of creamy balsamic glazes. It is such a fun glaze to work with, and it makes weeknight meals so easy!
I used the raspberry glaze in this particular recipe, which created such a sweet, tangy creaminess to the pork. Combine that with the freshly made coleslaw and you'll have such a refreshing burger to balance out the meaty goodness. Plus, these bite-sized burgers will leave you wanting at least 5 of these!
Oh and the fun part – the awesome folks over at Star Fine Foods is offering a set of their awesome balsamic glazes! You can enter here. Good luck!
Raspberry Balsamic Glaze Pork Sliders with Coleslaw
Yields 3-4 servings
INGREDIENTS:
For the coleslaw:
6 cups shredded green cabbage

1 cup grated carrot

1/2 cup mayonnaise

1/2 cup Greek yogurt

3 tablespoons vinegar

2 tablespoons sugar

1 tablespoon freshly squeezed lemon juice

Kosher salt and freshly ground black pepper, to taste
DIRECTIONS:
Season pork chops with salt and pepper, to taste. In a gallon size Ziploc bag or large bowl, combine STAR Raspberry Balsamic Glaze and pork chops; marinate for at least 30 minutes to overnight, turning the bag occasionally.
In a large bowl, combine green cabbage and carrot. In a large glass measuring cup or another bowl, whisk together mayonnaise, Greek yogurt, vinegar, sugar, lemon juice, salt and pepper, to taste. Pour mixture over cabbage mixture and stir using a rubber spatula until well combined. Cover and place in the refrigerator for at least one hour.
Heat STAR Olive Oil in a large skillet over medium high heat. Add pork chops and cook, flipping once, until cooked through, about 2-3 minutes. Let rest for 5 minutes before slicing across the grain.
Serve sandwiches on slider buns with pork and coleslaw.
Disclosure: This giveaway is sponsored by Star Fine Foods. All opinions expressed are my own.