Greek Yogurt Cinnamon Roll Donuts
Cinnamon roll in donut form, lightened up with Greek yogurt so you could eat these guilt-free!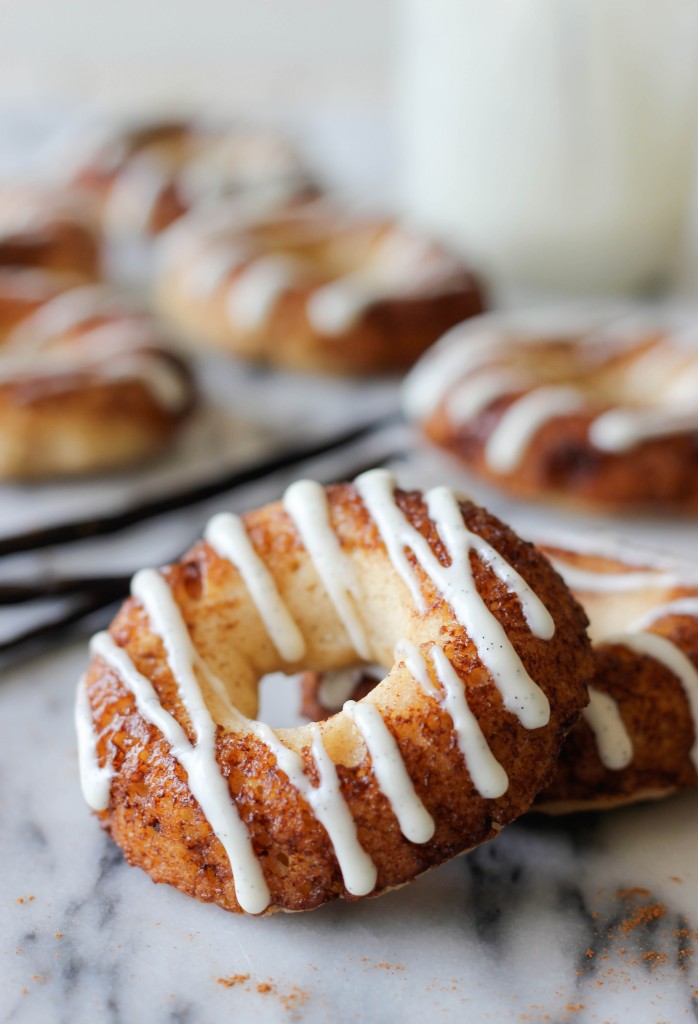 Cinnamon rolls. We all love them, right? That buttery cinnamon sugar goodness and that dripping cream cheese glaze…
Okay, well I could actually think of one person who wouldn't like this. She hates cinnamon AND peanut butter. She's a dear friend of mine but man, her food aversions are really getting in the way of a lot of goodies, like these donuts here.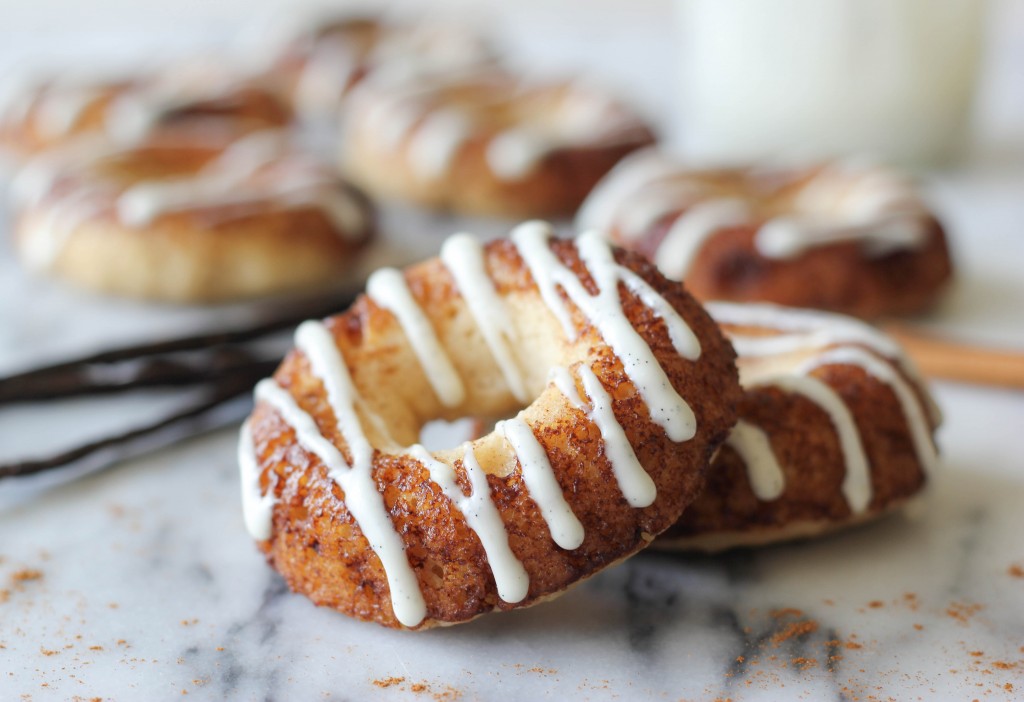 See, the kind folks over at Voskos sent over a variety of their Greek yogurt for me to play around with it and I couldn't help but use them in these cinnamon roll donuts. With all of that indulgent cinnamon sugar and cream cheese goodness, we have to cut back somewhere, right?
But even with the addition of the yogurt, these donuts do not taste healthy at all! In fact, the creamy yogurt lends off such a fluffiness to the base of the donuts, which then gets baked in a pool of buttery cinnamon sugar and then finished off with a drizzle of vanilla bean cream cheese glaze. Yeah, those black specks there brings about so much magic to the glaze.
Now that's a breakfast I can get on board with.
Be sure to check out Voskos on Facebook and Twitter for more Greek yogurt ideas!
Greek Yogurt Cinnamon Roll Donuts
Cinnamon roll in donut form, lightened up with Greek yogurt so you could eat these guilt-free!
10 minutes10 minutes
Ingredients:
3/4 cup all-purpose flour
1/4 cup sugar
2 tablespoons cornstarch
1 teaspoon baking powder
1/2 teaspoon cinnamon
1/4 teaspoon nutmeg
1/4 teaspoon salt
1/2 cup Greek yogurt
1/4 cup unsalted butter, melted
2 tablespoons milk
1 1/2 teaspoons white vinegar
1 large egg
For the cinnamon sugar
2 tablespoons unsalted butter
1/3 cup dark brown sugar, packed
1 tablespoon cinnamon
2 teaspoons milk
For the vanilla bean cream cheese glaze
1/4 cup confectioners' sugar
2 tablespoons cream cheese, at room temperature
1-2 tablespoons milk
1/2 vanilla bean, seeds scraped
Directions:
To make the cinnamon sugar, melt butter in a small saucepan over medium heat. Stir in brown sugar, cinnamon and milk. Bring to a boil; remove from heat.
Preheat oven to 325 degrees F. Coat a donut pan with nonstick spray. Pour 1 teaspoon cinnamon mixture into each cavity, spreading it out in an even layer.
In a large bowl, combine flour, sugar, cornstarch, baking powder, cinnamon, nutmeg and salt.
In a large glass measuring cup or another bowl, whisk together Greek yogurt, butter, milk, vinegar and egg.
Pour mixture over dry ingredients and stir using a rubber spatula just until moist.
Scoop the batter evenly into donut pan. Place into oven and bake for 7-8 minutes, or until donuts are slightly browned and spring back when touched.
In the bowl of an electric mixer fitted with the paddle attachment, beat confectioners' sugar, cream cheese, milk and vanilla bean seeds on medium-high until smooth, about 1-2 minutes. If the glaze is too thick, add more milk as needed.
When the donuts are done, cool for 10 minutes and drizzle with glaze. Allow glaze to set before serving.
Did you Make This Recipe?
Tag @damn_delicious on Instagram and hashtag it #damndelicious.
Disclosure: This post is sponsored by Voskos. All opinions expressed are my own.