Baked Ham and Cheese Sliders
These sweet Hawaiian bread sliders are popped in the oven until they're completely buttery and oozing with melted cheese!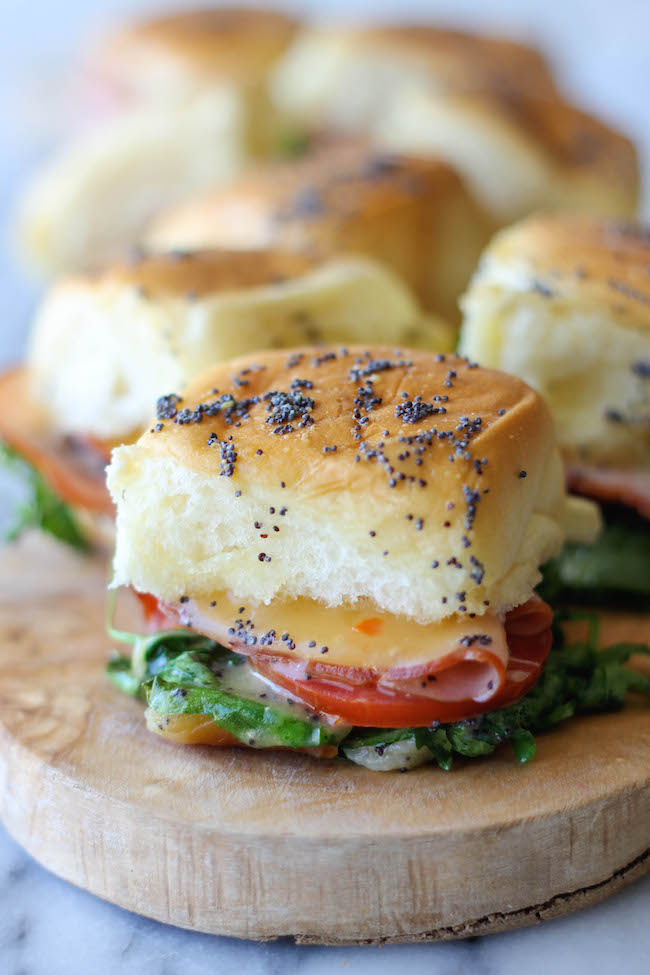 Do you lean more towards cold sandwiches or warm sandwiches? I've always been a cold sandwich kind of gal but once adulthood hit, I've been all about the warm, melted cheese kind of sandwiches – philly cheesesteaks, meatball subs and now this. And as you've seen in yesterday's post, you know I can't get enough of that mango fire cheddar. And with all of that KING HAWAIIAN swag I received recently, I just had to put two and two together, except I used up all the slider buns before making this.
Hey, when you have a bag of KING HAWAIIAN to yourself, it's kind of difficult to NOT finish the entire bag for dinner.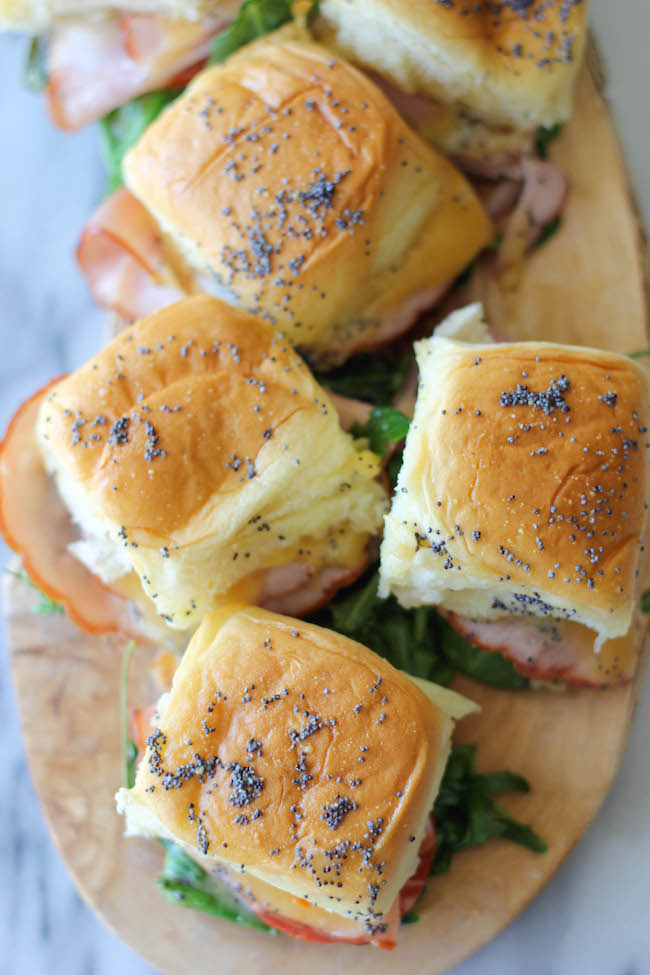 So upon replenishing the KING'S HAWAIIAN slider buns, I just had to make these sandwiches. Loaded with fresh arugula, roma tomatoes, honey baked ham and mango fire cheddar, these sliders get baked to melted cheese goodness as they're topped off in a buttery, poppy seed dressing. They're an incredible crowd pleaser during football/basketball/baseball season or a simple lunch gathering with friends. Either way, these will be a hit with everyone! Jason and I made 8 of these together and we managed to finish them all in one sitting.
Yeah, they're just that good.
But before you stock up on some KING'S HAWAIIAN to make this, I just have to share My Ultimate King's Hawaiian Sandwich Challenge that's happening now. Now if you love KING'S HAWAIIAN just as much as I do, I highly suggest showing off your ultimate KING'S HAWAIIAN sandwich recipe in this contest. The winner could win a year supply of KING'S HAWAIIAN and an all-expenses paid dinner for 6 friends at a local restaurant in your area! So hurry on over and enter here!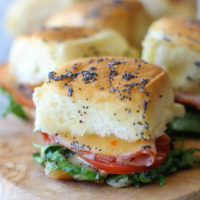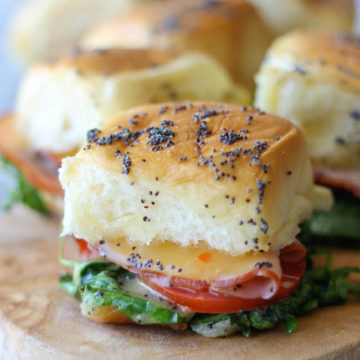 Baked Ham and Cheese Sliders
These sliders are popped in the oven until they're completely buttery and oozing with melted cheese!
Ingredients
9

KING'S HAWAIIAN Original Hawaiian Sweet Dinner Rolls

,

split

1

cup

baby arugula

2

Roma tomatoes

,

thinly sliced

9

slices

ham

1

cup

shredded mango fire cheddar

2

tablespoons

unsalted butter

,

melted
For the poppy seed dressing
2

teaspoons

poppy seeds

½

teaspoon

garlic powder

¼

teaspoon

mustard powder

Pinch

of salt
Instructions
Preheat oven to 350 degrees F. Lightly coat an 8×8 baking dish with nonstick spray.

In a medium bowl, whisk together butter, poppy seeds, garlic and mustard powder and salt.

Top one side of the rolls with arugula, tomatoes, ham and cheddar, and then the tops of the rolls. Repeat with remaining rolls to make 9 sandwiches.

Place rolls into prepared baking dish and spread the poppy seed dressing evenly over the top. Cover with aluminum foil and place into oven and bake until cheese has melted, about 10-15 minutes.

Serve immediately.
Disclosure: This post is sponsored by KING'S HAWAIIAN. All opinions expressed are my own.